Yes, I'm a food writer – and that qualifies me to write about everything | Food
Like many people I have spent the past few years in a roaring, frothing rage at the incompetence and mendacity of the charmless, greasy-palmed hucksters who have somehow blagged their way into governing us. Occasionally, by which I mean most days, I have expressed this rage via a scalpel-sharp, profound and witty political tweet. Weirdly, not everybody is as impressed by these contributions as I am. Indeed, at least one person usually replies: "Stick to tweeting about food, Rayner."
If I'm feeling magnanimous, I reply with just two letters: "No." Sometimes, if I'm feeling less sanguine, I point out that I've been covering politics in one form or another for more than three decades, and that I have an extremely important degree in political studies. I am literally qualified to tweet about it. Often, I delete these replies because they make me look like a sad, chippy apologist for myself which is unnecessary when so many others are happy to do that job for me.
It struck me that instead, it would be more constructive if I were to list the ways in which food affects politics and decision-making. This would enable me to compile a list of subjects that it would be OK for me to tweet about. So here goes. The production and selling of food are obviously a massive part of the economy in general and retailing in particular. Many of our foods are now, for good or ill, commodities, traded on global financial markets both influenced by and impactful upon inflation and interest rates. So anything about economics or financial matters is completely fair game.
What we eat and how we eat has a direct effect on both our physical and mental health. Whether we have a healthy or poor diet generally depends upon income, and access to the kind of jobs paying the kind of wages which will either support the right diet or fail to do so. It's therefore fair for me to have an opinion on the NHS, our benefits system, our deformed taxation system – there I go, editorialising again – and anything to do with access to careers and opportunities.
Likewise, we know that kids do less well at school if they have a poor diet, that schools which intervene in the care of their pupils produce better outcomes, and that information about food and diet during school years can be transformative. That's the whole of the education system covered. Anyone with a passing interest in overseas aid will know that the vast majority of famines are caused by governmental incompetence, generally involving military action. Indeed, there's a compelling argument that all foreign relations are essentially arguments over resources, prime among them food. I could mention Brexit here but that would be provocative, which is not my style. Still, that clears me to have an opinion on anything to do with defence spending, foreign affairs and military aid.
Food is what keeps us alive, which enables us to wonder about the meaning of existence, while engaging in the practice of art, perhaps through literature, music, theatre or dance. Hurrah! I'm good to go on all culture and philosophy. And of course, the clincher: food specifically keeps me alive. It nourishes me. That enables me to go to the ballot box and cast my vote. In turn that entitles me to have an opinion on literally anything I bloody well please. I trust my critics can now see that everything I say is, in one way or another, about food. In a deliciously meta move I shall now post this column to Twitter. I'm certain no one will argue with me. But just in case I'll get a cup of coffee and a biscuit to keep me going.
TikTok, K-pop or CoD: how much do your parents really know about you? – quiz
Are they immersed in every little detail of your life, or do you prefer to keep what you share with your parents minimal? Take this quiz to find out exactly how familiar they are with your interests and hobbies
Need help talking to dad about milk? Visit oatly.com/helpdad
Chocolate as a charitable act | Chocolate
My friend Mathew, who lives in Canada via Wales, told me about Arthouse Unlimited chocolate way back in May 2019. And then I forgot about it until I found it again in a little shop called Blue Dog in Clare in Suffolk (if you are even remotely in the vicinity it's worth a detour, in fact the whole of Clare is), which sells all manner of lovely things. Just before Christmas, shopping in a mask and drenched in hand sanitiser, I found it, bar upon glorious bar: the wrappers are some of the best I've seen (Dormouse and Solkiki are exceptions).
Arthouse Unlimited is a charity bringing together various artists with complex learning and physical disabilities. They work with instructors to create artworks that they then put on tea towels, soaps and mugs. But it's the handmade chocolate I am, of course, interested in. This is made by two UK-based chocolatiers. It's not craft chocolate or single-origin, but every bar of milk is a minimum 40% cocoa, which I applaud. (White and dark also available.)
The flavours are slightly wild – and commendations to who writes the names, because they all sound intriguing: dark chocolate with white truffle honey, anyone? I stocked up on milks and they were soon demolished. My favourites were the 'Dinosaurs' milk chocolate with sea salt and crispy crunch and the 'Blue Dogs' (no relation to the shop) milk chocolate cheesecake with gingernut crunch (both £5.25, 100g). If you usually read this column and think: 'Thanks, but it's all bit artisan and dark for me, Annalisa,' try these: you'll love me.
Biden's plan to wear Ralph Lauren fits inauguration's sober, unshowy tone | Biden inauguration
Joe Biden is being dressed by the fashion brand Ralph Lauren for his presidential inauguration on 20 January, according to Women's Wear Daily, in a move that has prompted a round of speculation about his meaning and motives at a time of crisis in the US.
On the surface, Biden's choice of Ralph Lauren is no great shakes: here is a fashion brand with a classic, mass All American image. From the Oscars to the mall it is both luxurious and high-end, mid-range and accessible. Biden's suit is expected to be single-breasted and two-buttoned, in a dark shade of blue worn with a crisp white or baby blue shirt.
"Ralph Lauren is a brand that has become synonymous with America on the global stage," said Emma McClendon, who curated Power Mode: The Force of Fashion at the Museum of FIT in New York. "From the company's preppy advertising campaigns, to the red, white and blue uniforms [Lauren] has designed for the US Olympic team".
But – like much else in American public life – Biden's sartorial choices are not divorced from their political context.
Lauren fits the sober, unshowy mood the Washington inauguration will take place in, as Donald Trump's four years of turmoil come to an end in the wake of an attack on the Capitol by a rightwing mob.
The choice could also be read as a subtle rejoinder to the preceding pumped-up Trump era."Isn't a Ralph Lauren suit supposed to be an expression of understatement, of sober reliability and even predictability?" said Michael Zakim, author of A History of Men's Dress in the American Republic.
With three years between them, Biden and Lauren are both members of the so-called "silent generation". "[It's] a manly form of unostentatious modesty that no one's actually supposed to be noticed – striking a pointed contrast to Trump's clinical impulsiveness and need for attention," Zakim said.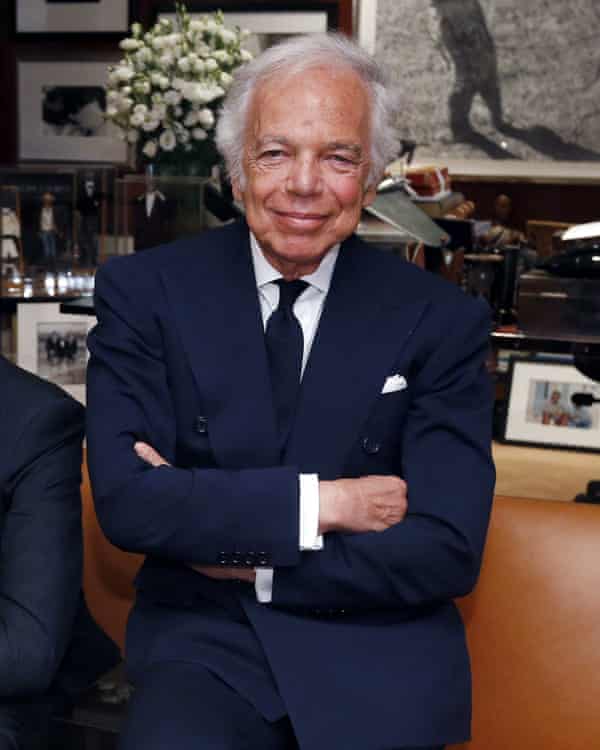 Ralph Lauren has dressed Democratic and Republican heads of state, including Melania Trump, who wore a pale blue dress for Trump's inauguration. Being one of the few designers who dressed the outgoing first lady led the hashtag #boycottralphlauren to trend on Twitter. "Lauren's designs have been more often associated with the women of the West Wing than the men," said McClendon.
As well as Melania, McClendon name-checks Hillary Clinton wearing a white Ralph Lauren suit to accept her presidential nomination at the 2016 Democratic national convention. "In this way, Biden's choice of Lauren could be seen as unifying – selecting an American brand that has been supported by both sides of the aisle," she said, which also certainly fits with the inauguration's theme of "America United".
Lauren's steady-hand trademark might be over-egged to some, but there's a happy parallel with Biden, whose own preppy style has not changed much since the 1970s.
Still, the choice of inauguration designer subtly diverges from the expected choice of Brooks Brothers, which filed for bankruptcy last year. Forty-one of the past 45 presidents wore the brand, including Barack Obama and Trump.
"[Biden] obviously feels comfortable in his clothes and projects the image that is, at the same time, youthful and mature," said Djurdja Bartlett, who edited the book Fashion and Politics.
Domestically produced, Ralph Lauren reaffirms a message of American exceptionalism. "Ideologically, Biden's style is a visual testament to Americana in its most idealised version. His are effortless clothes that remind Americans and the world of the times when America was effortlessly great," Bartlett said.
When contacted by the Guardian, a Ralph Lauren spokesperson replied: "Unfortunately, we can't comment."