Will India settle on Rohit Sharma and Shubman Gill as openers? | Cricket News
Rohit Sharma
and
Shubman Gill
complemented each other well with their sound technical vocabulary while taking on the fiery Australian quicks and the wily off-spinner
Nathan Lyon
in the third Test in Sydney.
Theirs wasn't a huge partnership at the iconic SCG, putting up alliances of 70 and 71 in each innings. However, they lasted long enough to see the shine off – which must have given the hard-working
Cheteshwar Pujara
some relief after where he was placed in Adelaide and Melbourne.
Pujara hasn't had that luxury batting at No. 3 for a few tours now, and a successful opening pair will only help him in his brief of nudging the Indian innings in the right direction and wearing down rival bowlers.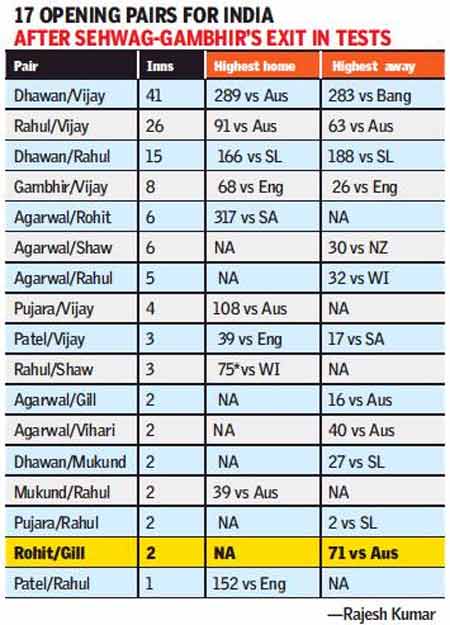 After all, it is always better to walk in at 75/1 after 20 overs or more rather than 10/1 in the third over or sometimes even before.
From a historical perspective, it was the first time in 53 years that an Indian opening pair had put up a 50-plus stand in Australia and, coincidentally, at the same venue. The first ones to do it were Syed Abid Ali and Farokh Engineer. Interestingly like Sharma and Gill, Ali and Engineer too were not born openers.
Sharma (26 & 51) and Gill (50 & 31) cut exquisitely, drove elegantly and kept their defences watertight until indiscretion got the better of them.
There's no better player of attacking shots than Sharma these days in cricket, but the manner in which he got behind the line of ball and played the ball late on his way to his first fifty overseas in the opener's role, only inspires confidence looking ahead.
Gill will probably like to leave the Australian shores with a three-digit score next to his name. But with 161 runs in four innings and with another Test match to go, he's given convincing evidence to be considered a long-term prospect.
India legend Sunil Gavaskar, the original little master who weathered many new-ball spells under his floppy, sounded pleased with the openers' effort. "We all know how good a player Rohit Sharma is. He was also getting behind the line and played the ball very late, that was very, very impressive. On a fourth day pitch, when the ball was turning just that little bit, the way they negotiated Nathan Lyon was also impressive. On the back of what we have seen, these two could be the opening pair to stick with," Gavaskar said on air.
A tough summer of cricket awaits India as they will head to England for a full five-Test series. Sharma, along with the lanky Gill will, of course, try and put in as many miles as they can when they face Joe Root and Co in the four-Test series at home next month. Former India captain and ex-chief selector Dilip Vengsarkar, however, feels that KL Rahul is the man who needs to get his place back at the top.
"I'm really impressed with Gill. He has huge potential. But I would still prefer to have Rahul as one of the openers. Rahul, too, has great potential and if you are convinced about it, then you need to back him. Of course, he has failed in the last few Tests. What goes against him is that he's not had a game over a month now. But in the longer run, I will back him."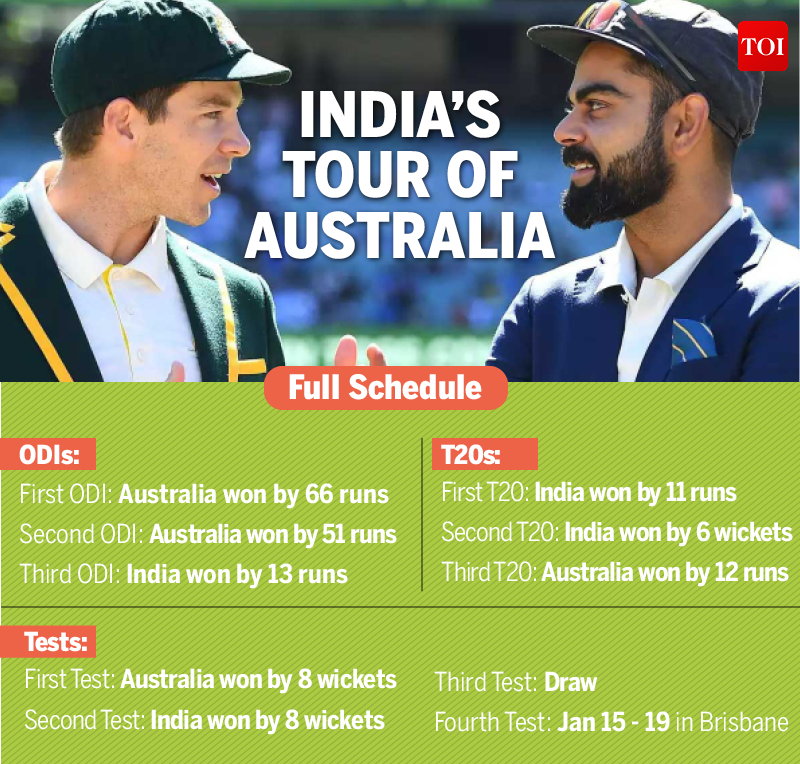 World Test Championship final dates reworked, to take place from June 18-22
The start of the inaugural
World Test Championship
final has been pushed back by eight days and will now begin at Lord's on June 18, keeping in mind the proximity with the next
IPL
's summit showdown. The
final
of the inaugural championship was tentatively scheduled to begin on June 10 at the iconic venue in London.
However, since the Indian Premier League final is also expected to be played around the same dates, it could have complicated the quarantine schedule of the participating players.
"The WTC Final will now be played from June 18-22 and June 23 will be the reserve day. As background we pushed it back to allow for any quarantine that may be imposed, particularly given the close proximity to the end of the IPL and the original dates) so driven by quarantine," a BCCI source told .
The IPL schedule has not been finalised as yet but it is expected to conclude towards the end the May.
There is a close fight between India, Australia and New Zealand to compete for the title. India are leading the table with 430 points (PCT 71.7), followed by New Zealand (420, PCT 70) and Australia (332, PCT 69.2).
India recently jumped to the top of the table, following their 2-1 win in the four-match series in Australia.
Bale must battle to earn his place, says Spurs coach Mourinho | Football News
LONDON:
Gareth Bale
must earn his place in the
Tottenham
team on the training pitch and will not be picked so he can boost his match fitness, said manager
Jose Mourinho
.
The 31-year-old Wales international is back at Spurs on a season-long loan deal from
Real Madrid
.
But the forward, hampered by fitness issues, has mostly been confined to
Europa League
games, playing just 45 minutes of
Premier League
football since early November.
Bale came on in the FA Cup third-round win over non-league Marine earlier this month and may get more time on the pitch in the fourth-round clash against Championship side Wycombe later on Monday.
But Mourinho said playing time was not a gift.
"I cannot give players minutes," said the Portuguese manager. "Minutes on the pitch is not something that I can give.
"I am going in this direction. We all know the difficulties he had in the last couple of seasons, we all know that he arrived injured and we all know that even this season a little bit up and down with small things."
Bale is desperate for game time, with Wales involved in the European Championships, due to start in June.
"The most important thing for him is to be consistent (in) training without problems," said Mourinho.
"When a player is consistently training at high intensity without any problems then the player is ready — not to be given minutes but is ready to earn minutes and that is a different thing."
India vs England: Stokes arrives in Chennai, enters quarantine | Cricket News
CHENNAI:
England
's star all-rounder
Ben Stokes
has arrived in Chennai and is undergoing quarantine at a city hotel ahead of the upcoming four-match Test series against India.
The big-ticket series starts on February 5 and the team's training is scheduled to commence from February 2.
Hero of the 2019 World Cup final, Stokes landed in the country along with players who were not part of the England Test squad in Sri Lanka, where they completed a 2-0 sweep on Monday.
"Day 1 quarantine, I have done a fair bit of quarantine, have to try to make my bed every day, not the best job, but have to do it. So that's basically me for the next five days," Stokes posted in one of his Instagram stories.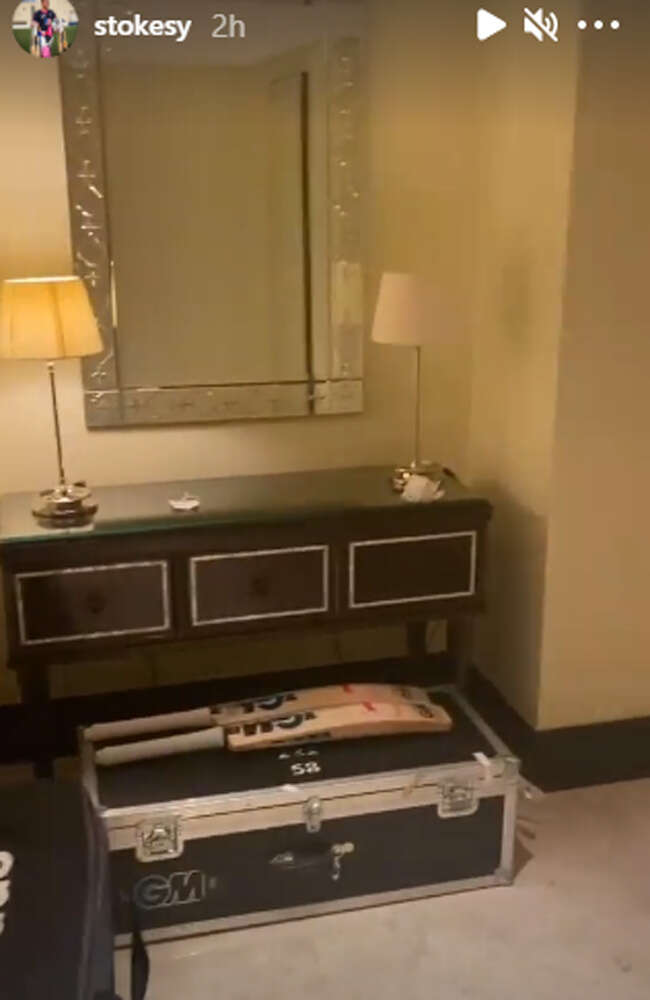 The 29-year-old Stokes shared a series of Instagram stories, describing his plan of action for the next five days.
The rest of the England players, currently in Sri Lanka, are expected to land in the city on Wednesday.
The four-match rubber assumes added significance keeping in the mind the World Test Championship.
See you soon India ✈️🇮🇳 https://t.co/TrGHG3iuy3

— Ben Stokes (@benstokes38) 1611420955000
India, who are currently heading the table, will look to maintain their pole position while England, placed fourth at the moment, will hope to move up and inch towards a place in the WTC final.
England's two-Test series in Sri Lanka ended on Monday with the visitors winning the second Test to sweep the series.