Why heatwaves are more deadly as nights warm faster
A photographer takes a picture of the thermometer reading 132 degrees Fahrenheit (55.5 Celsius) at the Furance Creek Visitors Station in Death Valley National Park, California, August 17, 2020.
David Becker | Reuters
The U.S. this summer has experienced stifling hot temperatures that have set all-time records and put millions of people under excessive heat warnings.  
During a historic heatwave in the Western U.S., temperatures in Death Valley, California reached 130 degrees Fahrenheit, a potential record for the highest temperature ever reliably recorded on Earth. Oakland, California reached 100 degrees for the first time ever in August and Phoenix had its highest temperature for the month at 117 degrees. And on Sunday, temperatures in one part of Los Angeles hit 121 degrees as the state deals with ongoing wildfires. 
The stifling heat is becoming more dangerous with climate change. One reason is because global heating is not occurring evenly: Lower nighttime temperatures that typically provide critical relief from the hot days are disappearing. 
Summer night temperatures are warmer now, and they are warming at a faster rate than daytime temperatures, according to the National Oceanic and Atmospheric Administration. This marks a dangerous and potentially deadly combination of high daytime and high nighttime temperatures that doesn't give the human body a chance to cool down during the night. 
"Warm nights mean less chance to cool down, exacerbating exposures to high temperatures, particularly for vulnerable people and locations," said Kristie Ebi, a professor of global health at the University of Washington.
In the U.S., heat kills more people than any other weather disaster, from floods to hurricanes.
"Climate change is leading to a dramatic increase in the intensity of heat extremes, and the consequences on human health are already being seen in countries around the world," said Ben Zaitchik, an associate professor at Johns Hopkins University. "If the body can't cool down at night then the health impacts of a hot period can be particularly severe."
Firefighter Sara Sweeney uses a drip torch to set a backfire to protect mountain communities from the Bobcat Fire in the Angeles National Forest on September 10, 2020 north of Monrovia, California.
David McNew | Getty Images
Climate change is making heatwaves and droughts more common, intense and widespread. Dry and hot conditions exacerbate wildfires, which have grown more destructive in recent years. Dozens of major fires are currently burning through the U.S. West Coast, destroying hundreds of homes and wiping out entire neighborhoods in Oregon. 
Climate change is also causing more humid heatwaves. Hot and saturated air doesn't allow sweat to evaporate as quickly and causes the body to heat up even more, which can be deadly. 
"The trend in California that we have seen since the heat wave in 2006 is heat waves are also more humid, and Californians are generally not acclimated to high levels of humidity and high temperatures — it's this combo that is most deadly," said Rupa Basu, chief of air and climate epidemiology for the California Office of Environmental Health Hazard Assessment. 
"Because of power shortages with blackouts, we can not rely only on [air conditioning] as a method to cool down," Basu added. 
Daily low temperatures for many parts of the world have been increasing more quickly over the past decades than daily high temperatures, according to Randall Cerveny, a researcher at Arizona State University who studies temperature records for the World Meteorological Organization.
Phoenix this summer hit an alarming record when it had 28 nights where temperatures never dropped below 90 degrees, surpassing the old record of 15 days in 2013 and 2003, according to Cerveny. The city also experienced two separate week-long streaks of nights not falling below 90 degrees. 
The temperature extremes are a result of global climate change as well as a so-called urban heat island, which occurs when heat from the daytime is taken in by heat-absorbing asphalt or concrete, driving hotter nights and early mornings.
"The extent of adverse illnesses and deaths will depend on proactive actions to raise awareness of the health risks of heat, to redesign cities to reduce urban heat islands and to reduce our greenhouse gas emissions," Ebi said. 
Poor and minority populations who are more likely to live in neighborhoods without tree cover are disproportionately impacted by extreme heat. Black and Latino people in the U.S. are more likely to reside in hotter areas with more industrial activity and highways. 
Hotter nighttime temperatures also leave people who can't afford air conditioning in their homes at elevated risk of heat-related illness. And by sending hot air outside of homes, air conditioners can exacerbate the urban heat island.
"During the day, one might seek relief by moving to cooler environments, but at night if you can't air condition your home to a comfortable temperature then you are at the mercy of the background temperature," Zaitchik said. 
Across the world, every decade over the last 60 years has been hotter than the last. It's virtually certain that 2020 will be among the top hottest years in recorded history. 
Shopping on Black Friday? Remember the stranded seafarers who make it possible | Black Friday
This weekend is one of the planet's busiest shopping sprees, with an estimated £66bn to be spent in the UK alone over Black Friday and Cyber Monday, much of it online. Yet as shoppers click and wait to collect, there is a crisis at sea among the people whose work brings us these goods.
It is no exaggeration to say that without shipping the global marketplace would collapse. It is responsible for the movement of 90% of all global trade. Even in normal circumstances, more than a million seafarers labour daily on the vessels that make up the world cargo fleet, their work barely noticed by consumers. As Covid-19 has ravaged the world, they have helped keep the global economy functioning, unseen.
As Guardian Seascape has repeatedly reported, however, nearly 400,000 of these seafarers are trapped by the crew change crisis. Most have not been designated key workers during the pandemic, and have remained effectively imprisoned on board their vessels – unable to change crews at ports, and therefore unable to return to their homes and loved ones.
The silence on the plight of these stranded seafarers is widespread: from the governments that have decided shipping crew are not essential workers, to the major retailers that profit from tremendous sales. This failure takes on renewed importance now, as new vaccines against Covid-19 are developed and the conversation turns to who should be inoculated first. The International Maritime Organisation, the UN body for shipping and seafarers, has failed to get countries to uphold standards of care and repatriation for seafarers. They are, in effect, lost at sea.
Many have been so for more than a year, with their physical and mental wellbeing deteriorating rapidly as a result. They work in some of the world's toughest conditions to satisfy global retail demand, and their struggle has been recognised by Pope Francis and António Guterres, secretary general of the United Nations. As yet, however, we have heard little from those in the retail sector who actually have the power to make a difference.
The majority of shipping seafarers are from the Philippines, China and India, and it is perhaps the case that some in the west see their plight as a problem for the other side of the world. But shipping is a truly global enterprise, and the potential ramifications of continued indifference are just as universal. Not only does the humanitarian crisis at sea worsen every day, but the failing health of our seafarers affects productivity, which in turn hurts the seamless transportation of goods around the world.
As things stand, a few major retailers are poised to profit immensely from the work of seafearers in the rush for goods on Black Friday and Cyber Monday. The International Chamber of Shipping has written an open letter to Jeff Bezos, CEO of Amazon, asking him to use his influence to exert pressure on governments to recognise seafarers as key workers, so that they can change crews, go home and be reunited with their families.
The plight of seafarers is global, and requires a global response. Governments must give seafarers the same rights as other essential workers, and corporate responsibility must extend to seafarers as it does to other employees. Retail profiteering at the hands of trapped men and women must end. Until then, before you click "add to cart," spare a thought for the seafarers whose work will help deliver the contents of that cart to the comfort of your home, even while they can't get home themselves.
• Nusrat Ghani is MP for Wealden and a former maritime minister. Guy Platten is secretary general of the International Chamber of Shipping
Most expensive family feud in history to take the stage at London court | The super-rich
The most expensive – and acrimonious – family breakdown in history will be laid bare in a London court next week in a divorce battle over a £453m fortune that includes several luxury mansions, a superyacht called Luna, a helicopter, a private jet and an art collection including pieces by Mark Rothko, Andy Warhol and Damien Hirst.
Tatiana Akhmedova will accuse her ex-husband, Farkhad Akhmedov, an oligarch and ally of the Russian president, Vladimir Putin, and their son Temur Akhmedov of hiding hundreds of millions in assets in order to avoid paying the blockbuster settlement awarded to her by the high court in 2016.
Akhmedova alleges that her Azerbaijani-born Russian husband transferred cash and assets to their son in order to avoid paying her the money. They deny the claims and say she was aware of the father-to-son gifts, which included a £30m apartment in One Hyde Park, the exclusive London development, at the time. On Monday she will take her son to the high court accusing him of acting "as his father's lieutenant" in a scheme to hide the fortune.
In her quest to uncover the award Akhmedova has in the past two weeks won court orders to raid her son's luxury apartment in the opulent Knightsbridge development to search for evidence, and to force Google to hand over the contents of his emails.
Speaking publicly for the first time her son, Temur, 27, said that no matter what happens in court he would "never be reconciled with her" because "her outrageous, revengeful behaviour" has destroyed their once close relationship.
The search of flat and associated wine cellar led to the seizure of 58 devices, 47 of which were said to belong to Temur. He said the devices included four Xboxes and a PlayStation console.
"Our mother raised us very well, she was a good mother," he said. "But this claim is because she doesn't like me because I didn't stick on her side. I couldn't imagine in a million years going against my own blood. She is just out for revenge. How can you give birth to your kids and then fight against them in court?"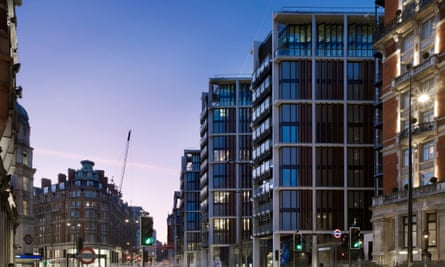 Ahead of the trial Temur was served with a worldwide freezing order preventing him from transferring funds or selling any assets. He said the order limited his spending to £3,000 a week. "Now maybe for the average person that seems like a fucking crazy amount but in reality it's different," he said in a telephone interview from Dubai.
Temur said of the freezing order: "I sent her [his mother] a text, I said 'why the fuck are you doing this?'"
He claimed his mother was not entitled to the £453m from his father's fortune she was awarded by a London court in 2016, because his parents divorced 20 years earlier after his mother had an affair with a younger man.
He said his father offered his mother £100m to formalise the split, but his mother filed for divorce in London and a judge awarded her a 41.5% share of the £1bn family fortune.
"If my mother was on the street I would totally understand," Temur said. "I would never let that happen, but she lives a very good life. She's always on holiday always travelling. I see her updates on WhatsApp, she was in Ibiza a few weeks ago and Italy."
The allegation that they previously divorced was dismissed by the family court in 2016. It was also later reported that this finding was challenged by the father in the Russian courts, which reinforced the English court's ruling.
Akhmedova has tried since 2016 to enforce the judgment. The settlement remains the highest award in UK history and remains unsatisfied despite consistent enforcement attempts made in various jurisdictions.
A source close to Akhemdova's legal team said Temur had acted "as his father's lieutenant" in executing schemes to avoid paying her the divorce settlement. He denies this.
"This trial has come about because, in the four years since Tatiana Akhmedova was awarded the £453m divorce settlement, no money has voluntarily been paid to her," the source said. "This has led to extensive enforcement efforts against Farkhad Akhmedov's assets and an investigation of the various methods employed by Farkhad to place assets beyond Tatiana's reach.
"Tatiana brought claims against her son Temur Akhmedov, alleging that he had received substantial financial sums and assets from Farkhad in order to put them beyond his mother's reach and in order to frustrate the enforcement of the divorce award. Tatiana contends that Temur played a key role – essentially as his father's lieutenant – in Farkhad's strategy of evasion by devising and executing the schemes."
Temur's mother's legal team, which is being funded by litigation financier Burford Capital, had at one stage attempted to seize Akhmedov's £300m superyacht. The yacht called Luna, which had been built for Chelsea football club owner Roman Abramovich, has 10 VIP cabins and a 20-metre swimming pool.
Farkhad Akhmedov has previously said he will make all efforts to overturn what he has always said was "a misguided and wrong judgment by the English high court".
• This article was amended on 28 November 2020 to clarify that the text Temur Akhmedov sent his mother was in relation to the freezing order, not the search of his apartment as an earlier version said.
Philip Green's empire was doomed by failure to move with the times | Retail industry
For nearly two decades Sir Philip Green has been Britain's most famous, or perhaps infamous, shopkeeper, with a store on every major UK high street and in every shopping centre. But with his stricken Arcadia fashion empire expected to enter administration this week, the fashion group's problems could mark the end of an era for the controversial businessman – and another lurch downwards for a high street stricken by coronavirus.
Green made his fortune in traditional bricks-and-mortar retailing, buying BHS and then Topshop owner Arcadia in the early 00s. Today, BHS no longer exists and the financial turmoil at Arcadia casts doubt over the future of its 500 stores and 13,000 staff.
Arcadia's problems cap a year when more than 125,000 retail jobs have been lost and thousands of stores have closed as the property-based retail model that held sway for decades unravelled during the pandemic.
The 68-year-old businessman has been trying to extricate himself from Arcadia without loss of face for some time. The company only narrowly avoided administration last year when landlords backed a restructuring plan that involved closing 50 shops and shedding 1,000 jobs.
In the coming days Arcadia is expected to enter "light-touch" trading administration, which means management retains control of the day-to-day running of the business while administrators seek buyers for all or parts of the company. Struggling department store chain Debenhams took this route in April, although a rescue deal is still to be finalised.
"Green was one of the leading retailers of the time," said a senior analyst who declined to be named. "But times have changed and he hasn't moved with them. Topshop used to be a fashion icon, with the Kate Moss look and so on. It was a big deal."
But unlike international rivals such as H&M and Zara owner Inditex, Arcadia did not pursue major overseas openings, apart from a failed attempt by Topshop to break into the US and China, and critics say Green failed to invest in the business.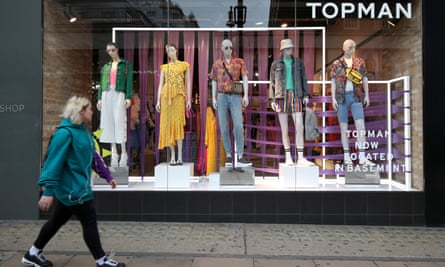 "Most of Green's success was on the buying side, extracting cash," the analyst said. "You've got Mike Ashley, who is arguably a similar character, but he's in a position where he's got enough flexibility on his balance sheet to take advantage of all the stuff that's going on."
In his 00s heyday, Green emerged as a rare businessman-celebrity. He shot to prominence in 2004 when he tried to take control of Marks & Spencer, with his tough business style injecting rock'n'roll and supermodels into the staid world of suits and share prices.
Green lost the M&S battle but got rich anyway, and for a time could do no wrong. He was lauded by the business community as his family banked monster pay cheques, including £1.2bn from Arcadia in 2005, the biggest payout in British corporate history. His rise was sealed when Tony Blair's government granted him a knighthood for services to retail.
But in recent years the businessman's critics have been busy trying to have him stripped of that knighthood.
Green's reputation was shredded by the sale and subsequent collapse of BHS in 2016: he was eventually shamed into writing a cheque for its pensioners. Dominic Chappell, the man he had sold it to for £1, was recently sentenced to six years in jail for evading tax on the £2.2m income he received from the takeover. To add to it all, in 2018 Green faced allegations of bullying and sexual harassment, which he denied.
In a situation magnified by the pandemic's closure of the high street, Green found himself out of time. New online rivals such as Boohoo and Pretty Little Thing had exploded on to the scene, just in time for shutdowns to send about half of all clothing sales online this year, according to the consultancy Retail Economics – up from 35% in 2019.
The runaway growth of online has "hammered" businesses, like Arcadia, that relied on large store networks and department-store concessions.
"Once people stopped thinking they had to go into a shop to buy clothes, fashion retailers knew they were screwed," said the analyst. "Now it's just a question of where the market settles."
Five years ago Arcadia was the UK's fourth-biggest clothing business. Today it's number 10. Over that period its market share has fallen 1.8 percentage points, leaving it with just 2.7%, according to GlobalData.
"Arcadia has shrunk back to just Topshop," said the analyst. "I mean, who ever talks about Dorothy Perkins? That used to be a big, big brand. The problem with Arcadia's brands is they are not really brands. They've been allowed to wither on the vine."
But as old empires fall, new ones rise, and rival Boohoo is on the up. Last year it snapped up Karen Millen and Coast, and industry sources say it – as well as Next and Asos – could be interested in buying Topshop.
Green's abrasive style didn't win him many friends in the boardroom, but it has won grudging respect. "He is one of the best dealmakers I've seen," recalled one senior retailer. "I don't think he is a particularly good retailer; he is good at buying and selling. He ended up being a victim of himself. When you want to screw everybody over all the time … nobody wants to buy anything from you."
Recent retail casualties
Debenhams
The department store chain has been in administration since April with sportswear giant JD Sports a would-be rescuer. JD is thought to be mainly interested in the website, but analysts think it might take on almost half the chain's 124 stores.
Edinburgh Woollen Mill Group
The heretofore successful retail group run by entrepreneur Philip Day has unravelled during the pandemic, with its brands, which include Edinburgh Woollen Mill, Peacocks, Jaeger, Austin Reed and Jacques Vert, all in administration. Day has been linked to a rescue of Peacocks and Jaeger but has been looking for a buyer for other brands.
Oasis and Warehouse
The fashion brands Oasis and Warehouse closed all their store operations with the loss of more than 1,800 jobs when they went bust in April. In the summer they were acquired by online giant Boohoo for £5.25m.
Laura Ashley
The famous clothing and furnishings retailer was one of the first casualties of the pandemic. The 67-year-old brand closed 70 stores in the spring but is set to return in 2021 through a new partnership with Next.