Which streaming stick should I buy for Disney+? | Television
My smart TV is old (Samsung, 2014) so I watch BBC iPlayer on my Now TV box (also old and discontinued). What is the best device for all the popular streaming services including the upcoming Disney+? To my knowledge, it is not yet confirmed if it will be available on my Roku-powered Now TV box. Adnan
You may be in luck, because Disney has just signed a deal with Sky. As a result, Disney+ will be available via Sky from its UK launch on 24 March, to be followed by Now TV in the coming months, says Sky. It's not clear how many months that means. Perhaps Sky does not know. However, I'd assume it means some time this year, not next.
For those who have not caught up with Disney+, the service was promised in 2017 and launched in the US late last year. The company knows it is a decade late to the film-streaming market pioneered by Netflix in 2010. It can make up for that by making its service available across a wide range of geographies and technologies.
Disney+ will be available via web browsers on PCs, on Android and Apple iOS smartphones and tablets, on Amazon Fire TV and Fire tablets, on Roku streamers, on Apple TV, the Sony PlayStation 4 and Microsoft's Xbox One, and via Google Chromecast.
It will also cover almost all the big smart TV platforms: Roku TV, Android TV, LG's WebOS and Samsung's Tizen. In the UK, BT and Virgin Media still appear to be missing, but pretty much every Ask Jack reader should be able to get Disney+ on a device they already own.
Disney is also pricing the service to attract annual signups, with a pre-launch offer of £49.99 (£10 off) if you subscribe on or before 23 March. This includes HD and 4K videos, for which other services may charge extra. It will also let you download movies to watch later.
Disney+ will not initially have the volume of content you can get from Netflix or Amazon Prime. However, Disney's string of takeovers of Pixar (2006), Marvel (2009), Lucasfilm (2012) and 21st Century Fox (2017) means it makes up in box office appeal what it lacks in depth.
It's got Star Wars plus The Mandalorian, the Toy Story series and the rest of Pixar's back catalogue, the Marvel movies and Disney's studio productions, including a vast library covering everything from the original 1928 Steamboat Willie (Mickey Mouse's first short film) to several versions of Beauty and the Beast. It's also going to spend something like $1bn a year on new productions.
There's no guarantee that Disney+ will be available on every major platform in every country, so you should check before you subscribe. Nonetheless, I expect it will appeal to families with children of all ages. In the long term, it should give Netflix some real competition.
Now TV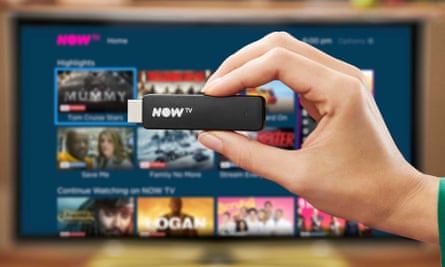 The Now TV smart stick is a popular choice because it's cheap, but may not support all the services you want.

Photograph: Sky
Now TV boxes are based on Roku technology but don't provide all of Roku's services. Instead, they are customised for Sky TV viewers, who want to watch Sky Sports, Sky Cinema, and so on. The platform's attractions are that the boxes are generally quite cheap, and discount coupons let you buy services for a short time rather than paying for annual subscriptions. Sky Sports sells expensive passes that last for a day, a week or a month.
If you use Sky's streaming services, Now TV is a good choice. You can watch BBC iPlayer and other British catch-up services, plus Netflix and other video services, though not Amazon Prime. If you don't watch Sky, you'd be better off with a Roku streamer or something similar.
It really depends on how keen you are to get Disney+, how keen you are to buy a new gadget and which other services you need. For example, someone who mainly watches Amazon Prime may lean towards a Fire TV, while the odd bod who subscribes to Apple TV+ may prefer an Apple TV box.
The joy of Roku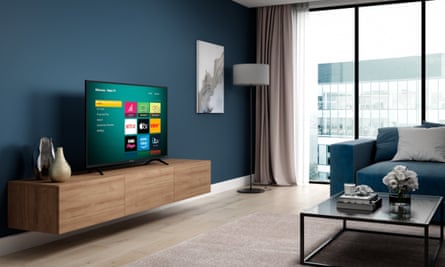 The Roku platform is now built into TVs including Hisense and others.

Photograph: Hisense
Roku got started when Netflix decided not to make its own streaming device but gave Roku's founder – Anthony Wood, a former Netflix vice-president – a $6m investment to create one. Since then, Roku has positioned itself as an independent supplier in a somewhat balkanised market.
It did deals to provide "channels" (apps) for Amazon videos and, more recently, Apple TV+. It also provides a free software development kit that enables anyone to create a channel in a Visual Basic-style scripting language called BrightScript.
In 2014, Roku launched Roku TV, which enabled TV manufacturers to build its system into smart TV sets. These can be updated in much the same way as Roku streaming sticks, and seem to have become popular in the US. Hisense, a Chinese TV manufacturer, launched the first Roku TV in the UK and Europe in November.
Roku hardware is usually cheap because the company makes almost two-thirds of its revenues from CTV (connected TV advertising), not sales of devices. It should also get a cut when Roku owners use their device to subscribe to paid-for channels. More users means more money.
Some Roku devices had voice search and control, and last year Roku launched a skill for Alexa. (Note: needs Roku OS 8.1 or later.) I have not tried it, but if you own an Amazon Echo, Dot or Show etc, your Roku should work with it. However, given that voice commands don't seem to work all that well on Amazon's Fire TV, don't set your expectations too high.
As mentioned, many people will choose a device because it's connected to or promoted with a service from Amazon, Apple, Google, Sky or whatever. For those who want Netflix and a decent range of services, Roku provides a good baseline at an affordable price. An Amazon Fire TV Stick is a reasonable alternative. Amazon's Fire OS is a fork of Android and has plenty of apps.
More power?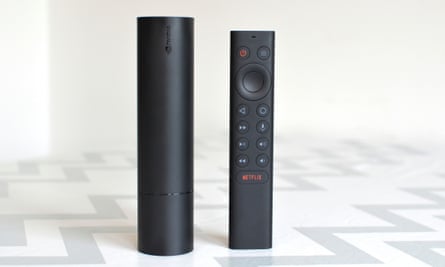 Nvidia's new Shield TV is the top Android TV box, but there are many cheaper alternatives.

Photograph: Samuel Gibbs/The Guardian
Streaming sticks are tiny computers complete with a processor, memory and an operating system. If you are willing to pay a bit more, you can get one with a faster processor and more memory, which should deliver better performance. Some can also play quite good games. The leading examples include Nvidia's Shield TV, based on the Android TV platform, and Apple TV.
The basic idea of Android TV – successor to the failed Google TV – is to use Android for streaming. It can be supplied in a set-top box or built into a TV set. Of course, Android apps are designed to work with touch on a smartphone, not with a remote control on a big TV screen, so they must be adapted. Check which apps are available in the Google Play Store for Android TV.
The saving grace is that all Android TV devices support Google Cast, so you can set up streaming from another device and use your smartphone as the controller. Once installed, streams are downloaded directly, just as with a Roku. They are not sent from the originating smartphone, tablet or PC. Some devices also support Google Assistant, which can be handy.
Asus developed the first Android TV in 2014, but the platform has been swamped by dozens of devices from obscure Chinese brands. It's impossible to say which one might be best. However, you can check for Android 9 (Pie) plus ethernet, HDMI 2 and USB 3 ports, dual-band wifi, 4K video support with H.265 decoding in hardware, more storage, more memory and other familiar computer features. Most of them cost from about £25 to £55 so it's not a huge risk.
The standout Android TV box is the Nvidia Shield TV, which comes in standard and Pro versions at £149.99 and £199 respectively. Samuel Gibbs, the Guardian's consumer technology editor, reviewed one a couple of weeks ago and gave it five stars. As he says, the Shield TV is built to last – but it is priced accordingly.
The alternative is to buy cheap streamers for £20-£50 and treat them as disposables. That works for me.
Have you got a question? Email it to [email protected]
Zuckerberg Says Facebook Will Ban Less Content Post-Election
"This does not reflect a shift in our underlying philosophy or strong support of free expression."
"To say we're done does not strike me as a plausible response to the possible violence that could be done in the next couple of months or years."
DOJ Files Antitrust Lawsuit Against Google Monopoly
The Department of Justice filed an antitrust lawsuit against tech giant Google on Tuesday, arguing the company unlawfully maintains its monopoly over internet search dollars through anticompetitive practices.
For over a year, the DOJ has investigated Google, a company with a market value of $1 trillion and control of over 80% of internet searches in the country.
In a phone call with reporters, Deputy Attorney General Jeffrey Rosen called Google the "gateway to the internet" and accused it of "exclusionary practices that are harmful to competition."
The lawsuit was filed jointly with 11 state attorneys general in federal court in Washington, DC.
"Two decades ago, Google became the darling of Silicon Valley as a scrappy
startup with an innovative way to search the emerging internet," reads the complaint. "That Google is long gone."
The lawsuit argues that by making itself the preset search engine on Android phones and paying billions to other companies — such as Apple, LG, and Motorola — to ensure it is the default search engine on their products, Google has cut off other competitors from ever having a chance to take a foothold in the market.
"Google no longer competes only on the merits but instead uses its monopoly power – and billions in monopoly profits – to lock up key pathways to search on mobile phones, browsers, and next generation devices, depriving rivals of distribution and scale," Attorney General Bill Barr said in a statement. "The end result is that no one can feasibly challenge Google's dominance in search and search advertising."
The European Union has filed repeated antitrust lawsuits against Google since 2010.
In recent years, Google has accounted for 95% of all search queries on mobile devices. The DOJ argues that this stifles innovation and customer choice, but Google says it's the customers who are choosing.
"Today's lawsuit by the Department of Justice is deeply flawed," said a Google spokesperson. "People use Google because they choose to — not because they're forced to or because they can't find alternatives."
Google has published an extensive response to the DOJ lawsuit, arguing that it is not pre-loaded on many devices and that it plans to fight the case.
"This lawsuit would do nothing to help consumers," it reads. "To the contrary, it would artificially prop up lower-quality search alternatives, raise phone prices, and make it harder for people to get the search services they want to use."
For months, Barr has publicly spoken about his Google investigation. Rosen announced that Barr chose to focus on Google and other tech companies after "broad bipartisan concerns" were raising during his Senate confirmation hearings about the concentration of tech companies and their power.
President Donald Trump also baselessly accused Google last year of interfering in the 2016 election, tweeting "watch out Google" and "Google should be sued."
But it's not just the Trump administration who has been pushing for this. Sen. Elizabeth Warren has led progressive politicians in speaking out about the monopoly of tech companies.
"Two things can be true at the same time: Bill Barr is a corrupt Trump crony who should not be the Attorney General and the Justice Department has the power to pursue a legitimate, long-time coming suit against Google for engaging in anti-competitive, manipulative, and often illegal conduct," wrote Warren in a Facebook post Monday. "The case against Google is clear and it must move forward without any political interference from AG Barr or Big Tech's army of lobbyists."
Accusing social media and tech companies of "bias" or supposed political censorship has been a constant claim of the right, including the president, whose own posts have been repeatedly flagged by Twitter and Facebook for spreading disinformation.
"This case has nothing to do with that subject," said Rosen. "The antitrust case is very separate from the questions about social media and some other technology issues that are out there about skew or bias."
The DOJ's announcement comes just two weeks before the presidential election. But Rosen rejected the suggestion that the lawsuit was rushed out before the election.
"If anything, this is a situation where we might have preferred to be quicker but we wanted to make sure we've done the work that's necessary," said Rosen.
The last major antitrust lawsuit into a tech monopoly by the DOJ was Microsoft in 1998, the same year Google was founded.
"We could lose the next wave of innovation," said Rosen, "If that happens, Americans may not get to see the next Google."
Qualcomm introduces Radio Access Network chips for 5G infrastructure
Cristiano Amon, president of Qualcomm and Qualcomm CDMA Technologies, responds to a question during a panel discussion on 5G wireless broadband technology during the 2018 CES in Las Vegas, Nevada, U.S. January 10, 2018.
Steve Marcus | Reuters
Qualcomm on Tuesday announced new chips and software products that the company hopes will give wireless carriers access to cheaper hardware for building out 5G networks than current base stations from companies like Ericsson and Huawei.
Qualcomm stock is up over 43% this year as investors bet that its mobile chips, like the modem in Apple's latest iPhones or the processor in Samsung Galaxy phones, stand to benefit from a wave of spending on 5G.
But Qualcomm's new Radio Access Network chips go on the other side of a 5G connection — instead of being inside a handset, they're designed to go into the base stations, packed with antennas and chips, that carriers place around cities to deliver internet over cellular connections. The RAN products are Qualcomm's shot to get a piece of the 5G network infrastructure market, which will be worth over $8 billion this year, according to a Gartner estimate.
Qualcomm won't actually make any base stations or infrastructure, unlike companies such as Huawei, Ericcsson, or Nokia. Instead, Qualcomm will sell its customers baseband, processing and RF chips combined with software that allow them to build "virtualized radio access" networks in which base station components are built according to specifications that allows them to work together. This could allow carriers to avoid lock-in to a single provider and choose components of a base station on a part-by-part basis. For example, a carrier could buy radios from one provider and processors from Qualcomm.
Qualcomm's RAN products support several bands of 5G, including the speedy millimeter wave connections that require more base stations and have a fairly short range, and the slower sub-6 millimeter flavor that can be broadcast over wide regions.
"5G enables a very large expansion of the Qualcomm addressable market, because 5G is going everywhere. It's going to automotive, it's going everywhere. The networking aspects of 5G comes with that transition," Qualcomm President Cristiano Amon said. "It's a very small incremental investment and it creates an expansion of the Qualcomm addressable market."
Amon declined to identify companies planning to use Qualcomm's RAN product but said the likely customers include existing base-station makers as well as new companies that want to create cellular infrastructure, such as carriers that could end up building their own base stations. Qualcomm's customers will get engineering samples in 2022.
Open standards
Qualcomm has a history of selling chips for infrastructure back in the '90s, and it started selling RAN products in 2018, but so far it has focused on "small cells," or tiny base stations for small numbers of users. Its new products can support "macro" base stations for public networks operated by carriers that have millions of subscribers, Amon said.
Qualcomm's products are compatible with O-RAN, a standard backed by Verizon, AT&T, and T-Mobile. Open standard base stations are expected to generate $5 billion in sales per year over the next five years, according to Dell'Oro Group, an industry researcher. Other companies including Intel, Hewlett Packard Enterprise, Dell, and Cisco are also offering base station parts that are compatible with O-RAN, Bloomberg reported last month.
Amon compares the rise of virtualized cellular networks to the growth of cloud computing over the past decade where companies realized that instead of buying and maintaining servers, they could purchase computer processing as a commodity, separating the expensive server hardware from the software.
"The telecom networks have been end-to-end systems. Now with 5G, there is one thing happening parallel which is the transition of networks to full virtualization," Amon said. "The networks get virtualized, so the radio access networks run on general purpose computers."
The announcement also marks an American company making substantial investments in the world of cellular infrastructure, which has become a hot international topic as countries like the United States and Australia have eliminated China's Huawei gear from 5G networks because of what officials say are national security reasons.
White House economic advisor Larry Kudlow said in an interview in February that the U.S. wants to have 5G infrastructure "done by American firms." Officials in Congress have also introduced legislation that would fund O-RAN technology development.