Wesley Koolhof and Nikola Mektic end debut season with ATP Finals doubles crown | Tennis News
LONDON:
Wesley Koolhof
and
Nikola Mektic
beat
Jurgen Melzer
and
Edouard Roger-Vasselin
6-2, 3-6, 10-5 to claim the ATP Finals doubles trophy at the end of their first season together in London on Sunday.
It was a case of third time lucky for the Dutch-Croatian fifth seeds, who lost their first two finals, in Marseille and at the US Open, earlier in the year.
One of the key features of Koolhof and Mektic's campaign at the O2 Arena was the consistent success they had with their returns.
The pair, who joined forces in January, continued that trend in the opening game of Sunday's final as Mektic ripped a forehand return winner down the line to break serve.
Koolhof and Mektic fired low returns at 3-1 to earn a double-break advantage and clinched the set with a love service hold.
Austrian-French seventh seeds Melzer and Roger-Vasselin earned the only break of the second set in the fourth game, which proved enough to take the final into a match tie-break.
In the decider, Mektic took the initiative. He connected on multiple returns and played with composure at the net to reach 9-5.
On the pair's first championship point, Melzer struck a double fault to end the match.
Croatia's Mektic said the title was a "dream come true".
"It's our first title together, not bad for a first one," he said. "It's been a great tournament for us and amazing way to finish the year."
Quarantine rules in Australia, decision to send Rohit Sharma back to NCA in focus as time runs out for Tests | Cricket News
NEW DELHI: After a month's uncertainty over his fitness status, it has emerged
Rohit Sharma
may struggle to make it to Australia for the full Test series.
Ishant Sharma
too could miss out on the series. TOI had reported on Tuesday that the Indian team management is already looking to retain a player from the white-ball squad to cover for Rohit's probable absence.
Rohit playing the IPL playoffs for
Mumbai Indians
and then not boarding the flight to Australia for the full tour raised a lot of eyebrows. The Indian cricket board (BCCI) claimed he will join the squad for the Test series that starts on Dec 17 and Rohit was advised to rehab along with Ishant at the
National Cricket Academy
(NCA) in Bengaluru. The NCA now reckons that the duo will need at least three weeks to be Test-match fit. The entire Rohit saga points towards a lack of communication.
The major challenge currently facing Rohit and the Indian team management is the quarantine rules in Australia. Since both Ishant and Rohit will have to take commercial flights to Australia, they will have to undergo a strict two-week quarantine in their hotel rooms. Unlike the Indian team, which reached Australia in a bubble from Dubai, the duo will not be allowed to even train. This could also mean that the duo may even miss the entire series.
The question that has cropped up now is if the board was aware of the government protocols in Australia, why was Rohit sent back to India from Dubai? Things become all the more confusing since the team management decided to carry Wriddhiman Saha who had missed the business end of the IPL because of injured hamstrings.
Even if Rohit and Ishant were undergoing rehab at NCA, was it not possible to send both the players to Australia and let Team India physio Nitin Patel look after them there? It may be recalled that BCCI had stated on Nov 9 that Rohit's addition to the Test squad was done after consulting with Rohit.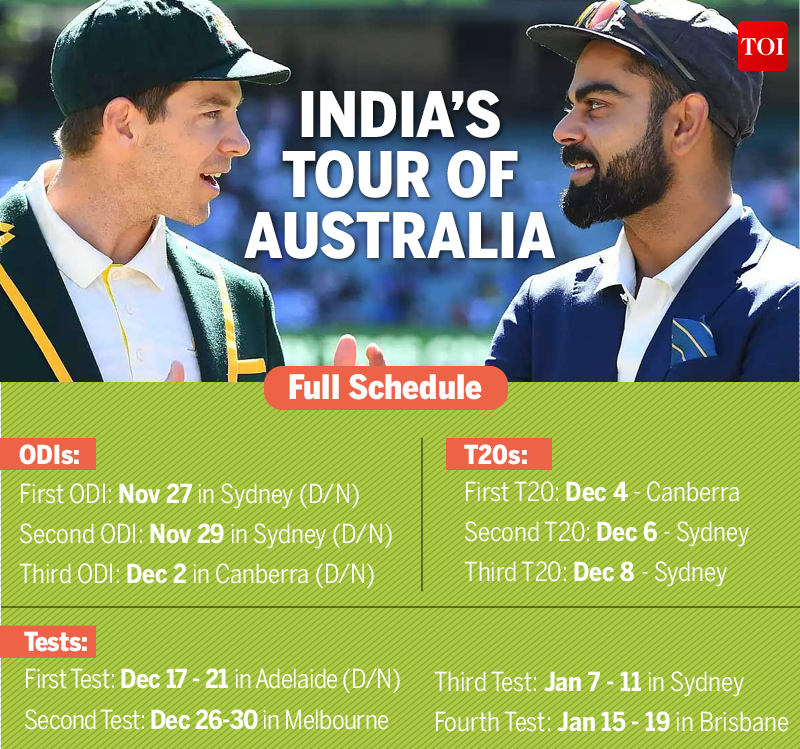 BCCI, it may be noted, boasts of a professional set-up which includes top professionals at NCA, Team India support staff and an experienced operations team. The NCA, under Rahul Dravid, is very clear that it will not declare any player fit for international cricket unless he clears all the mandatory tests. Ishant's breakdown after the first Test in New Zealand has already made the team management very cautious about the veteran fast bowler.
Staying in bio-secure bubbles a big sacrifice, says Trent Boult | Cricket News
WELLINGTON: New Zealand pace spearhead
Trent Boult
feels living out of a suitcase in bio-secure bubbles is going to play a "big role" in the way cricketers plan their schedules as the international calendar picks up.
Bolt, who joins a list of big names voicing concerns about life in bio-secure bubbles amid the COVID-19 pandemic, called it "a big sacrifice".
"I can't speak for everyone but it's definitely going to play a big role in the game," Boult was quoted as saying by 'ESPNcricinfo'.
"Having to come back to New Zealand you have to spend two weeks in a hotel before you can even be let out. It's crazy what the world is facing at the moment, it's almost surreal, and it's going to be a hard one to say what guys are feeling and what they're able to do."
The New Zealander played a big part in Mumbai Indians' fifth title triumph in the IPL recently.
"Speaking from playing in the IPL I've just been to, it's brilliant to be back out on the field and offer something for everyone to watch and it was closely followed all around the world," he added.
Prior to Boult, the likes of David Warner, Mitchell Starc and Kagiso Rabada expressed their apprehensions with the South African fast bowler comparing bio-bubbles with luxury prisons.
Boult is currently undergoing a 14-day quarantine in Christchurch after returning from the IPL in the UAE.
New Zealand's next assignment is a home T20I series against West Indies, starting November 27, for which Boult has been rested.
The pacer, however, will be part of the Test matches starting December 3 in Hamilton.
"Yeah, I think it's going to be a tough one to forecast. Having experienced three and a half months away from my young family.
"I have two young boys and a wife back home whom I haven't seen – so you can imagine it's a big sacrifice to just pack up and leave for a quarter of the year and looking at potential tours next year, there's potential to be away for nine to ten months," Boult said.
India vs Australia: Steve Smith feels he is back to his best | Cricket News
His returns were moderate — 311 runs from 14 outings — for the
Rajasthan Royals
in the recently-concluded IPL-13, but
Steve Smith
is keen to make amends in the upcoming series against India which starts with the first ODI on November 27. What will come as a massive boost for Australia ahead of the marquee series is that their star batsman seems to have found his mojo again.
"I think in the last few days, people who know me well, said that I have found my hands and I am excited about it. So, I plan to have a few more hits at the nets and get started in a few days' time," said Smith on Tuesday in a virtual chat with a select group of journalists.
Delving further on the point of regaining his rhythm, Smith said, "It's just getting that feel of the bat behind my toe the right way, the way my hands come up the bat. It just hadn't quite been right until two days ago where I found a little something and everything just clicked in."
Smith endured a patchy form in the IPL and the 31-year-old revealed how altering his natural game during the tournament provided limited success. "I got caught up trying to be a bit more powerful and that's not my game. There are players in the world who can hit sixes at will, but I am probably not one of those. It is about playing the cricketing shots and manipulating the gaps available. So now, I am keeping the thoughts clear that I will only hit the balls in my areas," Smith said.
Over the years, Smith has taken a liking for the Indian attack as seven out of his 26 Test hundreds have come against the Virat Kohli-led side. He rates the clashes against India and the Ashes as the two biggest series for the Australians. "In a big series, I try to stand up and get the best out of myself. Ashes and India series are the two biggest and as an Australian cricketer, there is something inside me that comes out," he said.
As Smith looks for another fruitful outing against India, the visitors will be devising plans to stop Smith early. The Indian team management would have looked closely at how New Zealand left-arm pacer Neil Wagner exploited a chink in Smith's armory — troubling the latter with short ball — during their series last year. Wagner had dismissed Smith on 4 occasions out of 5 innings in that series. While Smith heaped praise on Wagner, he felt a similar approach by the Indian pacers may not offer the same result. "It's not the same as what Neil does, the way he bowls it. I think what you're alluding to is a short-pitched bowling sort of approach that others might take, and people can go for that. In a way it's a bit of flattery if people believe that's the only way they can get me out because they've exhausted so many more options," Smith stated.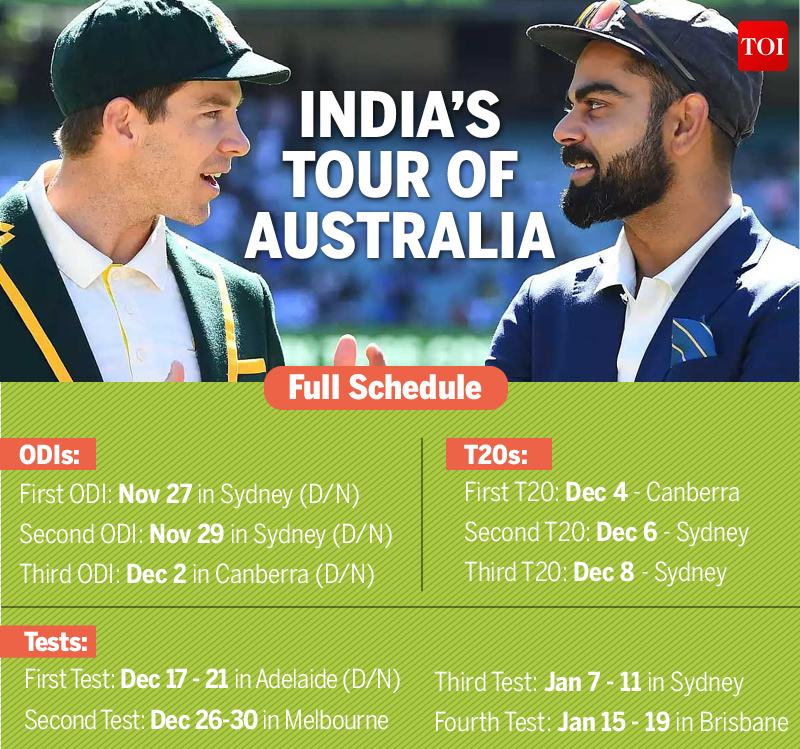 Does he see himself leading Australia again? Smith chose to reply with a straight bat. "It's something I haven't given much thought. (I am) just backing up Tim (Paine) and (Aaron) Finchy as they have done a good job during the last two years. My job is to score runs at the moment," Smith said.
Staying in a bio-bubble may be the go-to option for players at the moment, but Smith doesn't see it as a viable option in the longer run. "I don't think bio-bubble is sustainable for a long period of time. We know mental health is important and we have seen guys being able to come out and talk about it. It is important to do that," he said.