We Visited The Set Of "American Ninja Warrior Junior"
Some days are cooler than others.
Hi, my name is Mike, and these are my kids, Annie and James. Annie and James are HUGE fans of American Ninja Warrior Junior, so when I got invited to the filming of an episode of the upcoming season, I immediately asked, "Can I, uh, bring my kids?"
As you can imagine, bringing the kids won me a lifetime supply of cool dad points, and I expect them to keep their rooms clean indefinitely.
So what was it like being on the set of American Ninja Warrior Junior? Here are some of the coolest behind-the-scenes things we saw:
1.
At our episode, Jessie Graff was the mentor, which meant that the other mentors — like American Ninja Warrior legend Meagan Martin — were just standing around!
2.
We also got to meet ANW champion Drew Drechsel!
3.
We crossed paths with Matt Iseman and Akbar Gbaja-Biamila — who are back as hosts — and Paralympian Victoria Arlen, who replaced Laurie Hernandez (who is off training for the 2020 Olympics!).
4.
On TV, you mainly just see the course, so it feels more like a sporting event than a TV show. But in person, you see a lot more of the TV production side.
5.
There are a LOT of cameras.
6.
In total, including the drone and GoPros, they had 27 CAMERAS on the course.
7.
There are even compartments on the course with cutouts for camerapeople to film through.
8.
Oh, and there are large lights alongside the course too.
9.
All of this made us even more impressed with the competitors than we were before we arrived. These kids are not only managing amazing athletic feats — they're doing it while blocking out the numerous production-related distractions you don't see on TV.
10.
All in all, the experience of competing feels a lot more nerve-racking IRL than it does on TV. For example, in this photo Annie and James are standing where the race begins, so this is what the competitors see before they start. You can imagine getting easily intimidated by the size of it all.
11.
There is a training gym set up directly next to the course for the kids to use to warm up before competing.
12.
Here's a closer look:
13.
You know those cool shots taken from the side — like this one — where the camera moves with the kids as they barrel through the course?
14.
Well, this is how they get those shots — they have a camera mounted on a car/trolley that drives alongside as the kids race through the course.
15.
Oh, in case you're wondering, that cool shot was taken from where we were sitting on the production side of the course.
16.
We were sitting only about 50 feet away, and the races were VERY exciting to see in person!
17.
If a competitor falls into the water, a crew member pops up with a towel on a stick to dry any wet areas on the course.
18.
We got up close to the warped wall, which is the same one for all age groups. However, they open the lower slot (closed in the photo below) for 9–10-year-olds and open the top slot (open in the photo) for the 11–12-year-olds. Both slots are closed for the 13–14-year-olds — they have to reach the very top of the wall.
19.
Perhaps the coolest behind-the-scenes thing we got to do was go into a trailer 100 or so feet away from the course where the director (and their team) put the show together on the fly.
20.
As the races happened live outside, the team inside the trailer chose the camera angles, directed the camerapeople over a headset, and relayed questions to the hosts to ask the competitors!
21.
Oh, and in case you were wondering, like any TV production, there was a craft table with lots of goodies like Gatorade, Pop-Tarts, and warm potatoes and eggs. (We may have enjoyed a snack or three.)
Being on set was an incredible experience, not only to get a sense of how the show is actually made, but to see this year's competition. I can tell you there are some staggeringly talented competitors this year, and — even from the little I saw — there are more than a few unbelievably close finishes.
TV and Movies
Get all the best moments in pop culture & entertainment delivered to your inbox.
Relatable Sports YouTube Fails
In this video, a man fails to find his footing when he attempts to leap into the dreaded Double Dutch jump ropes.
I played every sport and activity in P.E., but I could not for the life of me solve the duel jump ropes. I thought there was some kind of witchcraft afoot and never successfully jumped in without kicking the ropes.
Young Australian cricketers still in primary school compared to Indian counterparts: Greg Chappell | Cricket News
MELBOURNE: Young Australian cricketers are still in "primary school" compared to their Indian counterparts, feels former India coach
Greg Chappell
and has urged his country's cricket board to invest in talent to avoid becoming "also-rans" in no time.
An injury-hit India sans their star players notched up an incredible 2-1 win over Australia in the four-Test series and Chappell believes it is the robust domestic structure and efforts put in by BCCI which prepares its youngsters to take on the rigours of international cricket.
"Our young cricketers are weekend warriors compared to their Indian compatriots, who get challenging matchplay from the Under-16 age group onwards," Chappell wrote in a column for 'Sydney Morning Herald'.
"By the time an Indian player reaches the national XI, he has had an all-round apprenticeship that prepares him to walk into the Indian side with a reasonable chance of success.
"I am afraid, in comparison, Will Pucovski and Cameron Green are still in primary school in terms of experience."
Pointing out the huge difference in the amount spent by the two boards, Chappell said Cricket Australia "cannot be making 1960s Holdens in this age of electric cars."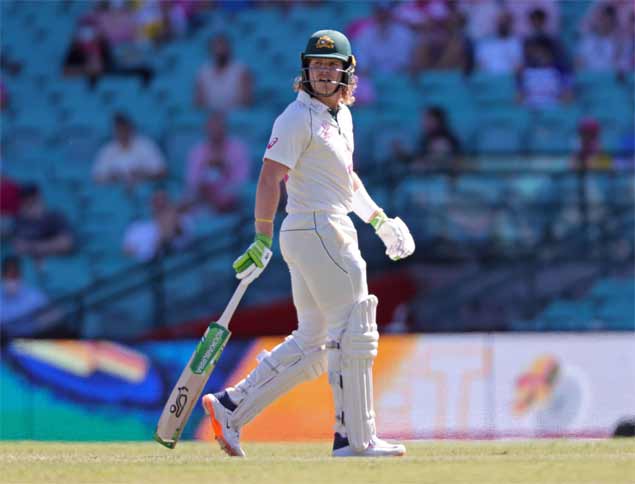 Will Pucovski. (AFP Photo)
"The BCCI is investing millions of dollars in budding Indian cricketers. Cricket Australia, by comparison, spends $44m dollars on the Sheffield Shield. The comparative spending gap isn't a gulf; it is the size of the Indian Ocean," he wrote.
"If Cricket Australia doesn't realise what it takes to be competitive in Test cricket and our entire cricket administration does not change its attitude on where to invest in talent, we will be also-rans in no time."
Chappell said "the skill level of Indian youth teams would embarrass some of our first-class teams".
"Their ability to deal with pressure has been cultivated in the cauldron of hard-fought matches. That level of intensity cannot be replicated in nets or against lesser opponents. The fact that India has 38 first-class teams should give you an idea of the depth of talent available," he wrote.
"What one sees when watching Indian youth and A teams is the surprising degree of maturity and an intuitive understanding of all aspects of the game. It is as rare as it is stark. So much so that one can be forgiven for thinking a team of men is playing a group of schoolboys."
Chappell said India's "level of investment from grassroots up has left the rest of the cricket world in its wake" and "the havoc that COVID-19 has wreaked on cricket coffers around the world will only widen the gap between India and the have-nots."
"For those of you who were surprised that India could deal with all that was thrown at them in this series, and could hold their nerve and win in such courageous fashion, I say: you better get used to it.
"Don't worry about India becoming the best team – they are already capable of producing the best five teams in world cricket!"
Chappell also felt it was a mistake to play the same bowlers in all the four Tests.
"The biggest mistake was playing the same four bowlers in every Test. For pacemen, playing four Tests in five weeks is akin to running four marathons in as many weeks. There were signs in Sydney that Mitchell Starc, in particular, was jaded," he wrote.
The former Australian batsman blamed the batsmen for the loss.
"I don't blame Tim Paine and our bowlers for this defeat. The culpability lies fairly and squarely with the batsmen, who simply didn't make enough runs on friendly wickets."
Chappell said Australia will soon need to find replacements for David Warner and Steve Smith.
"Our days of domination are past, unless we start producing a group of batsmen who bat through 125 overs in the first innings. David Warner is struggling and Steve Smith won't be around forever, so we need to find the champions who are going to replace them – and soon."
He also backed Paine, who faced a lot of criticism for his wicket-keeping and captaincy.
"For those calling out for heads to roll, especially those seeking Tim Paine's head on a pike, I say REALLY? Tim is one of only five players who can claim an automatic place in this Australian team. Sure, he didn't have his best Test series behind the stumps, but he still averaged 40 with the bat," he wrote.
Andy Murray to miss Australian Open | Tennis News
LONDON: Former world number one
Andy Murray
will not be taking part in next month's
Australian Open
after testing positive for
COVID-19
earlier this month.
"Gutted to share that I won't be flying out to Australia to compete at the Australian Open," Murray was quoted as saying by British media on Friday.
"We've been in constant dialogue…to try and find a solution which would allow some form of workable quarantine, but we couldn't make it work."
The Lawn
Tennis
Association (LTA) tweeted that Murray had confirmed he would miss the first Grand Slam of the year.
Sadly @andy_murray has confirmed he will miss the 2021 @AustralianOpen We are very sorry he'll not be able to pla… https://t.co/ho6vOvH3AG

— LTA (@the_LTA) 1611331403000
The 33-year-old, a wildcard, said last Thursday that he had tested positive for the virus and was in self-isolation at his home near London.