Was disappointed with Australia snub but felt good after chat with Rohit: Suryakumar Yadav | Cricket News
MUMBAI: Anguished beyond words after being overlooked for the tour of Australia,
Suryakumar Yadav
found comfort in a pep talk with Rohit Sharma.
Soon after his conversation with
Mumbai Indians
' inspirational captain, Suryakumar's mind was suddenly wired for distraction, and his bat ready to do some more talking.
"That time in the gym Rohit was sitting besides me and he just looked at me, and I said, 'obviously, I am a bit disappointed', because he could see that I was expecting some good news," Suryakumar told PTI in an interview.
"Later on he was like 'I just believed you have been doing a great job for the team right now, and instead of thinking about that (non-selection), you just do the same things what you have been since day one in this IPL.
"… 'and when the time is right, your opportunity will come, may be today or tomorrow but it will come, you just got to believe in yourself'," Surya recalled.
The non-selection, despite his prolific run in domestic cricket and the IPL, extended Suryakumar's wait for an India cap.
He said that "those words" from Rohit helped him come out of the disappointment.
"I really felt good because I knew how I was feeling at that time and even he could see it in my eyes clearly. I think to come out of that was a big boost for me," he said.
The 30-year-old Mumbai batsman conceded that the team selection for the Australian tour was at the back of his mind even though he did try a few things to distract himself from the thought.
"During this tournament actually I was a bit disappointed. I knew the team was going to come out, and the same day I tried myself to keep busy, just try and avoid getting that thought — there is a squad selection tonight.
"So I thought I'll just focus on my process and my things properly and instead of thinking about the call up, I will try and keep myself busy, I can go to the gym or maybe spend time with my teammates.
"But yes, at the back of the mind, there was a thought that the team is coming out tonight," he admitted.
And when he saw that his name did not feature in the list, Suryakumar was hurt.
"I sat in a room and started thinking, why my name is not there, but after looking at the squad there were lot of players who got lot of runs as well and even they have been playing consistently, doing well for India, doing well in IPL.
"Then I thought instead of thinking about that, I'll just try and keep scoring runs, do my job, what's in my hand, what's in my control, and then wait for the opportunity, whenever it comes, grab with both hands," he said.
Suryakumar played a variety of shots in IPL-13, and he revealed that initially he loved playing only on the leg side, but then improved his off-side game, too.
"Not only before this IPL, I think since 2018 I have been trying to score all over the park. I didn't want myself to be a single dimensional player.
"Before I used to love playing on leg-side, but then later on I thought, if you have to play well and score runs at this level with so much of competition you got to, practise hard and take the other side as well.
"Then I started practising even more, playing off-side strokes, because I used to love playing Ranji Trophy and in four-day cricket, you can't actually survive playing on one side, then I started enjoying more batting on off side as well, built a few strokes.
"Slowly I knew if I keep following those routines , it will come and at a point I will be happy the way I'm batting and it is happening now and I am very happy," he said.
He played a key role in Mumbai Indians' record fifth IPL title and the cricketer is satisfied with his overall performance.
"I was satisfied with the way things went in the IPL. I made a few goals before going to the IPL, wanted to tick a few boxes of getting more and more runs.
"But when the tournament started I thought, maybe, instead of thinking about scoring more runs, I can think about the contributions I can make which can help the team win.
"Those impactful performances and then I started focusing on that, maybe a 30-runs or 20 runs off 10 balls or good 50, play till the end and get that runs, which helps the team win," he signed off.
Star India acquires Cricket South Africa's media rights till 2024
New Delhi:
Star India
has acquired
Cricket South Africa
's
media rights
till the end of the 2023-24 season, including 20 bilateral matches between India and the Proteas side across Asia, Middle East and North Africa.
The association will commence with England's tour to South Africa starting on Friday, a media release said.
As per Future Tours Plan, the South Africa's men's team will play 59 matches at home including series against top teams such as India, England and Australia.
The 'Men in Blue' are scheduled to tour South Africa thrice in this period. The first of these tours, comprising three Tests and as many T20Is, will commence in 2021-22.
The agreement will also cover women's international cricket matches played by the Momentum Proteas as well as CSA's domestic men's franchise matches.
"We are delighted to collaborate with Cricket South Africa. South Africa has some of the most highly recalled cricketers and competitive teams, which pride themselves in taking on the best from around the world. We look forward to hosting the best of South African cricket till 2024," said Sanjog Gupta, CEO – Sports, Star India.

CSA acting CEO, Kugandrie Govender said, "There are few social events on the South African sporting calendar that rally our fans up as much the cricket-showdown between South Africa, India, Pakistan and Bangladesh, so we wholeheartedly welcome this agreement with Star India."
This will be a first for Star India for a non-India bilateral cricket tournament to be produced in Hindi, in addition to the English feed.
Star India already has the global rights for ICC, BCCI cricket, Indian Premier League apart from other cricket rights.

Australia vs India: Rohit, Ishant were not scheduled to fly to Australia; misinformation being spread: BCCI | Cricket News
MUMBAI: Reacting to the controversy that
Rohit Sharma
and
Ishant Sharma
will not be joining the Indian team in Australia for the Test matches, the
BCCI
has clarified saying: "Rohit and Ishant were anyways not part of the squad. An 18-member team was announced for the four Tests. Now that Virat (Kohli) is returning, we're hoping Shreyas Iyer will stay back for the series".
TOI understands that Rohit's fitness assessment has been scheduled for December 11, following which it will be decided if he is fit to play a Test match.
"But the problem is that there's a 14-day mandatory state quarantine in Australia. Even if he is allowed to travel on the 12th, how will he fly? There are no commercial flights. And even if he manages to fly, he has to undergo the two-week solitary quarantine. When will he be available, subject to fitness," say those tracking developments. "We all knew he was never going to fly."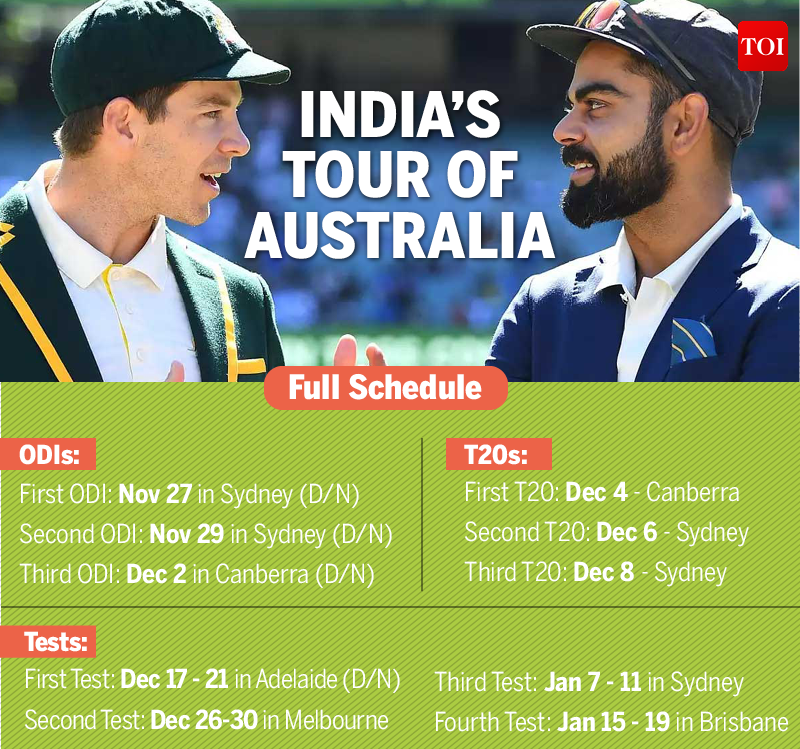 Had Rohit wanted to play the Tests and was confident of being ruled fit, he should have flown with the rest of the team on November 12.
There are those in the BCCI who say "Rohit was expected to board the flight with the rest of the team on November 12. But he chose not to and instead headed to the National Cricket Academy (NCA)."
Now, given the BCCI's own rules, the NCA has to assess Rohit's fitness before he can be proved fit to play a Test match.
"Nobody in the BCCI knows who asked Rohit to head to the NCA. Was it his own decision?" says the BCCI, further adding that "onus is now on the NCA to take a call".
There are those who believe had Rohit flown with the rest of the team to Australia and rehabilitated there, he would have been fit to participate in the second Test because he would have undergone the mandatory quarantine.
"Whatever the confusion, it has dented the team's preparations. Virat has to return because it's personal and very important. Rohit had done the same on the previous Test (tour) of Australia. It's unfortunate that the team will suffer for lack of communication," say those in the know.
BCCI sources say that Rohit and Ishant were never going to travel to Australia, "so if anybody has been trying to spread misinformation, it's really sad".
In Ishant's case, this is a decision that was taken close to a month ago when NCA director Rahul Dravid wrote to the BCCI office-bearers saying "Ishant will require close to four weeks to be fit and another three to four weeks to train before he can retain match-fitness", thus conveying that it would be December 17 (start of the first Test) by the time he would find himself fully fit.
"But then, he has to undergo a 14-day quarantine. What's the point? And solitary quarantine can drive anyone crazy. By the time he regains any sanity, three Tests will be over. Does the team really need this?" say those tracking developments.
TOI understands that a senior BCCI official called Rohit and informed the cricketer that he would be travelling to Australia soon after Virat Kohli's return but the batsman knew he had to take a break.
"It was never BCCI's decision. We have no idea who is doing this," say those in the know.
Olivier Giroud fires Chelsea into Champions League last 16 | Football News
RENNES: Chelsea reached the last 16 of the Champions League on Tuesday with two matches to spare after a late
Olivier Giroud
strike gave the Blues a 2-1 win over Rennes.
The France forward's powerful header in stoppage time snatched the points for
Frank Lampard
's side after Serhou Guirassy had levelled Callum Hudson-Odoi's first-half opener.
Chelsea were joined in the next round by Group E rivals Sevilla after the Spanish side won 2-1 at Krasnodar.
Both sides are on 10 points, nine ahead of third-placed Krasnodar and will now do battle for first place come the end of the group stage.
Chelsea can concentrate on domestic duties, with Premier League leaders Tottenham Hotspur visiting Stamford Bridge at the weekend, thanks to out-of-favour Giroud, who has been tipped to leave in January as he seeks more regular football ahead of next summer's European Championship.
"I have a problem because we have Tammy who's playing well… I have two players in a similar position fighting for a place. That's a good problem," Lampard told British broadcaster BT Sport.
"Olly (Giroud) will get his minutes because we have a busy schedule, we're playing every few days."
Chelsea started strongly and should have been ahead as early as the seventh minute, when Timo Werner flashed Hudson-Odoi's low cross over the bar with the goal at his mercy.
Their early dominance was rewarded in the 22nd minute following superb play from Mason Mount, who won the ball near his own area before spotting the marauding Hudson-Odoi on the right.
Mount picked out his fellow Chelsea academy graduate with a long pass. The winger took two touches before slotting past Alfred Gomis.
England international Mount was unlucky not to double the away side's lead eight minutes later when Gomis pulled off a superb save to keep out his close-range effort following a Ben Chilwell pull-back.
Goalkeeper Edouard Mendy had a quiet start to his return to the club from whom Chelsea signed him in the summer, but the hosts got a foothold in the contest after a rocky opening period.
James Lea Siliki shot over in the 32nd minute after the ball rebounded to him off
Kurt Zouma
. Rennes then began to cause Chelsea some problems.
Mendy showed the difference he has made to Chelsea with solid saves from Guirassy and Damien Da Silva towards the end of the opening period.
Chelsea thought they had added a second shortly after the break but Werner's header was ruled offside and Rennes continued to pose them problems.
Mendy made the save of the night in the 73rd minute when he got his body in the way of a powerful Gerzino Nyamsi header, and then pounced to stop a goal on the rebound.
Rennes thought they had punished Chelsea with five minutes remaining when an unmarked Guirassy thumped a header past Mendy.
But Giroud pounced less than a minute into stoppage time after Gomis' save from another Werner miss bounced up, allowing the Frenchman to head Chelsea into the last 16.