'Understanding a map creates a new sort of relationship with the outdoors' | Maps
One of my strongest childhood memories is of sitting in the back of the car with a map. On long journeys it was my job to trace our route with my finger and call out directions (even though my parents knew exactly where we were going). I can remember that almost magical feeling of power and responsibility, as if somehow I was the one in control, that we would go where my finger took us. That's where my love of maps began.
When I got older, I joined the Scouts and I remember proudly getting my navigation badge. With it came the realisation that everything you need to understand the landscape around you – mountains, forests, lakes and rivers – folds down into something you can fit into a rucksack.
Understanding a map creates a new sort of relationship with the outdoors – if you can learn to do that at an early enough age, it will carry through the rest of your life. Studies have shown that if you can get someone interested in outdoor activity before the age of 14, it will stay with them. If you don't, there is a danger they will always think of the outdoors as something to be driven past and through. For me, a map is a passport to getting outside.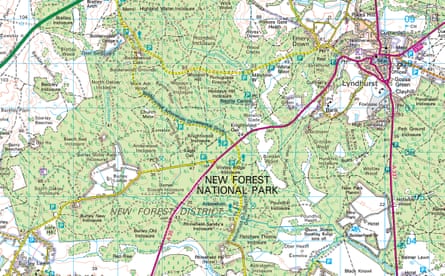 OS map of the New Forest
In my role at Ordnance Survey (OS), I want to help more people to get outside more often. The outdoors should be for everyone, and we know from our work with experts such as former Olympian and sports scientist Greg Whyte that outdoor physical activity during lockdown is more important than ever.
The good news is that people do seem to be getting outside. Since February, use of our OS Maps Get Outside adventure planning app has increased by 78%, with around 3.5 million people using it now. There's a function that lets you see local green space, and usage of it is up 3,000%. November is normally a more quiet time for the app – it's darker, the weather is more inclement – but it's clear that with restrictions on other sorts of activity, people are turning to walking in nature. My hope is that, even when the full list of competing pastimes comes back, many will have discovered a love for the outdoors and keep going.
You don't need a car, or to travel far, to find unexpected treasures – they can be right on your doorstep. In fact, my favourite map is for my local area in Bournemouth, which also covers the New Forest. Even the cover of this map is appealing – a Gruffalo-type woodland just waiting to be explored. You can be forgiven for thinking there's nothing new to discover in your local area, but there will always be things you've never done before. For example, in the New Forest there's something described as Portuguese Fireplace – I've often noticed it, but had no real idea what it could be. So we went on a walk to find it, and it really is a Portuguese fireplace – a war memorial to a Portuguese regiment who helped with timber production during the first world war.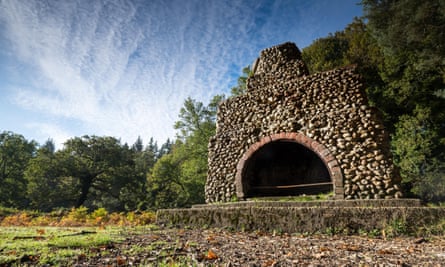 Portuguese Fireplace in the New Forest.

Photograph: Alamy
Running your finger along the placenames on a map is a journey through history as well as geography. It's those little things you can uncover that makes maps so special.
Map reading can also be a brilliant way to entertain children, and to build their confidence. When you can bring the landscape to life with a map – "We're going to walk through an ancient woodland and over a Saxon burial mound" – all that rich history comes out and you start an adventure. Letting a child take on the navigation is also a great tool to give them. They are naturally fascinated by the relationship between the world and them.
While map sales are soaring, the process of imaging and mapping has seen new challenges. Ordnance Survey's flying unit has spoken of the eerie experience of flying over the UK during lockdown. The work of the flying team underpins the accuracy of OS mapping and is essential for users such as the emergency services, so as soon as it was safe to fly, they got back out in the sky.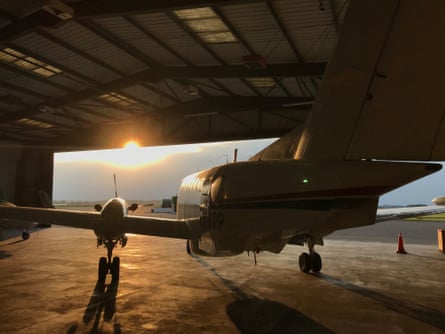 Ordnance Survey mapping plane.

Photograph: Ordnance Survey
During the first lockdown, OS pilots flew the only plane in the sky, documenting Britain's changing landscape while the country below came to a halt. They witnessed a unique view from the cockpit: empty motorways, unpopulated beaches like desert islands, airport runways jammed with mothballed aircrafts, and skies reclaimed by birds and wildlife.
Camera operator Roger Nock takes the aerial images that keep OS maps up to date, and he told me: "We were, on occasion, the only people in the sky. That hasn't happened since the dawn of aviation."
Cities like Nottingham and Birmingham were like ghost towns because of how many people obeyed the lockdown. There was no rush-hour traffic either, and a big difference from previous years was the lack of haze over cities because of less pollution."
We're living through unprecedented times, but I hope that when we leave them behind, many of us will be taking with us a newfound love of getting out and about in the British countryside.
• Nick Giles is managing director of OS Leisure. The Ordnance Survey Great British Treasure Hunt (Trapeze, £14.99) is out now
Rachel Roddy's recipe for chestnut, mushroom and potato soup | Food
We can't eat the spiky-coated horse chestnuts scattered all over the piazza. Nor the mushrooms that suddenly billow like bald umbrellas at the base of the nearby trees. Both, however, are daily reminders that now is the time that their sweet and edible siblings can be bought at the market and in shops. Then there is Augusto's cabinet at his restaurant La Torricella, filled, as it is every year, with chestnuts from trees on his land in the neighbouring region of Abruzzo. Only this isn't every year.
Once I have seen them, chestnuts call out to me at this time of year. Maybe because I know that a kilo, scored around their curve and roasted until the nut tries to escape, a bottle of red wine and a bar of chocolate is such a balanced meal, with no washing up. I might be contradicting previous columns in being undecided as to what is best – roasting chestnuts in a frying pan (which requires a lot of shaking) or in the oven (which requires moderate shaking) – so I swing between the two. Either way, I tip the hot, roasted chestnuts into a brown paper bag, then wrap it in a tea towel for 15 minutes, in which time the heat turns to steam, which eases the shells away and makes them easier to peel.
Red wine also makes chestnuts easier to peel. Red wine for the peeler to drink, that is (though there are, in fact, several recipes for chestnuts boiled in red wine from Abruzzo). The enthusiasm you can summon for peeling nuts when they are for immediate consumption is quite incredible. As is the speed at which one can do so: it's similar to what one friend calls the pistachio race – don't stop until the bowl is empty.
It is hard to summon anything near the enthusiasm, or speed, for chestnut peeling when they are for a recipe, however. Which is where vacuum-packed chestnuts step in. Resembling tiny brains pressed against tight packets, they are the most brilliantly useful thing – for soup, stews, stuffings, cakes and puddings. Chestnut flour, too, is a brilliant store-cupboard ingredient, for adding (cautiously) to pasta dough, cakes and bread.
Today, though, a soup inspired by a chestnut, mushroom and potato soup we ate in Abruzzo several years ago (at the same meal, incidentally, as the mystic cherry liquor). Chestnuts function like beans in soup – that is, they are soft and substantial, but also floury – which can be turned up a notch by blending them, or some of them, to thicken the consistency. Porcini bring two things: their rich, leathery flesh and a well-flavoured broth, both a great match for chestnuts (what grows together, goes together). Porcini also love potatoes, which themselves are rarely a bad idea in soup.
You could add some pasta to this soup in the last minutes of cooking – orzo, broken tagliatelle, or maltagliati (offcuts of fresh egg pasta), though the exact cooking time will depend on the shape. Otherwise, croutons fried in a mix of butter and olive oil, or toast rubbed with garlic and zigzagged with olive oil are also good. As is a bottle of red wine.
Chestnut, porcini and potato soup
Serves 4
20g dried porcini
3 tbsp olive oil
20g butter
1 small onion, peeled and diced
1 large potato, peeled and diced
250g peeled chestnuts (use vacuum-packed ones, for ease)
Salt and black pepper
Soak the porcini in 500ml warm water for 30 minutes, then drain, reserving the soaking liquid, and roughly chop the porcini.
In a soup pan, warm the olive oil and butter, then fry the onion gently until soft. Add the potato, chestnuts and a pinch of salt, and cook for a minute more.
Make the porcini soaking liquid up to 1.2 litres by adding warm water, then add to the pan, along with another pinch of salt. Bring to a boil, then reduce to a simmer and leave to cook for 20 minutes.
If you want, take out half the soup, blend smooth, then return to the pan, to thicken. Taste and adjust the seasoning to your liking, and serve with toast.
Crossword blog: the French don't talk about brassières | Crosswords
In the sample clues below, the links take you to explainers from our beginners' series. The setter's name often links to an interview with him or her, in case you feel like getting to know these people better.
The news in clues
There was an extra treat in a prize puzzle from Brendan. Here are the clues for the middle row:
17ac First to go on board with partners securing success (5)
[ wordplay: abbrevs for west and east (bridge 'partners') containing ('securing') synonym for 'success' ][ WE containing HIT ][ definition: first to go on (a chess) board ]
19ac Ordinary man's book abridged (3)
[ wordplay: book of the Bible without its last letter ('abridged') ][ JOEL – L ][ definition: ordinary man ]
20ac Legislative assembly, in practice, following call to attend (5)
[ wordplay: synonym for 'practice', after ('following') call demanding attention ][ USE after HO ][ definition: legislative assembly ]
And here's what you saw:
That makes a change, doesn't it? Because it's a prize puzzle, there's a full explanation of all the other answers, of which many are also thematic, in the annotated solution.
Latter patter
Here's the first clue from a quiptic, the Guardian's weekly "puzzle for beginners and those in a hurry". It's by Carpathian:
1ac Support section of the orchestra that is backing the Queen (9)
[ wordplay: one part of orchestra, then abbrev. meaning 'that is' after ('backing') abbrev. for Elizabeth Regina ('the Queen') ][ BRASS, then IE after ER ][ definition: support ]
As new solvers soon learn, "support" in a crossword often indicates a BRA, here in its fullest form BRASSIERE, as the French say. Or rather, as they don't, as learners of French soon discover, wondering why the English word looks so French when the lingerie shops of Paris talk of the soutien-gorge.
It's really an American word: needing some term to describe this novel device, advertisers and magazines at the turn of the century reached for a French word which, my Petit Robert tells me, was then used for an infant's shirt …

… which combines euphemism with aren't-foreigners-fancy? in a way we haven't seen since we opened the kimono. Let's stick with underwear for our next challenge. It's also been used as a phrase for a long table, a kind of doughnut and a tall tree, and the etymologist Michael Quinion thinks it might be a tribute to the boxer John L Sullivan: reader, how would you clue LONG JOHNS?
Puzzling elsewhere
Enigmatist sets quizzes as well as puzzles, and as you would expect if you've solved his crosswords, they involve cryptic and lateral thinking. This year, they have of course moved online and they support a different charity every Tuesday evening.
If you follow @enigmatistelgar and/or @OldDairyN4Quiz on Twitter today, you'll see the details for tomorrow. This has been going on since 1987, or as Enigmatist describes it: "when Only Connect was but a glint in the milkman's eye". There is indeed a lot of connecting to be done.
Cluing competition
Many thanks for your clues for BOVVER. Chameleon takes the audacity award, not because the wily Smylers got there earlier, but for the business of slicing a W into Vs in "Trouble as violinist is broken-hearted". It must be said that "Over-55 shielding inside as autumn months end, resulting in aggravation" is neither unaudacious, nor Montano's only topical reference.
The runners-up are Phitonelly, who uses "drunk" not in the normal way in "Frightful bore, very, very drunk, causing trouble on the street" and Catarella's "Gove's content to back British minister over bullying"; the winner is Flatrod's calming "Not taking sides – above every sort of aggro".
Kludos to Flatrod; please leave entries for this fortnight's competition – and your picks from the broadsheet cryptics – below. And our latest offering of Healing Music Recorded in 2020 to Accompany a Solve or Even Listen to comes from a near-empty Wigmore Hall.
Tamsin Waley-Cohen and Huw Watkins perform Beethoven, Huw Watkins, Janácek and Knussen.
Clue of the Fortnight
I was reminded of our lively discussion about whether the nine of diamonds (or a tasty sandwich) counts as "a thing" by a clue from Vlad.
1/18ac He dealt with state affairs a lot – wrong description of Boris? (1,6,2,2,5,3)
[ wordplay: anagram ('dealt') of HESTATEAFFAIRSALOT, then X ('wrong') ][ definition: description of Boris Johnson]
The answer, A FATHER OF AT LEAST SIX, was not coined specially for the puzzle: you can find it in the wild, describing not just Johnson but also various hip-hop artists and a promiscuous Spanish playwright. It's certainly not in the dictionary, but: who would want to deny solvers the pleasure of Vlad's reveal?
• My first puzzle collection, The Shipping Forecast Puzzle Book, can be ordered from the Guardian Bookshop, and is partially but not predominantly cryptic
• Here is a collection of all our explainers, interviews and other helpful bits and bobs
My boy has become the great dictator, laying claim to whatever takes his fancy | Parents and parenting
My son has recently become a boy king, owner of all he surveys. 'MY bag', 'MY dinner' and especially 'MY train.' He says the latter in relation to the battery of small locomotives he carries about his person at all times, just so he can loudly declare them his property to anyone nearby.
In those cases, at least, he's speaking accurately. Those are his trains and we have the receipts to prove it. Such claims get slightly less defensible when he says the same about actual, people-carrying trains. Sometimes I bring him down to the platform just so he can settle his nerves. 'MY train,' he snarls cheerfully to random strangers as they disembark, generating a pleasant response from people who don't know him well enough to recognise the avarice behind these words.
Before I had kids, I always hated parents who laughed off kids' antisocial behaviour as normal, because I didn't find my shins being kicked quite so quirkily delightful as they did. Now, I go too far the other way, apologising for my son's strops every few seconds. 'I'm sorry,' I'll say to the shopkeeper, as my son shouts, 'MY chocolate!' sweeping the lower shelves with an arm. 'He thinks he's emperor of the universe.'
We know it's normal and try to speak to him, softly but firmly, about the need to share. But this feels like trying to stop a speeding train with a thoughtfully worded poem. I'm informed that tantrums of this sort are a key step in grappling with your identity as an individual. As heartening as that sounds, it's hard to chalk this behaviour up as a necessary stage of development when you're the person introducing this shouting, 2ft-tall oligarch to public spaces.
It puts me in mind of something I call the Parenting Problem Paradox. This operates in stark contrast to the better-known 'Dr Google Paradox', which states that any medical ailment you have – a light sweat, a sore knee – is always fatal. 'Ah, a chesty cough AND a stiff wrist?' your search results will solemnly intone, 'let's just say I wouldn't be buying any green bananas if I were you.'
The Parenting Problem Paradox goes the opposite way; the more you research any antisocial childhood behaviour, the more the internet will try to convince you that everything bad is perfectly normal. Lying? Creative cognition! Biting? Assertive dominance! Killing small animals and arranging their skulls in pyramids? A subversive artistic streak!
It's not that I want my son to have some specific personality disorder, I'd just rather there were better, more lasting remedies to his tantrums than telling him sharing is good and waiting it all out. But that's where we are at. Waiting, on a platform near our house with nowhere to go, my son lightly simmering as the trains steam by.
'MY trains.' he reminds me loudly, as they chug on past regardless.