Try these 8 tips to set the perfect curd at home
A cool and refreshing dish in itself, curd is a staple food item of many Indian households. It not only adds to the taste of the meal but also carries a storehouse of health benefits with itself. It is quite easy to set curd at home, as all you require is a tablespoon of curd and a glass of milk. Here are some super easy tips which will help you in setting the perfect curd at home.
Milk type
The secret behind a thick and creamy curd is whole fat milk. Especially during winters, when the temperatures are low, milk type can make or break the curd. Cow milk or buffalo milk, both will give equally good results, when used for making curd.


Whisking
After adding cultured curd to your milk, use a whisk or a fork to properly mix them together. Usually 1-2 tbsp of cultured curd is sufficient to set a big bowl of curd. Whisking will create froth and ensure that the two ingredients are blended well. Store bought yogurts do not work when used as culture. They give a sticky texture to curd.
Milk shuffling
Take two different bowls and shuffle the milk between them. Pour from one bowl to another at least 6-7 times. This will properly mix the milk and the curd together and also help in better frothing. Milk set after shuffling will start the fermentation process instantly.
Warm temperature


You should always use warm milk to set curd. It should neither be boiling hot nor towards the colder side. While lukewarm milk should be used during summer season, warmer milk will help in setting the curd during winters.
Green chilli effect
Do you know that adding a green chilli to your curd can help it set faster? Just take a clean green chilli which has its stem intact and just drop it in the curd container. You can also just add the green chilli stalk but make sure it doesn't have chilli seeds stuck to it. Green chillies contain certain bacteria that can help the milk curdle and turn into curd.
Container
While stainless steel will give you the best possible results when it comes to setting curd, you can also use clay or earthen pot for the purpose. Many people also use bone China and ceramic bowls to set it. You can experiment with the options and pick the one which suits you the best.
Warm storage
Once mixed well and poured in the container, curd requires a warm storage to set properly. You can wrap the container with a thick cloth, which will contain the warm of the milk inside. You can also pour some warm water in a big bowl and place your curd container in the bowl to sustain the warmth for long.
Leave untouched
The final step to assure that the curd gets set properly is to leave it untouched. Once placed in a warm place, let it sit for about 6-7 hours. The amount of time taken by curd to set depends on the weather conditions as well.

Autumn seems to come later these days – is the climate crisis to blame? | Autumn
I've noticed that trees begin turning colour much later in autumn in recent years, and don't begin to drop their leaves until late October or November. Our mulberry tree was always "last to come, first to go" but not in recent years; the apple trees are later too. Is this another aspect of the climate emergency? Has anyone else noticed this?
Jill Bennett, St Albans, Herts
Post your answers – and new questions – below or email them to [email protected]
'It's literally the perfect knife': Dan Hong on the three most useful objects in his life | Food
How does a chef get through one of the most challenging times the hospitality industry's ever faced?
For Dan Hong, it's been a chance to get buff.
The Merivale executive chef – behind restaurants including Mr Wong, Lotus, Queen Chow – hopped on the phone to tell us about the most helpful things in his life right now.
The My Fitness Pal app
Every couple of years I go in phases of gaining weight and losing weight. I first started using this app five years ago. I started going to the gym, I got a trainer and I lost a lot of weight – 12 kilos.
But then, Covid made me gain eight kilos. At first, I was drinking a lot. So, for the last nine or 10 weeks I've been on a massive diet and not drinking. I decided at the beginning of July I wanted to lose weight. And the only way for me to really see results is to record every calorie I put in my body – not everyone is like this, but for me, it's essential.
A lot of people think they're eating healthy but they're not. They think "I can still eat olive oil, I can still eat a poke bowl". You can still eat carbs and oils and stuff, but you have to know when to stop, and recording it really helps.
Of course it's difficult as a chef, to really commit, because I was always travelling. If I was going overseas or interstate I'd be eating a lot. So this was the perfect time to start, because I knew I wasn't going to go anywhere.
Kiwi knives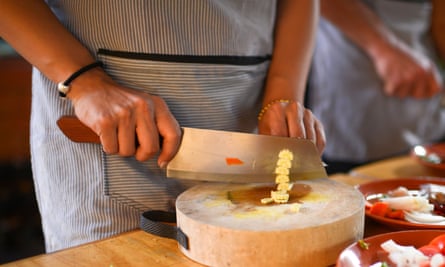 'It's so perfect for what I need to do, from julienning and simple chopping and dicing.'

Photograph: PhotoTalk/Getty Images/iStockphoto
The Kiwi brand knife is one of the cheapest knives on the market. They're available at any Asian grocer, and they come in different sizes for no more than $10. They've got wooden handles and they're super sharp and light. We use them at home and when they go blunt, we just buy a new one.
When I was a second year apprentice we had this French-Canadian chef who'd just come back from a stage (an internship) at El Bulli, he told me about them. This was in 2002 and they were $2 each. I'd been spending hundreds of dollars on knives – so this was a revelation.
It's so perfect for what I need to do, from julienning and simple chopping and dicing. They last quite a while, if you use them every day they stay sharp for a month. Once they go blunt, you can just buy a new one. I've used them all through my career. I would always have a box of them in the draw in the office, a stash.
If you go to Thailand, all the street food vendors use them too.
It feels good to have something so cheap that works so well. It's nothing against good knives. If you look at sushi chefs for instance, you just can't do your job with a Kiwi knife. It's the same for butchering. But for simple at home chopping jobs, it's literally the perfect knife.
Magnesium tablets
I find it hard to sleep every night, especially with the amount of training I've been doing. I have aching muscles every now and then, and magnesium really helps to relax them, so I can have proper sleep and a clear mind.
Not drinking helps too. I like this, rather than trying to take melatonin or something that makes you drowsy, because this way you wake up feeling really refreshed.
Taking them is an old personal trainer thing – they always recommend it when you first start working out. Now, it's pretty much become ritualised for me. It's not that I notice a big, big difference when I take them, but I do notice I have a deeper sleep and I'm not waking up in the night as much.
Try sugaring at home instead of waxing