Triumph Rocket 3 GT Price in India: Triumph Rocket 3 GT launched at Rs 18.40 lakh |
NEW DELHI:
Triumph Motorcycles
on Thursday launched and commenced the booking for the all-new Rocket 3 GT in India at Rs 18.40 lakh (ex-showroom).
Featuring the world's biggest production engine, the Rocket 3 GT is the touring variant of the Rocket 3R launched earlier in December 2019. With the addition of the new variant, Triumph is the only premium manufacturer in Indian to have the largest BS-VI portfolio consisting of 13 motorcycles in its fleet.
The new Rocket 3 GT is equipped with the all-new 2,500cc triple motor, which offers even higher capacity and performance than its predecessor. The new Rocket 3 GT engine brings an amazing increase in peak power with 167 PS @ 6,000 rpm, which is 11% up on its predecessor. With more power from a low 3,500rpm, and all the way up to a higher red line of 7,000rpm, the new Rocket 3 GT delivers a staggering level of performance. The Rocket 3 engine also has the highest torque figure of any production motorcycle available to buy, with 221 Nm – an astounding 71% more than its closest competition.
All this absolute power and muscular presence comes with a genuinely surprising dynamic and engaged roadster ride.… https://t.co/qaqPbFDmh2

— TriumphIndiaOfficial (@IndiaTriumph) 1599718680000
With beautifully distinctive details, such as the new signature twin LED headlight, including Triumph maker's mark triangle branding and the sculpted 3-header exhaust run, the new Rocket 3 line-up has an incredibly imposing look.
In addition, the all-new lightweight multi-spoke cast aluminium wheels enhance the muscular contemporary style, the Rocket 3 GT model goes one step further than the R with exposed machining on rim and spokes. The GT is also fitted with Avon Cobra Chrome tyres, developed especially for the new Rocket 3 range, with an imposing 240mm rear wheel width. The new tyres have exquisite detailing and feature a new tread pattern developed for great grip and high mileage durability.
Contributing to the Rocket 3's clean, uncluttered styling are the beautifully engineered single-sided swingarm, with offset monoshock suspension and high-value finishing on the bevel box, The stylish internally wired handlebars further reinforce the bike's muscular feel and commanding riding position. The Rocket 3 GT model has touring-oriented handlebars enhancing its touring comfort and capability.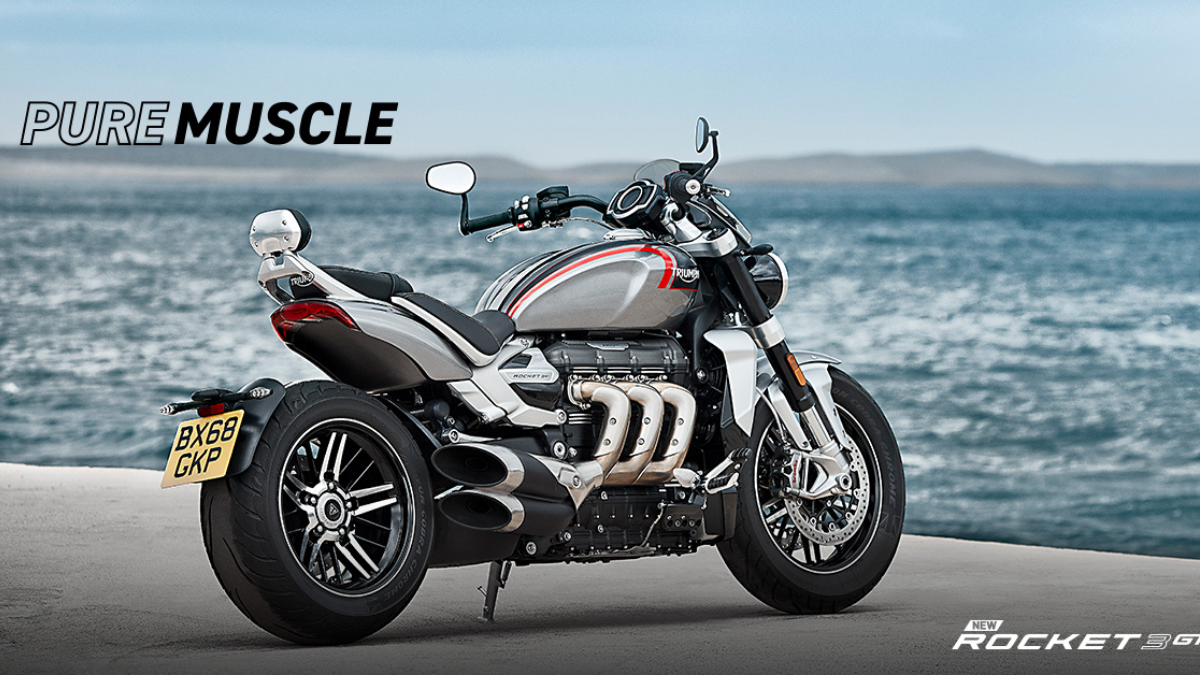 The Rocket 3 GT comes with a sculpted rider and pillion saddle, featuring cast aluminium finishers under the seat and creating a unique flowing line through the bike. The set-up for the Rocket 3 GT has been designed to be easily changed from twin to single seat set-up with optional addition of an accessory infill pad available to further enhance the single seat look. The Rocket 3 GT features a touring rider and pillion saddle set-up with an even more accessible 750mm seat height. The Rocket 3 GT additionally benefits from a brushed aluminium pillion backrest.
For maximum comfort for every rider, each Rocket 3 GT offers a range of rider-adjustable ergonomics. The Rocket 3 GT offers feet-forward foot controls with three horizontal position choices (-25mm / 0mm / +25mm), and also a height adjustable pillion backrest.
The all-new Rocket 3 GT also benefits from Triumph Motorcycles' class-defining level of finish and detailing, contributing to its magnificent style. These beautiful features include a muscular sculpted fuel tank with Triumph's signature design DNA, brushed stainless steel tank strap and beautiful aluminium Monza-style cap, brushed aluminium air-box cover, brushed aluminium Monza-style coolant and oil caps, machined fins on the crankcases, head and cam cover, brushed exhaust heat shields and end caps, and elegant hidden folding pillion footrests with unique foldaway design.
The Rocket 3 GTs feature 2nd generation TFT instruments, optimised cornering ABS – supported by an IMU, optimised cornering traction control – supported by an IMU, four riding modes, all-LED lighting with DRL headlight, hill hold control, cruise control, keyless ignition and steering lock, heated grips, USB charging and 50+ dedicated new Rocker 3 accessories.
Shoeb Farooq, Business Head, Triumph Motorcycles India Pvt Ltd said "The Rocket 3 GT is an enthusiast's machine, being an ideal amalgamation of class defining technology, dominating road presence, astounding performance and ergonomics. It is a legend in itself. The Rocket 3 GT completes the Rocket range which has the roadster and touring variants. With this we also strengthen our BS-VI offering in India to 13 motorcycles which is the largest BS-VI line-up in the premium motorcycle space in India."
'COVID-19: Minimum touch ethos to be key value drivers for auto makers for connected cars'
As the
coronavirus
pandemic heightens dependency on smartphones, digitisation, health, and hygiene, convenience-led
customer experience
with minimum touch ethos will be key value drivers for
automobile manufacturers
for their
connected cars
, according to
Deloitte
.
Automakers will need to build a connected car strategy that contains a differentiated customer experience at its core backed by technological innovation and data insights to cater to the new-age digital consumer, the consultancy firm said in its latest automotive report.
"Today, deeper customer engagement via added components of enhanced data-driven customer experience provides OEMs (original equipment manufacturers) the opportunity to monetise data and increase product stickiness," Deloitte India Partner and Leader-Automotive Rajeev Singh said in a statement.
He further said while designing the right customer experiences, cybersecurity will go hand in hand with the ease of using various features.
"For OEMs to thrive in the new normal, there is a need for them to expand horizons of development and partnership strategies across a wider gamut of the industry ecosystem," Singh added. It will help cater to the increasing demand from the discerning Indian consumer while elevating product development and servicing standards, it added.
As COVID-19 elevates, the dependency on smartphones, digitisation, health, and hygiene is taking centre stage. A connected car's proposition of minimum touch ethos, user preference awareness, and convenience-led customer experience will be key value drivers for OEMs, Deloitte said.

Citing a survey conducted by it, Deloitte said 69 per cent of Indian customers are concerned with the security of biometric data generated and shared with external parties by connected vehicles.
It added that 81 per cent are comfortable sharing their data with OEMs, dealers, and commercial third parties, if they receive significant benefits in return.
However, only 35 per cent of consumers say they would most trust a car manufacturer to manage their connected data, it added.
The consultancy firm said some of the emerging trends in connected cars include personalisation in in-vehicle infotainment; simplicity of tasks and having features like voice recognition and cybersecurity, among others.
It further said, "Consumers are always on the lookout for tailored experiences and seamless transitions from car to home as they wander in the technologically changing lifestyle."
Vehicle-to-home connectivity helps customers get more work done, irrespective of whether they are at home or elsewhere, it added.

Passenger vehicle, 2-wheeler wholesales to decline over next few months: Ind-Ra
NEW DELHI:
Domestic passenger vehicle and two-wheeler wholesales will come down in the next few months as inventory levels remain high at dealer level, according to rating firm India Ratings and Research (
Ind-Ra
). The overall auto industry would however continue to grow in the next few months, it noted.
"With the festive season now over in India, the rating agency expects wholesale billings to moderate in the next couple of months, given that the inventory at dealer level for passenger vehicles (PVs) and two-wheelers is already at higher than the 21 days recommended by Federation of Automobile Dealers Association (FADA)," Ind-Ra said in a statement.
However, it expects the overall automotive industry to continue to revive in the next two to three months, in line with improving economic indicators, it noted.
Over the past two-three months, original equipment manufacturers (OEMs) had been focusing on stocking-up at dealership level ahead of the peak demand expected during the festive season in October-November, Ind-Ra said.
Consequently, production levels had surged since August 2020, with production volumes for PVs and two-wheelers up 32 per cent and 40 per cent (year-on-year), respectively, in October this year, it added.
"However, the continued higher wholesale billings than retail registrations during August-October have led to a considerable inventory build-up at the dealership level, particularly for two-wheelers, with the retail sales lagging behind wholesales during this period," Ind-Ra noted.

At October-end this year, average inventory for PVs at dealership level stood at 35-40 days as compared with 25-30 days in the same period last year.
Similarly, average inventory for two-wheelers at dealer level at October-end remained high at 50-55 days as against 35-40 days in October-end last year, Ind-Ra said.
Retail registrations of PVs fell 9 per cent (year-on-year) in October this year, while the decline was much higher for two-wheelers, commercial vehicles and three-wheelers at 27 per cent, 30 per cent, and 65 per cent (year-on-year), respectively, the rating agency said.
It suggests that demand at the consumer level is yet to reach the pre-COVID levels despite the festive season tailwind, it added.
Toyota Kirloskar Motor: Karnataka Employers' Association calls for tough action to end Toyota Kirloskar stir at Bidadi
Bengaluru: The
Karnataka Employers' Association
has written to the state government asking it to take stern action against employees who have resorted to protests outside the
Toyota Kirloskar Motor
(TKM) manufacturing facility at
Bidadi
, 40 km off Bengaluru.
In a letter to chief secretary TM Vijay Bhaskar, association president BC Prabhakar has expressed concerns over the possibility of the strike spreading to other industries as well. "We request you to take immediate steps to declare curfew around the premises of TKM, Bidadi, and take stringent action including arrest of troublemakers and also bar them from entering the Bidadi area," the letter said.
Unless timely steps are taken, there is a possibility of such employee unfair practices spreading to other industries. This will permanently damage the investment climate in Karnataka, the association stated as the protests at the facility has entered the third week.
While the company has declared a lockout for the second time, some employees have continued with the protest. Their demand is to withdraw the suspension of 40 employees and to address some employee grievances. The management, however, said that it will allow the employees to work if they give an undertaking that they will not to indulge in anti-company activities and meet the production target.
Prabhakar said the strike and the lockout were sending a wrong signal to investors especially when several companies are seeing Bengaluru as a possible destination in the backdrop of anti-China sentiments. Karnataka has introduced several industry-friendly policies and laws recently. All of these will be futile if the strike at Toyota continues, he told ET.
In the letter, KEA has accused the president of TKM Employees Union of mobilising 500-600 workmen daily and making derogatory speeches. "It is noticed that the president is urging other factory workers to support the illegal agitation and this will totally vitiate the industrial relations in the entire area," the letter said.