To cancel or not?: IOC, Japan press ahead with Tokyo Games | Tokyo Olympics News
TOKYO: Prime Minister Yoshihide Suga declared a state of emergency last week for Tokyo and surrounding areas. Amid the surging virus, he again promised the postponed
Tokyo Olympics
would be 'safe and secure' and tried to disconnect the state of emergency from the fate of the Games.
But opposition to the
Olympics
is growing with calls mounting for a cancellation. The
International Olympic Committee
and local organizers have already said another postponement is impossible, leaving cancellation — or opening on July 23 — as the only options.
Two polls published in the last few days by the Japanese news agency Kyodo, and Japanese broadcaster TBS, show that just over 80% want the Olympics canceled or postponed, or believe they will not take place. The negative responses are up 15 to 20 percentage points from polls published just last month.
"The Japanese public are already more and more inclined to oppose the hosting of the Olympics this summer, and the state of emergency reinforces the perception that it is a lost cause," Koichi Nakano, who teaches politics at Tokyo's Sophia University, said in an email to the Associated Press.
As a fearful public asks to call off the Olympics, it faces the reality of Olympic finances, geopolitics, and face-saving.
Japanese taxpayers have sunk billions into the Olympics, the
IOC
lives off the television money and has seen its income stalled by the postponement, and China is waiting in the wings to hold the Beijing Winter Olympics in 13 months if Japan stumbles.
"Japan's standing in Asia and in the world matters a great deal, particularly in view of its rivalry with China," Nakano said.
"It would be a nightmare for them (Japan's political leadership) if Japan fails to be the host of the first 'post-COVID' Olympics and the title goes to China." Nakano said the government wanted to avoid the emergency order, which could be extended beyond Feb. 7 and to other parts of the country. This could further embolden skeptics and imperil the Games.
Organizers have promised strict "anti-virus" measures to pull off the Olympics. Here's what they face — vaccine or no vaccine.
They must bring 15,400 Olympic and
Paralympic athletes
, from more than 200 nations and territories, safely into Tokyo and still protect Japanese citizens. Add to this, tens of thousands of judges, coaches, officials, VIPs, sponsors, volunteers, media, and broadcasters. And hundreds of thousands of fans — perhaps some from abroad — if any are allowed to attend.
Organizers have speculated about myriad measures to counter the virus, but firm answers probably must come by March 25 when the torch relay with 10,000 runners begins crisscrossing Japan, headed to Tokyo and the opening ceremony.
It was also in late March last year when the Olympics were postponed after organizers insisted they would happen.
For Japan, hosting the Olympics has to do with justifying at least $25 billion in 'sunk costs,' satisfying domestic sponsors who have pumped a record of $3.5 billion into the Games driven by giant ad agency Dentsu, and gaining in the geopolitical contest with neighboring China For the Switzerland-based IOC, it's a question of stabilizing its shaky income, 73% of which comes from selling broadcast rights — getting the Olympics on television. Another 18% is from sponsorships.
American broadcaster NBC will pay more than $1 billion for the Tokyo rights, and its payments over a four-year Olympic cycle — including the Winter Games — account for about 40% of the total IOC's income. Unlike the NBA, English soccer, or other sports businesses, the IOC has only two major events — the Summer and Winter Olympics. Dozens of international sports federations and many of the 200 national Olympic committees live off the IOC income.
IOC President
Thomas Bach
has described pulling off the Olympics as a 'mammoth task' and acknowledged finances are under stress.
Dr. Atsuo Hamada, an infectious disease specialist at Tokyo Medical University Hospital, described the double-edged Olympics. It could bring "pride and legacy" and possibly short-term economic benefits — but also the virus.
"The Games may be one factor that could contribute to the risk of rising infections," he said in an interview with the AP.
Hamada said the state of emergency changed the landscape from a month ago, or from November when Bach visited Tokyo and spoke about his "toolbox" of measures to combat the virus. Hamada believes "regular Japanese" will not start receiving the vaccine until May.
He said a 'bubble method' once seemed feasible. The NBA and NHL were successful playing in so-called 'bubbles.' But the Olympics would require dozens of 'bubbles' dropped over a metropolitan area of 35 million.
"Now with the state of emergency declared, the situation has changed," Hamada said.
"Holding the Olympics has become more difficult compared to the situation late last year." Japan, with a population of 126 million, has handled the virus better than most countries with about 4,000 deaths attributed to COVID-19. Last week more than 20,000 "socially distanced" fans attended the final of the national soccer championship at the new $1.4 billion national stadium.
In interviews last week, the IOC's senior member Richard Pound said that making athletes a priority for vaccination would be "the most realistic way of it (Olympics) going ahead."
That appeared to contradict Bach, who has encouraged "all participants" to be vaccinated, but has said athletes should not be a priority. He also said vaccines are not required for athletes.
Pound also told the Washington Post the odds were about "3-to-1" the Games would take place.
The IOC needs an uplifting Olympics after scandals in Rio de Janeiro in 2016, and Sochi in 2014. Tokyo billed itself a "safe pair of hands" when it won the bid in 2013, but has been tainted by a bribery scandal that forced the resignation of IOC member Tsunekazu Takeda who was also president of the Japanese Olympic Committee.
Furthermore, Beijing's human rights record has worsened despite promises leading up to the 2008 Olympics. Now the 2022 Beijing Winter Olympics are darkened by the internment and forced labor of at least 1 million Muslim Uighurs in northwestern China.
"I think it highly likely that China will frame the Winter Games . . . in terms of China's successful model of pandemic management and global health leadership," Sheena Greitens, who teaches Asian politics at the University of Texas at Austin, said in an email.
"I would think that Japanese leaders would be keen to exercise their leadership and burnish their image globally — especially if it can be presented as leading the way into some kind of post-COVID era."
John Horne, who co-authored the book "Understanding the Olympics" and teaches the sociology of sports at Waseda University in Tokyo, said a cancellation was possible.
"That isn't something at the moment we can really imagine, and it's often denied by the organizers, but it's got to be one possibility," Horne told AP.
"There is a whole series of reasons why the Japanese hosts don't want to give up the possibility of providing an opportunity to show the world coming together," he added.
"Of course, there are all sorts of problems with bringing the world together at this time, not least the transmission of the virus."
Mohammed Siraj: Red carpet welcome for Ajinkya Rahane; Siraj heads straight to father's grave
Mumbai/New Delhi/Hyderabad: Chants of 'aala re aala Ajinkya aala' headlined a red carpet welcome for
Ajinkya Rahane
on his triumphant return from Australia with some other teammates but the mood was sombre in Hyderabad as one of his warriors,
Mohammed Siraj
, headed straight to his father's grave.
The chants (meaning here comes our Ajinkya) were heard amid the beating of the traditional dhol tasha and showering of flower petals at Rahane's residential complex.
Besides stand-in captain Rahane, also arriving in Mumbai were coach Ravi Shastri, star batsman Rohit Sharma, pacer Shardul Thakur and opener Prithvi Shaw, while Brisbane Test hero Rishabh Pant landed in the national capital early this morning.
Siraj, who decided to stay put in Australia with the team and miss his father's last rites, drove straight from Hyderabad's Rajiv Gandhi International Airport to the graveyard and paid his last respects to his departed father Mohammed Ghouse.
It was the end of a two-month long wait for the speedster, who was India's top performer with the ball during the trip.
Siraj's 53-year-old father, who was an auto driver, had died on November 20 due to a lung ailment. This was just a week after his son landed in Australia with the Indian team on his maiden tour.

He was given the option of returning home but he decided otherwise and broke down thinking about him when the national anthem was played before the Sydney Test.
He made his Test debut in the second match in Melbourne and finished the Border-Gavaskar series with 13 wickets – the most by any Indian bowler.
T Natarajan, who was originally picked as a net bowler but became the first Indian cricketer to make his international debut across all three formats during the same tour, landed in Bengaluru and then took off for his village in Tamil Nadu's Salem.
The players from Chennai, including veteran off-spinner Ravichandran Ashwin, rookie Washington Sundar and bowling coach Bharat Arun are currently in Dubai and are expected to reach the country early morning on Friday.
On arrival in Mumbai, Rahane, Shastri, Rohit, Shardul and Shaw were felicitated by Mumbai Cricket Association (MCA) officials, including President Vijay Patil and Apex Council members Ajinkya Naik, Amit Dani and Umesh Khanvilka.
Rahane also cut a cake to celebrate the team's win.
However, more surprises awaited the reticent batsman after he drove straight to his housing society in suburban Matunga, where residents had made elaborate preparations to accord their hero a royal welcome.
Rahane was welcomed with the beats of dhol, while others showered the cricketer with flower petals.
Rahane was also joined by his wife and two-year-old daughter in the celebration.
Soaking in the carnival-like atmosphere, Rahane acknowledged the love and adulation showered on him by the people of the city, many of whom waited for his team at the airport wearing masks amid the COVID-19 pandemic.
In his society, residents and videographers jostled to capture the moments and the unassuming batsman posed happily for them.
Rahane was then greeted in a traditional manner as he walked towards the entrance of the building.
Dhol tasha is usually played to celebrate special achievements and during joyous occasions.
An injury-ravaged India beat Australia by three wickets in the series-deciding fourth Test in Brisbane on Tuesday to clinch the rubber 2-1 and retain the Border Gavaskar Trophy.
Stepping in after the catastrophe in Adelaide in the absence of Virat Kohli, Rahane led by example with a classic century in the second Test at Melbourne, guiding India to a series-levelling victory.
There was no looking back after that as Rahane inspired a heavily-depleted Indian team to an unbelievable series triumph against a full-strength Australian team that possessed the world's best bowling attack.

Racial abuse incident: Umpires offered us option to leave Sydney Test midway, reveals Mohammed Siraj – The Economic Times Video
India fast bowler Mohammed Siraj on Thursday revealed that on-field umpires had offered his team the option of leaving the third Test against Australia midway after he was subjected to racial abuse by the crowd in Sydney. Siraj and his senior pace colleague Jasprit Bumrah faced racial abuse for two days at the Sydney Cricket Ground, forcing the Indian team management to lodge an official complaint with match referee David Boon. Cricket Australia later offered an unreserved apology for the incidents.
Virat bhai told me I have the ability to perform on the big stage: Siraj | Cricket News
HYDERABAD: India pacer Mohammed Siraj on Thursday said that he would be forever indebted to the Indian Premier League (IPL) franchise Royal Challengers Bangalore and skipper
Virat Kohli
for always believing in him.
Before the series against Australia started, Siraj had lost his father. But the pacer decided to stay back in Australia to fulfill his father's dream of seeing Siraj play Test cricket.
"The trust that RCB and Virat Bhai have shown in me. RCB backed me throughout, I had a terrible season in 2018, but still, they retained me. Virat Bhai has always shown his support, he has always told me that I have the ability to perform on the big stage. I will take the confidence from this series to the next against England. Whatever team management decides, I will do just that. I am not thinking what will happen when (Mohammad) Shami and Umesh (Yadav) return," Siraj told reporters at a press conference here in Hyderabad.
Siraj's hard work paid off on the fourth day of the fourth Test against Australia at The Gabba as he went on to register his maiden five-wicket haul. After returning from Australia, Siraj went to pay tribute to his late father. The Indian pacer played three Test matches on the tour and returned 13 wickets.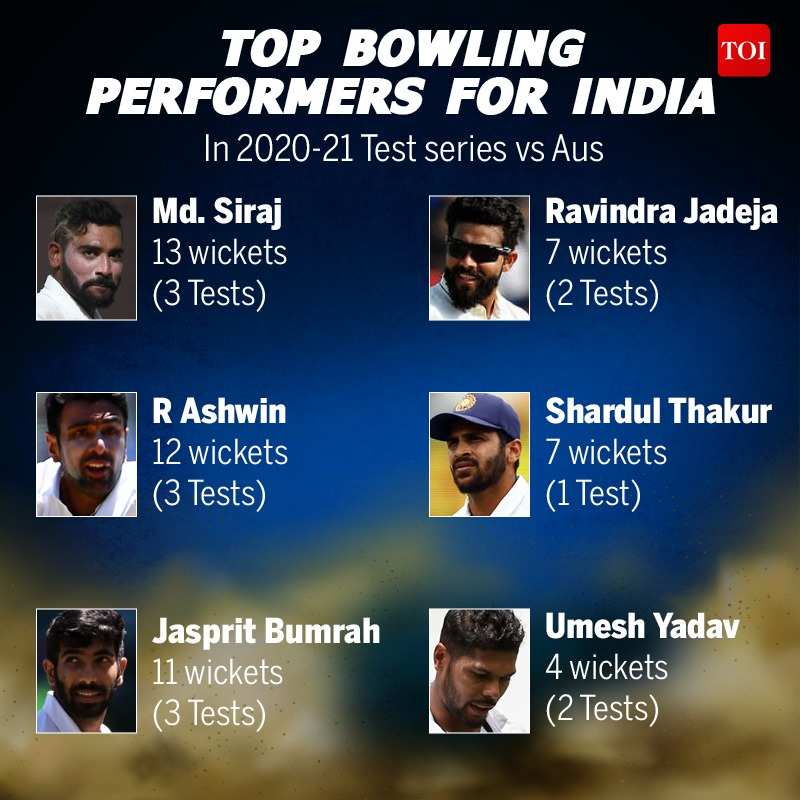 "Smith's wicket was crucial, I had dropped his catch, then I was under pressure. But I got Smith out, it helped our team and I got a bit relaxed. I just want to keep performing for the team, I don't intend to relax, I just want to continue my performances. My favourite wicket was Marnus Labuschagne, it was a crucial wicket in the Test, I took two wickets in one over, so it was special," said Siraj as he looked back at the historic win at The Gabba.
Commenting on bowling with Jasprit Bumrah in the second and third game, Siraj said: "Bumrah kept supporting me from the other end. I played two matches with him, he supported me throughout. I bowled a bad spell in the fourth Test, Bumrah bhai told me not to focus on that and be prepared for the next spell. After taking a five-wicket haul, I just hugged Bumrah bhai," he added.
When asked how he felt about leading the Indian pace attack in the fourth Test, Siraj said: "I was just thinking I am playing for India A. I did not think that I was playing for India as it would have bought different pressure. Ajinkya Rahane trusted every youngster, he believed in all of us. He gave confidence to the likes of Shubman Gill, Shardul Thakur and this means a lot to any youngster. I have enjoyed under both Kohli and Rahane."
"During the lockdown, I worked really hard, I did bowling on a single-wicket, I knew IPL 2020 would be really important for me. I spoke to Dale Steyn while playing for RCB, I was able to develop outswinger there. I was then selected for the Australia series, I thought I would not get a chance but I played three matches and now I am looking to just focus on the Tests against England. Hanuma Vihari captained me while for Hyderabad, he knows me really well, he was always trying to explain to me what the opposition batters were trying to do. He always supported me," he added.
Siraj made his debut for India during the MCG Test against Australia. He had made his way into the side as spearhead Mohammed Shami got injured in the first Test at Adelaide.
On Tuesday, Australia's fortress — The Gabba — was finally breached. It took 32 years and two months, but the unthinkable was achieved as an injury-ravaged young Indian team beat Australia by three wickets against all odds to take the series 2-1.