If you haven't had a chance to binge your way through The Wilds on Amazon Prime yet, you're definitely in for a treat. The show debuted in December 2020 and quickly got renewed for Season 2.
If you're obsessed with all things involving The Wilds, we've created a go-to guide so you can get to know the up-and-coming cast a little better.
1.
After minor appearances in Gotham and One Dollar, Sarah Pidgeon landed her first leading role as heartbroken teen Leah Rilke in The Wilds.
2.
Originally from New Zealand, Pidgeon headed to the United States to pursue her acting degree and graduated from Carnegie Mellon in 2018.
3.
Before landing her role as the flirty Fatin Jadmani, Sophia Ali was featured in Faking It, Truth or Dare and Grey's Anatomy.
4.
Ali is a Southern California native and was born in San Diego back in November, 1995.
5.
Singer, songwriter, and actress Reign Edwards portrays sports star Rachel Reid. Prior to The Wilds, she was featured in The Bold and the Beautiful, MacGyver, and Snowfall.
6.
Edwards' role in The Bold and the Beautiful brought her three nominations for the Daytime Emmy Award for Outstanding Younger Actress in a Drama Series in 2016, 2017, and 2018.
7.
Shannon Berry is the face of Dot Campbell, who is forced to grow up quickly in the face of family tragedy.
8.
Berry originally made a name for herself with roles in Hunters and Offspring.
9.
Newcomer Jenna Clause portrays Martha Blackburn in the series.
10.
Clause is originally from New York and The Wilds is her biggest on-screen role to date.
11.
Fresh to the acting scene, Mia Healey portrays the angelic Texas pageant queen, Shelby Goodkind.
12.
Healey is an Australian actress and the YA series is her first on-screen acting gig ever.
13.
Helena Howard portrays the introverted Nora Reid, who is also the twin sister of Rachel Reid.
14.
Howard grew up in New Jersey and has recently been seen in Don't Look Deeper and Social Distance.
15.
Erana James portrays tough-as-nails tomboy Toni Shalifoe.
16.
James was born in 1999 and got her first role on Sons of Liars in 2015.
17.
Despite Jeanette's character not lasting very long in the series, it still marked one of Chi Nguyen's first major Hollywood acting jobs.
18.
Rachel Griffiths lends her acting talents as the ambitious Dawn of Eve leader, Gretchen Klein.
19.
Griffiths is also an Australia native and has had quite the career with roles in Six Feet Under, Brothers & Sisters and Blow.
TV and Movies
Get all the best moments in pop culture & entertainment delivered to your inbox.
Ken Ross: 'I want to see a disabled person who's as famous as Brad Pitt on screen' | Down's syndrome
Award-winning film producer Ken Ross is calling for more people with disabilities to be seen on TV and film screens all around the world. "If we never give individuals these roles, we'll never move forward. We don't need to change people to be the part we want them to be, and we don't need to be worried about casting someone with a disability," he says. "You would never ask someone to 'black up' to play Nelson Mandela – so why would you ask an actor to 'impersonate' someone with a disability?"
Ross has spent the past two decades working with the UK government, the NHS, Bafta and various other institutions to promote greater diversity and inclusion of people with disabilities. And although much has changed for the better (the Baftas and Oscars both recently revamped their diversity requirements, and actors such as Tommy Jessop, who has Down syndrome, are increasingly gaining industry-wide recognition), there is still serious work to be done. Ross says: "We need to get sales agents feeling more comfortable screening films that have people with disabilities. And we've got to see people writing their own stories, too."
Today, despite Covid-19 preventing many TV and film projects from getting off the ground, Ross, who is also a real estate investor, has been screening calls from producers and directors keen to cast more actors with disabilities, among them George Clooney, who is talking to Ross about improving opportunities for people with Down syndrome across the industry. Ross's last two projects, Innocence and My Feral Heart, both of which star actors with the condition, won various international awards, with Innocence in the running for an Oscar this year.
"Producers call me up and say, 'Look, I've had a part written for this actor after I saw him in your film and was blown away,'" explains Ross. Creating jobs for people with Down syndrome in the film industry is great for both spreading awareness of the condition and showing that it can be seen in a positive light, he adds. "When statistics show that only 6% of people with a learning disability are in paid work, it makes sense to create jobs in the film industry, where you can reach an audience of millions and encourage people to think a little bit more about how they can include others."
Ross had an "epiphany" about disability in 2004, he says, when his wife Rachael gave birth to their third son, Max, who has Down syndrome. At the time, the condition was still considered so taboo that even the hospital staff were pointed in how they discussed it.
"I hadn't fully grasped until Max's birth how excluded people with Down syndrome, or other disabilities, really were," explains Ross.
"Instead of celebrating our new child, the doctor sought to highlight lots of fears and worries that could be associated with any birth. So much knowledge of Down syndrome in the health service has been got through outdated anecdotes, false stereotypes and unwelcome assumptions on how lives are 'valued'."
Ross is trustee and vice-chair at Portsmouth Down Syndrome Association, a charity Rachael co-founded in 2010 in order to fill the void of specialist support for families with children with the condition. While some organisations in the UK use the term Down's syndrome to refer to the condition, Ross feels very strongly that no apostrophe is necessary and has requested the Guardian not to use it.
"I, like many others, don't like 'Down's syndrome', because it erroneously implies that the physician who first identified the condition, John Langdon Down, also had it. I also believe it can encourage the use of offensive terminology like 'a Down's person'. Globally, the term 'trisomy 21' is now increasingly used in place of Down syndrome, which I personally feel is more appropriate, and we may see a greater shift towards this name in the future."
Over the past decade, the charity has provided hundreds of children with tailored learning in more than 100 mainstream schools in Hampshire and further afield, while also training NHS professionals and teachers on diversity and inclusion.
"The goal is for society to understand that individuals with a learning disability can lead semi-independent lives, make essential contributions and be valued members of their communities – as well as have the same hopes, dreams and aspirations as everyone else," explains Ross.
Much of the prejudice towards people with Down syndrome can be traced back to the "segregation" of just a few decades ago, he says. In 1945 in the UK, the life expectancy for a child born with Down syndrome was just 12 years, while up until the 1970s it was still commonplace for babies with the condition to be taken straight from the hospital to an institution. Today, roughly 40,000 people in the UK have Down syndrome and life expectancy is beyond 60, due to medical advances, as well as the fact that most children with the condition today live at home and can go on to lead full lives.
But much more needs to be done in terms of policy, says Ross. "Down syndrome is the least funded, yet most prevalent chromosomal learning disability in the UK, and there is no [national] policy at all regarding the education or employment of people with Down syndrome."
Covid-19, and its disproportionate effect on people with learning disabilities, has only underlined how biased the system is, adds Ross: "The Covid-19 death rate for people with learning disabilities is six times the rate of the general population, and the [unlawful] "do not resuscitate" orders that have been issued to people with learning disabilities are extremely worrying. This all just goes to highlight the institutional bias that exists within the health service towards people with learning disabilities, whether directly or indirectly."
Ross points to the current prenatal NHS screening offered to all expectant mothers, which assesses a woman's chance of having a baby with Down syndrome, as further evidence of that bias. An estimated 90% of women whose unborn babies are diagnosed with the condition go on to have an abortion, which is legal right up until birth.
"Why do you need to know if your baby is going to have Down syndrome or not?" asks Ross, who is lobbying parliament to remove the NHS screening on grounds that it is prejudicial. "A life is a life, and the only difference with Down syndrome is that you have one extra chromosome and a learning disability. . Yet this screening programme makes people feel like they're not meant to be here."
The screening test took centre stage in a recent Emmerdale storyline, in which a couple chose to selectively abort their unborn child after learning that the baby had Down syndrome. It attracted hundreds of Ofcom complaints before it even aired and more than 31,000 people have since signed a petition calling on ITV to cancel the storyline.
"I have no doubt that if they had attempted this storyline with any other minority, they would have been closed down early," says Ross.
"What I want to see on the screen is someone with Down syndrome as recognisable as Brad Pitt, just to open the doors for everyone else. If one person can do it, everyone else can follow. It's not impossible."
Curriculum vitae
Age: 49.
Lives: Hampshire.
Family: Married with three sons.
Education: British School of Paris; Southampton University (History and French); Southampton Institute (Chartered Institute of Management Accountants).
Career: 2011-present: principal, RBH Group; 2019: producer, Innocence; 2018: executive producer, Scarborough; 2016: executive producer, My Feral Heart; 2012: executive producer, Gallowwalkers; 1998-2009: principal, various real estate companies; 2005: investor, Wallace & Gromit: The Curse of the Were Rabbit; 2005: investor, Oliver Twist; 1994-1998: estate agent, Black Horse Agencies.
Public life: 2009-present: strategist, trustee and vice chair, Portsmouth Down Syndrome Association; 2018-present: co-founder, National Policy Group for Down Syndrome; 2018-present: co-originator, Bafta diversity and inclusion panel; 2004-2009: fundraiser and promoter, Down Syndrome Education International.
Interests: Family, inclusion, rugby, travel, film and TV, history.
The Capote Tapes: inside the scandal ignited by Truman's explosive final novel | Documentary films
When Truman Capote died in 1984, he left the remains of a novel he had been hatching for nearly two decades, and talking about for almost as long. Answered Prayers, the story of a budding writer screwing his way through polite society, was intended to be Capote's most explosive achievement. He likened it to a deadly weapon. "There's the handle, the trigger, the barrel, and, finally, the bullet," he told People magazine. "And when that bullet is fired from the gun, it's going to come out with a speed and power like you've never seen – wham!" Having bragged about the book for years, all he had to do now was write it.
A contract was signed in 1966, but advance chapters published in Esquire magazine nine years later proved to be far below the standard of his defining successes, Breakfast at Tiffany's and the "non-fiction novel" In Cold Blood. There was a cost to his social reputation as well as his literary one. As soon as the socialites and wealthy wives with whom he had mingled happily for years – including Slim Keith, Babe Paley and Gloria Vanderbilt, whom he called his "swans" – saw how casually he had spilled their most intimate secrets, those friendships were dead. Capote hadn't bitten the hand that fed him. He'd gnawed it off at the wrist.
The scandal of Answered Prayers is central to The Capote Tapes, a new documentary that incorporates archive footage of the writer's TV appearances alongside new interviews with confidantes and admirers, among them writers Jay McInerney and Colm Tóibín. Most fascinating, though, are the previously unheard audio recordings of Capote's friends and contemporaries, drawn from interviews conducted by the late George Plimpton for his 1997 book, Truman Capote: In Which Various Friends, Enemies, Acquaintances and Detractors Recall His Turbulent Career.
We hear Lauren Bacall pointing out the contrast between Capote's "little boy voice" and "deep male laugh". Norman Mailer marvels at his literary gifts – "He wrote the best sentences of anyone of our generation" – and uniqueness: "He had a special life and he was going to live it in a special way." The journalist Sally Quinn remembers his flair for generating gossip. "He'd spill it all out and you'd eat it up," she says. "He was bitchy but he was smart."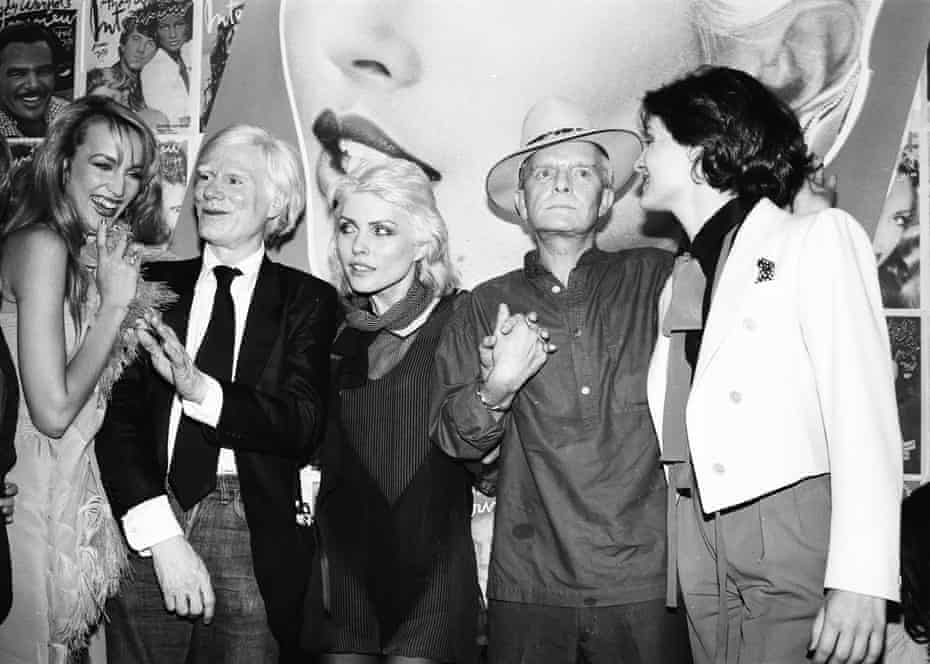 That wasn't quite enough to save him once the excerpts from Answered Prayers were published. But Ebs Burnough, the director of The Capote Tapes, has always had a soft spot for that flawed, incomplete final book. "To me it feels smart and salacious, like People magazine or Vanity Fair," says the 40-year-old first-time film-maker, who served previously as deputy social secretary at the White House, and senior adviser to Michelle Obama.
"It's not his best work by any means," says Burnough. "Part of the reason was his addiction to alcohol and prescription pills. But in writing about people he knew, layering and exaggerating the truth, he was only doing what he had always done. At the age of nine or 10, he entered a newspaper competition with an essay called Miss Busybody, which was all about a local woman who sat on her front porch – Harper Lee's mother, in fact. He got in terrible trouble for that, too. But he won the prize."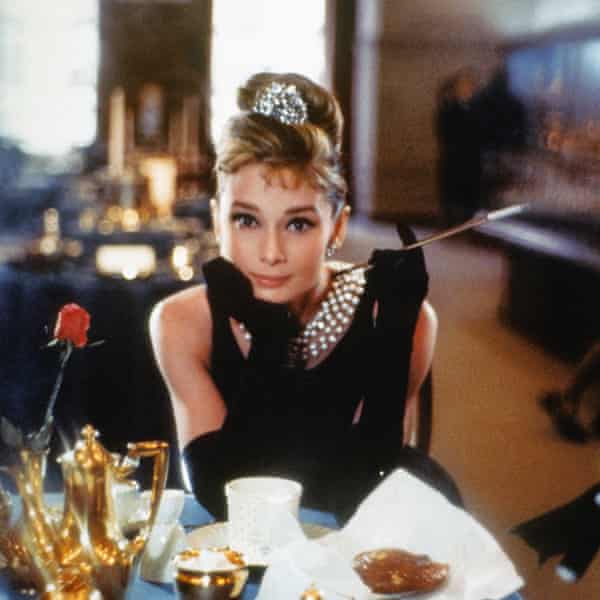 Had the book been better written, Burnough suggests, Capote would have escaped such a lambasting. "Don't forget Holly Golightly in Breakfast at Tiffany's was a prostitute, and yet women were lining up to claim they were the inspiration." Not so with Answered Prayers. "He goes to places he wouldn't have gone before, such as when he writes about a woman having sex while on her period, the blood all over the sheets. It didn't need to be so direct, or such a full-frontal assault. He made us feel for Holly, and showed empathy for the murderers from In Cold Blood, but you don't feel for anyone in Answered Prayers. You just feel that everyone's bad."
Promising for so long that the novel would be his greatest book must have exerted its own pressure, but leaving it incomplete also meant that it could never strictly be branded a failure. Was it part of his plan not to finish it? "I actually do believe he finished it," says Burnough. "Too many people have said they saw him working on it, saw these huge stacks of paper."
He also dismisses the rumours, mentioned in the film, that the full manuscript resides in a safe deposit box somewhere. "My theory is that one night he got really smashed and something happened to the rest of it. I can easily imagine that, after those excerpts were published, and after the phone stopped ringing, he might have woken after a wild night and seen pieces of it in the fireplace. That's what addiction can do to people."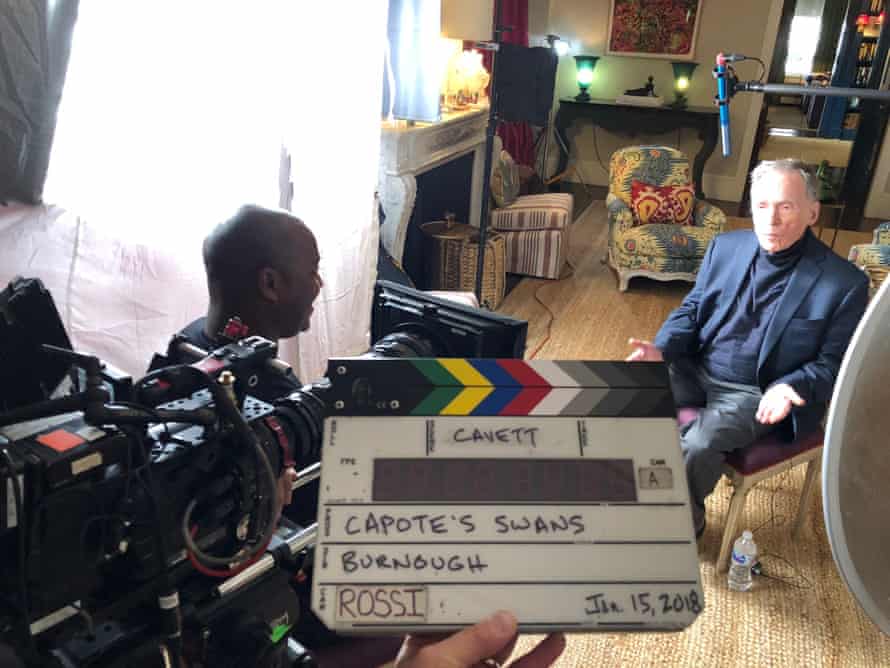 Burnough was first introduced to Capote's work by a school librarian at the age of 12. "The southern gothic voice was immediately recognisable," he says, "because I grew up in northern Florida, near south Georgia, all oak trees and plantations and Spanish moss." He devoured everything Capote wrote ("Though the canon's not huge, let's be honest"). He can even watch the sanitised 1961 film version of Breakfast at Tiffany's without fast-forwarding through the scenes of Mickey Rooney playing Asian. "It's so fucked up and yet we can't pretend it didn't exist. We need to be able to say, 'Look how far we've come.'"
Burnough is opposed generally to the soft-soaping of past prejudices. He had no reservations about including in his film Mailer's description of Capote as a "beautiful faggot prince", which may cause modern audiences to flinch. "That comment shows what Truman was up against," he insists. "He didn't live in a world of LGBT+. He lived in a world where you were just another 'fag'. It was so matter-of-fact. But if we remove that from the record, how are we supposed to learn from history?"
Burnough – who is married to Pierre Lagrange, the Belgian hedge-fund heavyweight estimated to be worth £237m – traces Capote's career chronologically, from the luminous promise of his first novel, Other Voices, Other Rooms, published in 1948 when he was just 23, to the dismal fallout from Answered Prayers. The film doesn't stint on the seamier details: the writer's friend and self-proclaimed fellow voyeur Dotson Rader is on hand to reminisce about nights spent in New York's gay bathhouses and in the darker corners of the nightclub Studio 54.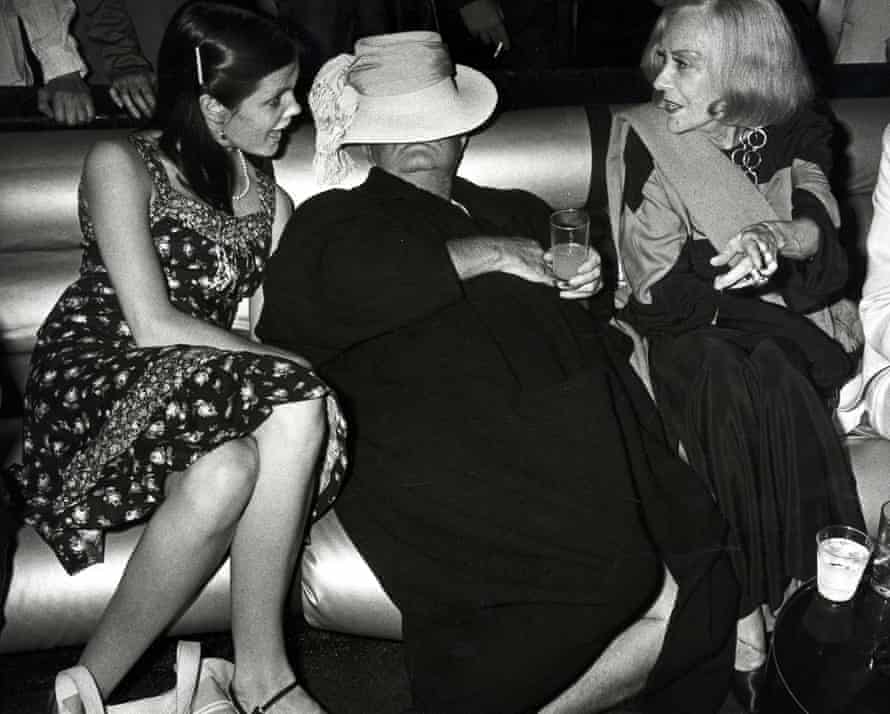 Pride of place in The Capote Tapes, though, is given to new interviews with Kate Harrington, who at the age of 13 was unofficially "adopted" by the writer. Her father, a Long Island bank manager, was Capote's lover, and had left the family home to be with him. Capote took Harrington under his wing, coaching her in etiquette and taking her along as his companion to boozy, celebrity-strewn lunches. When she found herself wearying of the social whirl, or zoning out at the lunch table, he advised her to squeeze the situation for every drop of possible scandal or gossip. "He told me that what I should do is sit and listen to the conversation next to us," she says in the film. "And on the way home, I could tell him everything they talked about."
That adoptive-father-daughter relationship was vital for Burnough in unlocking his subject's life. "I never knew before that Truman essentially adopted his lover's daughter," he says. "He wanted a family so desperately at a time when he wasn't allowed to have one. It just wasn't on the table for someone like him, and yet still he made the life he wanted to live. That to me is rather extraordinary. He's someone who has been given short shrift historically, in part because he is characterised as merely bitchy. And yes, there was that component. But he was also a pioneer – an out gay man, famous, on TV, being honest about who he was. He deserves more than just the image of a vicious little queen."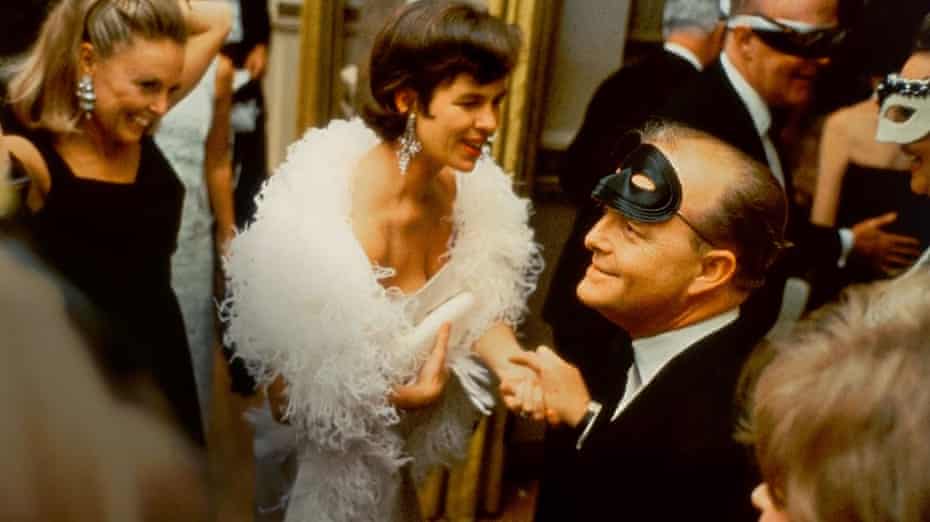 Would a Capote figure even register as scandalous today? "The difference now is that everyone is always telling us personal things on social media," says Burnough. "You've got celebrities like Taylor Swift and Madonna talking about their experiences, or Hilaria Baldwin discussing her miscarriage on Instagram. The idea that someone could tell a story about another person's intimate life is less compelling today, because we've probably heard it already from the person concerned."
Since leaving the White House in 2012, Burnough has worked largely in public relations. Would he have taken Capote on as a client? "No!" he says, without missing a beat. "I would be cancelled. Truman would be fine, but people would ask me, 'How can you represent him?'" Still, he admits he would follow him avidly on social media. "His Instagram would be outrageous. And Truman on Twitter would be a beast. He'd be attacking people left and right, or telling Kim Kardashian: 'Darling, who cares?'"
• The Capote Tapes is available from 29 January at altitude.film and on digital platforms.
Armie Hammer's 2017 Interview On Leaving Gossip Girl
"Let me just say that was a tough show to film."
Along with the increased attention on Hammer's personal life, a 2017 interview with Andy Cohen has resurfaced in which the 34-year-old actor suggests he was fired from the TV show Gossip Girl.
In the clip, taken from a special episode of Watch What Happens Live with Andy Cohen, an audience member asks Hammer, "On Gossip Girl, who was the biggest diva on set?"
"I wish I could take all of my 'pass'es back and use them right now," Hammer began while wishing he could skip the question entirely.
"Let me just say, that was a tough show to film — and I didn't end up actually filming all the episodes I was supposed to, because it was so tough."
"Really?" Cohen asked. "Literally, you said 'Get me out of this'?" Hammer then replied, "It was also like, 'Get him out of here.'"
After Hammer mentioned that Blake Lively played his love interest on the show, co-guest Chelsea Handler replied, "Sounds like she was the problem," to which Cohen said, "It sure does!"
"No, no, that's not what I'm saying," Hammer quickly replied. "Don't put words in his mouth," Handler joked, to which Hammer said, "Because my foot is already there."
As previously reported, Hammer released a statement while dropping out of the forthcoming J.Lo film Shotgun Wedding: "I'm not responding to these bullshit claims but in light of the vicious and spurious online attacks against me, I cannot in good conscience now leave my children for 4 months to shoot a film in the Dominican Republic."
BuzzFeed Daily
Keep up with the latest daily buzz with the BuzzFeed Daily newsletter!