The pandemic reminded me life is short and the best thing to do is live it | Life and style
After the news of Covid broke and the world seemed to shut like a door, someone jokingly tweeted, "What did you do to cause this?" My reply, one of many: "I said out loud that I was happy." And I was.
I began 2020 a pretty newly divorced single mom; I'd been on my own for over a year, but I wasn't alone, not really. I was focusing on myself and my kids, cultivating my friendships, traveling, writing. I was making a new life for myself, and I was surprised by how at home I felt in it.
For most of my life, I'd been a planner – driven and organized in my work; wedded to a schedule as a parent. But both the divorce and the pandemic meant a loss of control. So many of the things I had planned for were no longer possible, and I had to let go. I loosened my white-knuckled grip on my life and instead of feeling panicked, I found myself being more playful, more spontaneous, less tethered to order for order's sake.
My thinking now: this year has said no over and over, so I'm saying yes as often as I can. Sometimes yes looks like ice cream for dinner or an 80s dance party in the living room or water fight in the backyard past bedtime. My first and best lockdown purchase was a pair of aqua and pink roller-skates, and in the first weeks of my state's shelter-in-place order, a friend and I met for what we called "Quarantine Skate Club". Sometimes yes looks like a couple of middle-aged women roller-skating at a safe distance from one another in a driveway, listening to disco, laughing too hard despite quizzical looks from the neighbors. It saved me some days.
Sometimes yes looks like meeting someone when you least expect it – in those last weeks right before lockdown, when we were still able to go to coffeeshops and concerts. On one hand, the timing could not have been worse; on the other, it could not have been better. Being in a new relationship now feels like growing a plant inside in a small terrarium. We can tend to it in a protected environment before planting it outside and seeing how it fares in the elements.
In July we drove 11 hours from Ohio to the North Carolina coast, just the two of us, our first trip together. After being cooped up and landlocked for months, we both desperately needed to see the ocean. The world felt so changed, part of me doubted it would still be there.
But it was there. I swam and bobbed in the waves, despite years of a reticence that bordered on fear. The thing about the ocean is that when you're in it, you're not in control; you can't even see what's moving all around you, beneath the surface. But this time, I was not afraid. We saw a pod of dolphins. We stepped, shrieking, on the same crab, one after the other, and laughed until we cried.
I did not forget the global pandemic or my government's slide toward full-on fascism. I did not leave behind the stresses of being self-employed or my concerns about keeping my children healthy – physically and mentally – during this time. But I let myself feel something other than all that.
Sometimes yes looks like reminding yourself of what is still possible.
In many ways, Covid changed the stakes. It reminded me that life is short and the best thing I can do is live it – not endure it, but really live it. Even though days in isolation often feel very long, this life is a one-off. It's not ideal, but it's all we have.
I know this year will be the year of the masks, the year of the hand sanitizer, the year of Zoom. But what I want to remember of this time – and what I want my kids to remember – is unselfconscious joy, tenderness and togetherness. I want them to remember that their mother was happy, not that she had dinner on the table at 6 o'clock every night, or that bedtime was always at 8. I want them to remember all the things we did, not the things we weren't able to do.
Yes, the world is broken, but the beauty is still there. I go looking for it, and it's there.
Maggie Smith is the author of four books, most recently Good Bones and Keep Moving: Notes on Loss, Creativity, and Change
New travel website offers carbon labelling for UK breaks | Travel websites
A new website aims to help climate conscious travellers make more-informed holiday choices by calculating the carbon costs of British breaks and even day trips in response to the increase in domestic tourism during the pandemic.
Natural Britain, which launched in July, wants to become the go-to website for ethically-run travel in the UK, and claims to be the first company in the country to offer carbon labelling – a calculation of the carbon dioxide emitted – for every part of the trip.
Natural Britain hopes to appeal to the growing number of outdoor enthusiasts, many of whom have taken on new challenges or found a fresh appreciation for nature in 2020. Itineraries include a cycle tour of the Cotswolds, sky-running in Snowdonia and sea-kayaking in Scotland, and activity sessions and accommodation can also be booked separately. It hopes to feature 35 experiences by the end of the year, increasing to about 100 in 2021.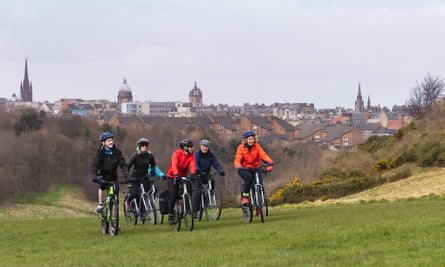 A Natural Britain experience includes exploring Edinburgh by bike
Although most are green, low-carbon trips, especially compared with foreign travel, founder Mark Wright said he wanted to make consumers more aware of the amount of carbon different aspects of a holiday generate, and hoped such labelling would become commonplace across the travel industry.
"If we all start to calculate our emissions, and everybody in the country aims for a personal footprint of 10 tons of carbon a year, there's a much better chance of us making a meaningful reduction as a country, and as a world population," he said.
On one of the company's trips, on average accommodation accounts for 40% of emissions, transport 33%, food 25% and activities 1%. A five-day multi-activity break in Wales, for example, including packrafting, "riverbugging" (riding river rapids with an inflatable) and wild camping is labelled as generating 53kg of carbon dioxide per person, excluding food and reaching the destination. Advice on how to offset through a rewilding or reforestation scheme will be offered when bookings are made.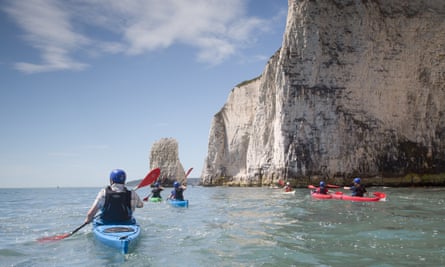 Sea adventure along the Dorset coast.

Photograph: Justin Glynn
Aviation is usually responsible for 40% of global tourism's carbon emissions, contributing 7% of the UK's total emissions, according to the World Tourism Organization.
Yet, while the International Air Transport Association forecast air traffic would be down 66% in 2020 compared with 2019, and said it would go down as "the worst year in the history of aviation", the UN's World Meteorological Organization announced on Monday that climate-heating gases have still reached record levels. The reductionn of emissions of between 4.2% and 7.5% due to the pandemic was described as a "tiny blip" in the build up of greenhouse gases.
This doesn't mean we should lose hope, says Wright, it just "stresses the urgency that we have to make changes for the long term".
Carbon isn't Natural Britain's only concern. Experiences must also benefit local communities, something Wright says the domestic tourism market has been slow to recognise as worthwhile. They must have strong sustainability policies regarding sourcing locally and single-use plastic, and be able to back them up.
"But we can't be too rigid," he says. "As long as people are doing the right thing and trying, we can offer guidance. Part of our ambition is to create a community of suppliers who can share best practice and develop ideas as a central resource."
GreenTraveller, another website specialising in low-carbon sustainable holidays across Europe that launched in 2009, saw a huge increase in interest in nature at the local level this year, and in holidays in rural areas, especially glamping, and in "wilderness" and lesser-known Areas of Outstanding Natural Beauty, such as Arnside, Silverdale, and the Llŷn peninsula.
Its founder Richard Hammond noted that sustainable tourism was booming before Covid. GreenTraveller saw a 200% increase in web traffic in the latter half of 2019 and into February.
"It's a good time to capitalise on the sustained interest in travelling closer to home," Hammond said.
Natural Britain isn't the only company to spot the opportunity. Byway, a new tour operator organising tailor-made slow-travel and flight-free trips in the UK and Europe launched last week, while others introduced UK trips for the first time, including 50-year-old Kuoni, adventure company Intrepid, and Wild Frontiers, which in August added the Orkney Islands to its usual programme of adventures in far-flung destinations, such as Sudan, Antarctica and Mongolia.
Although inbound tourism to the UK was massively down this year – Visit Britain estimated it would see a decline of 66% from a predicted 31.1m visits to just 10.6m – the rise in domestic travel has led to a bumper year for some aspects of the industry, with glamping the big success story.
Glamping specialist Canopy and Stars said it had the biggest year for bookings in its 10-year history, with forward bookings up 200% for 2021 already, suggesting the trend is set to continue – 98% of this year's guests said they planned to take a UK holiday in 2021.
Even at the top end of the market, new UK ventures were getting in on the trend. Luxury tour operator Pelorus partnered in June with Camp Kerala, which usually creates festival glamping fields, to offer luxury personalised camps for private groups. Wildnis, whose staff have backgrounds arranging hardcore adventures in the Arctic and Sahara, launched luxury 4×4 expeditions in Scotland, from £3,500pp for four nights. It too provides offsetting.
Sales of wetsuits, camping gear, kayaks and paddleboards rose as people took on new outdoor challenges and sought to find solace in nature. The nation upped its adventure game it seems, and will continue to seek new domestic experience in the great outdoors.
As Alastair Humphreys, an adventure writer who promotes "microadventures" said, those who tried their first UK outdoor experience under the pandemic are likely to have got a taste for it: "The small, first adventure gives people confidence, surprises them how easy but rewarding it is, and makes them realise what great undiscovered things are on their doorstep."
Add these winter foods in your diet for healthy and glowing skin
The harsh weather during winters can take a toll on the skin. If you want your skin to be problem-free all throughout, then you need to make extra efforts during winters. Instead of just swapping your skincare products, also add healthy foods in your diet! Here's a look at five foods you need to add in your winter diet for healthy and glowing skin:
1. Avocado

Not only are avocados good for your overall health, but they are also exceptionally good for your skin. Packed with Vitamin E and healthy oils, avocadoes nourish the skin from the cellular level. Loaded with antioxidants, they can protect your skin from oxidative damage.
2. Almonds
Almonds are an Indian superfood, which one can easily add to the daily diet. They are full of natural elements that hydrate the skin and prevent it from getting dry. Almonds keep your nails, skin, and even hair healthy. Rich in vitamins, they can help to fight early signs of ageing and moisturise the skin.

3. Carrots

Carrots are packed with Vitamin C which is one of the most essential vitamins for healthy skin. It helps in collagen production to retain the elasticity of the skin. Eating carrots can also help to correct uneven skin tone, fine lines and keep skin pigmentation at bay.
4.Tomatoes

Tomatoes are rich in a pigment called lycopene which has numerous benefits for the skin. It has several anti-ageing properties and also boosts the production of collagen that helps maintain the elasticity of the skin. Try consuming cooked tomatoes cooked as there's a faster absorption of lycopene.
5.Green Tea

Green tea is full of antioxidants that nourish the skin and make it supple. It is easily available in stores all around and has anti-inflammatory properties that heal the skin from within. Drinking green tea regularly can prevent flaky skin, fine lines, and wrinkles.

My COVID Story: My mother is still suffering from the trauma of isolation in a COVID hospital
Ritika Darira along with her husband Suneel Rao had gone to attend her mother's 59th birthday, where they found out that her father was showing flu-like symptoms. Slowly her mother succumbed to it too and they all tested positive. Her parents went through complications after returning home from the COVID hospital. Here's her COVID story
We are currently on day 55 or so of our journey with COVID and still continuing to fight.
We assume it began on 8th September when I last met my very healthy mother who turned 59. It was her birthday. My father had returned home from work, I'll get into the details of that shortly, and coughed through the evening. Given the flu season, his long standing issues with bad oil (yes, he had eaten some snack during one of his escapades away from home), we didn't pay much heed and asked him to follow home remedies. He wore a mask while we were there but maybe the damage was already done. The following day he developed fever and kept coughing. We immediately asked him to be isolated and start medication for fever (Dolo+Vitamin C etc)
Due to senior citizens with pre existing conditions in my in-laws side of the family we had no option but to manage this with my parents over the phone.
While on medication, he got fever just once at night and due to weakness sometimes sounded frail and developed hallucinations (according to my mother). As most people in this situation are unable to manage these days, all isolation instructions were ignored and slowly my mother fell prey to the fever.
At this point both were maintaining saturation above 95 as per the pulse oxymeter we had at home. Since the fever had now persisted for almost a week or more we scheduled tests for both my parents They tested positive. We are now on 16th September. We insisted on hospitalisation but no attention was paid and they insisted on recovering at home. As soon as they tested positive, and since my husband and I had come in contact with them, we decided to get our entire family tested — 2 Adults 30-35 year old and 3 senior citizens — 1 with pre-existing conditions.
Thankfully my in-laws tested negative, however my husband and I tested positive. We were lucky to have extended family in Mumbai who immediately took my in-laws and grand mother in-law away to their home. This was also recommended to us by BMC. Getting COVID with mild symptoms is not as much a problem as the number of calls, arrangements and other restrictions that need to be followed immediately to ensure the infection doesn't spread further. One needs to stay alert, not take too much stress and be strong — mentally.
After settling down from the fact we had been infected we decided to move on with life and assist my parents to seek home medication. We then had to look for a doctor who would consult them over the phone for steps to be taken during home isolation. And the medication to be followed. Other than fever and some cough they had no other symptoms. They continued to maintain saturation. BMC doctors do not provide home consultation.I'm not sure if this situation has evolved. I'm not holding this against them as during the course of our requirements they were quite helpful. We received pvt home consultation and medication began.
The last step in the process was to get a CT scan but how to get COVID positive patients a CT scan without any additional support was a blocker along with a lot of resent from my mother who started fearing the CT scan machine mixing it up for an MRI machine. They continued medication.
We are now on 18th September, I received a panic call from my parents since their oxygen dropped below 90.
We phoned our closest friends / family and the only solution was to get them hospitalised as my husband and I were under strict quarantine. We started activating our network, phoned the BMC etc and through some contacts found a bed in a private hospital. This was the time when bed capacity for COVID was at its lowest in Mumbai and all the hospitals we would think of were occupied. So we found two beds at an unheard, smaller scale facility but trusted the doctor who was helping us. My parents were admitted on a Friday. Their treatment began. A CT scan was done. And it was found that while my father had a milder infection 20-30%, my mother was seriously affected with a 40% impact.
My father did not require external oxygen support whereas my mother required one. What followed was a week of panic calls from the doctors. First to administer remdesivir to both my parents and then an emergency dose of a drug called tocilizomap to my mother. With minimal access to COVID specialist doctors, we sought whatever little guidance we could and trusted the doctors to do their job since the virus is so new and really does impact each person differently.
Things began to settle after this. However my mother's recovery was taking longer than my father's so he decided to return home. He returned home on 29th September. My husband and I continued our home quarantine during this time and tried to manage his schedule remotely.
Within 3 days of his return home he started complaining of all sorts of post hospitalisation issues such as urine infection, clogged stomach etc etc. Due to our inability to meet him in person, we tried to provide as much remote assistance as possible including an appointment at the hospital where he was treated, for a follow up consultation.
On the day of his appointment, he sounded iffy on the phone. By evening he had missed all our calls, and when he finally answered he was slurring and hallucinating through our conversation. We made an emergency dash to his house to find him in a semi-conscious state.
We phoned the hospital where he was treated for COVID, arranged for an ambulance through the BMC (extremely helpful chaps) and got him readmitted. Upon admission, it was observed that all his parameters were stable and the doctors rushed him for an MRI the following day. His reports were clear. Except for some infection in his Urine and a clogged stomach, the doctors were unable to point a finger as to why he went through that state. All this while my mother was still in the hospital as her oxygen levels weren't settling at an optimum level.
Finally, on 12th October, after multiple conversations with the doctors, both of them were discharged. My father was weak but doing good. My mother walked out of the hospital while maintaining saturation with 2 ltr oxygen support.
Upon return, she was struggling with her health — typical post hospitalisation symptoms —- but seemed to be holding well until morning of 19th October when my father made a 6 am panic call to us. We yet again rushed to their house only to find my mother unconscious, pupils rolled up, teeth clenched, fists clenched and tightly rolled against her chest. It was a sign of a fit or a seizure as any layman would imagine. We again arranged for an ambulance with some help from a kind BMC doctor.
We rushed her to BSES hospital at Andheri West where we were told that they don't have the necessary expertise to treat her and she needed to be wheeled into the emergency at Nanavati. We were told she had just 30-40 mins on her. We did that. Got to the casualty at Nanavati where the doctors started immediate action to help her. She was maintaining oxygen but her breathing was very heavy — a normal person breathes at a level of 14-15, we were told she was at level 33 and she needed to be intubated to first get her breathing under control, run an MRI of the brain and find out what had happened to her. Post that she was also put on a ventilator to ensure her body wasn't getting further stressed and other organs were not affected. Please note that any patient who is recovering from COVID unless tested negative cannot be taken to non covid zones of Nanavati. I'm sure similar protocol is followed at other hospitals as well.
My father, husband and I spent most of our morning in the parking lot of the hospital. We finally decided to get my father to return home as we were concerned about his health too. Thankfully, my mother tested negative for COVID, and by noon the doctors at casualty had confirmed that her MRI was clear but we still didn't have clarity on why possibly she had the episode she had at home. She was shifted to the ICU at the non COVID side of the hospital. This is a big blessing as we are atleast able to see her everyday and interact with the doctors. A team of doctors (Internal Medicine, Neurologist, Intensivist, RMOs, Nurses etc) got involved in ensuring that her parameters were first stabilised and then understand what could have caused the episode. By now we are at 4.30 pm.
Since her MRI reports didn't show any serious concern, the next step was to check if she had developed any infection in the liquid around her brain. A brain CSF was done — for this liquid is drawn from the spine. A CT scan of the abdomen and chest was also completed. Reports would be made available the following day. Meanwhile medication was administered to her to regulate her hypertension/BP, small dose of steroids since she was on them for covid and we were explained that you just cannot stop it as it could lead to a sudden shock to the body, antibiotics for any other secondary infections.
As we tried to wind up for the day we learnt:

1. Doctors across all spectrums are still learning / trying to understand what kind of impact COVID, post recovery, has on people. It literally varies from person to person. We don't hold it against them. We know that the doctors have done their best in our case to understand and rule out all possible medical issues one could face after recovering from a life threatening virus.

2. Immunosuppressants are a large part of the treatment protocols being followed for critical COVID patients and this leads to severe impact on the immunity levels of a perfectly healthy person. This makes them susceptible to secondary infections and hence, the post recovery care is of utmost importance.
Day 2 at Nanavati

While all neuro related issues were ruled out, the doctors identified the following issues

1. Lungs are badly fibrosed and there is a cavity in her lungs — it's an irreversible damage to the lungs. We are still awaiting complete clarity on the percentage of damage and continue to consult doctors. More on this in following sections

2. Her stomach was badly clogged. To an extent that she required medically recommended manual intervention so her body could release the stools. All of this was supervised by doctors.

3. She had developed a severe urine infection i.e. secondary infection

4. She had fractured her foot— her James Bond attitude of wanting to walk home led to her tripping outside the house and what we thought was a sprain is actually a fracture which needs surgery — yes it doesn't end!
By day 3 we had ruled out TB (thank god) medication was being administered for the above mentioned issues, and she was taken off sedation but continued to be on the ventilator. She took two days to regain consciousness.
Thereafter, until today 30th October, we have no clue what caused the convulsion. We know she has bad lungs, she has been taken off the vent and is holding all parameters.
The journey has been difficult on us but the hardest for her. While she managed coming off the sedation well; she has developed hallucinations after being taken off the vent which after reading and speaking with doctors made us realise that it is a form of PTSD.
We have been told that moving out of the ICU will settle her down and she will take sometime to overcome all the trauma of being isolated due to COVID, going through a ton of medication and thereafter the impact of being on a vent.
Why did this happen ?

My father unfortunately belonged to a section of society which did not believe in COVID. While he maintained some precautions during lockdown, all guard was let lose when the lockdown was lifted where despite his age and the risk he was at, he ignored all advice and recommendations to restrict movement from home, sanitise well and just overall be careful. We are not the strongest when it comes to financials but even if my father didn't work at the little shop he owns for an year, we would have been able to keep him comfortable. We understand not everyone has this luxury. But if attention was paid on important measures including wearing a good quality mask and all self quarantine instructions were followed, perhaps this could have been avoided.
What is fibrosis of the lung ?

Our lungs are simply like balloons when we inhale air they expand and when we exhale they go back to their normal form. Fibrosis leaves permanent scars on the surface of the lungs which don't allow that part of the lung to inflate.this leaves limited scope for them to produce enough oxygen for the entire body.
How common is this?

As we started consulting doctors we understood that many hospitals are getting patients that suffer from multiple after effects of covid and fibrosis is one of them. As per observation from some doctors number of people developing this condition due to pneumonia or influenza are lesser but covid a lot more. We got to know that there are people (mainly doctors in our immediate circle) who are suffering too so much so that getting up from the bed and walking to the washroom is a big task for them. Imagine leading a life like this ? As we started looking for more information on the issue, we realised that news papers are reporting about this impact of covid but there isn't sufficient noise for it to atleast sensitise those who take covid lightly or do not stay cautious.
First hand experience at Nanavati ?

The day my mom was admitted within a span of hours another elderly person was rushed into emergency for breathlessness as he did not take significant care of himself after recovering from COVID. A senior citizen who was healthy but got COVID was put on the ventilator after recovery but did not survive. Another senior citizen with a preexisting condition had impact on the lungs. Recovered from COVID but her lungs were not healthy enough to sail through. I'm not sure if these deaths will get recorded under COVID deaths and that's not a big concern but just ensuring that people are made aware could perhaps save a few lives!

Our intent to share our experience is to help people understand the post complications that COVID can cause and the havoc that it can create, the effects of which stay life long. Also to people who think COVID doesn't exist – All the very best. Praying and hoping no one ever goes through this.
Please note that we are not doctors and this is just our experience with COVID and understanding from the doctors around us.
Did you fight COVID-19? We want to hear all about it. ETimes Lifestyle is calling all the survivors of COVID to share their stories of survival and hope.
Write to us at [email protected] with 'My COVID story' in the subject line.
We will publish your experience.