The conspiracy linking hip-hop and mass incarceration – podcasts of the week | Podcasts
Picks of the week
Louder Than A Riot
This superlative hip-hop podcast promises to "trace the collision of rhyme and punishment in America", and it does so in detail. Was there really a secret meeting in the early 1990s where privately-owned prison authorities promised a kickback for music industry executives who promoted rap music? Could incendiary lyrics really guarantee them more inmates? NPR's Rodney Carmichael and Sidney Madden investigate the conspiracy, asking how rap became so dominant and whether it was exploited along the way, with thoughtful contributions from big hitters such as Killer Mike. Hannah Verdier
The Orgasm Cult
Goop-endorsed wellness company One Taste offered its followers a more than unusual form of therapy, using orgasms as a form of meditation – apparently to empower its largely female following. However, there was a dark side to the company's mission, one which has now led to an FBI investigation and claims of prostitution and trafficking. Journalist Nastaran Tavakoli-Far delves into the shift from wacky startup to an organisation now accused of financial and sexual abuse in this intriguing new series.
Hannah J Davies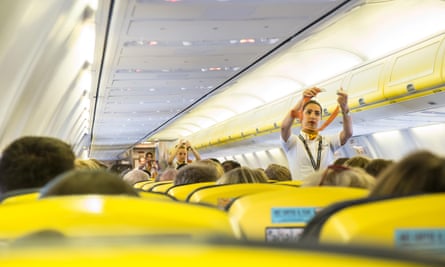 A flight safety demo, as discussed in 99% Invisible's In the Unlikely Event.

Photograph: Alamy Stock Photo
Chosen by Danielle Stephens
Maybe I'm just feeling particularly nostalgic for flying, but I was very excited to listen to this week's episode of 99% Invisible, titled In the Unlikely Event. It's a history of on-board flight safety, and those seemingly innocuous flight cards that tell you what to do in the event of a plane crash.
Have you ever laughed at how calm everyone on those cards looks, even though they're apparently in a crisis situation? Well, there's a reason for that. How about the fact that the only word that appears on those cards is the word "exit"? The rest looks more like a children's book – all pictures. Well, there's a reason for that too, and it's all really interesting.
Throw in a couple of great interviews with the people who devised those cards, and currently design them, and a random reference to Fight Club and you've got yourself an enjoyable 30 minutes. However, a quick warning … if you're like me and only take a quick glance at flight safety routines as demonstrated by air stewards, taking precisely no information in, this episode is also good at bringing about some guilt.
Talking points
How the Covid-19 pandemic has increased Amazon's dominance – podcast | News
Before the pandemic struck, high street retailers were already struggling to stay competitive with online companies that offered low prices and rapid deliveries. When Covid-19 forced shops to close and consumers to stay at home, online retailers, particularly Amazon, were ideally placed to capitalise.
The Guardian columnist John Harris tells Anushka Asthana that having spoken to several Amazon workers in recent weeks and months, it is clear that rising demand is placing a huge strain on the workforce. While Amazon temporarily raised its wage rates, workers allege that only in April did masks become mandatory and warehouses over the summer were often uncomfortably hot.
One worker, Courtney Brown, says the Amazon Fresh warehouse in New Jersey where she works has had a big increase in hiring and that workers would take breaks in their cars to avoid overcrowding. Amazon said in response that it "prioritised the safety and health of its employees", and spent "over $800m on safety measures in the first half of the year alone, including personal protective equipment, enhanced cleaning, staggered and flexible shifts, revisions at workstations and developing in-house Covid-19 testing capabilities."
Meanwhile, Tim Bray, a former company vice-president, is now what the New York Times calls "Amazon's highest-profile defector". He says Amazon can appear to treat its workers as interchangeable and that he sees the controversies swirling around Amazon as being symptomatic of much deeper issues, which can only be resolved by governments.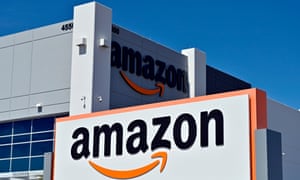 Support The Guardian
The Guardian is editorially independent.
And we want to keep our journalism open and accessible to all.
But we increasingly need our readers to fund our work.
Cameo Videos Make A Great Holiday Gift Instead Of Travel
You probably know that the best thing to do is not to travel or do a big family Thanksgiving. The CDC says you shouldn't do it. Epidemiologists say you shouldn't do it. BuzzFeed says you shouldn't do it. Even if your heart is crying out for human connection, your brain knows you shouldn't.
This post isn't about if you should (you shouldn't). This post is about how to reach out to family and loved ones this holiday via that most American of ways — faded celebrities.
What better way to say "sorry I won't be home for Thanksgiving, I don't want to kill grandma" than with a Cameo? This holiday season, people across the United States are discovering the particular magic, once reserved for Hollywood writers, that comes from putting the words in the mouths of attractive people you vaguely remember from television.
Cameo, of course, is the service where C- through Z-list celebrities will send a personalized video message for a modest sum. You just find the celeb you want, fill out a request with a name and a few details, and within five days you get a video. Most celebs range from around $100-$250. The better-known people charge more, but there are plenty of budget-friendly options. Like Bob Clendenin (you'd know him if you saw him), who you can hire to let your family know what terrible decisions they've made for a mere $30.
There's plenty of precedent here if you are feeling uncertain. The guy who plays Commander of the Night's Watch in Game of Thrones telling a girl she should give her ex-boyfriend another chance? $50 well spent! Michael Cohen telling someone his brother wants him to get the motivation to start working out again? You can't put a price on that (although Trump's former attorney will charge $100). The lead singer of the Spin Doctors congratulating you on finishing chemo and singing, "if you/want to finish chemo/just go ahead now." For $299 Carole Baskins will congratulate the compliance team at your office! You can even get Insane Clown Posse's Shaggy 2 Dope to insult your old boss.
So, go ahead, and grace your holiday un-gathering with the closest thing our modern world has to divinity. Yes, your mom is heartbroken that you won't be there. It would take an eloquence you never learned and an emotional openness the world has burned away to heal that wound. So forget that! There's no better way to laugh away those decades-old tensions than with the words of a desperate meat puppet.
That's what I'll be doing.
This year, my family is staying home, instead of convening at my sister-in-law's like we usually do. And so I ordered her and my brother-in-law a Cameo from former MTV VJ Riki Rachtman saying I will be missing my sister-in-law's famous spinach balls. As of this story's publication, Rachtman, who is no Adam Curry, has yet to deliver. Riki, if you're reading this, chop chop.
I'm certainly not the only one with this plan. Here is James Van Der Beek wishing someone's mom a happy Thanksgiving from their family.
Please, this year stay home, stay safe, and support your local celebs.
OnePlus 8 Pro review: the Samsung killer | Smartphones
OnePlus's latest range-topping 8 Pro phone puts Samsung on notice, featuring a slick design, 120Hz screen, 5G, improved cameras and even wireless charging.
Starting at £799, the 8 Pro builds on the success of last year's £649 7 Pro and £699 7T Pro, but with a higher price on par with its premium rivals. In offering it, OnePlus has shifted from its self-proclaimed cut-price "flagship killer" roots to directly competing with the likes of Samsung and Apple without a massive price advantage.
The 8 Pro simplifies the design of last year's models. Gone is the novel popup selfie camera, replaced by a more traditional hole punch situated about one-sixth in from the top left of the screen. It's small and fairly unobtrusive during use.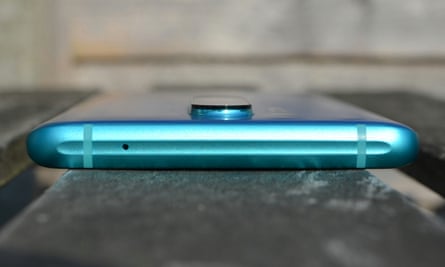 The phone has a line cut into the top which is strangely pleasing to the eye.

Photograph: Samuel Gibbs/The Guardian
The large industry-leading QHD+ 6.78in screen is the star of the show, filling the entire front of the device. New for this year is a bump up from 90Hz to 120Hz refresh rate, matching Samsung's S20 line and a smidgen smoother in slow scrolls than last year's phones or the cheaper OnePlus 8.
The difference between the previous standard 60Hz screens and a 120Hz screen is quite something: scrolling through lists, sites, content and other animations is just so much smoother at 120Hz. It's difficult to go back.
The screen can be used in either FHD+ or QHD+ at 120Hz, unlike Samsung's Galaxy S20 Ultra, which is limited to FHD+ at 120Hz.
A glass back is not just for aesthetics this year, as the 8 Pro is OnePlus's first phone with wireless charging – more on that later. The 74.4mm-wide, 199g 8 Pro is 1.5mm narrower and 7g lighter than last year's models, making it far more manageable than most, including the oversized Samsung Galaxy S20 Ultra. I didn't feel the need to immediately put a Popsocket or phone ring on the back to help me hold it. However, it is a full 2.7mm longer than the 7T Pro, which makes it more difficult to comfortably fit in a pocket.
The 8 Pro is also the first OnePlus to come with an official IP68 water resistance rating.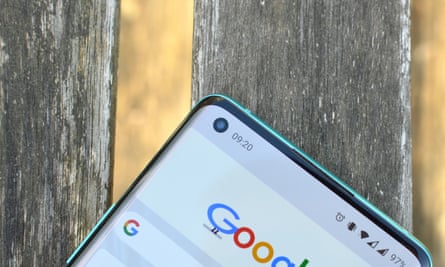 The hole-punch selfie camera is certainly less exciting than last year's popup module, but works just as well.

Photograph: Samuel Gibbs/The Guardian
Specifications
Screen: 6.78in 120Hz QHD AMOLED (513ppi)

Processor: Qualcomm Snapdragon 865

RAM: 8 or 12GB of RAM

Storage: 128 or 256GB (UFS 3.0)

Operating system: OxygenOS 10.5 based on Android 10

Camera: quad rear camera 48MP, 48MP ultra-wide angle, 8MP telephoto, 5MP colour filter, 16MP front-facing camera

Connectivity: 5G, dual sim, wifi 6, NFC, Bluetooth 5.1 and GPS

Water resistance: IP86

Dimensions: 165.3 x 74.4 x 8.5 mm

Weight: 199g
Speed and battery life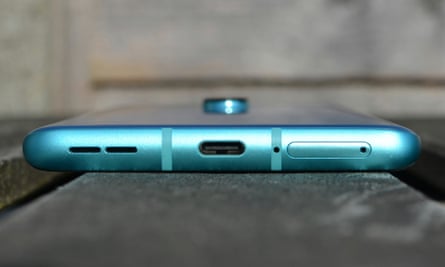 The USB-C port in the bottom is no longer the only way to top up the battery as OnePlus has finally added wireless charging to its phones.

Photograph: Samuel Gibbs/The Guardian
The 8 Pro has the same Qualcomm Snapdragon 865 processor with 8 or 12GB of RAM, depending on storage version, as the OnePlus 8 and performed equally brilliantly: snappy and more responsive than anything else, with 5G capability baked-in too.
The 8 Pro also matches the 8 on battery life. It lasts over 32 hours between charges, making it from 7am on day one until 3pm on day two.
Three hours of the 32 was spent on 4G, the rest connected to wifi, with the FHD+ 120Hz screen on for well over five hours, including 50 minutes of video, plus seven hours of Spotify via Bluetooth headphones and about 20 photos. Increasing the screen's resolution to QHD+ reduced battery life by only an hour or so.
5G performance was similar to a Samsung Galaxy S20 Ultra on EE and Vodafone, but I could not test its impact on battery life during lockdown in the UK. The phone is limited to 4G-only when two sims are used at the same time, pending an update.
Warp Charge 30T superfast wired charging reached 50% in 28 minutes and a full charge in 77 minutes. New for this year is optimised charging, which preserves the battery by delaying charging to 100% overnight until just before you typically need it.
Also new for the 8 Pro is wireless charging, including standard Qi and OnePlus's proprietary Warp Charge 30 Wireless charging, which requires a special charger with a cooling fan but reaches a peak of 30W – considerably faster than the five to 15W offered by rivals. The 8 Pro can also wirelessly charge other Qi-enabled devices from its back.
Sustainability
OnePlus rates the battery in the 8 Pro for 800 full-charge cycles till 80% capacity – better than the typical 500. Battery longevity is aided by the optimised charging system. The battery can be replaced and the smartphone is generally repairable by OnePlus in the UK.
The firm offers a trade-in programme for both its own phones and models from rivals. It did not comment on the use of recycled materials in its smartphones.
OxygenOS 10.5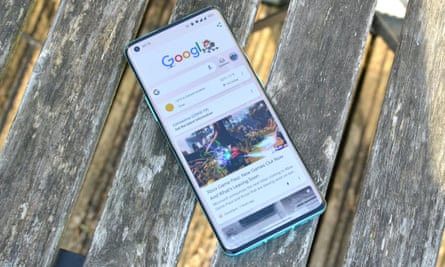 Google Discover replaces OnePlus's less-than-loved 'Shelf' on the 8 Pro's homescreen.

Photograph: Samuel Gibbs/The Guardian
The 8 Pro ships with the same OxygenOS 10.5 based on Android 10 as the cheaper OnePlus 8.
Google's Discover feed now features on the home screen, alongside nice touches such as the ability to choose which icons show in the status bar, full theme support and choices for animations such as that around the fingerprint scanner.
OxygenOS has developed into the best version of Android you can get on a phone, balancing features, aesthetics and speed like no other.
OnePlus only offers software support for three years from release, including two years of Android version updates and then a further year of security updates on a bimonthly schedule. Samsung offers four years of support for its S20 devices and Apple offers five for its iPhones, so there's still work to be done for OnePlus.
Camera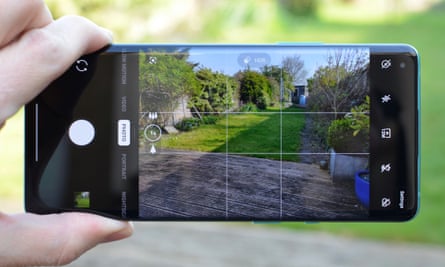 The camera on the OnePlus 8 Pro is a significant step up from previous efforts.

Photograph: Samuel Gibbs/The Guardian
The 8 Pro has a quad-camera on the rear of the device, combining a 48MP main camera, a 48MP ultrawide camera, an 8MP telephoto camera and a 5MP colour filter camera.
The main 48MP camera is great, producing some excellent, highly detailed and well exposed shots. The auto-HDR mode handles high-contrast scenes well, while low-light performance is much improved from the 7T Pro and 8 without needing the dedicated Nightscape mode. It shoots 12MP images by default, with a 48MP mode available, which suffered more from camera and object shake.
The 48MP ultrawide-angle camera is also one of the better modules on a phone, producing some good images in bright light in 12MP mode. It was weaker in middling light, producing more noise and artefacts than the main camera, but it can use Nightscape in really dark scenes to help.
The 8MP camera is good too, but as can be expected has significantly weaker low-light performance than the main camera. It has a 3x hybrid zoom, which is very good, and a further digital zoom up to 30x that rivals all but those phones with telescopic optical zoom lenses, such as the Samsung Galaxy S20 Ultra. If your subject is still you'll get pretty good images all the way up to 24x zoom in good light.
The 5MP photochrom colour filter camera is a gimmick that can be safely ignored, producing poor images even in good light. You can do better with software colour filters.
The front-facing 16MP camera is really good too, producing highly detailed and well toned images in good light. It gets slightly softer in poor light, but still respectable.
Observations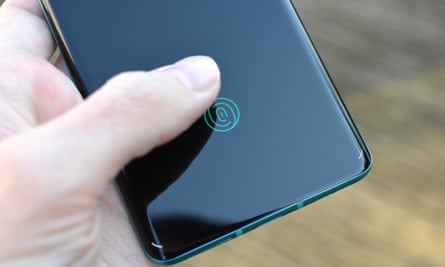 The 8 Pro's fast and accurate under-screen optical fingerprint reader is significantly faster and more forgiving than rivals used by Samsung and others.

Photograph: Samuel Gibbs/The Guardian
OnePlus's excellent alert slider toggles between silent, vibrate and ring.

The stereo speakers are pretty good.

A pre-applied screen protector and good clear-plastic case are included in the box.

Call quality was excellent on both sides of the call.

The first phone tested had a faulty screen that showed a green tint to dark. colours with the screen brightness set to under 40%.

The new optional textured sandstone cases (£22.95) are the best for adding grip to a phone I've ever used.
Price
The OnePlus 8 Pro costs £799 with 8GB of RAM and 128GB of storage in black or £899 with 12GB and 256GB in glacial green in the UK. Other colours are available in other regions.
For comparison, the OnePlus 8 costs £599, the OnePlus 7T Pro costs £699, the Samsung Galaxy S20 Ultra costs £1,199 and the Apple iPhone 11 Pro Max costs £1,149.
Verdict
The 8 Pro shows OnePlus is no longer the underdog significantly undercutting the big boys on price.
Instead it has filled the cost-cutting gaps with features that truly rival the best from others. The 8 Pro has a genuinely fantastic screen, a cracking design that's big but comparatively easy to handle, and it finally has wireless charging and proper water resistance – two hallmarks of top-end phones.
The Chinese firm has also addressed a traditional weakness in its camera, producing a phone that competes favourably with all but the very best and most expensive super-camera phones.
Add that to OnePlus's traditional strengths of slick software, serious speed and strong battery life and you have a very potent combination. It simply offers a better day-to-day experience than practically anything else, beating Samsung, Google and others at their own game.
It's not perfect, of course. You only get three years of software support where Apple offers five. The phone is a bit long for small pockets and not being able to have 5G at all when using two sims is irritating.
It's no longer cheap at £799, but the OnePlus 8 Pro is simply better than practically everything else. Samsung should be worried because we have a new Android king.
Pros: fantastic screen, top performance, good battery life, superfast wired and wireless charging, great camera, great software, alert slider, water resistance, 5G, dual-sim, superfast in-screen fingerprint scanner.

Cons: no headphone socket, 5G disabled when using two sims, only three years' software updates, expensive, very long.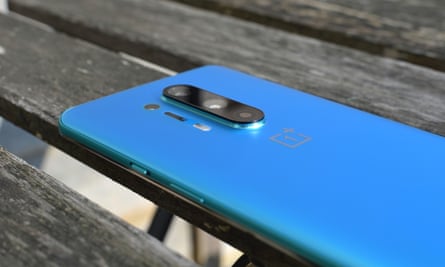 The glacial green 8 Pro is similar to aquamarine, looking more blue in bright sunlight and greener indoors.

Photograph: Samuel Gibbs/The Guardian
Other reviews