Team has blossomed under Ajinkya Rahane, players are more at ease, says Dilip Vengsarkar | Cricket News
NEW DELHI:
Ravichandran Ashwin
came out to bat with a sore back and
Hanuma Vihari
tore a hamstring on the final day of the third Test at the Sydney Cricket Ground. But their pain didn't hold them back. It was in fact their grit and determination that took centre stage, as they helped India pull off an epic draw. The duo batted out 259 balls and stitched together a patient unbeaten 62 run stand for the sixth wicket to snatch an improbable draw.
Before
Ashwin
and Vihari took charge, it was wicket-keeper batsman
Rishabh Pant
who laid India's foundation with a magnificent 97 off 118 balls. His innings was studded with 12 boundaries and three sixes. While he was at the crease with
Cheteshwar Pujara
it seemed like India were in with a chance to get to the target of 407 and win the Test at the SCG.
Former India captain and legendary cricketer
Dilip Vengsarkar
lauded India's valiant effort in drawing the Sydney Test.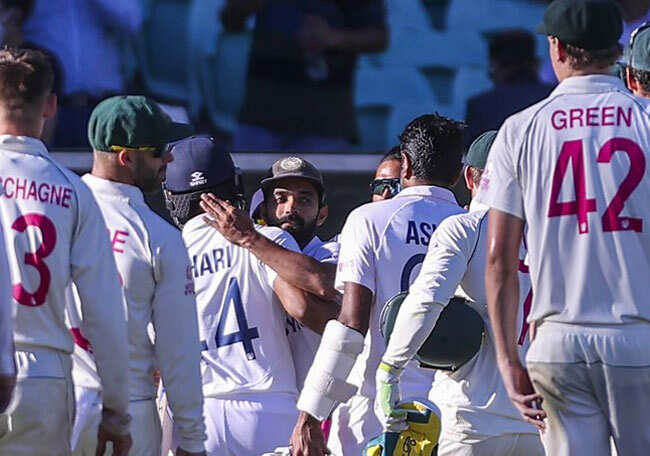 (ANI photo)
"It was a fantastic performance by India. They fought really well and bravely. India had lost two wickets on the fourth day and no one imagined India will put up such a brave show. I would give credit to Rishabh Pant who played (an) outstanding innings. India were so close to winning the match. Pant played a valiant knock. Hanuma was injured and couldn't run also. Jadeja was injured too. So, the obvious option was to draw the Test match which they did and they did it in style," Vengsarkar told Timesofindia.com in an exclusive interview.
"It was Rishabh's innings that brought us close in the match. Had he been there for some more time, we would have definitely won. But this draw is no less than a win. It was an extraordinary innings by Pant. Ashwin played really well and the way he took the India innings forward along with Hanuma was just amazing. Pujara too played well. Everyone played really well. It was a team performance. It was an outstanding team effort," Vengsarkar, who played 116 Tests and 129 ODIs for India from 1976 to 1992 further said.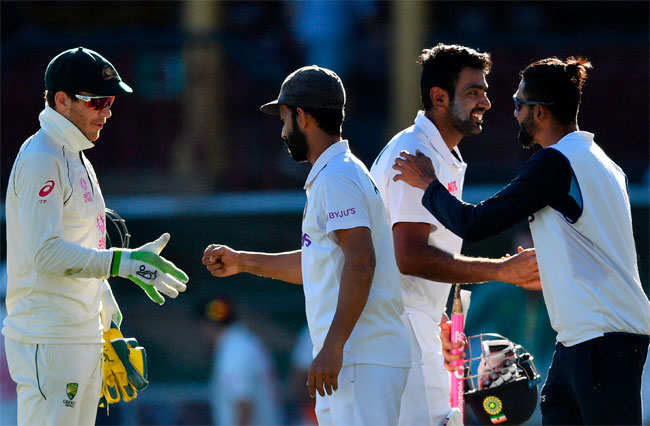 (AFP photo)
AJINKYA RAHANE – CAPTAIN FANTASTIC
Virat Kohli, who left on paternity leave after the Adelaide Test (which India lost), handed over the captaincy baton to Rahane for the remainder of the series (three Tests) and the Mumbaikar delivered in his own style. Rahane showed great character to inspire India to a remarkable bounce back win against Australia in Melbourne to level the series at 1-1 and then secured a hard-fought draw in Sydney. The SCG Test was Rahane's fourth Test as captain. He has three wins and one draw as India Test captain so far.
Now, Team India will head for the fourth and final Test in Brisbane, starting January 15.
Vengsarkar feels Rahane has handled the team well and has done an amazing job in Kohli's absence.
"The team has really blossomed under the leadership of Ajinkya Rahane. India were bundled out for 36 and lost the match (in the first Test in Adelaide) but the way Rahane led the team after the Adelaide defeat is amazing. Ajinkya showed tremendous character," the former Indian cricketer told TimesofIndia.com.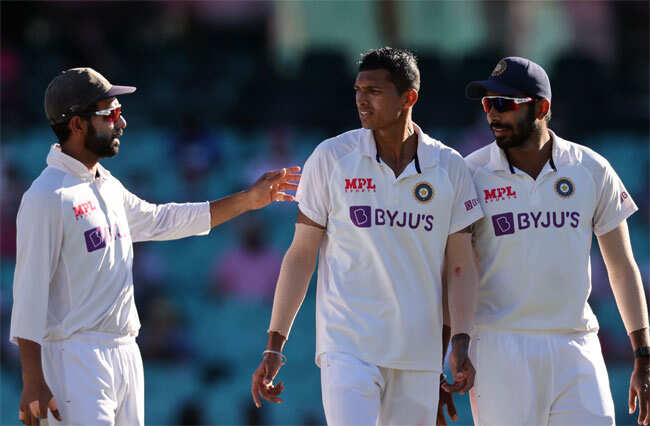 (AFP photo)
"Players are more at ease under Rahane. He has given the freedom to his players. Freedom is the top most thing that Rahane has injected into the team. Not just Ashwin and Jadeja, the youngsters Siraj, Saini, and Gill also impressed in the series. Ajinkya has done a fantastic job in Virat's absence," Vengsarkar further said.
ASHWIN AND VIHARI'S BRAVE SHOW – A STORY FOR THE AGES
Vihari faced 161 balls and remained unbeaten on 23, while Ashwin scored 39 not out off 128 balls, chasing Australia's 406 for victory. They were facing a barrage of bouncers, short balls, and cuss words from the Aussies. Vihari was battling a very painful hamstring tear, which was later diagnosed to be a grade two tear. It's very possible that he aggravated the injury further by batting on to save the Test. Ashwin batted on with an extremely sore back. But all of Australia's efforts were in vain in the face of the India duo's perseverance and tenacity. They stood firm and let their bat do the talking.
"That's the beauty of Test cricket. That is why Test is the best format of the gentlemen's game. Every session can change the face of the match. As you say that the glorious uncertainties of the game are in Test matches. I enjoyed watching each and every session of the match," Vengsarka, who scored over 10,000 international runs, with 17 Test and one ODI century told TimesofIndia.com.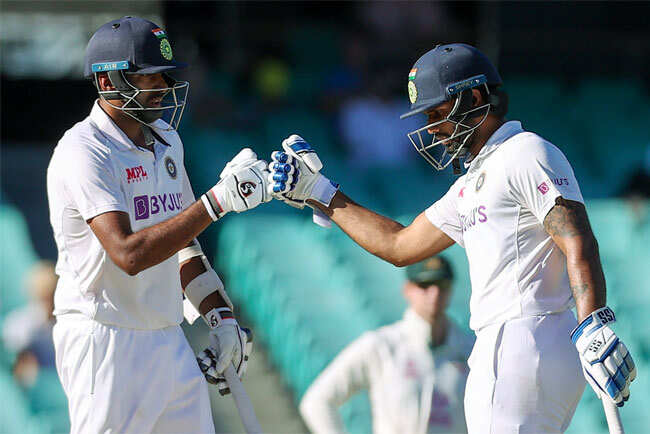 (ANI photo)
After securing a draw, Ashwin pulled out a stump and gave a fist bump to Vihari. On the other hand, Vihari had a wry smile on his face while walking back to the pavilion.
"Both played extremely wonderfully. Hanuma played bravely. He was injured and couldn't run. He kept his calm and faced the solid Australian attack. Ashwin is a world-class all-rounder. He is one of the best bowlers in the world and he is a handy batsman too. Both Vihari and Ashwin are strong characters," Vengsarkar further complimented the Indian duo who will be remembered for pulling off a memorable and possibly series defining draw which felt like a win.
WHEN VENGSARKAR DENIED PAKISTAN A WIN IN 1979
Vengsarkar knows what it takes to save a Test match at a time when the writing seems to be on the wall for the team. He was in a similar kind of situation during the 1979 Test against Pakistan in Delhi. India were batting last in that match and their target was 390. Vengsarkar, who came in at number three scored 146 not out off 370 balls at a strike rate of 39.46 in the fourth innings and stitched a match-saving partnership with Yashpal Sharma (60 off 135 balls) to secure a draw. India batted for 131 overs in the fourth innings and ended the final day at 364/6 to deny Pakistan a win. 131 is also the exact number of overs India batted in the fourth innings of the recently concluded Sydney Test vs Australia to get to 334/5 and secure a draw.
Taking a walk down memory lane, Vengsarkar said: "I was in a similar situation. We were not given the chance of winning the match. It was a huge task. We were fighting for a draw, forget about winning. I had a decent partnership with Yashpal Sharma. That partnership and Yashpal's support from the other end brought us into the game."
MISSION BRISBANE
The current series vs Australia is locked at 1-1. Now, the defending Border Gavaskar title holders, India, will aim to not just retain the coveted title when they face Australia in the fourth and final Test, starting January 15, but come back home with a 2-1 winning series scoreline.
India defeated Australia 2-1 in the 2018-19 series Down Under to clinch the trophy.
The odds though are stacked against Team India. The injury list is already a very long one and they are missing some key players. They also have a zero percent win record in Brisbane, which will offer possibly the bounciest pitch so far in the series. India have played six Tests in Brisbane so far, losing on 5 occasions and drawing 1 Test.
But, Vangsarkar is confident that Rahane and his men will defy history and current obstacles. After all this team has already shown immense character and gumption by overcoming multiple hurdles to stay very much alive in the series.
"Since India have never won in Brisbane, I am sure they will win this time. India have the opportunity to win in Brisbane," Vengsarkar told TimesofIndia.com.
"Indian players have tremendous potential. The way they have played in the last two matches (Melbourne and Sydney) is exemplary. If they play to their potential, they can win in Brisbane and the series too," Vengsarkar signed off.
Three cases linked to Australia Open carry highly virulent COVID-19 variant | Tennis News
MELBOURNE: Three people in hotel quarantine associated with the Australian Open
tennis
tournament have tested positive for the highly transmissible coronavirus variant linked to the United Kingdom, officials said on Saturday.
The three quarantined in Melbourne are not players, said the state agency responsible for quarantining overseas travellers. All have been in hard lockdown since their Jan. 15 arrival.
"Three quarantine residents associated with the
Australian Open
who tested positive for coronavirus have been found to have the UK variant of the virus," COVID-19 Quarantine Victoria said in a statement.
Victoria, Australia's second most-populous state, recorded its 17th day without any new local infections on Saturday as officials focus on keeping the community separated from staff and players here for the
Grand Slam
tournament.
As many as 72 players have been confined to their hotel rooms for two weeks upon arrival and unable to train for the Feb. 8-21 event after passengers on three charter flights tested positive.
The lockdown has led to complaints from some frustrated tennis players, although others have urged their fellow competitors to show more respect for the efforts by Victoria state, when the Australian Open is to be held. It went through one of the world's strictest and longest lockdowns last year to stamp out the virus.
Spain's Paula Badosa on Friday became the first player to confirm a positive test for COVID-19 while in quarantine in Melbourne. On Saturday, Spain's tennis federation apologised to
Tennis Australia
after complaining about the treatment of two Spanish players in quarantine.
The Victoria quarantine agency said there were 10 active positive cases linked to the tennis in quarantine.
Three cases were recorded among international arrivals in hotel quarantine in Victoria on Saturday, the state's health department said. One of those was associated with the Australian Open, the quarantine agency said.
Australia has fared better than most other developed economies in the pandemic through swift border closures, lockdowns, strict hotel quarantine for travellers and widespread testing and social distancing.
On Saturday, it logged a sixth straight day of zero coronavirus cases in the community nationwide. It has had 28,700 cases in total, the overwhelming majority in Victoria, and 909 deaths.
India vs Australia: Anand Mahindra to gift SUVs to Natarajan, Siraj, Thakur, Sundar, Gill, Saini | Cricket News
NEW DELHI: Automobile giant
Anand Mahindra
on Saturday announced that he will be gifting the THAR-SUV to
Mohammed Siraj
,
T Natarajan
,
Shubman Gill
,
Washington Sundar
,
Shardul Thakur
and
Navdeep Saini
for their heroics in the just-concluded Test series in Australia.
On Tuesday, Australia's fortress, The Gabba, was finally breached. It took 32 years and two months, but the unthinkable was achieved as an injury-ravaged young Indian team beat Australia by three wickets against all the odds in the final Test to take the series 2-1.
"Six young men made their debuts in the recent historic series #INDvAUS (Shardul's 1 earlier appearance was short-lived due to injury) They've made it possible for future generations of youth in India to dream & Explore the Impossible," tweeted Mahindra. Record-breaking India clinch Australia Test series in Gabba thriller
"Theirs are true 'Rise' stories; overcoming daunting odds in the pursuit of excellence. They serve as an inspiration in all arenas of life. It gives me great personal pleasure to gift each of these debutants an All-New THAR SUV on my own account–at no expense to the company," he said in another tweet.
Sundar and Natarajan had made their debuts in the fourth Test in Brisbane, and both went on to produce crucial performances. Shardul Thakur had played his first Test in 2018, but he had then walked off the park after bowling just 10 balls due to injury. Cricketer Mohammed Siraj visits his father's grave after returning from Australia
Siraj had lost his father before the series against Australia started, but he decided to stay back to fulfill the dream of his father.
"The reason for this gift is to exhort young people to believe in themselves & 'Take the road less traveled.' Bravo Mohammed, Shardul, Shubhman, Natarajan, Navdeep & Washington! I now plead with @Mahindra_Auto to get them their THARS on priority," Mahindra wrote in his last tweet.
Six young men made their debuts in the recent historic series #INDvAUS (Shardul's 1 earlier appearance was short-li… https://t.co/z8I2qRnZdJ

— anand mahindra (@anandmahindra) 1611385298000
Mohammed Siraj was the leading wicket-taker for India in the recently-concluded Border-Gavaskar Trophy. Apart from Natarajan and Saini, all the other four players will be seen in action in the upcoming Test series against England.
Rishabh Pant: Rishabh Pant should replace Shreyas Iyer or Sanju Samson in India's ODI, T20I squads: Brad Hogg | Cricket News
NEW DELHI: Former Australia all-rounder
Brad Hogg
has called on the Indian selectors to include
Rishabh Pant
in India's limited-overs squads saying that the batsman's ability to play unconventional shots makes him difficult to bowl to.
"I would be putting him there right now because he has got the confidence and the belief. He has proven himself with two match-winning knocks in this (just concluded) Test series (in Australia)," Hogg said on his YouTube channel.
"You can't get better than that playing for India on Australian soil. I would put him in place of (Shreyas) Iyer. Keep your all-round options there for batting and bowling depth. He will be there for either Iyer or
Sanju Samson
."
"He is hard to bowl to because he plays a variety of shots that are different to any other batsman. Get him in there," added Hogg.
Pant scored 97 on the fifth day of the Sydney Test, helping India escape with a draw. He then made an unbeaten 89 on the fifth day of the Brisbane Test to help India win the match by three wickets and seal the series. Record-breaking India clinch Australia Test series in Gabba thriller
The former Chinaman bowler and left-handed batsman, however, backed Virat Kohli to continue as India skipper, saying that any change in captaincy at the moment can affect India's balance.
He said that removing Kohli from captaincy can affect his batting.
"He (Virat Kohli) bats better when he is the captain. I think if you change it, it would destroy the culture of that Indian team. It might affect Kohli's batting. He wouldn't want it to happen, but it will happen," Hogg said.
"Yes, Ajinkya Rahane has done a fantastic job in the last three Tests in Australia. He is cool, calm and collected. He is quite decisive, and he doesn't get agitated. He is a fantastic leader. But I will leave him as vice-captain because I think Virat Kohli leads from the front," added Hogg.