Streaming: the Barbican's first-person documentary season | Film
A few weeks ago I spotlit the Barbican's new on-demand streaming service, which launched with a few intriguing hand-picked titles but promised bigger and better things to come. Next week the platform launches its first fully curated and themed season, and it's a fine and unusual one. Inner States is dedicated to the art of the first-person documentary, a medium where indulgence, piercing intimacy and broader insight all happily (or somewhat anxiously) coexist.
Not necessarily a self-oriented exercise, "first-person documentary" can describe any nonfiction film in which the director doesn't assume a silent, omniscient perspective, but leans into their subjective point of view and experience, on matters personal or global. The Barbican describes each of the five features that make up its season as "a journey to the inner sanctum of the self" – phrasing that might have sounded more esoteric if we weren't all emerging from nearly six months of predominant social isolation, in which we've all had time to get quite cosy in our inner sanctums. The season was apparently conceived last year, but it has found its moment.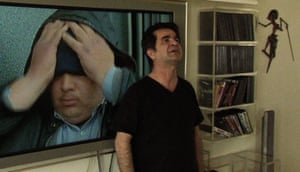 Some of the selections are more widely known than others. On the familiar end of the scale we have the indomitable Iranian auteur Jafar Panahi's This Is Not a Film – which is approaching, somewhat unbelievably, its 10-year anniversary. A video-diary-as-documentary made in response to his house arrest and film-making ban at the hands of the censorious Iranian government, it's an authority-defying statement that is far more than a political stunt. Documenting a day of incarcerated life in all its banality and emotional frustration, it wittily reflects on the very sensation of social separation.
Another selection, Jonathan Caouette's Tarnation, was a critical phenomenon in 2004, though the film-maker's profile has fallen slightly of late (he hasn't made a film since 2011). In a sense, his debut, made when he was 30, didn't leave him many places to go, given what a comprehensive and cathartic outpouring it is. A sort of self-treating cinematic therapy session, it pieces together a ragged jumble of old home movies, photographs and even answerphone messages to evoke the psychic pain of his troubled childhood, and his mother's mental illness. I thought it might have dated, but it remains brilliantly intense and necessarily overbearing, marking an era before mental health issues took on a higher profile.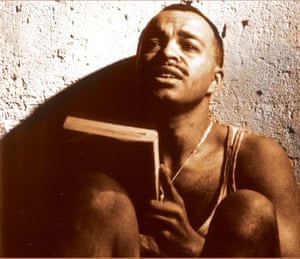 The other three selections are new to me, with the late French-Guinean film-maker David Achkar's 1992 doc Allah Tantou (God's Will) a particular revelation. In it, Achkar reckons with the once-uncertain fate of his father, Marof, a UN ambassador to Guinea who in 1969 was charged with treason and sent to the Camp Boiro, the country's notorious concentration camp for political dissidents. As Achkar traces what happened to his father in its confines, with the aid of the latter's prison diary, the two men's narratives merge into a haunting essay on personal and political legacy – all the more poignant as it remains the only film that the younger Achkar, who died a few years later aged 37, ever directed.
Belgian auteur Chantal Akerman experimented significantly with the first-person form. Her final film, No Home Movie (streamable on BFI Player), movingly preserved conversations between herself and her dying mother, and would have been an apt selection for this season. But the curators have opted for her playfully minimalist 2006 experiment Là Bas, shot entirely through the blinds of a Tel Aviv apartment rented by Akerman during a month-long teaching gig. Unlike in Panahi's film, her restricted location is self-imposed, a physical and philosophical vantage point from which the film-maker, a daughter of Holocaust survivors, obliquely considers Israeli society and her own Jewish identity. More direct political ruminations are to be found in Palestinian film-maker Raed Andoni's powerful 2009 film Fix Me, in which his quest to cure a persistent headache flowers into a deeper investigation of his place in the Palestinian uprising and its aftermath.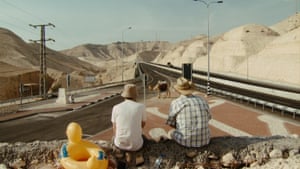 Finally, the season is filled out with Lockdown States, a free-to-stream 45-minute compilation of short documentaries made by film-makers during this year's pandemic – including The Cop in Our Head and the Cop in Our Hearts, a brisk, pointed miniature by Brett Story about the alarming prevalence of neighbourly policing in corona times. It's first-person film-making made for everyone to hear.
Also new on streaming and DVD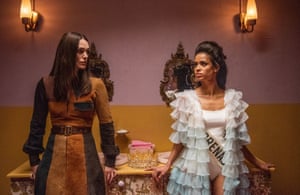 Misbehaviour
(Disney, 12)
The real-life crashing of the 1970 Miss World pageant by the women's lib movement should have made for a terrific film. But despite a spirited cast, this peppy feelgood effort falls short: it's too safe and too formula-driven to live up to its rebellious subjects.
Koko-di, Koko-da
(Picturehouse, 18)
Streaming exclusively on BFI Player, Johannes Nyholm's bravely bizarre Sundance hit gives the time-loop conceit of Groundhog Day a particularly sinister twist, as a strained couple on a camping trip must relive their own murder over and over. The ghoulishness is undercut, however, with honest considerations of grief and relationship drift.
The Trout
(Mubi)
There's a case to be made for Isabelle Huppert as our greatest living actor, and Mubi goes there with a season dedicated to her career – kicking off with this fascinating Joseph Losey oddity from 1982, in which she plays a young, emotionally walled-off seductress.
Waiting for the Barbarians
(The Movie Partnership, 15)
JM Coetzee's stark, anti-colonialist allegorical novel is such a tall order to film, it even stymies the ample imagination of Colombian director Ciro Guerra (Embrace of the Serpent). There are passages of grace and power here, but much of it feels rigid and hesitant.
Multiverse of Madness? Why the Marvel Cinematic Universe no longer exists in perfect isolation | Film
The internet briefly looked up from its coffee and raised an eyebrow last week when Doctor Strange director Scott Derrickson appeared to confirm that every Spider-Man movie since Tobey Maguire's 2002 debut as the wisecracking web-slinger is now considered to be part of the wider Marvel Cinematic Universe. "All Spider-Man iterations are defacto MCU," wrote Derrickson during a Twitter exchange with Moon director Duncan Jones.
Tangential connections through portals is covered under the Dr Strange subsection. Can i have a ruling, @scottderrickson?

— Duncan Jones (@ManMadeMoon) November 23, 2020
All Spider-man iterations are defacto MCU.

— N O S ⋊ Ɔ I ᴚ ᴚ Ǝ ᗡ ⊥ ⊥ O Ɔ S (@scottderrickson) November 23, 2020
The film-maker, currently working as an executive producer on the Sam Raimi-directed sequel Doctor Strange in the Multiverse of Madness, later clarified he was only joking. But given how connected Marvel's movies now seem to be to the Sony Spidey films (and that Raimi directed all the Tobey Maguire movies), it's easy to see why fans wondered if Derrickson might have inadvertently revealed a Hollywood insider secret.
For where the MCU was once its own perfect, solitary island in the superhero ocean, able to craft intelligently interconnected tales of costumed crimefighters without fear of interference from other, less competent studios, it now finds itself in a position where shaky land bridges have inadvertently formed to other continents, created not for creative reasons but for corporate ones. The danger here is that allowing its gleaming superhero monolith to be taken over by invasive species could undercut a quality control system that has seen Marvel outpace all rivals over the last 12 years.
It all started after Sony made a mess of its own Spider-Man films with the undercooked The Amazing Spider-Man 2 in 2014 and came wall-crawling to Marvel for help. Thanks to this link-up we now have a Marvel-led Spidey (Tom Holland) who appears both in his own Marvel-Sony spin-offs and also regularly in the mainstream of Marvel films. But we have also started to see strange nods to the older Spider-Man movies, such as the inclusion of JK Simmons' J Jonah Jameson in Spider-Man: Far from Home, ostensibly an MCU movie. There are also industry reports that Jamie Foxx is to return as Electro (reprising his role from The Amazing Spider-Man 2) in the as-yet-untitled third Marvel-Sony Spidey film.
Then, of course, there's Deadpool. The Merc with a Mouth is due to arrive in the MCU thanks to a different corporate deal, the one that saw Marvel owner Disney buy up 20th Century Fox last year. Industry insiders now report the potty-mouthed mutant will retain his R-rated status, despite the Marvel movies always being made for a PG-13 audience. There are two solutions here: either Reynolds avoids dropping f-bombs and keeps the bloody violence to a minimum whenever he appears in a mainstream MCU film, or he simply does not appear outside his own standalone movies. Neither sounds precisely perfect.
Doctor Strange in the Multiverse of Madness offers yet more potential for crossover with other superhero universes, since it will introduce the concept of the multiverse, via which alternate reality versions of Marvel's best-known superheroes might well exist and end up meeting. Then there's the speculation in the geekosphere, fuelled by news that Warner Bros is to bring back Michael Keaton and Ben Affleck as different versions of Batman for the rival DC universe's crossover episode The Flash (loosely based on the comic book Flashpoint event), that Tobey Maguire and Andrew Garfield might return as Spider-Man/Peter Parker in the next Spidey movie. Sony already included multiple wall-crawlers in the Oscar-winning animated film Spider-Man: Into the Spider-Verse after all, though it's an unwritten rule of comic book flicks that film-makers working in animation are usually allowed far more leeway than their live-action counterparts.
The studio has so far handled its newfound interconnectedness to other people's movies relatively well. The monologuing vlogger J Jonah Jameson of Spider-Man: Far from Home may or may not have been the same as the rowdy newspaper editor we saw in the Sony films; only Spider-Man has been allowed to appear in the main Marvel series, though I cannot be the only fan of Willem Dafoe and Alfred Molina who would love to see the Green Goblin and Doc Ock somehow resurrected.
But can Marvel really just cherrypick all the best bits of the movies it didn't have a part in making, while asking us to ignore the worst? If you turn up to the cinema in 2022 for the opening night of Doctor Strange in the Multiverse of Madness and are greeted with the horrible sight of Tobey Maguire sashaying through Manhattan's theatre district with an awful emo-haircut, you'll know it's all gone horribly wrong …
And the Oscar goes to … a movie by a streaming platform? | Film
Usually at this time of year, thoughts are turning to awards season and an enticing winter of quality cinema ahead, but – and you're probably utterly sick of hearing it – this year it's different. Instead, we have got shuttered cinemas and no prestige dramas to put in them anyway. Hollywood is in hibernation.
But the awards show must go on. Next year's Baftas and Academy Awards are delayed until April, rather than the usual February. Deadlines and eligibility rules have been loosened: usually a movie must have screened in a Los Angeles cinema for seven consecutive days to qualify for the Oscars, but this year an online release is enough. So, good news for Trolls World Tour but potentially disastrous for cinemas.
In the absence of Hollywood competition, this could be the first year the best picture award goes to a movie by a streaming platform, which could be something of a tipping point. The current frontrunner is David Fincher's Mank, which goes out on Netflix this Friday. It ticks all the boxes: Hollywood mythology (Gary Oldman plays the writer of Citizen Kane); marquee names; technical brilliance; impersonations of real figures (awards juries love that); and unanimous critical acclaim.
Mank's chief rivals might include Ma Rainey's Black Bottom (a posthumous best actor for Chadwick Boseman seems likely), Da 5 Bloods and The Trial of the Chicago 7 – also all from Netflix. Or Regina King's One Night in Miami (Amazon Prime Video). There are non-streaming contenders – Nomadland, for example – and big releases such as Tom Hanks western News of the World, due in January. Others could slip in under the wire, although these movies may well also have to release online to qualify.
It would be a tragic irony if awards season killed off the very institutions it was designed to celebrate. Traditionally, Bafta, the Academy and others have been the champions of Cinema – with a capital C – as worthy of gongs and black-tie formality and reverent speeches as any other artform. But the type of "cinema" the awards bodies were geared to celebrate is disappearing from actual cinemas, which are now powered by big-budget franchise movies. Awards buzz was one of the few tools left to staunch the inexorable defection. If the buzz goes to a Netflix movie instead, it's another reason to stay at home, and another nail in the coffin of the industry.
It would be a double irony if Mank was the movie that sealed this deal. It is a loving, lavish homage to Hollywood at its height, not only in its detailed industry lore and its digital recreation of 1930s cinematography, but also in its nostalgia for cinema as both an auteurist artform and a popular medium with the potential to topple giants. Will either of those ideas still hold true after this year? The jury's out.
Can You Name All 11 Of These "Outer Banks" Characters From Season 1?