Small business confidence hits all-time low after Biden election
Small business confidence has fallen to an all-time low after the election of former Vice President Joseph Biden, according to the Q4 CNBC|SurveyMonkey Small Business Survey.
With a confidence index reading of 48, Main Street's outlook is now below where it was during the second quarter of this year (49), when lockdowns across the nation were increasing amid the first wave of Covid-19. That Q2 number had been the all-time low previous to the just-completed survey, conducted Nov. 10 to Nov. 17 among more than 2,200 small business owners nationally, using the SurveyMonkey platform.
Since CNBC began conducting the survey in 2017, the confidence index reached as high as 62, and had never dipped below the mark of 50 until 2020. While another surge in coronavirus cases continues to hit Main Streets across the nation, and a lack of progress on stimulus talks in Washington, D.C. exacerbates the issues faced by small business owners, key questions in the confidence index relate to the Main Street outlook on taxes and regulation, and the responses from small business owners are skewed heavily by their political leanings — the small business demographic overall has a conservative skew. According to SurveyMonkey, approximately 60% of small business owners identify as Republicans.
Fifty-three percent of small business owners said they expect tax policy to have a negative impact on their business in the next 12 months, while 49% said government regulation will have a negative impact. By party affiliation, the divide is stark. Among Republicans, 75% said tax policy will be a negative and 72% said regulations will be a negative. Those numbers drop to 15% (taxes) and 11% (regulations) among Democrats. These are the highest percentages recorded for the "negative impact" response in the four years of the survey.
Politics and small business
"The immediate shift in forward-looking sentiment that small business owners reported following the election reveals how deeply politics has become embedded in the public's assessment of the economy, and in particular how divided the country is," said Laura Wronski, research science manager at SurveyMonkey. "We've seen evidence of that every quarter, with Republican small business owners consistently reporting a higher degree of confidence than Democrats, but the election of Joe Biden is the first opportunity we've had to see whether that would flip if presidential power changed parties — and it did dramatically."
Among Republican respondents, the small business confidence index score fell from 57 in the third quarter to 42; among Democrats, confidence jumped from 46 to 58. The lowest previous confidence reading from Republican business owners was in Q2 2020, at 54.
We've seen evidence of that every quarter, with Republican small business owners consistently reporting a higher degree of confidence than Democrats, but the election of Joe Biden is the first opportunity we've had to see whether that would flip if presidential power changed parties — and it did dramatically.
Laura Wronski, SurveyMonkey research science manager
Overall, the survey finds 34% of small business owners saying Joe Biden will be good for small business, while 55% say he will be bad for small business. By party, 89% of Republican small business owners say Biden will be bad for business, while 86% of Democrats say he will be good for Main Street.
Wronski noted that part of the small business confidence being measured every quarter is owners' assessments of what things will look like a year from now based on policy changes made at the federal level, and those questions are subject to a lot of uncertainty in any immediate post-election period, before the new administration takes power and before their policy agenda is fully fleshed out.
"We don't yet know how Biden will work with Republican leaders to carry out his agenda, and we don't even know what his specific policy proposals will be yet, so we're really in wait-and-see mode, and that lack of certainty is always a tricky situation for small business owners to operate in," she said.
Divided government can be good for Main Street
With the Senate races in Georgia still to be decided in January — and control of the Senate up for grabs — it remains to be seen how much political capital the Democratic Party will have even with the White House won. The stock market has continued to rally based on a belief that divided government is good for corporations, and will limit a President Biden's ability to repeal Trump tax cuts. Small business experts and owners say there is reason to believe Main Street also will perform well under a divided federal government.
"If we do indeed end up with a Republican-controlled Senate, many feel that this is a win-win scenario," said Tony Nitti, a federal tax partner at RubinBrown, who works with many entrepreneurs. "Clients viewed the election as a bit of a 'Sophie's Choice': they preferred the stability and potential pandemic response of a Biden presidency, but wanted the tax regime of a Trump second term. With these results, there's a bit of a 'best of both worlds' feel," Nitti said, explaining that a Biden administration may address the pandemic in a more thoughtful and resolute manner, and that the Republican controlled Senate will keep any significant tax increases in check.
"In a divided government scenario, and the way things are shaping up in the House, it will be very difficult to raise taxes, and especially so on small businesses," said Karen Kerrigan, president and CEO of trade group Small Business & Entrepreneurship Council. "The House margins will be so tight with respect to majority control."     
Kerrigan noted that during much of the Obama presidency, the environment was one of divided government and it was one in which capital access increased for small businesses. "The Great Recession created opportunities for bipartisan collaboration, and one of those areas impacted was access to capital and the need to boost new business creation given the fact that more firms were closing than starting. The Obama Administration took an early interest and lead in making investment crowdfunding legal, along with other key elements of the Jumpstart our Businesses Act (JOBS Act), which has had a positive impact on capital markets to this day," she said.
Kerrigan said small business owners are busy people, and unlike Wall Street, they do not necessarily follow the nuances of divided government. "During the campaign, they read or heard about Biden policies that could impact their business, from taxes to workplace regulation and more, and remain concerned about possible new costs on top of their current challenges. It is not surprising that their confidence in the immediate aftermath of the election has dropped," she added.
But she expects the confidence gap to narrow, though it will take time, as more conservative business owners are able to absorb and process information about the new political reality and see that the actions taken by a divided government which do not reflect some of the more "intrusive policies" outlined in the Biden agenda.
Ravin Gandhi, founder and CEO of Chicago-based housewares manufacturing company GMM Nonstick Coatings said he is encouraged by the outlook. Infrastructure and a Covid-relief stimulus bill are both bipartisan needs, while taxes will likely remain lower on business, which will be helpful as the economy struggles to recover from the pandemic. He said the fact that Biden "barely beat" Trump, should also limit the left's ability to over-regulate. And for any business that imports or exports — his uses overseas manufacturing — an end to Trump's trade wars is a positive.
Covid lockdowns and small business
Small business owners widely support (83%) a new stimulus package from the federal government, according to the survey — including 76% of Republican respondents and 96% of Democratic respondents. Fifty percent of small business owners said direct payments to individuals should be included in any new stimulus; 42% said mortgage/rent relief; 41% said an extension of the PPP loan program.
But small business confidence decreased from last quarter solely because of the forward-looking factors including taxes and regulation, Wronski noted, not because of a crash in current business conditions, like the confidence index saw earlier this year when coronavirus restrictions were introduced.
"There is not going to be a national shutdown policy," Kerrigan said. "President-elect Biden has a mix of advisors on the Covid-19 issue, with several communicating that our economy can continue to 'stay open' and it can be done safely with the right precautions. In addition, the majority of Democrat governors would also oppose this top-down approach."
Small business owners' assessment of current business conditions was at least stable from Q3 to Q4, and even ticked up slightly on some measures, including more business owners describing conditions as "good" and less describing it as bad. Those expecting greater revenue in the next year — and citing recent revenue and demand increases — were also more numerous in Q4, while the hiring outlook was more or less stable quarter over quarter.
"That's pretty remarkable given how long so many businesses have had to operate while working from home, dealing with decreased demand, implementing new policies and safety procedures, and everything else they've had to handle thanks to the pandemic," Wronski said.
The CNBC|SurveyMonkey Small Business Survey for Q4 2020 was conducted across more than 2,200 small business owners Nov. 10-Nov. 17. The survey is conducted quarterly using SurveyMonkey's online platform and based on its survey methodology. The Small Business Confidence Index is a 100-point score based on responses to eight key questions. A reading of zero indicates no confidence, and a score of 100 indicates perfect confidence. The modeled error estimate for this survey is plus or minus 2.5 percentage points.
Firms accused of putting workers' lives at risk by bending lockdown trading rules | Health policy
Irresponsible firms are exploiting looser lockdown regulations to bring thousands of non-essential workers into sometimes busy workplaces, with little chance of enforcement action by the nation's safety watchdog.
Analysis by the Observer shows that no enforcement notices have been served on companies by Health and Safety Executive (HSE) inspectors for Covid safety breaches since the country went into the latest lockdown, despite being contacted 2,945 times about workplace safety issues between 6 and 14 January. Overall, just 0.1% of the nearly 97,000 Covid safety cases dealt with by the agency during the pandemic appear to have resulted in an improvement or prohibition safety notice, with not a single company prosecuted for Covid-related breaches of safety laws.
This comes as the latest Public Health England surveillance data suggests workplace infections surged as people returned to work in January. The number of coronavirus outbreaks in workplaces rose by almost 70% in the first week of the national lockdown, with 175 Covid case clusters reported in English workplaces, not including care homes, hospitals and schools. New polling carried out by the TUC shows that fewer than half of workers are in workplaces with Covid-secure risk assessments.
In the past week, the government has focused attention on the failure of some people to stick to social distancing rules, from the release of a video of police approaching an individual in a parked car to an advert warning that "grabbing a coffee can kill". But experts and unions have warned that unsafe workplaces may be playing a bigger role in fuelling the pandemic.
"If the government is upping enforcement, ministers should start with employers who break Covid safety rules," said TUC general secretary Frances O'Grady. She called for big increases in resources for the HSE to stop rogue employers getting away with putting staff at risk.
Non-essential shops are supposed to be shut and most workers are expected to work from home to reduce the transmission of the virus, but unlike the first national lockdown all businesses are allowed to provide click and collect services in England. This contrasts with Scotland, where non-essential retailers were on Saturday banned from allowing customers to pick up goods ordered online.
Shop assistant Mike Richards, who works in a luxury fashion store in the centre of Birmingham, was furloughed during the first national lockdown in March but ordered to come into work last week to make sales calls alongside his colleagues under the guise of click and collect. "We got an email out of the blue saying, 'You've got to get back into the store to sell.' This is a luxury fashion brand – how can it be essential?"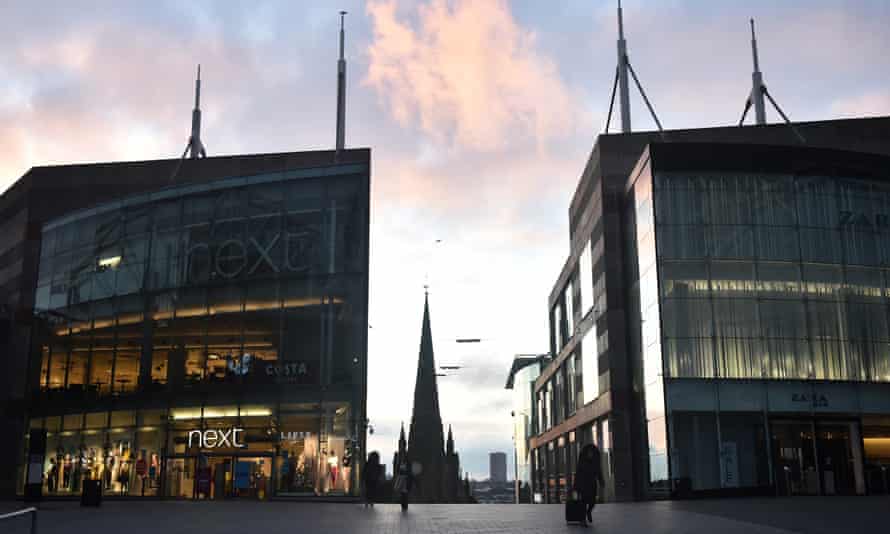 Richards (not his real name) had to travel by train into work and was told to call clients who had previously bought luxury handbags. "There were eight of us in the store that day. We were masked up but there was hardly any socially distancing," he said. "Every single facet of what we're doing could be done in the comfort of our own homes. But we're being forced to go in. It's an irresponsible act, for the sake of a little bit of profit for a multibillion-pound company."
He added that staff had been given letters in case they were stopped by the police on the way to work. "It says, 'We are carrying out duties of click and collect and home deliveries.' Nowhere does it say, 'This person is in the store selling', which is what we are actually doing."
Professor Susan Michie, who sits on one of the government's Sage subcommittees, said people were being needlessly driven into workplaces amid a raging pandemic, which has pushed the NHS to the brink in many parts of the country. "Every day I get contacted by distraught people who are being forced into workplaces, which they feel are completely unsafe. They are having to choose between the risk of serious illness or death and losing their job – not to mention the risk of spreading the virus on the way to and from work."
She added that click and collect services were providing transmission routes for Covid. "They should all be shut down unless absolutely essential," said Michie.
As well as clamping down on click and collect abuses, Scotland's first minister, Nicola Sturgeon, also placed a legal obligation on employers to ensure people can work from home wherever possible. This contrasts with England, where businesses only have to facilitate working from home.
Administrator Sandra Jackson, who works for a small vehicle supplier in Essex, was ordered to come in last week, even though there has been an outbreak of coronavirus, with just over a third of the workforce testing positive in December and January.
"I worked from home for one day and then I got a message saying, 'This isn't working. We won't allow you to work from home.' I'm absolutely furious about it."
Tradespeople in England are still allowed to carry out all types of work in people's homes. Electrician Stuart Collins has been ordered to install smart meters in multiple homes every day. "If people had lost supply or if it was a new connection, I would have no issue whatsoever," he said. "But exchanging existing meters for smart meters is not essential. All we are doing is assisting this virus to spread. They are putting financial gain ahead of people's lives."
Professor Stephen Reicher, who advises both the UK and Scottish government, called on UK ministers to follow Sturgeon's lead. "People have got to have the right to work at home if they can," he said. "These are not wild and woolly ideas. They're happening in Scotland. They could be very easily done. But the UK government seems to want to keep its head in the sand."
Michie said more businesses were being allowed trade in England and more workers were going into workplaces because the government's lockdown rules were so broad that almost any businesses could claim to be essential. "The government has effectively handed responsibility to employers to say whether they are essential or not," she said.
The HSE said it had scaled up its proactive work to check, support and advise businesses on public health guidance. It added that it had carried out more than 32,000 site visits during the pandemic. "Inspectors continue to be out and about, putting employers on the spot and checking that they are complying with health and safety law. Our role in contributing to the national response to reduce Covid-19 transmissions and support economic recovery has been widely recognised," said a spokesperson.
A government spokesperson said: "The law is clear that people can only leave the home to work if they cannot reasonably work from home. We have worked with trade unions, businesses and medical experts to produce comprehensive Covid-secure guidance so that businesses permitted to remain open can do so in a way that is as safe as possible for workers and customers."
Democratic governors accuse Trump administration of misleading them about vaccine stockpile
Several Democratic governors are criticizing the Trump administration for apparently misleading public health officials about holding a stockpile of Covid-19 vaccines in reserve.
Health and Human Services Secretary Alex Azar said on Tuesday that the government would begin releasing doses of vaccine that were being held in "physical reserve" to ensure enough supply for second doses.
Both federally approved vaccines, made by Pfizer and Moderna, are administered in two shots spaced several weeks apart.
The Washington Post reported on Friday that despite Azar's comments, no such federal stockpile of vaccines exists. The newspaper, citing state and federal officials, said the Trump administration had already started shipping its available supply in December.
The Democratic state leaders say the lack of a federal reserve will upset plans to increase the speed and scope of their vaccination campaigns.
"Last night, I received disturbing news, confirmed to me directly by General Perna of Operation Warp Speed: States will not be receiving increased shipments of vaccines from the national stockpile next week, because there is no federal reserve of doses," Oregon Gov. Kate Brown wrote in a post on Twitter, referring to Army Gen. Gus Perna, the chief operating officer of Operation Warp Speed.
"This is a deception on a national scale," Brown added. "Oregon's seniors, teachers, all of us, were depending on the promise of Oregon's share of the federal reserve of vaccines being released to us."
Washington Gov. Jay Inslee, a Democrat, also took to the platform, saying that the administration "must answer immediately for this deception."
"I'm shocked we were lied to and there is no national reserve," Colorado Gov. Jared Polis, a Democrat, wrote on Twitter.
He said that the federal announcement about the stockpile release "led us to expect 210,000 doses next week" and that other governors had made similar plans.
"Now we find out we'll only get 79,000 next week," Polis wrote.
Gov. Tim Walz of Minnesota, a Democrat, said at a press conference that "they were lying," referring to the federal government.
Walz and Democratic Govs. Gretchen Whitmer of Michigan and Tony Evers of Wisconsin said in a joint statement on Friday that "it has become abundantly clear that not only has the Trump administration botched the rollout of the safe and effective COVID-19 vaccine, but also that the American people have been misled about these delays."
The governors requested permission to purchase vaccines directly from manufacturers.
"Without additional supply or authorization to purchase directly, our states may be forced to cancel plans for public vaccination clinics in the coming weeks, which are expected to vaccinate tens of thousands. It's time for the Trump administration to do the right thing and help us end this pandemic," the governors wrote.
Azar responded to the governors in a thread on Twitter on Saturday, calling their claims "completely misleading" and a "debasement."
"We had a stockpile of reserved second doses from December. We started releasing those second doses at the end of December so people could get their second doses. We progressively continued that release," Azar wrote.
The HHS chief said that the announcement this week "was that we are releasing the remaining reserved second doses according to the established cadence—ensuring second doses would be available at the right interval—and that going forward we'd no longer have a reserve of second doses."
"The effort of some governors to mislead the American people to distract from their own distribution failures is unfortunate," Azar said, referencing data that showed that Michigan, Oregon and Wisconsin had yet to administer the bulk of the vaccines that had already been distributed to those states.
The Trump administration has sparred with Democratic state officials since the beginning of the Covid-19 crisis, at first over supplies of tests and other medical equipment and more recently over vaccine distribution.
President-elect Joe Biden, who will be inaugurated Wednesday, has pledged to elevate the role of the federal government in vaccine delivery. Biden has pledged to have 100 million doses of vaccine administered in his first 100 days in office.
To date, vaccination efforts have lagged far behind official predictions. According to the Centers for Disease Control and Prevention, about 12 million doses have been administered. Health officials had hoped to get that number to 20 million by January.
Subscribe to CNBC Pro for the TV livestream, deep insights and analysis  on how to invest during the next presidential term.
Close coffee shops and nurseries during lockdown, voters say in new poll | Coronavirus
Most people now believe takeaway coffee shops, cafes and children's nurseries should be closed in a further tightening of the national lockdown, according to the latest Opinium poll for the Observer.
A majority of voters also think lockdown rules should be tightened on outside exercise with a ban on people walking or exercising with anyone from a different household.
The findings are in line with a growing view among voters that the government is not responding fast or strongly enough to the virus.
The proportion who think ministers are under-reacting is now 51% (+7 points) compared with a week ago, while the proportion who think they haven't reacted quickly enough is 75%, (up 3) on last week and the highest Opinium has recorded. This latter figure includes 60% of people who voted Conservative at the last general election in December 2019.
Some 51% believe takeaway coffee shops and cafes should close while 61% say it is time for nurseries to shut. There are broadly similar majorities in favour of tighter rules on outside exercise (53%), with 55% supporting the suspension of click and collect services in all but essential shops.
Labour holds a four-point lead over the Conservatives in the latest poll, on 41% (up 1 point on a week ago) with the Tories on 37% (-2). This is the joint highest lead Opinium has recorded for Labour since the last election. The Liberal Democrats and SNP are on 6%, the Green Party on 4%, and Plaid Cymru on 1%.
Johnson has also recorded his lowest score on Opinium's "best prime minister" tracker, with just 29% picking him against 32% who would prefer Labour leader Keir Starmer. Johnson also records his lowest net approval since the last general election in December 2019, at -14 (34% approve while 49% disapprove).
Starmer's net approval has also dropped since last week from +15 to +10 now. Just 37% approve of the job he is doing as Labour leader, with 27% disapproving.
Adam Drummond of Opinium said: "One of the consistent themes of this pandemic has been a government which is petrified of being punished by the voters for putting in place too many restrictions, and a public crying out for further restrictions because they are petrified of the spread of the virus.
"The data from this week's poll is probably the most extreme example of this trend, and perhaps one of the reasons why we have seen such a drop in support for the government."
Just 30% (-1) now approve of how the government has handled Coronavirus, compared to 50% (+2) who disapprove.