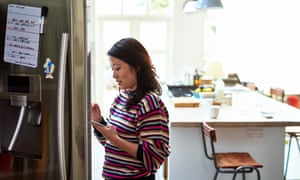 There's nothing a tin of beans or a pasta dinner can't fix, which is why it's great to have the right ingredients in your cupboard for a healthier option. Healthier eating doesn't mean spiralising every vegetable that comes into sight or overhauling your eating habits: a few small, simple swaps on your shopping list can bring about big changes.
We're raiding your kitchen cupboards to reveal six top swaps to get you started:
No added sugar baked beans
No added sugar variations of your family favourites help reduce sugar consumption and you often can't even taste the difference. Heinz No Added Sugar Beanz are a great midweek fix, for example; they also get extra points because they're naturally high in protein and fibre and have 25% less salt than standard baked beans too. There are no artificial sweeteners (something to watch out for on sugar-free health claims), and they taste great on toast, baked potatoes or however you love to eat your beans.
Rapeseed oil
Swap saturated fats such as butter, lard or ghee for unsaturated fats including rapeseed, sunflower or olive oils. Rapeseed oil is a great store cupboard swap as it's lower in saturated fat, higher in vitamin E, and has a higher smoking point than olive oil, which makes it versatile for cooking and drizzling. British chefs such as Tom Kerridge and Jamie Oliver love it, as it's UK-produced and brings a golden hue to roast potatoes, makes a slightly nutty salad dressing, and has a subtle enough flavour for baking too. However, don't start splashing it on everything; the NHS advises limiting healthier oil intake to just one to two tablespoons per day.
Wholemeal rice and pasta
Swap white pasta, bread or rice for high-fibre, wholemeal varieties. Fibre doesn't sound like the sexiest part of a healthy diet, but it's essential for gut health, reducing cholesterol and the risk of type 2 diabetes and bowel cancer. Wholemeal rice takes slightly longer to cook than white rice, but it has 4.5 times more fibre than white, which keeps you feeling fuller for longer and is better for digestion too. Leftovers can be used as a delicious salad the next day, or heated through in a wok for quick egg fried rice.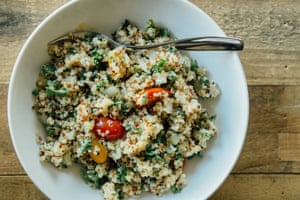 Quinoa
Swap your cupboard's empty carbs for naturally high-protein food such as beans, lentils or quinoa. There's a whopping 8g of quality protein per cup of cooked quinoa, which is good news for vegans and vegetarians looking to boost their protein intake. Quinoa takes 10-15 minutes to cook, it's gluten-free, and bulks out a main meal or lunch as an alternative to unrefined pasta, rice or bread. Try stirring quinoa and cooked lentils through your favourite tomato sauce for a vegan take on bolognese sauce, or enjoy with hot milk and your favourite fruits for a virtuous breakfast.
Spice it up
Swap high-sugar, pre-prepared sauces and dressings for dried herbs and spices to create healthier flavours and lots of colour in your cooking. Turmeric brings a golden glow to stews and curries, while ground ginger gives a warming boost to stir-fries if you feel a cold coming on. Herbs and spices are a natural flavour rush; sprinkling whole fennel seeds on roasted veg or a few chilli flakes on your scrambled eggs will stop you reaching for salty, sugary sauces, and make the finished dish look prettier too.
Sweet potatoes
Sweet potatoes are the unsung hero of the vegetable drawer. They're a complex carbohydrate, with a lower glycemic index than normal potatoes, which means they're digested and release energy more slowly. Sweet potatoes are also rich in the antioxidant beta-carotene, which gives them their gorgeous colour, and they count as one of your five-a-day (which white potatoes don't). Try a crispy, oven-baked sweet potato smothered in No Added Sugar Beanz, or cut into wedges for a colourful alternative to standard chips.
Life is too short for a disappointing dinner, and healthier eating shouldn't make you feel like you're depriving yourself. There's nothing wrong with the occasional piece of cake, but if your store cupboard is filled with delicious staples that are low in sugar, fat and salt, and high in fibre and protein, then your midweek meals will do a lot more for you.
Find out more about Heinz No Added Sugar Beanz here