Shraddha Kapoor's beauty hack to fight acne is SHEER GENIUS
She is one of the most naturally beautiful actresses in the country. Not only is the stunner known for her acting skills, but also for her flawless beauty. And, you will not believe the fact but the actress prefers using home remedies to tackle beauty problems. In fact, she has an interesting hack to fight acne!
In an interview to a leading website, Shraddha spilled the beans on using toothpaste to tackle acnes on her face.
When asked to reveal the strangest beauty treatment that she's tried. Shraddha said, "I'll use toothpaste on my face if I have a zit. I think it helps dry it up."

So, ever thought how does toothpaste cure acne? Here's an explanation – Some varieties of toothpaste contain silica which keeps the moisture out and thus extinguishes acne. Toothpaste, in general, has a drying effect on acne, which causes them to simply fall off the skin and heal.

Coronavirus symptoms: 3 signs COVID-19 is spreading to your skin, check now
For many people suffering from COVID-19, the virus can spread to the veins and arteries and cause inflammation, which shows up on the skin. This rapid inflammation can result in rashes, which can be described as 'red, itchy and even bumpy looking spots' at times.
In younger children and babies, the appearance of mottled or patchy skin, which can happen on the legs, hands, belly or the back could be a sign to look out for.
Patchy, bumpy skin with redness can also happen due to the change in the blood pressure levels and flow of oxygen in the body. It can also be resultant of extreme chills and shivers which happen with a fever.
21 BEST skincare tips for 2021
Good skin is always in trend. We do take care of our skin but in bits and pieces. It would be easy to maintain a healthy skin when you start to understand why it is essential to have good skin. Good skin care and healthy lifestyle choices can help delay natural ageing and prevent various skin problems. And, since we have stepped into 2021 with hopes and aspirations, we got in touch with Dr. Blossom Kochhar, Chairperson Blossom Kochhar group of companies to list out 21 skincare tips for every one to follow this year:
1. Protect Your Skin from Sun: One of the most important ways to take care of your skin is to protect it from the sun. Exposure to sun can cause wrinkles, age spots and other skin problems like skin cancer. It is always recommended to use sunscreen with an SPF of at least 15. Apply a generous amount of sunscreen and reapply the sunscreen as and when required. You can wear a hat to restrict harmful rays from reaching your skin.
2. Treat Your Skin Gently: Using hot water on your skin can remove oils from the skin and make it drier. Use warm water rather than hot water. Avoid strong soaps or cleansers that can strip oil and moisture from your skin. After washing or bathing, gently pat or blot your skin. Dry your towel so that some moisture stays on your skin.

3. If you have dry skin, make sure that you moisturize your skin adequately so that moisture remains on your skin. For daily use, it is recommended to use a moisturizer that has SPF in it.
4. A Healthy Diet: A healthy diet can help you look and feel your best. Eat plenty of fruits, vegetables, whole grains and lean proteins. Including fish oil or fish oil supplements and low in unhealthy fats and processed or refined carbohydrates might promote younger looking skin. Drinking plenty of water helps keep your skin hydrated.
5. Stress & Sleep: Uncontrolled stress can make your skin more sensitive and create skin problems. To encourage healthy skin and a healthy state of mind. Getting proper sleep helps you to rejuvenate. While you sleep, your skin is in repair mode. Hence it is recommended to have stress-free sleep for at least 8 hours.
6. Maintaining Skin Care Routine: Following CTOM as a part of your skincare routine is essential to maintain healthy skin. Using toners for your skin can make your skin look hydrated. It wipes out all the impurities and can make your skin feel softer and supple.
7. With most of us glued to our laptops and all the time attending some virtual meeting or another our eyes have gone for a toss. So, a lot care and importance should be given to eye care. Keep a good eye cream or gel to avoid getting dark circles. You can also put potato slices on your eyes for 5 minutes to soothe them.
8. Banana face pack is the most effective and moisturising face pack. Take a banana, 1 tablespoon honey, a quarter teaspoon of cream or milk powder and 2 drops of sandalwood oil. Mix these ingredients well and apply on your face. Let it on for 20 minutes, rinse off afterwards and apply a moisturiser in the end.
9. While you pick your foundation, make sure you pick a water-based lightweight foundation that provides a fine look on the skin rather than a greasy look.
10. It is very common that we don't feel very thirsty in winters. But it is extremely important that we drink at least 8 glasses of water. It not only hydrates your skin but flush out toxins from your skin.
11. Exfoliate your skin twice a week, use rice powder, yoghurt, a pinch of salt and a squeeze of lemon. Mix this all together to make a nice exfoliator at home.
12. Turmeric helps in simulating new skin cell growths, hence controls ageing by protecting cells from damage. Combine turmeric with rice powder and use that paste once a week to reduce wrinkles and fine lines.
13. Add 2 drops of jasmine essential oil with almond oil, and massage gently on your face. After the massage, place a hot towel over your face for oil to seep in better and relax further. This will help improve the elasticity of your skin.
14. In a spray bottle, dilute 3-4 drops of Rose essential oil with water to create a homemade toner or a face mist. This helps restore freshness all through the day.
15. Neroli essential oil is excellent for rejuvenating mature dry skin. Use it for facial massage by adding 2 drops of it with almond oil and massage gently. After massaging with this place a hot towel over your face for oil to seep in better and relax further.
16. For chronic acne, apply 1 drop of tea tree essential oil directly on the affected area pimples.
17. Take a teaspoon of yoghurt, add a pinch of salt and a few drops of lemon & sandalwood essential oil in it. Mix all these together. Now take a slice of potato to apple the mixture evenly on your face. Keep it on for 15-20 minute and rinse it off.
This is an excellent recipe for dark circles and for removing tan.

18. Tomato puree works gently on skin and is beneficial in removing tan from the skin. Besides replenishing the skin with oils, it evens the skin tone, and helps in making the dry skin bright and glowing.
19. If you are looking for overnight brightness then make a face pack with cucumber, rosewater and glycerin.
20. Use coffee bean scrub to remove the dead skin, coffee is especially good for mature skin.
21. If you have oily skin remember that you still need to moisturize your skin in all seasons. But, to avoid getting your pores clogged use gel-based products like aloe vera sunscreen gel, juniper berry moisturizer which are easy on your skin.
Yotam Ottolenghi's comfort food recipes | Food
Comfort food is mostly about two things: memories and context. So much of what we think of as comforting food are the meals we ate as kids – those warm bowls or plates that appeared, repeatedly and reassuringly, in front of us. As we get older, however, it's more about context: about eating the right thing in the right place at the right time. And, for me, comfort food hits the sweet spot where memory and context collide. Although today's recipes are my own particular sweet spot – the dishes that take me straight back to the sunny home of my youth, and that also work so well in these chilly, short-day months – I hope very much that they bring you some comfort, too.
Sabih hummus (pictured above)
If you have the time, soak and cook your own chickpeas, but if not, good-quality jarred ones will do. This is loosely based on sabih, the popular Israeli sandwich of hummus, aubergine, egg, chopped salad and amba, a mango-and-fenugreek sauce. Serve with warm pita to make it a complete meal.
Prep 20 min
Cook 50 min
Serves 4 as a light lunch
For the sauce
¾ tbsp fenugreek seeds
2 tsp coriander seeds
¼ tsp ground turmeric
1 tsp caster sugar
2½ tbsp lemon juice
Salt and black pepper
2½-3 tbsp (10g) finely chopped parsley
1½ green chillies, finely chopped
For the toppings
2 aubergines, cut in half lengthways (500g)
60ml olive oil
4 eggs
½ large cucumber, deseeded and chopped into 1½cm cubes (220g)
2 tomatoes, chopped into roughly 1½cm cubes (200g)
1 small red onion, peeled and thinly sliced (90g)
2½-3 tbsp (10g) finely chopped parsley
1 tbsp lemon juice
For the hummus
650g cooked chickpeas, warmed through
120g tahini
3 tbsp lemon juice
2 garlic cloves, peeled and crushed
60g ice cubes
Heat the oven to 240C (220C fan)/475F/gas 9.
For the sauce, put the fenugreek and coriander seeds in a small frying pan on medium-high heat and toast for three minutes, until fragrant. Add the turmeric, toast for 20 seconds more, then transfer to a spice grinder and blitz to a fine powder. Tip into a bowl, add the sugar, a quarter-teaspoon of salt, the lemon juice and 75ml water, and whisk to combine. Set aside for 20 minutes, to thicken, then stir in the parsley and chilli.
Meanwhile, use a sharp knife to score a cross-hatch pattern on the cut side of each aubergine half. Put the aubergines halves on a medium oven tray lined with baking paper, scatter over three tablespoons of oil, half a teaspoon of salt and a good grind of pepper, and toss to coat. Arrange the aubergines cut side up on the tray, roast for 35-40 minutes, until deeply golden and soft, then keep warm until ready to serve.
Put all the hummus ingredients in the bowl of a food processor, add three tablespoons of cold water and half a teaspoon of salt, then blitz for about two minutes, until smooth and the ice has broken down into the mix.
Half-fill a medium saucepan with water and bring to a boil. Carefully lower in the eggs, simmer for five minutes, then drain, run under cold water to cool and peel.
In a medium bowl, toss the cucumber, tomato, onion, parsley, lemon juice, the remaining tablespoon of oil, a third of a teaspoon of salt and some pepper.
Spread out the hummus on four medium plates, making a slight well in the centre. Drizzle with the fenugreek sauce, lightly mixing some of it into the hummus. Top each plate with some salad, an aubergine half and a soft-boiled egg, break the eggs open to expose the runny yolk, season the insides and serve.
Macaroni with yoghurt and spicy lamb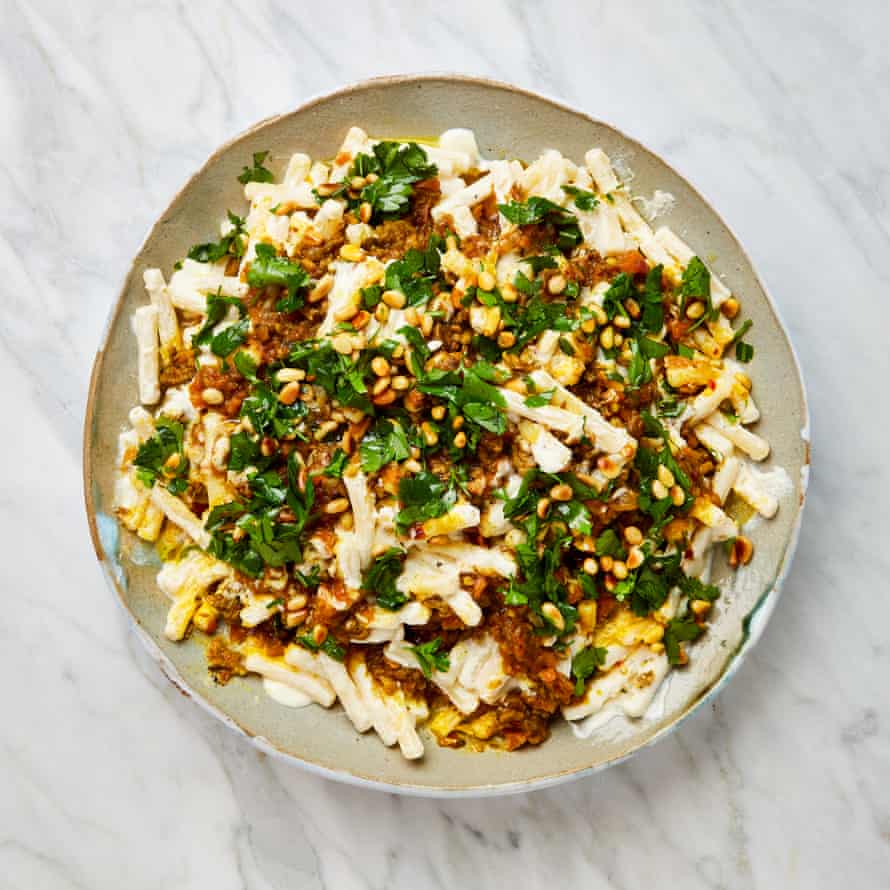 You might not associate pasta with Middle Eastern food, but this sort of bake is a firm feature on the table, particularly if kids are pulling up a chair. This is a lighter take on a traditional spicy macaroni pasta bake, but no less comforting for it.
Prep 25 min
Cook 50 min
Serves 4, generously
For the pasta
500g Greek-style yoghurt
2 large egg yolks
1½ tsp cornflour
1 garlic clove, peeled and crushed
350g sedanini or sedani pasta (or another tubular pasta such as penne)
For the lamb
1 large onion, peeled and roughly chopped (220g net weight)
1 large carrot, peeled and roughly chopped (160g)
6 garlic cloves, peeled and roughly chopped
5-6 tbsp (20g) roughly chopped parsley, roughly chopped
5-6 tbsp (20g) roughly chopped coriander
105ml olive oil
¾ tsp ground turmeric
1 tsp chilli flakes
1 tbsp cumin seeds, roughly crushed in a mortar
300g lamb mince (20% fat)
Salt and black pepper
500g vine tomatoes, roughly grated and skins discarded (370g)
40g pine nuts, well toasted
Put the onion, carrot, garlic and half the herbs in a food processor and pulse until finely chopped but not pureed. Put four tablespoons of the oil in a large saute pan on a medium-high heat and, once hot, add the vegetables and cook, stirring occasionally, for 12 minutes, until softened and lightly browned. Add the spices, lamb mince, three-quarters of a teaspoon of salt and a generous grind of black pepper, and use a spoon to break apart the meat as much as possible. Cook, stirring occasionally, for 12 minutes, until the meat is nicely browned. Add the tomato, cook for five minutes more, then turn the heat to low to keep the mix warm.
For the pasta, put the yoghurt, egg yolks, cornflour, garlic, half a teaspoon of salt and a good grind of pepper in a large bowl and whisk to combine. Transfer to a large, nonstick saute pan and cook on a medium heat, stirring often, for 10 minutes, until the mixture is heated through and thickened.
While the yoghurt is cooking, boil the pasta in a medium saucepan of well-salted boiling water for about 13 minutes, until al dente. Drain the pasta, reserving 300ml of its cooking water. Stir half the reserved pasta water into the lamb mixture, to loosen. Stir the cooked pasta and the rest of the reserved water into the yoghurt pan and cook on a medium heat for about two minutes, just to heat through.
Transfer half the yoghurty pasta to a large plate with a lip and top with half the lamb. Repeat with the remaining pasta and lamb, stirring the meat into the pasta in places. In a small bowl, combine the pine nuts, remaining herbs and last three tablespoons of oil, spoon this all over the top and serve warm.
Tapioca, coconut and sweet potato bowl
There are all sorts of ways to cook tapioca, both sweet and savoury. A popular Malaysian version involves cassava and sweet potatoes, whereas in Mauritius they love it with coconut and raisins, and serve it with poppadoms. This mash-up of the two is made fragrant with pandan leaves and makes a very comforting winter dessert.
Prep 10 min
Cook 50 min
Serves 4
1.7 litres water
130g small tapioca pearls
100g caster sugar
140g coconut cream (from a tin, not a jar)
4 pandan leaves, folded in half lengthways, then again widthways and tied into a knot (or ½ tsp vanilla bean paste)
Flaked salt
100g salted and roasted peanuts, roughly chopped
35g softened coconut oil
2 small sweet potatoes (200g), peeled
2 tbsp maple syrup
3 limes – 1 zested, to get 1 tsp, and juiced, to get 2 tbsp, the rest cut into wedges, to serve
Put a litre of the water in a large saucepan for which you have a lid, and bring to a boil. Once boiling, add the tapioca, cover and cook for 15 minutes. Drain through a fine sieve and rinse under running cold water.
Return the drained tapioca to the same pan with the remaining 700ml water, sugar, coconut cream, pandan leaves (or vanilla bean paste) and a quarter-teaspoon of salt. Cook on a medium-high heat for 20 minutes, stirring frequently to prevent clumping, then discard the pandan, cover the pan and set aside.
Meanwhile, put the peanuts and a tablespoon of coconut oil in a medium frying pan on a medium heat, and fry, stirring often, for five minutes, until evenly browned. Remove from the heat, stir in the lime zest and spoon into a small serving bowl.
Cut the sweet potatoes lengthways into quarters, then cut each quarter into four to six 1cm-thick wedges. Wipe clean the frying pan, set it on a medium-high heat and add the remaining 20g coconut oil. Once melted and hot, fry the wedges for seven minutes, turning them regularly so they brown evenly. When the sweet potatoes are coloured, add the maple syrup, lime juice and a quarter-teaspoon of flaked salt to the pan, cook, stirring, for two minutes, until the sweet potatoes are nicely glazed and the syrup has thickened.
Divide the warm tapioca between four bowls, and top with the sweet potatoes and their syrup. Sprinkle over a few nuts, and serve with the lime wedges and the rest of the nuts in their bowl alongside.