Should mother's milk be produced in the lab? | Science
One of the saddest things about being diagnosed with breast cancer a few years ago (it was fortunately treatable) was having to stop breastfeeding my 10-month-old baby. Unceremoniously she was shunted on to an early diet of pure solid food, which I reasoned was probably just as nutritious as infant formula and the best solution in the absence of donor milk from a breast-milk bank, which is reserved for premature and ill babies, and dispensed by prescription.
Baby Agnes thrived, but what if there were another option? What if we could make human breast milk in the lab? Enter startups Biomilq and TurtleTree Labs, founded in 2019 and based in the US (North Carolina) and Singapore respectively. The companies believe they can provide a more nutritious alternative to infant formula by inducing human mammary cells in a bioreactor to lactate, then harvesting the product. "The end goal is a product that is as close to breast milk as we can produce," says Michelle Egger, Biomilq's co-founder and CEO.
Lab-made milk has similarities with lab-grown meat. While the cultivated meat companies are trying to grow animal cells that can then be harvested and eaten, milk companies aim to keep human mammary cells healthy and fed so they will secrete milk.
This June, Biomilq secured $3.5m and TurtleTree Labs $3.2m in early investment. Bill Gates's venture firm is among Biomilq's funders, while backers of TurtleTree Labs include the venture firm of the Saudi prince Khaled bin Alwaleed bin Talal. TurtleTree Labs says its methods could also be applied to producing the milk of other mammals; cow milk is a second area of work.
Both companies acknowledge that their products can't replicate everything in breast milk. They won't, for example, include the antibodies a mother's milk contains, which help a baby fight infection and protect against allergies, or the microbes known to help infant gut health. But they believe that they can trigger the cells to produce thousands of the components found in breast milk. These include proteins, fats and the entire spectrum of human milk oligosaccharides (HMOs), complex sugars that nourish young immune systems. Nothing is yet on the market and the work is still at an experimental stage.
"Visually you can see that milk has been produced," says Fengru Lin, TurtleTree Labs co-founder and CEO, adding that the colour is whitish and the nutritional quality is similar to human breast milk.
Tests so far, Egger says, have confirmed that the cells are producing lactose, the sugar found naturally in most mammals' milk, and human casein. She expects further testing to reveal other components. If proven, the technology would leapfrog the best efforts to improve cow-based infant formula: adding one or two key HMOs made by bio-engineering microbes.
The concept of inducing mammary cells in a dish to lactate is not new. Over the past couple of decades, scientists have had success plying 3D clusters of animal and human mammary epithelial cells with lactogenic hormones. But that was to study mammary-gland biology – not to make milk in an industrial sense.
"No one was thinking of using this as a production system," says Bruce German, director of the Foods for Health Institute at the University of California, Davis, who studies breast milk and has provided unpaid advice to Biomilq. Experiments published to date have shown the production of some milk proteins – casein and whey protein – and lactose. "[But] the full spectrum of what I would define as milk definitely hasn't been achieved," notes Alecia-Jane Twigger, a lactation and mammary gland biologist at the University of Cambridge. It isn't even known how the mammary gland makes all the thousands of different components it does, she adds.
Biomilq begins with adult mammary cells, which it says are predominantly epithelial cells, found in the ducts and lobules of the breast. TurtleTree Labs starts with stem cells, which it induces to grow into mammary cells. Both say their secret is in their culture media – the fluid containing nutrients, vitamins, and lactation hormones they feed their cells. They also say they have their own unique bioreactor systems, which allow their milk to be harvested free of cells, media and waste.
TurtleTree Labs' vision is to license its technology to infant formula manufacturers. Biomilq has been considering whether it could extract mammary cells from women before their babies are born, and then produce milk from those mammary cells to create a personalised milk – though individualisation would be lost too: maternal diet, for example, influences breast milk.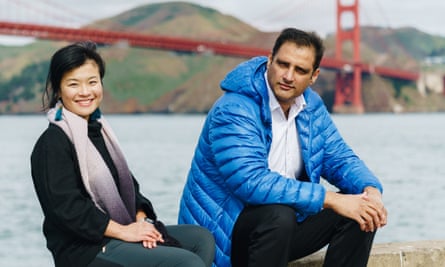 TurtleTree founders Fengru Lin and Max Rye.

Photograph: TurtleTree
Both say their goal is an affordable product, though cell-culture media can be expensive, notes Twigger. Egger aims to be on par with top-end infant formula. Max Rye, TurtleTree Labs co-founder and chief strategist, says the company was producing a litre for around $170 (£127) but has managed to lower the cost to $35 (£26) by synthesising components of the lactation media in-house. The price of a litre of ready-to-drink infant formula is about $8 in the US and £4 in the UK.
The companies are yet to present any scientific data to support their claims. "They have gone after one of the most difficult biological challenges there is," says German. To show that they are producing something that "even vaguely resembles milk", Twigger says she would like, as a start, to see proof of different species of HMOs and fats.
Even if the companies can get that far, there will still be much absent from a bulk milk tank. And that extends beyond breast milk's immunological properties. The production of breast milk is a dynamic process. It changes not only over the course of a breastfeeding term but also over an individual feeding, and even with the time of day. Biotechnology is no match for the human breast. "Mothers should feel special," says German, adding that breastfeeding is also associated with health benefits for mothers.
Achieving industrial-scale production is also unlikely to be easy. The scientific research has seen only microlitres produced, says Twigger, and she hasn't seen evidence that mammary cells in the lab can sustain production for more than a few weeks. The companies will also face hurdles in gaining approval for their products.
Egger says Biomilq is focused on testing and isn't looking to launch anything yet. Rye says TurtleTree Labs is continuing to iterate and is planning to sign its first licensing agreement by mid-2021. Neither seems fazed by the task of scaling up, and both are looking into the path to regulation. "That we don't have antibodies and microbes turns out to be a huge advantage," says Rye.
The technology could be controversial. On one hand many women struggle to breastfeed. The infant formula they have to fall back on is "basically the barest essentials," says German. On the other, if lab milk reduces the chances of women breastfeeding it is likely to rile some doctors and breastfeeding groups.
"There is a need for a high-quality breast-milk substitute for those infants who are not breastfed," said the breastfeeding support charity, La Leche League Great Britain. But the charity also asked whether similar investments to those being ploughed into the technology shouldn't be put towards supporting women who want to breastfeed. La Leche also emphasised the "artificial" nature of the proposed products. "The benefits of breastfeeding cannot be replicated in a laboratory," it said.
For their part, the companies emphasise that their aim isn't to replace breast milk, breastfeeding or breast-milk banks, but simply to be the next best thing if that isn't possible. "Babies deserve whatever we can do to get them the best nutrition," says Egger. "Technology has changed and it is time we started to apply some of that in honour of babies, mums and families."
Coronavirus: When is it the best time to replace your masks?
That being said, even with proper care and storage, masks do have an expiry date to it.
While it's impossible to affix a timeline as to when can one safely dispose of a mask, a lot of it depends on the type of mask you have- the fabric, the number of washes it has been exposed to. It also depends on the number of times you use and take off your mask.
For example, if you are someone who travels a lot more frequently and faces more exposure to the virus, the replacement timeline for the mask will also differ, and you will need to replace them more frequently than others.
Another good measure on replacing your masks is to think about getting a new mask at the change of a season. Ensuring mask hygiene and care is also important considering the seasonal changes and polluted weather we are experiencing right now. A bad, spoiled mask, which has poor quality will make it harder for you to steer clear of germs and pollutants and offer little protection. If you are wondering what's the best mask to buy that could protect you against both pollution and COVID, here is a guide.
Psychologist-recommended ways to interact with an anxious partner
It is quite a challenge to be romantically involved with someone who deals with constant anxiety. In a relationship, where communication, understanding and love are the foundations, an anxious partner can get lost amidst the sorrows and stress that they deal with, on a regular basis. Sometimes, it gets so overwhelming that anxiety creeps into the relationship like a third person, who only feeds on sadness, stress and sorrow.
However, when you fall for someone, it's not within your power to chose whether that person is alright or is dealing with a mental health condition. Furthermore, when you love someone, you love them with all their flaws and imperfections, and don't really pick out only the bits you approve and love. Loving someone with anxiety means you have to deal with their doubts, trust issues, communication problems and more. These were only a few of them that surfaces often. There are many other underlying issues that can be quite unpredictable.
However, amidst all this, your anxious partner only needs someone to love them and take care of their feelings and anxiety. It is like going pole-deep for a person, only to find yourself clouded with little emotions of want and need that they are unable to express. They also want to be loved. Most importantly, they would want you to treat them like a normal person with a normal state of mind, rather than specifying their mental condition always.

If you're scared that you won't be up to it, then it's not your fault either. It can be quite demanding and can also destroy you in the process. But, if you are determined to be with your partner and help them rise above it, then acquiring strength and faith to stand by them is what you need.
In moments like these, consulting a therapist or psychologist is considered.


Psychologists have, since years, researched ways for efficient communication in situations like these. They have carefully analysed such individuals' behaviours and actions to come to conclusions about their ideologies and what exactly they think. If you need a professional opinion, considering the advice of such mental health professionals is recommended.
According to them, if you are romantically involved with an anxious person, you need to know the risks and troubles you will face. It takes great courage and strength to have the patience of understanding anxious partners. Communication becomes another huge issue while trying to interact with such people. One has to carefully thread along the lines, in order to avoid any difficult or worrisome situations. One in all, you should have supreme patience.
Here we have listed a few ways that psychologists highly recommend trying out, if you're wondering how to interact with an anxious partner.
Tell them it's alright to be afraid


The foremost thing they are afraid of is fear of their own self. Understand that it's very hard to stop thinking about fear or even trying to lose out on it. If you get insensitive about this, your partner may feel that they aren't even worthy of being scared or allowed to do so. Instead, ask them what is bothering them, slowly. Try to neutralise any situation if it goes out of hand.
Show them how to keep up with you


If you're running late, send them a text so that they're relieved that you're not dead or involved in an accident. Let them know and keep them updated about the common things in your life. Anxious people easily sense when something is wrong and instantly get scared. They look for assurance, care and expect others to understand them.
Make them feel safe


Such people will always look for a person who can be their safe haven. Their insecurities, doubts and worries are too heavy a burden to be kept inside themselves. Hence, try to be as understanding as you can be and make them feel safe and secure. There is nothing more lovable than making them feel safe with your company.
Set expectations


Telling people what you expect from them is a very intimate way of letting them know that they care about you. We set expectations from people we want to have around, in our lives. So, your anxious partner will feel satisfied, loved and cared for you you say that you expect them to work and go through the entire battle. With, of course, your help.
Take your time


Time is the essence of life. This popular saying is very true, especially in such cases. Take your time into understanding their world. Communicate with them and also, understand that they need their time warming up to you. Slowly make them feel assured that you're here to hold their hand and be there for them in case, something happens.
Your partner will fall more deeply in love with you when you will give them assurance, safety and security of emotions. Psychologists mainly want you to take one step at a time, and not too many.

Amitav Ghosh's new book to release in 2021
Here's some good news for fans of author Amitav Ghosh! The Write India season 3 author is all set to release a new book. Buzz is that Ghosh's upcoming book is a "verse adaptation of an episode from the Forest Lady (Bon Bibi) legend of the Sundarban".
The international bestselling author took to social media to share about his new book with his fans and followers. Posting a picture of the upcoming book's cover, Ghosh wrote:

Wonderful to see the cover of 'Jungle Nama', my verse adaptation of an episode from the Forest Lady (Bon Bibi) legend of the Sundarban. A contemporary reimagining of pre-modern illuminated mss, with spectacular artwork by Salman Toor. Due out from @HarperCollinsIN in Feb 2021. pic.twitter.com/8V1Uiopmda

— Amitav Ghosh (@GhoshAmitav) November 24, 2020
Published by HarperCollins India, 'Jungle Nama' by Amitav Ghosh will be released in February 2021.
Meanwhile as Ghosh's fans wait for 'Jungle Nama' to be out in 2021, the Jnanpith awardee has also finished the manuscript of another upcoming book! Sharing the news, publisher Meru Gokhale, from The Penguin Press Group, tweeted on November 25, 2020 that she is currently reading Ghosh's manuscript. "I am reading the manuscript of @GhoshAmitav 's new book, and it is nothing short of mind-altering. I am struck by the feeling that THE NUTMEG'S CURSE is possibly the most brilliant book he has written. Can't wait to share it with the world – more details soon!," she revealed.
Further details of 'The Nutmeg's Curse' is awaited.