Samsung Galaxy Book Flex review: long battery laptop with fold-back screen | Technology
Samsung has returned to the consumer laptop market in the UK with a series of new machines led by the Galaxy Book Flex.
Unlike most of the PC market, the Book Flex is refreshingly only available in one version in the UK with a choice of silver or blue, costing £1,349.
The royal blue version reviewed here is simply stunning, with a deep blue aluminium body, lid and bottom, trimmed with silver sides. It certainly stands out against the crowd. The silver one is much more standard.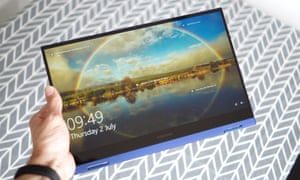 The Flex bit refers to the screen, which folds all the way over to the back, making it a laptop that turns into a tablet. However, this isn't detachable, meaning you'll have the keyboard facing outward when folded into tablet mode. Weighing 1.16kg, it is pretty light for a laptop, but not for a tablet.
It's only 12.9mm thick, which means slipping it into a bag is easy, while build quality is top-notch, making it feel very solid. It compares favourably to the 13in laptop competition, including the Surface Laptop 3, Dell XPS 13 and Apple MacBook Pro.
The keyboard is good. The good-sized keys are isolated and well-spaced with a reasonable amount of travel and feel. The trackpad is excellent – large enough, responsive and accurate, with a good click to it. The power button is on the side of the machine, rather than the deck, as are the speaker grilles.
A fingerprint sensor handles biometric login with Windows Hello. It's fairly big, fast and accurate, but its placement takes some getting used to as it takes up half the space usually dedicated to the right shift key.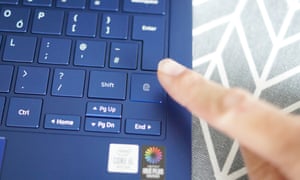 The screen is both a strength and a weakness. It is a 13.3in LCD (QLED) full HD screen with a true widescreen (16:9) ratio, similar to a TV. It's bright, beautiful and colourful with 100% DCI-P3 coverage. It even has a super-bright "outdoor mode" that boosts the screen temporarily so you can see it more easily in direct sunlight at the touch of a button but this does drain the battery more quickly.
However, it is noticeably less crisp than higher-resolution screens of a similar size fitted to similarly-priced competitors such as the Surface Laptop 3, Apple's machines and Dell's 4K XPS 13.
Having a 16:9 ratio makes it excellent for watching widescreen videos and movies, but it is less good for working on, simply because the screen isn't that tall. That means you end up doing a lot of vertical scrolling as sites and documents don't fit as well as on laptops that use a taller ratio such as 16:10 or 3:2.
S-Pen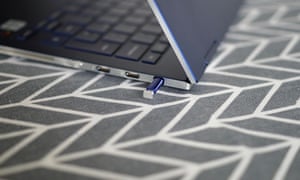 The Book Flex's other trick is a concealed S-Pen stylus, which is the same one shipped with Samsung's Galaxy Note series of large-screen smartphones. The stylus slides into a slot next to the Thunderbolt 3 ports and is stored neatly away until you need it. You push it in to release the stylus and then write on the screen. Like the recent Note 20 Ultra, you can use it like a magic wand by pressing a button and swiping it in the air in various directions to control apps for tasks such as skipping a track or adjusting volume.
Specifications
Screen: 13.3in FHD (1080p) QLED touchscreen (LCD, 166PPI)

Processor: 10th-generation Intel Core i5

RAM: 8GB

Storage: 512GB

Graphics: Intel Iris Plus

Operating system: Windows 10 Home

Camera: 720p HD

Connectivity: Wifi 6, Bluetooth 5, 2x Thunderbolt 3, 1x USB-C, microSD/UFS, headphone

Dimensions: 202.9 x 302.6 x 12.9mm

Weight: 1.16kg
Top chips, long battery life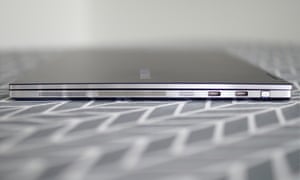 The Book Flex ships in one configuration in the UK, with a 10th-generation Intel Core i5 processor, 8GB of RAM and 512GB of SSD, which are more or less the minimum requirements for top-end laptops in 2020.
As such, it is a powerful, capable machine that can handle most things other than graphically intense gaming and professional video editing, which would require a higher resolution display.
The Book Flex sailed through everything I threw at it, including fairly complex image manipulation in Affinity Photo on an external 4K monitor. It was generally cool-running too, with the fans occasionally audible at a low level, and the deck of the laptop becoming only slightly warm to touch. The feet on the bottom do not give it much ground clearance, meaning it was cooler when used on a hard surface rather than a soft table.
The laptop also has a good selection of ports. It has two full Thunderbolt 3 ports on the right side and one USB-C only port on the left, which means you have more flexibility in your connection options when you have one port for power and another for a monitor. A microSD card reader, which can also take the faster UFS memory, is in the left side but unlike most competitors is contained in a sim-tray-like mechanism. You need a sim-ejector tool or long paperclip to access it, which lends itself more to storage expansion using a card you don't remove, rather than as a traditional reader you just use briefly with a card you take out of your camera or similar.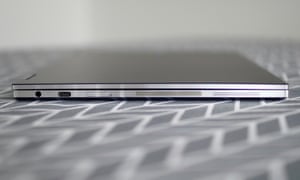 Battery life was very good. Lasting an average of 11 hours between charges during the work day, including 90 minutes of photo editing, lots of browsing and word processing, with the screen brightness set to 70%. The 2020 MacBook Pro and Microsoft Surface Laptop 3 each lasted 7.5 hours under similar conditions.
Part of that long battery life is the comparatively low-resolution screen, which consumes less power. Most of the competition have the higher resolution 3K or 4K screens, which are noticeably crisper than full HD.
The Book Flex has a trick up its sleeve. The trackpad doubles as a wireless charger that can power a Qi-compatible smartphone, watch, headphones or other accessory. Of course you can't use the trackpad when it's charging something, so it's of limited use, but could be handy for charging up a set of headphones or similar without reaching for a cable.
The Book Flex comes with a 65W USB-C charger and recharges from flat to 100% in two hours, reaching 50% in about 50 minutes.
Sustainability
The Book Flex can generally be repaired by authorised service centres. Samsung rates the battery for at least 1,000 full charge cycles while still maintaining at least 80% capacity. Samsung also has battery lifespan-extending options on the laptop, such as those that limit the maximum charge to 85% to prolong its useful life.
The battery can be replaced out of warranty by authorised service providers. The laptop is not made from any recycled materials and while Samsung does offer trade-in and recycling schemes for other devices, it does not yet for laptops.
Windows 10 Home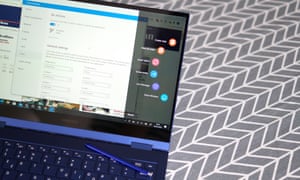 The Book Flex ships with Windows 10 Home in the UK, with a few Samsung apps and tools installed, plus McAfee Livesafe, which I have had problems with in the past so uninstalled immediately, reverting to the built-in Windows Defender for anti-virus.
Most of the Samsung apps are useful. The Samsung Settings app allows you to change a variety of features, including battery lifespan-extending settings, booting options, audio and video effects, quick settings and a silent, low-performance mode. Samsung Update handles drivers and other bits, although so can Windows Update. There are tools for the S-Pen, a Quick Search app, a recovery tool for if things go wrong, and a security app that allows you to use your webcam to monitor login attempts to the laptop.
Using the laptop was generally trouble-free, apart from one instance attempting to join a WebEx video conference. This caused the sound card drivers to fail, requiring a full removal of the sound card software and drivers to rehabilitate.
Observations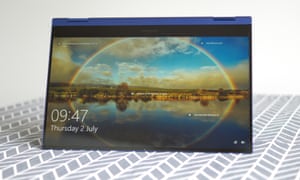 You can get the laptop to boot from cold when the lid opens.

The speakers are surprisingly loud and clear, but lack any real bass and vibrate through the deck of the laptop quite a lot.

The webcam and microphones are about average for video calls – good enough in bright light and if you speak up at a distance.

A really useful charging and battery status screen is displayed when you charge the laptop while powered off.
Price
The Samsung Galaxy Book Flex is available in royal blue or silver for £1,349.
For comparison, Dell's XPS 13 has a starting RRP of £1,399, Microsoft's Surface Laptop 3 costs from £999, Huawei's Matebook X Pro costs £1,400 and Apple's 13in MacBook Pro costs £1,299.
Verdict
The Galaxy Book Flex marks a solid return to the laptop market in the UK for Samsung.
It ticks most boxes, has a good amount of power on tap, long battery life, a good keyboard and solid build. The screen is colour-rich and bright, but its 16:9 ratio and relatively low resolution let it down compared with better-equipped rivals.
The ability to fold the screen all the way over is not something I would routinely use, but is useful for folding up like an A-frame or for the occasional document markup using the included S-Pen stylus, which is excellent and neatly tucked away until you need it.
The fingerprint sensor is great, but its placement, replacing half the right shift key, isn't fantastic. It has three USB-C ports, of which two are Thunderbolt 3, which is better than some competitors that ship with just one or two. The microSD card reader is great for adding more storage, but less good for use for swapping cards in and out of cameras and the like.
I like the laptop, I just don't love it. But if you want a solid, flexible and adaptable convertible laptop, with long battery life and plenty of power, the Samsung Galaxy Book Flex is one of the best.
Pros: long battery life, 10th-gen Intel Core i5, 2x Thunderbolt 3 + 1x USB-C ports, microSD/UFS slot, bright screen, convertible hinge, good keyboard, good trackpad, fingerprint scanner, hide-away stylus

Cons: 16:9 screen ratio, lower resolution screen, odd fingerprint placement in keyboard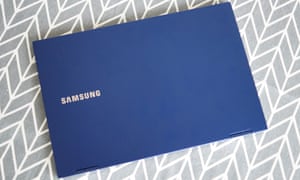 Other reviews
NBC Sports Network will cease operations in 2021
Ivan Provorov #9 of the Philadelphia Flyers plays the puck against Brad Marchand #63 of the Boston Bruins during the first period in a Round Robin game during the 2020 NHL Stanley Cup Playoff at Scotiabank Arena on August 02, 2020 in Toronto, Ontario.
Mark Blinch | National Hockey League | Getty Images
The NBC Sports Network is shutting down.
The network will stop operations by the end of 2021, a person familiar with the plan confirmed to CNBC. NBC will transfer its sports media rights, including the National Hockey League, to USA Network. The person spoke to CNBC on condition of anonymity as the individual isn't allowed to comment publicly on the matter. Both networks are owned by CNBC parent company NBCUniversal.
The plan to halt operations will allow NBC to attract more reach for its sports content. USA Network is available in 86 million homes, while NBCSN has an estimated 80 million household reach.
NBCUniversal initially hoped NBC Sports Network would be its response to Disney's ESPN — a cable sports network that could justify high affiliate fees from pay-TV distributors because of its popular sports content. Twenty-first Century Fox developed Fox Sports 1 and CBS introduced CBS Sports Network for similar reasons.
But none of the cable sports networks have ever seriously threatened ESPN, and the media industry's move toward streaming video has made linear sports networks anachronistic. NBCUniversal is considering shutting down several networks, CNBC reported in October, to consolidate its best assets in fewer networks. Shuttering underperforming cable networks could allow legacy media companies to keep the shrinking cable bundle afloat while maintaining subscription revenue by boosting fees for its existing networks.
The network started in the 1990s as the Outdoor Life Network, then was rebranded to Versus in 2006. Comcast owned the network when it took over NBCUniversal in 2011, and rebranded it as the NBC Sports Network at that time.
NHL playoff games, a selection of NASCAR races, and Premier League content will transfer to USA Network after NBCSN closes.
The Stamford, Connecticut-based network took over NHL rights with a 10-year, $2 billion package in 2011. The agreement runs through the current 2020-21 season.
NBCSN also has a $4.4 billion rights package with NASCAR that expires in 2024 and coming up on its renewal option with European's soccer Premier League rights (worth roughly $1 billion). The network moved some of those games to NBC's streaming service, Peacock, last year.
Back to the future
Longtime sports media rights advisor Lee Berke said the move is "back to the future" for USA Network airing sports content. The channel was originally a national distribution arm for Madison Square Garden Sports Network, airing sports content including the National Basketball Association until 1984.
"The fact that sports is returning to USA isn't a new concept," Berke told CNBC in an interview on Friday. "Certainly the distribution is helpful but this move is reflective of a couple of things — the pay TV bundle is shrinking. Subscriber base is shrinking. So, it justifies fewer networks to be on the air and the other part of it is the growth of streaming."
Berke, the CEO of LHB Sports, a sports consultancy firm, said streaming trends is forcing network to reinvent themselves "as consumer viewing behavior changes. The was a migration of sports from broadcast to cable over the past 20, 30 years when pay TV became bigger and bigger. And now you're seeing sports migrating to streaming.
"I think its a sensible move given the trends that are taking place," said Berke of NBCSN's closure. "You're trying to stay ahead of the wave. You don't want to be behind it and miss out. But this makes sense based off where pay TV is heading and base on where streaming is heading."
Disclosure: Comcast owns NBCUniversal, which is the parent company of CNBC.
'Touching fish' craze see China's youth find ways to laze amid '996' work culture | China
On the Chinese microblogging platform Weibo, enthusiastic slackers share their tips: fill up a thermos with whisky, do planks or stretches in the work pantry at regular intervals, drink litres of water to prompt lots of trips to the toilet on work time and, once there, spend time on social media or playing games on your phone.
"Not working hard is everyone's basic right," said one netizen. "With or without legal protection, everyone has the right to not work hard."
Young Chinese people are pushing back against an engrained culture of overwork, and embracing a philosophy of laziness known as "touching fish". The term is a play on a Chinese proverb: "muddy waters make it easy to catch fish", and the idea is to take advantage of the Covid crisis drawing management's focus away from supervising their employees.
The author of a viral post at the centre of the conversation, Weibo user Massage Bear, described "touching fish" as a life attitude.
"[It] is a life philosophy of perfunctory living, letting go of oneself and others at the same time… and that's the key to living in the moment and being relaxed," she said.
Some make a game of it, Quartz reported, aiming to be the employee who uses the most toilet paper, or getting up from their desk whenever any other colleague does.
The deliberate slowdown at work marks a cultural shift among younger generations who are pushing back against unhealthy work hours for little gain, and not seeing the opportunities for upward mobility experienced by their parents.
"The fundamental reason for me to do that is that I no longer believe that I can get a promotion in my current company by hard work and ability," said one Weibo user.
"There's a joke in the tech industry, if you work hard before 35 as engineer in a food delivery company, then after 35 you are the delivery guy," said Suji Yan, a 25-year-old chief executive of a tech startup mask.io.
"I've heard of people being fired after 35 because they spent less time in the company, because they have families to look after and they have less energy than the younger people."
The "touching fish" movement has a sense of humour, but behind it is a deadly serious issue. Recent deaths have again highlighted the dangers in China's "996" work culture – a reference to working 9am to 9pm, six days a week at a minimum, particularly in the tech industry and among food delivery drivers. The 996 attitude is widespread, despite labour laws saying work should be limited to eight hours a day, for an average of 44 hours a week.
Media reports include anecdotes of employees being offered bonuses or fold-out beds for under the desk if they work overtime, fines for missing phone calls, and even signal blockers in bathrooms to stop employees using their phones while on their toilet.
"It's not that I don't do my job well," said one Weibo user.
"Touching fish to resist 996 is nothing more than a kind of nonviolent non-cooperation in a harsh working environment and a difficult process of safeguarding rights."
In December a 23-year-old employee of e-commerce giant Pinduoduo died after working past midnight, the company confirmed earlier this month. While her death hasn't been formally attributed to overwork, the company attracted furious backlash over the expectations put upon employees, and it was exacerbated further when earlier this month an engineer – surnamed Tan – took his own life.
Shortly afterwards Pinduoduo also fired an employee, named as Wang Taixu. Wang said he was fired after posting a photo online of an ambulance parked outside the company's Shanghai officer building with the caption "another brave Pinduoduo warrior has fallen". Pinduoduo reportedly disputed his characterisation of the medical incident and said Wang was fired for "extreme comments made with obvious malice", violating company rules, and unrelated to the ambulance video. But another video which he posted after he was fired, criticising the intense work culture at the company, was viewed nearly half a million times according to Sixth Tone. Pinduoduo denied the accusations in the video.
Yan said companies got around labour laws in globally familiar ways: hiring people as contractors rather than employees, and incentivising people like delivery drivers to work long hours more often, with bonuses and games, rather than forcing them to do it.
He said as a chief executive he understood the pressures companies were under to increase output, but disagreed with the systematic culture of overwork, and saw the touching fish movement as a form of safe resistance.
"People do that because they have no way of talking to the management."
Current leading business people are still fans of 996. Alibaba founder, Jack Ma, has said the practice is key to being successful in competitive industries. Xibei Canyin chief executive, Jia Guolong, said people should in fact be working "715" (15 hours a day, seven days a week). In 2019 a Huawei executive boasted that employees asked to work past 10pm. But it has drawn opposition from state media, including Xinhua news and the Communist party mouthpiece, the People's Daily.
Yan said the tech industry was having a reckoning with how it was enabling the 996 culture, for example by building the technology which exploits delivery drivers. Github, a software development hosting site, has a project called 996.ICU (work 996 and you'll end up in the intensive care unit), which documents companies enforcing excessive overtime. Yan suggested the project, co-created by his wife Katt Gu and other IT developers and to which he contributes, was in part a way for engineers to make amends.
"There are more and more engineers who are like the Github starters and want to contribute something to society, not to create algorithms to kill more delivery guys," he said.
"There's progress. I think my generation, when they become employers and CEOs they'll have more humane ways of management, they'll try to fix the system."
Microsoft president Brad Smith defends MSPAC to employees
Microsoft president Brad Smith takes part in a roundtable discussion with US President Donald Trump and industry executives on reopening the country, in the State Dining Room of the White House in Washington, DC on May 29, 2020.
Mandel Ngan | AFP | Getty Images
A top Microsoft executive defended the company's approach to supporting political campaigns in a meeting with employees on Thursday, according to a transcript of the meeting that CNBC reviewed.
Microsoft President and legal chief Brad Smith said Microsoft is evaluating options for the Microsoft Political Action Committee (MSPAC), which employees criticized because it helped finance the campaigns of Congress members who supported Donald Trump's unfounded claims of fraud in the 2020 presidential election.
Microsoft employees in the U.S. can give some of their income to the MSPAC, but have no direct say in which candidates it donates to. On Jan. 11 the company said it was putting donations on hold after the Jan. 6 insurrection attempt, when rioters flooded into the U.S. Capitol during the Electoral College vote count that formalized Joe Biden's win. The MSPAC had donated to several Republican members of Congress who tried to delay the formal Electoral College vote count, despite the complete lack of evidence of widespread voting fraud.
Several other companies, including Amazon, Facebook and Google, also temporarily stopped political contributions after the events.
On Jan. 13 one Microsoft employee, Carmen Crincoli, called for the company to stop supporting members of Congress who voted against the Electoral College results, and to stop giving money directly to elected officials and candidates. He said if the company couldn't do those things, it should close down MSPAC and ask that employees get involved with politics individually.
Smith, who articulates Microsoft's position on political topics, addressed the complaints.
"The questions that are being considered are exactly I think what you would expect. Should the PAC suspend donations to the members who voted against the Electoral College? If so, for how long?" Smith said to employees on Thursday.
But he also gave an frank explanation of why the MSPAC was important to Microsoft's interests:
"I can tell you it plays an important role. Not because the checks are big, but because the way the political process works. Politicians in the United States have events, they have weekend retreats, you have to write a check and then you're invited and participate. So if you work in the government affairs team in the United States, you spend your weekends going to these events; you spend your evenings going to these dinners, and the reason you go is because the PAC writes a check.
"But out of that ongoing effort a relationship evolves and emerges and solidifies, and I can tell you as somebody who sometimes is picking up the phone, I'm sometimes calling members and asking for their help on green cards, or on visa issues, or help to get an employee or family member who is outside the United States during Covid back into the country because of an immigration restriction.
"Or the issues around national security, or privacy, or procurement reform. Or the tax issues that our finance team manages. And I can tell you, there are times when I call people who I don't personally know, and somebody will say 'you know, your folks have always shown up for me at my events. And we have a good relationship. Let me see what I can do to help you.'"
Microsoft declined to comment on Smith's remarks.
In 2020 hundreds of Facebook employees participated in a protest over the company's decision to maintain a posts from former President Donald Trump, and in 2018 Google employees protested a contract the company had to supply cloud services to the Pentagon, prompting the company to not renew the contract.
WATCH: Microsoft and Green Bay Packers team up to invest in Black and Latinx entrepreneurs
Nominations are open for the 2021 CNBC Disruptor 50, a list of private start-ups using breakthrough technology to become the next generation of great public companies. Submit by Friday, Feb. 12, at 3 pm EST.