Rohit Sharma: Ready to bat anywhere, will leave it to team management: Rohit Sharma on Australia tour | Cricket News
NEW DELHI: He has enjoyed and revelled in his new role as a Test opener, but
Rohit Sharma
is ready to be flexible about his batting position in the eagerly-anticipated Test series against Australia as per the demands of the team management.
The senior batsman is expected to play a big role alongside Test vice-captain Ajinkya Rahane and Cheteshwar Pujara when skipper Virat Kohli returns to India after the opening Test for the birth of his child.
"I will tell you the same thing that I have told everyone all this while. I will be happy to bat wherever the team wants me to but I don't know if they would change my role as an opener," Rohit told PTI in an exclusive interview.
He believes that the team management will have figured out his role in the batting order by the time he would reach Australia after completing the strength and conditioning work at an National Cricket Academy in Bengaluru. He had picked up a minor hamstring injury during the IPL.
"I am sure the guys already in Australia must have figured out what are options when Virat leaves and who are the guys who will open the innings," Rohit said.
"Once I reach there, I will probably have a clearer idea of what's going to happen. I will be okay to bat wherever they want," added the dashing batsman, who has a 46-plus average in 32 Tests.
One of the finest players of the hook and pull shots, the Mumbaikar believes that the bounce on Australian tracks is sometimes, not as big a factor as it is made out to be.
"We talk about bounce but except for Perth, over the past few years, the other grounds (Adelaide, Melbourne, Sydney), I don't think have that much bounce.
"Nowadays, especially while opening the batting, I will have to think about not playing the cut or pull shots and focus on playing in the 'V' and as straight as possible," he said.
He spoke about how a Josh Hazlewood, Pat Cummins or Mitchell Starc would keep it full with the new kookaburra.
"With new ball, whoever bowls, whether it's Starc, Cummins or Hazlewood, they will obviously pitch it up, swing the ball and the bouncer would be used sparingly.
"They would try to ensure with the new ball that they would get some movement off the air or off the pitch. With the new ball, everybody in the world loves to bowl up and send down one odd bouncer here and there.
"So majority of the deliveries will be up and towards the bat and not short," he explained.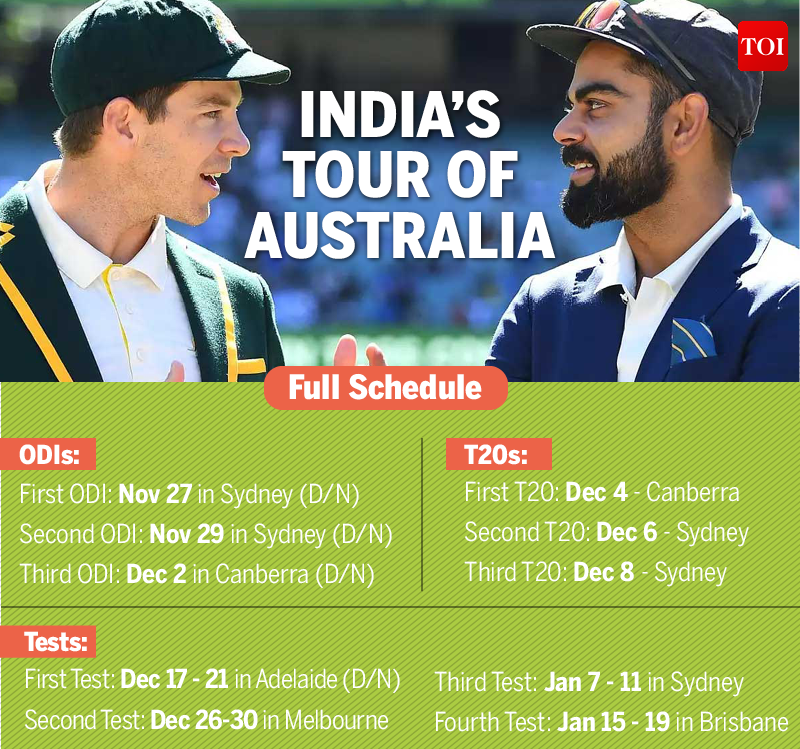 He then cited the example of how Nathan Lyon was Australia's best bowler (eight wickets) in the Perth Test that the home team won in the 2018 series.
"We talk about bounce on Australian tracks. But tell me how many people got out on bouncers during the last series?
"When we played in Perth in 2018-19, it was Nathan Lyon, who got eight wickets, including a five-for. In Australia, half the job is done if you can start well upfront."
For someone, who started on a brilliant note with twin hundreds as an opener, followed by a double hundred in a three-Test series against South Africa, the traditional format comes with its own set of challenges.
"It's going to be challenging. In general, international cricket is never easy, whichever format it is. When you had such a long lay off (from international cricket), it becomes all the more difficult.
"So, I would be focusing on basics of red-ball cricket and then you can top up with other things. That's how I would like to take it forward. You can't just jump the gun and think too far ahead," Rohit said.
Rohit said strong basics is the key to success in Test cricket.
"Once you have your basics strong, you can work around that and build your own technique. Mentally, that's how you prepare," he said.
In his 13 years in international cricket, he has dealt with ups and downs and the one lesson that has stayed with him is to trust the process.
"Mentally, I am prepared and I have had enough setbacks in my career where I have had long lay-offs due to injury and due to form. I know how to come back and bounce back from that.
"For me, being out for three, six or one month, really doesn't matter. What matters to me is the process," he signed off.
Barca should have sold Messi, says interim president | Football News
MADRID:
Barcelona
's interim president
Carlos Tusquets
feels the club should have cashed-in on
Lionel Messi
during the summer transfer window.
Messi was heavily linked with a move to Manchester City and sent a recorded delivery (Burofax) letter stating his intention to leave. He later said the decision was due to being disillusioned with the direction the now former board had taken the club.
Ex-Barca president Josep Maria Bartomeu resigned in October rather than face a vote of no confidence, with Tusquets taking temporary charge until January's elections.
"Economically speaking, I would've sold Messi in the summer window," Tusquets told RAC1 radio station.
"Both in terms of what you save on the wage bill as well as the money you make, it would've been desirable. But this is something the coaching staff have to consent to and that's not my place.
"La Liga are setting salary limits at the moment and this would've helped on that front."
Messi's current contract expires in June, when he is expected to leave for free and on Wednesday former Barca team mate
Neymar
spoke of his desire to link up with the Argentine again.
"What I want most of all is to play with Messi again, to be able to enjoy him once again on the pitch," he said after his club PSG's 3-1 Champions League win against Manchester United.
"I want to play with him next year, for sure. We have to do it next season."
Tusquets conceded that scenario was unlikely to transpire at the Nou Camp, where the purse strings have been tightened following the COVID-19 crisis.
"If he (Neymar) became available on a free transfer then maybe we could think about signing him," he said.
"Without making sales, there's no money for new signings unless the new president has incredibly deep pockets."
New Zealand vs West Indies: Kane Williamson's gesture towards Kemar Roach wins over internet | Cricket News
HAMILTON (New Zealand): New Zealand skipper
Kane Williamson
has become the flag-bearer for
'Spirit of Cricket
', and his latest gesture towards Windies pacer
Kemar Roach
has taken the internet by storm.
New Zealand and West Indies are currently squaring off in the first Test of the two-match series. However, before the start of play on the opening day, Williamson embraced Roach as the latter lost his father Andrew Smith recently.
Windies Cricket posted a photo on their Twitter handle in which Williamson can be seen hugging Roach. As soon as the photo was posted, many users commented as to how Williamson needs to be appreciated for how he approaches the
'Gentleman's Game
'.
CWI extends deepest condolences to Kemar Roach and his family on the passing of his father.Both the #MenInMaroon… https://t.co/DGdWj9onrO

— Windies Cricket (@windiescricket) 1606965809000
Both New Zealand and West Indies players also wore black armbands on the opening day in honour of Roach's father.
"On behalf of CWI and the West Indies cricket team, I offer condolences to Kemar and his family back home. Losing a loved one is never easy and we want to offer our full support to Kemar during this very difficult time. We got the news as we prepared for the Test match here and the players and team support staff all got together and offered tremendous support," Windies team manager Rawl Lewis said in an official release.
Half-centuries from Tom Latham and skipper Kane Williamson proved crucial for New Zealand as they kept the West Indies bowlers at bay on the opening day of the first Test here at Seddon Park on Thursday. At stumps, New Zealand's score read 243/2 with Williamson and Ross Taylor at the crease. While the skipper was unbeaten on 97, giving him company was senior campaigner Taylor on 31.
Skipper Williamson also completed 1,000 Test runs at Seddon Park. He joined Taylor as the only cricketers with 1,000 or more runs at the venue.
Surreal experience to represent the country: Natarajan on making ODI debut | Cricket News
NEW DELHI: Pacer
T Natarajan
on Thursday said it was a 'surreal experience to represent the country' after making his ODI debut in the third game against Australia at the Manuka Oval in Canberra.
The speedster from Tamil Nadu gained popularity in the latest edition of Indian Premier League where he was labelled as the 'yorker machine'. Natarajan played for Kings XI Punjab and bagged 16 wickets in as many games in the 13th edition of the cash-rich league.
His performance in the IPL handed him an India call-up. He was first included in the shortest format squad and later on added as back-up in the ODI side by the BCCI. This decision was taken as pacer
Navdeep Saini
complained of back spasm.
"It was a surreal experience to represent the country. Thanks to everyone for your wishes. Looking forward for more challenges," Natarajan tweeted.
India skipper
Virat Kohli
handed the cap to the 29-year-old bowler before the match. In his debut game, he returned figures of 2-70 in his ten overs including a maiden. He bagged two crucial wickets of Marcus Labuschagne and Ashton Agar and derailed Australia's run-chase.
The debutant got support from Shardul Thakur as he clinched three wickets.
India registered a 13-run win in the final ODI and opened their account in the ODI Super League while Australia took the series 2-1.
Both the sides will now lock horns in the three-match T20I series, beginning Friday.Luck was on India's side to begin with as Kohli won the toss for the first time in the series and decided to bat. While the top-order failed to fire in unison, the middle-order rose to the challenge and both Hardik Pandya and Ravindra Jadeja played match-winning knocks of 92 and 66 respectively to guide India to 302/5.
Kohli himself played a knock of 63 runs. The addition of Shardul Thakur, Natarajan, and Kuldeep Yadav also rejuvenated the bowling in the third ODI as the side was finally able to take wickets at regular intervals. For the first time in the last six ODIs, the Men in Blue also managed to take a wicket in the powerplay overs.
Aaron Finch
played a knock of 75 runs, while Glenn Maxwell and Aston Agar tried their best to take Australia over the line. But in the end, Kohli and the boys managed to hang on to register a win.