Rohit Sharma: Hamstring getting better, keeping fingers crossed for Australia: Rohit Sharma | Cricket News
NEW DELHI: The hullabaloo over his hamstring was confusing as well as amusing for
Rohit Sharma
, who says he always knew that the injury was not that serious and he would be battle-ready for the tour of
Australia
.
In a detailed conversation, India's white-ball vice-captain opened up about his left hamstring injury during the
IPL
, which became a matter of intense speculation after he returned to action within days of being left out of the Australia tour earlier this month. He was subsequently added to the Test squad.
"I don't know what was going on, to be honest, and what all were people talking about. But let me put this on record, I was constantly communicating with the BCCI and
Mumbai Indians
," Rohit said.
He hit a match-winning knock of 68 off 50 balls in the IPL final against Delhi Capitals, playing through pain.
Rohit is currently doing strength and conditioning work at the National
Cricket
Academy in Bengaluru before heading to Australia.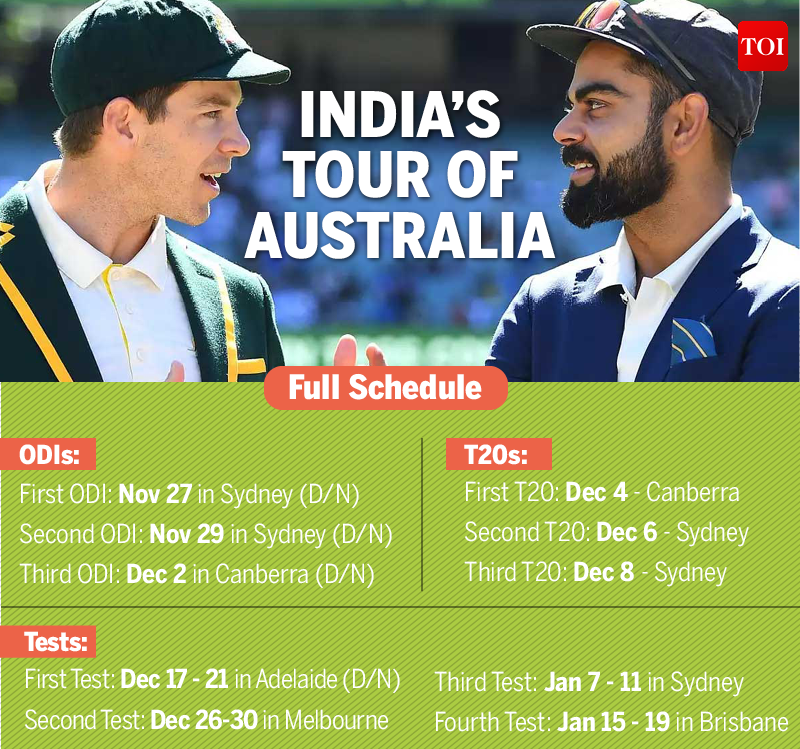 "I told them (Mumbai Indians) that I can take the field since it is the shortest format and I will be able to manage the situation quite nicely. Once I made my mind clear, it was all about focusing on what I needed to do," he said.
"Hamstring is feeling absolutely fine. Just started the process of getting it nice and strong. Before I play the longer format, I absolutely needed to be clear in mind that there is no stone that is left unturned. That's probably the reason, I'm at the NCA," Rohit added.
For Rohit, the chatter on the outside regarding his injury and his subsequent participation in the IPL playoffs didn't matter much.
"So for me, it was not a concern what x, y or z was talking about, like whether he would make it to Australia," he said. "Once the injury happened, the next two days all I did was to figure out what I can do in the next 10 days – whether I will be able to play or not. "
Unless one goes to the ground, one won't know how the body is shaping up, feels the five-time IPL champion captain.
"But every day, hamstring (degree of injury) was changing. The way it was responding was changing, so I was feeling quite confident that I could play and that is the communication that I had with MI at that point.
"I told them that I think I will be okay to play just before playoffs. If there is any discomfort, I won't be playing the playoffs."
All Rohit needed was three and half weeks to get ready for Tests and he fails to understand what the fuss was all about given that the series starts on December 17.
"Of course, there is still some work that needs to be done on my hamstring. That's why I didn't go to Australia for the white-ball leg as there are back-to-back games. Around 6 games in 11 days," he said about the limited-overs leg beginning November 27 with the first ODI.
"So I thought if I get to work on my body for 25 days, I can probably go and play the Test matches. So it was an easy decision for me and I don't know why it became so complicated for others," he wondered aloud.
Rohit also spoke about his enduring relationship with his IPL franchise Mumbai Indians. The five-time champions, he said, were not created overnight.
"Yeah, we have a (Kieron) Pollard, a Hardik (Pandya), (Jasprit) Bumrah; but has anybody thought why this team is successful?" he asked.
"A lot of people, I hear, say that can he (Rohit) do it with other teams? Firstly, why shall I need to do it with other teams? There is a certain way this franchise wants to go and same direction I want to go as well, both as a player and leader," he explained.
"Did this team become good overnight? No. It's just that this franchise doesn't believe in chopping and changing. And every player, including Rohit Sharma, was available (2011) at auctions. Just that MI picked and believed in building a team."
MI can win trophies only in odd years 👀ⓘ https://t.co/8VRFA20dek

— Mumbai Indians (@mipaltan) 1605616247000
He was extremely proud of MI getting New Zealand pacer Trent Boult on board, which worked wonders for them. Boult was released by Delhi Capitals before the players auction, a decision that they would probably regret given how effective he was this year.
"Trent Boult was with Delhi last year and before that with Sunrisers. We needed someone to provide wickets upfront and who could swing the ball," Rohit said. "We strongly pursued him and got him from Capitals, something I am proud of."
It was a tough year on all counts but Rohit said the franchise provided an environment that created memories of a lifetime while being locked in a bio-bubble due to the Covid-19 pandemic.
"MI in a year where everything was uncertain, created a happy space for us. 80 days in a bio-bubble never felt claustrophobic. Every little aspect was taken care of and the preparation started in June in a bio-secure environment with all net bowlers and Indian players," he said.
Rohit also touched upon his IPL leadership and spoke about the freedom he gives his players by letting them evolve as individuals. He cited Suryakumar Yadav's composure while dealing with India rejection as an example.
"We were sitting in our team room and I could feel he was dejected. But I didn't go and speak to him. It was he who came up and said, 'Don't worry I will get over it and win the matches for MI'.
"And when he said that I also realised he is heading in right direction not only in terms of IPL but in his overall career. There are a lot of India games and his time will come.
"If you ask me, my philosophy is mind over matter and that's what works for me."
Daniil Medvedev makes a bold statement with ATP Finals crown | Tennis News
"Nice trophy,"
Daniil Medvedev
said, admiring the silverware in his hands, "but it's heavy". Unlike his light but lethal game.
Medvedev, the world No.4, beat the Austrian sledgehammer
Dominic Thiem
4-6, 7-6 (7-4), 6-4 to claim the biggest title of his career — the Nitto ATP Finals. The 24-year-old is the first to defeat the world's top three players in the season-finale, beating No.1 Novak
Djokovic
in the group stage of the competition and second-ranked
Rafael Nadal
in the semifinals before taking down the No.3 Thiem on Sunday at London's O2 Arena.
"To win it you beat everybody in the top-10 anyway, but also, the best players in the world," Medvedev said. "At this moment, maybe someone was not at his best, but it doesn't matter. They are still the best players in tennis right now."
After Medvedev served out the match following 2 hours and 42 minutes of intense exchanges, during which there were only two breaks of serve, he turned in the direction of his box, a hesitant half-smile crossing his face. As if he was unsure of the victory.
Medvedev is delighted when he wins matches, it's what he plays for. Even if he chooses to punctuate his victories with an anaemic display of emotion.
Last year at the US Open, after trading barbs with the crowd during early round matches, Medvedev reached out to fans. He apologized, accepting he'd made a mistake. Then, following the final in which he went down in five sets to Nadal, he tendered an emotional appreciation of the full house.
"It's something I decided to do," Medvedev said of a decision he arrived at in the autumn of 2019. "At one moment of their career, everybody decides to do something special. In tennis maybe I'm the first one, some players in football don't celebrate their goals. I don't celebrate my victories. That's just my thing. I like it."
The world No.4's victory ensured Russians bookended London's 12-year run as host city of the season-ending championships, with compatriot and boyhood hero Nikolay Davydenko having won the first edition in the British capital in 2009.
A month ago, Medvedev was far away from the form that saw him sweep to ten straight wins, claiming titles in Paris and then London. The Moscow native, who arrived in Paris with just three wins from his last eight matches, was searching for his first trophy in 13 months.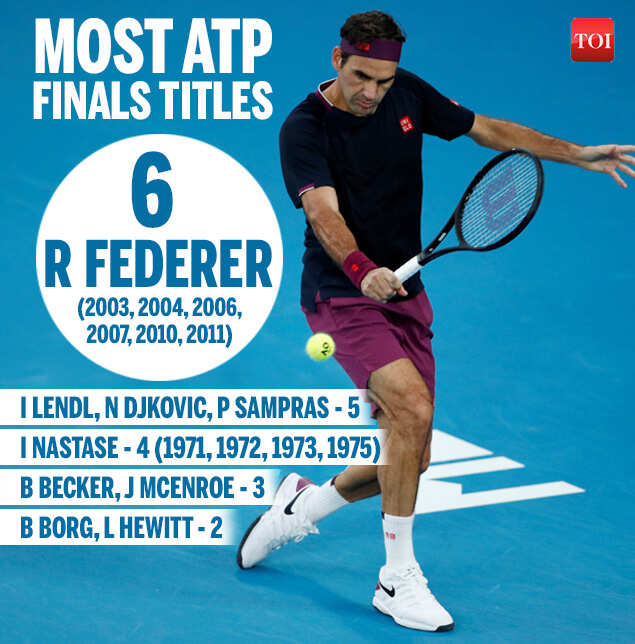 The foundation of Medvedev's play is his light-footed coverage. Hopelessly out of position, he still manages to make it. At times it seems like he's walking on air. Floating on it. An invigorating mix of delicate all-court skills, flat maybe the Russian's style, but his game carries the bite of a blade. Ask Thiem.
The two-time finalist said, "two guys faced-off, (both) in great form. It was great level all three sets."
In a compliment to his opponent, Medvedev billed his win in the final, the best victory of his life.
"To beat Dominic the way he played today, not even talking about the title," he said, adding that his form augurs well for 2021. "My level of game, especially the last two matches, is just unbelievable. It gives me a lot of confidence for the future."
The fashion in which the finalists matched up on the court — power and precision, determined and deft, courage and canny — was an expression of the respect each has for the other's play. Strains of a Federer and Nadal face-off on a grass court.
Some three years apart in age, their first meeting as teenagers was unforgettable. It was in Umag, Croatia, in a junior tournament. Medvedev was only 14, while Thiem, by then, had already made the final of the Roland Garros boys event. The 17-year-old was, as Medvedev took pains to explain, 'a superstar among juniors'.
Their courses collided in the second round of the clay court event, the Austrian walked away with a 6-2, 6-0 win.
"I had a crazy attitude on the court, like 10 times worse than right now," Medvedev explained. "After the match he told me, 'you're going to have a good future maybe, but you need to be a little bit more calm'."
There is a serenity about Medvedev's play now, especially when his game is crackling. It burns.
MEDVEDEV @ ATP FINALS
Aces: 43
Aces off second serve: 0
Aces from Deuce Court: 22; Aces from Ad Court: 21
Average First Serve speed: 123.72 MPH,
Average Second Serve speed: 99.24 MPH
No of aces when trailing 15-40: 3
No of aces when leading 40-15: 5
Broken in five matches: 5
Break points converted: 12/46
– Statistics by INFOSYS
Hyderabad FC begin ISL campaign with 1-0 win over Odisha FC | Football News
BAMBOLIM (Goa): Debutant
Aridane Santana
scored from the penalty spot as
Hyderabad FC
began their
Indian Super League
(
ISL
) campaign with a solitary goal win over
Odisha FC
on Monday.
Santana converted the spot kick in the 35th minute as Hyderabad kept their first-ever clean sheet in the league in their second season.
Hyderabad were all over Odisha's territory in the opening minutes of the game, forcing their opponents to play deep. They won a series of corners in the first 10 minutes and nearly capitalised on them.
First #HeroISL clean sheet ✅First win over @OdishaFC ✅What a night for @HydFCOfficial 👏#OFCHFC #LetsFootball https://t.co/aVylQfcUFl

— Indian Super League (@IndSuperLeague) 1606150198000
The Nizams' first real chance came in the sixth minute when Lluis Sastre whipped a perfect delivery into the box but Santana failed to direct his header towards goal.
That the visitors had worked on their set-pieces was evident. A smartly-executed corner in the 10th minute saw Akash Mishra force Odisha goalkeeper Arshdeep Singh into a save.
Odisha looked to play their normal game, maintaining possession and carrying the fight to their opponents. But they were a little too predictable and Hyderabad's defenders were able to deal with them without too much discomfort.
After constant probing, Hyderabad got their reward in the form of a penalty. Santana played Halicharan Narzary clear on goal, and his effort was handled by Odisha skipper Steven Taylor. Santana kept his composure and slotted home before the half-time break.
Hyderabad keeper Subrata Paul had to wait until the 40th minute to make his first save, thwarting Odisha striker Manuel Onwu. The Nizams had chances to extend their lead but the outstanding Singh made a couple of good saves just before the breather.
Minutes after the restart, Odisha had their best opportunity to restore parity. But Nandhakumar Sekar's poor first touch allowed Mishra to make a crucial goal-saving tackle.
At the hour mark, Odisha had yet another chance. Diego Mauricio went past his marker and squared a pass into the area to Onwu, whose low shot was kept out by Paul.
Hyderabad almost doubled the lead from a set-piece but Joao Victor's goal was rightly ruled offside.
Liston Colaco, who constantly troubled the Odisha defence, almost produced a moment of magic in the 67th minute when he dribbled from the half-way mark into the box but was unable to finish.
In the end, though, the misses did not matter, as Hyderabad held on for the win.
Afridi misses flight to Sri Lanka, set to miss his team's first two LPL matches | Cricket News
LAHORE: Pakistan all-rounder
Shahid Afrifdi
on Monday missed his flight to Sri Lanka and will be unavailable for at least the first two matches of his franchise Galle Gladiators in the inaugural
Lanka Premier League
.
The former Pakistan captain tweeted about the same, adding to the agony of the tournament organisers after a spate of heavyweight pullouts.
"Missed my flight to Colombo today morning. Nothing to worry, I'll be reaching soon to take part in the LPL for Galle Gladiators. Look forward to joining my teammates," Afridi wrote on his twitter handle.
Missed my flight to Colombo today morning 😕Nothing to worry, I'll be reaching soon to take part in the LPL for Gal… https://t.co/79z679j36a

— Shahid Afridi (@SAfridiOfficial) 1606120593000
Galle Gladiators will play their first match on November 27 against Jaffna Stallions, a day after the inaugural season opener between Kandy Tuskers and Colombo Kings.
The Gladiators play their second and third matches on November 28 and 30 respectively.
Afridi was named the captain of Galle Gladiators after Sri Lanka pacer Lasith Malinga and Pakistan wicketkeeper-batsman Sarfaraz Ahmed made themselves unavailable due to lack of preparation and national commitments respectively.
In the absence of Afridi, vice-captain Bhanuka Rajapaksa could lead the Gladiators in the first few matches.
The 40-year-old Afridi is heading to the LPL after having played two matches for Multan Sultans in the Pakistan Super League play-offs earlier this month, where he picked up three wickets in two matches.
Once Afridi arrives in Sri Lanka, he will have to undergo a three-day isolated quarantine before entering the tournament's bio-secure bubble.
LPL's inaugural season will begin this week despite star players such as Chris Gayle, Malinga and Liam Plunkett pulling out of the tournament.
In the tournament, five franchisees named after Colombo, Kandy, Galle, Dambulla and Jaffna will compete across 23 matches.