rohit bhadauria: Still no sign of missing paraglider in Bir, friends fund search operations | More sports News
NEW DELHI: With every passing hour, hopes of rescuing the
missing paraglider
in the Bir region of
Himachal Pradesh
are fading. The search for Delhi-based amateur solo-pilot
Rohit Bhadauria
has entered the fourth day, and his friends have huddled up to fund the costly rescue operation in the hilly region.
As reported by TOI on Sunday, Bhadauria was last seen one hour after taking off at around 12:30 pm from Billing on Friday. On Saturday morning, his family hired a private helicopter for an aerial search. The heavy costs of aerial search forced the family to approach the
Baijnath
Sub-divisional Magistrate (SDM). After that, the matter was forwarded to the office of the Deputy Commissioner of Kangra.
Since then, multiple chopper sorties have been conducted by both private operators and the Indian Air Force, which joined the operations on Sunday. But there has been no trace of Bhadauria yet.
He has his wife and son at home. A few years back, they had moved from Delhi to Bir-Billing, which is one of the best aero-sports sites in the world, surrounded by the Dhauladhar mountain range. Bhadauria took up permaculture farming for a living in Bir.
Reportedly, Bhadauria was not carrying GPS or wireless equipment for the flight.
Talking to Timesofindia.com, Bhadauria's friend Sudip Sarkar provided an update on the search operations and how a group of friends have come together to help the family.
They have hired an on-ground rescue team besides funding the cost of aerial search operations by way of contributing themselves and through an online fundraiser.
"A couple of helicopter searches have happened with private operation, and then an Indian Air Force helicopter has come into the picture since Sunday," Sarkar told Timesofindia.com on Tuesday.
"Searches are happening every day through helicopters as well as para-motor flights. After the helicopter search is over, para-motor pilots take off. There are almost six to seven ground teams that are searching in different directions, different mountains, looking for any clue of Rohit.
"They camp in the jungle and high mountains in the night and resume their search in the morning," he added.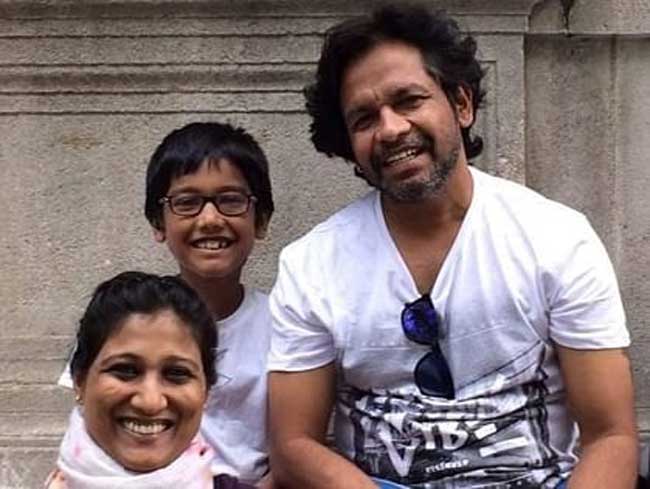 (Photo: Facebook)
According to Sarkar, around Rs 5 to 6 lakh have already been spent on the search operations. He is trying to keep up his optimism, though it has already been four days since Bhadauria went missing.
"For private helicopters and the search and rescue teams that we have hired, more than Rs 5-6 lakhs have already been spent. We are targeting Rs 18-20 lakh. Friends are contributing and then we have started this fundraising online," Sarkar further told TimesofIndia.com
"But with every hour, we are getting closer to bad news. However, we cannot stop searching. Black is black, white is white; but when it is grey, then it is a very difficult situation."
Sarkar said Bhadauria took off alongside another paraglider named Arun.
"He was flying with Rohit. When they were coming back, Arun turned back but couldn't see Rohit where he was last seen over the mountains," said Sarkar.
Timesofindia.com tried contacting Arun on Tuesday morning, but he had taken off in another chopper sortie to find any trace of his missing friend.
Bruce Oxenford: Umpire Bruce Oxenford announces retirement from international cricket
Australian umpire
Bruce Oxenford
on Thursday announced his retirement from
international cricket
after officiating in all three formats of the game for over 15 years.
A regular member of the ICC Elite Panel of Umpires since 2012, Oxenford officiated in 62 Test matches, the last of which was the final game of the Australia-India series in Brisbane.
"I look back with pride at my international career as an umpire. It is still hard to believe that I officiated in close to 200 international matches. Such a long career was not really something that I had hoped for before commencing on this journey," said Oxenford in an ICC statement.
The 60-year-old, who officially stands down in April, made his international debut at the Gabba in a T20 International between Australia and South Africa in January 2006.
He officiated at the last three men's World Cups and the last three T20 World Cups. He was also a part of the officiating team at the Women's T20 World Cups in 2012 and 2014.
Before becoming an umpire, Oxenford represented Queensland in eight first-class matches as a leg-spin bowler and lower-order batsman.

The Queenslander will continue to oversee domestic fixtures despite his retirement from international game.
"I would like to thank the International Cricket Council, Cricket Australia and all my colleagues in the ICC Elite and International panels for their support and encouragement over the years," he said.
"I had a wonderful time as a match official and will miss the camaraderie that comes with being a part of such a professional group. I shall particularly miss seeing and interacting with the magnificent people who are part of the support structure of our game around the world."
Oxenford said he is looking forward to umpiring in domestic cricket in his country.
"Most importantly, I want to thank my wife Jo, son James and daughter Kristen for all their love and support over the years. It would not have been possible for me to have such a long career without their sacrifices and for this I am eternally grateful.
"Whilst I will no longer stand in International matches, I look forward to continuing to serve the game that I love – officiating within Australia," he added.

Sourav Ganguly to undergo medical tests, decision on stent insertion after reports arrive: Doctor | Cricket News
KOLKATA: A series of medical tests would be conducted on BCCI president
Sourav Ganguly
on Thursday following which a decision might well be taken on the next course of treatment, a senior doctor at the hospital where he has been admitted said.
The former Team India captain, hospitalised on Wednesday for the second time in a month, was likely to undergo angiography, and doctors would subsequently decide if another
stent insertion
was necessary.
Earlier in January, he was diagnosed with 'triple vessel disease' and had a stent inserted in a coronary artery after suffering a mild heart attack.
"Mr Ganguly slept well all night. He had a light breakfast this morning. A series of tests will be conducted on him today to decide on the next course of treatment," the senior doctor, who is part of the panel attending to the cricketing icon, said.
Noted cardiologist Devi Shetty might fly down to the city later in the day to examine Ganguly's condition, go through the test reports, and hold meetings with the doctors treating him, he said.
"Once the test results arrive, we will be able to determine if two stents have to be inserted to open the blocks in his arteries," he added.
According to a source in the family, Chief Minister Mamata Banerjee called Ganguly in the morning to enquire about his health.
Senior CPI (M) leader Ashok Bhattacharya also paid a visit to Ganguly at the hospital.
The former left-handed batsman was on Wednesday afternoon rushed to the private hospital on EM Bypass here from his Behala residence as he felt "dizzy with slight discomfort in chest", the family source said.
A green corridor was created by the city police for his smooth travel to the hospital.
A statement issued by the medical establishment on Wednesday evening stated that several tests were carried out at the emergency ward of the hospital, but there was "no change in his (vital health) parameters since his last hospitalisation".
Ganguly has been admitted "for a check-up of his cardiac condition", the statement said.
HC issues notice to Virat Kohli, Tamanna on plea seeking ban on online gambling in Kerala | Off the field News
KOCHI: The
Kerala High Court
on Wednesday issued notice to Indian cricket team captain
Virat Kohli
and the state government in a plea seeking ban on
online gambling
in the state.
Besides Kohli, a division bench, headed by Chief Justice
S Manikumar
, also issued notices to Malayalam actor Aju Varghese and South Indian actress
Tamanna Bhatia
.
The celebrities are the brand ambassadors of online rummy games.
Petitioner Pauly Vadakkan alleged online gambling is now a growing menace in the state and the primary targets will be middle to low income group people who will be enticed to make easy money.
People who fall to the fraud platforms often use what is left in their life savings, he said.
The petitioner said there have been many reported cases across the state in which people have got scammed.
Referring to the recent alleged death by suicide of a 28-year-old man, an ISRO employee hailing from Kattakkada in Thiruvananthapuram district, the petitioner said the man had fallen in the trap of online rummy game and pushed himself to a debt of Rs 21 lakh.
Finding no means to repay the debt, he took his life, the petitioner alleged.
These platforms endorsed by celebrities, including Kohli, Bhatia and Varghese, attract their audience with fake promises while in reality the probability of such winnings are slim to none, thus making a fool of unsuspecting people, the plea said.
The petitioner submitted that at present the law governing gaming activities in the state, the Kerala Gaming Act 1960, does not bring within its purview any online gambling, wagering or betting activities.
The act extends to gaming activities conducted in a "Common gaming house" (which is an enclosed physical premise such as house, room, tent etc) by using any "instrument of gaming kept or used in such enclosed physical premises for the accrual of profit or gain to the person owning, occupying, keeping such instruments of gaming in the enclosed physical premises."
"Thus a person sitting in his private house, using these online gambling platforms from his house arguably may not come within the definition of a common gaming house," the petitioner said.
In the plea, the petitioner noted that various High Courts, particularly the high courts of Gujarat and Tamil Nadu, have directed their respective jurisdictional state legislatures to explore the possibilities regulating online gaming.
In Andhra Pradesh, an ordinance has been promulgated to bring online gambling activities within the purview of the existing gaming legislation, the petitioner said.
The plea seeks a ban or to regulate and monitor online gambling games by framing laws that includes within its purview games that are conducted online by using electronic gadgets including mobile phone, computers, laptops and other communication devices.