Roams with a view: 10 UK peaks with stunning 360 panoramas | Walking holidays
It is undoubtedly true that the best views are to be had from high places, although as musical hall star Gus Elen observed:
Wiv a ladder and some glasses
You could see the 'Ackney Marshes
If it wasn't for the 'ouses in between
So, it's all the better when you have an isolated peak, one left off the end of the range, or simply popping up, providing a fabulous 360-degree view, the sense of the entire Earth at your feet.
I'd even suggest that, with a couple of judicious additions, you could link all these in one magnificent UK-bisecting yomp, zig-zagging your way up the country, hopping from one visible peak to the next.
And autumn would be the season for it: the best time for pulling on your boots, when the trees are changing colour, when curls of mist haunt the hollows and when distant peaks might have a dusting of snow.
Wills Neck, Quantocks, Somerset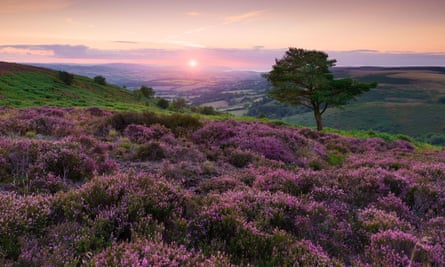 Photograph: Craig Joiner/Alamy
The Quantocks are not very tall, but they pack a powerful panoramic punch. Wills Neck is the highest point at 384 metres, part of a ridge of rock (memorably termed Hangman Grit) that includes several other excellent panoramic points. Start by heading up Lydeard Hill, then climbing to the summit where there's a trig point. The name Wills Neck is thought to derive from a tribe, the Wealas, who ambitiously took on the Romans here, and lost. On a clear day you can see across the Bristol Channel to the Brecon Beacons, plus Dartmoor and Lewesdon Hill, the highest point in Dorset. From the summit descend to Triscombe, then Rock Farm and West Bagborough.
• Map OS Explorer 140 Car park Lydeard Hill, near West Bagborough Distance 2.6 miles to the summit, 5½ miles for the circuit Refuel Head to Bishops Lydeard for Daisy Cottage tearooms among others Route visorando.co.uk
Bredon Hill, the Cotswolds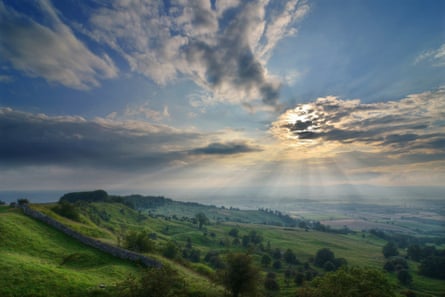 Photograph: Graham Dean/Getty Images
At 299 metres isn't the highest point in the Cotswolds, but Bredon Hill definitely outshines taller peaks such as Cleeve Hill for views. The walk up starts at the pretty village of Overbury, heads north through fields and woodland and then picks up the Wychavon Way, to turn west and climb to the summit. Here there is a useful landmark, Parsons' Folly, a structure that conveniently makes the height of the hill-and-tower precisely 1,000 feet. Scattered around are various standing stones and the curvaceous bumps of an iron age hill fort. Bredon has excellent panoramas of the surrounding countryside, sufficient to inspire several poets including AE Housman and John Masefield. On a good day, you can spot Corndon Hill, 54 miles to the north-west.
• Map OS Explorer 190 Car park in Overbury Distance 5 miles Refuel The Yew Tree pub in Conderton Route gps-routes.co.uk
Corndon Hill, Shropshire/Powys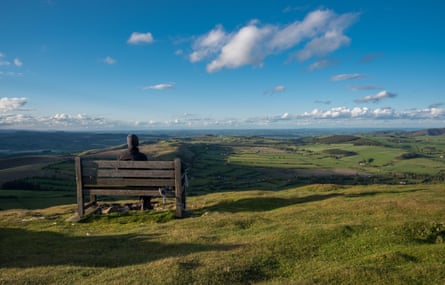 Photograph: Black Key/Alamy
Little wonder that our bronze age ancestors dotted this dolerite massif with tombs – it stands alone surveying the ancient wrinkled faces of the other Shropshire hills to the east and the Welsh hills to the west. There are two possible starts: one is north of the hill at the car park for Mitchell Folds Stone Circle, a popular spot with druids, witches and pagans for the past 3,000 years. Follow the farm track south, briefly on tarmac, then after a few hundred metres take the path uphill with a wood on the right. It's a steep climb but there's a bench at the top for a magnificent 360-degree view. The second, longer, route is to start at Roundton Hill nature reserve to the south, where there's a good panoramic warm-up to the main event. From here head north for a mile, crossing the Wales-England border, to the 513-metre summit of Corndon. On a clear day the views are spectacular with Herefordshire Beacon in the Malvern Hills (see below) 45 miles away.
• Map OS Explorer 216 Car park a rough lane off the road near Priest Weston village leads to a small car park for Mitchell Folds Distance short route 2 miles, long 5 miles Refuel plenty of choices in the nearby towns such as Churchstoke (Archie Lily's Cafe) and Montgomery (Castle Kitchen) Route montwt.co.uk
Herefordshire Beacon, Malvern Hills
Photograph: Nicholas E Jones/Getty Images
Another classic and another gigantic fort: the Beacon was once home to an estimated 20,000 warriors, still not enough to prevent the British chieftain Caractacus being captured here in AD75, then carted off to Rome to be paraded and killed. Fortunately, he gave a powerful speech to the Senate and was granted clemency. This quick and easy climb goes up from the car park to the summit where you can try to spot 12 counties. At 338 metres, the summit can just about claim to be a mountain. Leave time to explore the defensive ditches and earthworks, then continue south over Millennium Hill to Hangman's Hill, a good picnic spot.
• Map OS Explorer 190 Car park British Camp on the A449 between Malvern and Ledbury Distance 2 miles Refuel Sally's Place cafe is right next to the car park and open daily (outdoor seating only) Route walkingbritain.co.uk
Thorpe Cloud, Peak District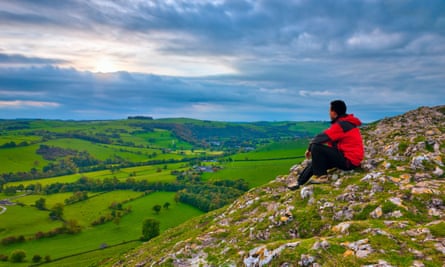 Photograph: Robert Harding/Alamy
This isolated limestone outcrop is the first hill I can remember climbing. It stands at the mouth of Dovedale and commands superb views of the surrounding countryside from a lofty 287 metres. It is a quick mile-long walk from Dovedale car park, a walk then best continued by heading up Dovedale itself towards the beauty spots of the stepping stones. Here many people turn back, so things get quieter as you reach Reynard's Cave and the Milldale, where you can loop west and back to the start. Alternatively, at the stepping stones turn south-east down Lin Dale. And if you're ever there at summer solstice time, watch out for the double sunset that happens over Thorpe Cloud's northern shoulder.
• Map OS Explorer OL24 Car park Narlow Lane Distance many options between 2 and 10 miles Refuel Head into Ashbourne for several choices; the National Trust's Ilam Park has the Stableyard Grab and Go cafe, open daily till 4pm Route my.viewranger.com
Roseberry Topping, North York Moors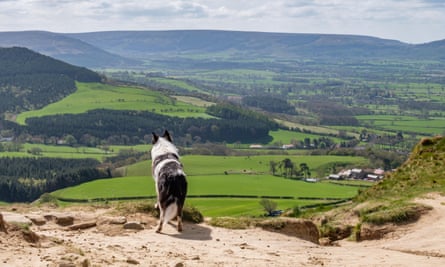 Photograph: Gary Clarke/Alamy
A local Sunday afternoon favourite but well worth a visit, this outlier of the North York Moors is on the Cleveland Way, one of the UK's great long-distance paths. You can use the car park on the A173 near Newton-under-Roseberry and sprint up the 320 metres in half an hour, but this is a spot worth savouring. Better start from Great Ayton and do the seven-mile circuit that includes Cook's Monument, an 18-metre tall obelisk to Captain Cook. The view here is excellent, although not a 360, so it's really just a starter to the main dish of Roseberry Topping, where you should be able to spot Great Whernside in the Pennines, 43 miles away.
• Map Explorer OL26 Car park High Green in Great Ayton Distance 7½ miles Refuel Great Ayton has the memorable Velveteen Rabbit Luncheon Club; takeaways available, but book ahead if you want to sit inside Route northyorkmoors.org.uk
Catbells, Lake District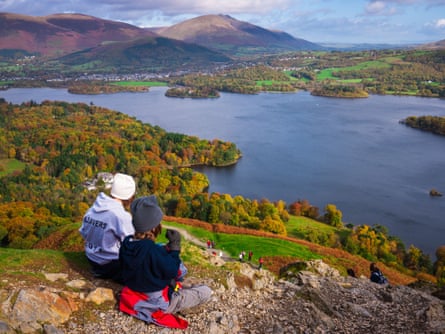 Photograph: Craig Joiner/Alamy
The selection of great panoramas in the Lakes is extensive, but Catbells packs some punch for what is a relatively small fell at 453 metres. Start from Hawes End car park and head south up the ridge to the summit, where you have a fine prospect of Derwent Water with its various islands, plus Helvellyn beyond with a magnificent array of other fells.
• Map OS Explorer OL4 Car park Hawes End Distance 3½ miles Refuel Keswick has plenty of choice, including the quirky Mrs F's Route walklakes.co.uk
Merrick, Dumfries and Galloway
Photograph: David Attenborough/Alamy
I'm not sure what's the longest view I've ever enjoyed in the British Isles, but Merrick is a hill in Galloway that is reputed to have a 140-mile view south to Snowdon. Start from Loch Trool with a moment to admire the Bruce stone, marking where, in 1307, Robert the Bruce began his long campaign against the English. Pass Kilsharg bothy on the way up and finally cross the wonderfully named Nieve of the Spit ridge to reach the summit with views of the Isle of Man, Northern Ireland, Helvellyn and, if you are luckier than most, Snowdon, 140 miles to the south as the crow flies.
• Map OS Landranger 77. Car park 4 miles north from Glentrool village at the end of the road Distance 8¼ miles Refuel head to Newton Stewart for Brew Haha cafe among others Route walkhighlands.co.uk
Goat Fell, Arran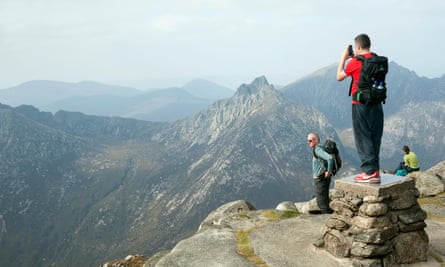 Photograph: Nicholas Townell/Alamy
An island with one big hill in the middle ought to be a dead cert for a great panoramic walk – although the first time I tried to ascend Goat Fell the wind was so powerful I couldn't get to the top. The path starts near Brodick and climbs through the trees on to exposed boulder fields with good views all the way to the top at 874 metres. Here the views of the Firth of Clyde can be fabulous and sometimes it's possible to see as far as Slieve Donard, the highest mountain in Northern Ireland, 104 miles to the south-west.
• Map OS Explorer 361 Car park near the Wineport Bistro and Arran Brewery Distance 6½ miles Refuel Wineport Bistro Route walkhighlands.co.uk
Mussenden Temple, County Derry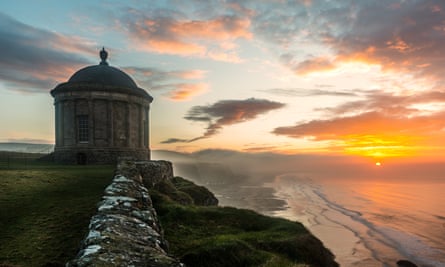 Photograph: Emanuele Bresciani/Getty Images
Because of coastal erosion, this fine 18th-century monument is perilously close to the edge of the cliffs overlooking Downhill Strand – and the views have become ever-more spectacular (stabilisation work has, hopefully, halted that process). Start the walk at Bishop's Gate and head towards the ruined Downhill House, then directly to the temple itself 36 metres above the beach. It's not really a full 360 panorama, but the sweeping coastal aspect is certainly fully dramatic, and on a good day you will spot the Hebridean Paps of Jura, also visible from Goat Fell and Merrick, linking us back to that great zig-zag panoramic journey through the UK.
• Map OS sheet 4. Car park Bishop's Gate entrance to Downhill Demesne National Trust site – advance booking required Distance 2 miles Refuel Al's Coffee kiosk is near the car park Route nationaltrust.org.uk
'I got a whole new mindset': the health secrets of people who got much fitter in lockdown | Coronavirus
Before Covid-19, an ordinary evening for Tim Ludford, a charity worker, looked something like this: after-work drinks with colleagues; an Uber home; a takeaway. "Not healthy takeaways, either," says Ludford, 37, from London. He would polish off a curry for two people before nailing a bag of Maltesers or a packet of biscuits.
Ludford's relationship with food began to deteriorate after the death from cancer of his father in 2013. "I was unhappy, first of all, and I was bingeing on food and alcohol as a coping mechanism," he says. "A lot of it was related to my dad, but I was also stuck in a rut and food was an easy way to make myself feel good." By the time lockdown was introduced, he was severely obese, with a BMI of 40. (A healthy BMI is between 18.5 and 24.9, according to the NHS.) "Sometimes I'd do crazy things," he says. "If I was on the way to meet someone for dinner, I'd go to KFC on the way. And then I'd eat dinner as well."
Then Covid-19 hit. Ludford was too scared of the transmission risk to order a takeaway. The pubs were not open. "I started cooking at home," he says. "Soups, salads – healthy stuff." He was furloughed and began to struggle with anxiety, in part related to the pandemic, but also related to his health. His dad had had a heart attack before he died, and Ludford began to panic that he would, too. The sudden death of a friend from a heart condition, in April, sent him to a dark place. "It was like all this anxiety I had been pushing away, about my health and my weight, suddenly opened a crack," he says. "And, because I was on furlough, I had time to focus on it. Everything fell apart. My brain decided that this was my comeuppance: I was going to have a heart attack, as payback for the irresponsible lifestyle I'd been leading."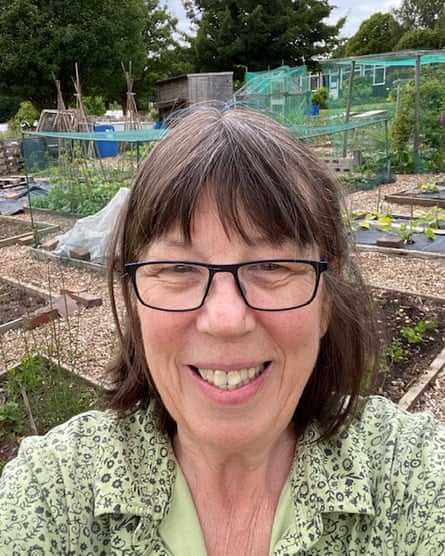 'I don't feel old at all. But I know that Covid is worse if you're older' … Sue Wild, who took up the NHS's Couch to 5K app again in lockdown.

Photograph: provided by Sue Wild
Ludford spoke to a GP about his anxiety, who recommended exercise and referred him for counselling. So, he started walking: "2km became 5km became 10km," he says. And he exercised to videos he found on YouTube. At first, he could not manage a single burpee, but after a few months, he was flinging himself on and off the floor with ease. "The exercise was the only thing that really helped me to get a handle on my anxiety," he says. "Exercise kept the wheels on the bus." Seven months on, Ludford has lost 34kg (5st 5lb) and is no longer severely obese. But the weight loss is secondary to his mental wellbeing – he feels like himself again. "Everything came together at the same time," he says. "Lockdown was the trigger."
While lockdown was a period of indulgence for many of us – who can blame anyone for looking at a world in freefall, with political leaders squabbling like children, and reaching for the biscuit tin? – the enforced stillness of 2020 gave some people the time and headspace to embrace a more active lifestyle. Freed from the shackles of the commute and the lure of late-night pub sessions, an overhaul was in reach. "The pandemic gave some people a kick up the backside," says Dr Fiona Gillison, a chartered psychologist and behaviour-change expert at the University of Bath. "But it also reduced the barriers that many people have to leading healthier lifestyles – by giving them more time at home or dedicated time to exercise."
Gillison believes that the fact the government made exercise one of the only exemptions from the Covid-19 restrictions during lockdown helped reinforce the notion that it was a priority, even during a pandemic. "We were allowed out for one hour a day for exercise, and that was one of the only things we were allowed to do," she says. "That's quite strong public health messaging. In effect, the government was saying: 'Look, this is worth leaving the house for; this is worth the risk.'" Exercise also became social: families traipsing out for walks together, friends meeting for a hike.
Plus, during lockdown, there was not much else to do. Sue Wild, 67, a retired midwife from Birmingham, says: "I thought to myself: what else am I doing? I might as well try to get fit." Wild has never been an exercise fan: she completed the NHS's Couch to 5K app a few years ago, for a bet, but it did not stick. This summer, for want of anything to do, she downloaded it again and started running once more. "It was strange," she says. "I never enjoyed it before. But I think, because I'm not going out as much, it's nice to have a bit of time to look around and feel like things are normal."
The pandemic is more dangerous for older people, obese people and those with underlying health conditions. "I know that Covid-19 isn't going anywhere," says Wild, who is just outside the age bracket (70-plus) in which she would be most at risk from the virus. "So, I have to be the fittest that I can be. I just feel like, if I did get it, I'd want to give myself the best shot possible for a good recovery."
She is not alone. A recent study from University College London, which tracked 5,395 people via a smartphone app, found that over-65s were among the most active of all the groups surveyed throughout lockdown and increased their physical activity levels the most once the lockdown restrictions were eased. It was also the only age group to become more active during the pandemic than beforehand.
In July, prompted largely by the prime minister's spell in intensive care – Johnson believes he was hospitalised with the virus due to his weight – the government announced an anti-obesity strategy. (Critics pointed out that the measures did little to address the structural reasons for obesity, such as inequality.) The messaging appears to be working, at least for Ludford. "I am very aware of how obesity is a risk factor," he says. "That was a big motivation – to get down to a healthy BMI."
For Shae Eccleston, 42, a consultant from Dunstable in Bedfordshire, it was a way to sort out her chronic insomnia, not just for her own health, but so that she could be there for her family. Five members of her family fell ill with Covid-19 at the same time – her mum, her grandfather, her grandmother and two aunts. "I was doing a lot of supermarket shops and making sure they were taken care of," she says. "I just knew that I could not afford to get sick. I had to be resting. I couldn't afford to be knocked down as well."
Before the pandemic, she averaged two to four hours' sleep a night. "I've always been bad at sleeping. My mum says that, even when I was a baby, I was always awake. It was a good night, if I fell asleep before the sun came up," she says. But her family's brush with Covid-19 – thankfully, everyone pulled through – was a wakeup call. Now, she puts her phone on Do Not Disturb, listens to ASMR videos, and has made her bedroom a screen-free zone. (Previously, she would often work on her laptop in bed.) "I've been getting a good six hours' sleep a night," she says. "To other people, that's nothing. But it's huge for me."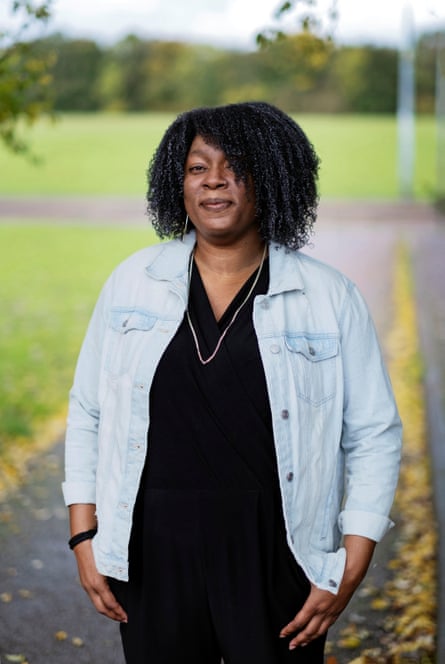 'I could not afford to get sick. I had to be resting' … Shae Eccleston used lockdown to tackle chronic insomnia.

Photograph: Linda Nylind/The Guardian
It is easier to form better habits if your lifestyle has been upended. "Covid disrupted all of our routines," says Gillison. "When you have to create a new routine, your old habits are disrupted and you're more in charge of how you shape your own life. That will play a role in why people may be embracing healthier behaviours." Covid-19 acted as a jolt for many. Ludford had tried dry January and health kicks before, but nothing stuck. "Suddenly, going on as normal wasn't an option," he says. "Before, I'd been able to live a certain lifestyle. And then this big interruption came along." Eccleston, too, thinks she would have continued in her old ways – late-night phone calls to friends, working in her bedroom until the early hours – were it not for the shock of lockdown. "Suddenly, everything changed and I got a new mindset," she says.
When so much is out of your hands, exercise is something you can control. "There's something about the sense of autonomy you get from exercise," says Gillison. "You're doing it for your own reasons, rather than because someone told you to." With Ludford on furlough, exercise gave him a sense of drive and purpose. "I've felt so stuck this year," he says. "You can't plan ahead in your life the way you want to or are used to. Exercise has enabled me to focus on a series of goals that I can achieve."
For many people, upping their exercise helped them deal with the stress and anxiety of living through a pandemic. "I know my own mental health quite well," says Tom Firth, 33, a teacher from Yorkshire. "If I don't do something productive with my day, I start to dislike myself." Before lockdown, he often worked 12-hour shifts, treating the summer holidays as a period for recharging. "I'd think that I should be healthier, but I never had the time, so I just gradually ignored it and got more and more unfit," he says.
In Firth's defence, British people work some of the longest hours in Europe – an average of 42 hours a week in 2018, two hours more than the EU average and the equivalent of an extra two and a half weeks a year. Studies have shown that working longer hours is bad for your mental and physical health, contributing to physical inactivity and an increased risk of depression. In the early weeks of Covid-19, Firth took advantage of his downtime to watch "appalling" amounts of TV: "The entirety of Tiger King in an afternoon, that sort of thing."
But he could feel his mental health deteriorating, so he got on his exercise bike. Firth set himself the goal of cycling 1,000 miles a month, tracking his miles on a spreadsheet. During the Tour de France, he cycled along; now, he watches Parks and Recreation on the bike. Firth credits his exercise regimen with giving him the resilience to get through the pandemic. He has also lost 20kg. "Exercising for an hour a day has done wonders for my mental health," he says. "It releases all these lovely chemicals. It's literally addictive."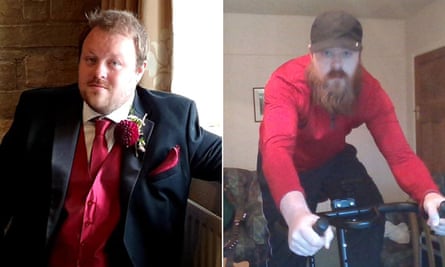 'It has done wonders for my mental health' … Tom Firth before and after lockdown.

Composite: Images provided by Tom Firth
Will these habits stick when people return to their old lifestyles? Firth thinks so: even though the new school year has started, he is keeping to his routine. "Initially, I was only doing this because I had nothing to do," he says. "But it went on for so long that it became a habit. And I'm proud of that." The best way to make anything stick is to build it into your everyday routine. "It is much easier to do something over the long term if it becomes a habit," says Gillison. "Habits occur when you've already done the decision-making, so the 'cue' to act becomes an automatic part of your day."
She also recommends that people embark on diet or fitness changes with friends, for motivation and accountability. "Social support is key," Gillison says. "Finding someone to do the activity with, in person or virtually, or even just showing interest and encouraging you to keep going, is helpful," she says.
After gaining 3.6kg during lockdown, Wild has been following the NHS weight loss plan, a diet devised by doctors to help people lose weight at a safe and sustainable rate, with her husband. "I've tried to lose weight before, but it was a nightmare, making two meals and having all this tempting food around," she says. "What's been great this time is having my husband do it with me. I want to get fit for my older age," Wild says. "I don't feel old at all. But I know that Covid is worse if you're older, and overweight."
Gillison warns that health anxiety is not in itself enough to sustain a long-term change: it is easy to become complacent once the initial alarm has worn off. "The public will hear the message that Covid is more dangerous for the obese and it will get them out of the door a few times," she says. "But unless they find something they enjoy doing, it will be a short-term fix."
The most important way to make fitness a habit is to make it fun. "We are only able to make ourselves do something for a short amount of time," says Gillison. "It's hard to stick at something you find unpleasant, plus you don't get the benefits in terms of the sense of wellbeing when you're doing something you don't like. So, if lockdown was a time of experimentation with various activities, pick the one you enjoyed."
Ludford is confident that he won't slip back into old ways. "I've seen such a huge change in my life," he says. "Covid gave me the opportunity to focus on the things that were undermining my mental health. I'm not going to go back to how things were before. It's been transformational."
6 yummy zero-oil snacks that anyone can make
1. Soak 1/2 cup moong dal in a bowl of water for 30 minutes and drain it.
2. Add 3 cups of water, salt, and the dal in a pan and cook on medium flame. Stir occasionally and make sure the grains aren't too close together.
3. Drain the water using a strainer and cool the dal for 10 minutes.
4. In a mixing bowl, add 1/2 cup grated carrot, 1/2 cup pomegranate, 1/2 cup chopped white and green spring onions, 1/2 cup chopped raw mango, 2 tbsp. chopped mint leaves, 2 tbsp. chopped coriander leaves, 2 tsp. chopped green chillies, 1 tsp. chaat masala, 4 tsp. lime juice, and the moong dal. Mix well and serve.
COVID: Most infectious surfaces around you