RCB vs CSK: CSK look to salvage reputation in a game against RCB | Cricket News
In a year where uncertainty has been the only constant, it is hardly surprising that the mood of the times is being mirrored by the Indian Premier League. Given the pattern of the past several years, only the most diehard
Royal Challengers Bangalore
fans would have fancied their team sitting pretty near the top towards the business end of the league phase. More pertinently, how many would have imagined
Chennai Super Kings
all but shutting themselves out of the reckoning with three matches to go? Then again, this is 2020, the year as fickle as the format itself.
To say that the two teams have enjoyed contrasting fortunes in the UAE is stating the obvious. Champions thrice in the past,
MS Dhoni
and his men have been a pale shadow of themselves. RCB, on the other hand, have bucked the losing trend, plugged the holes in their game and shown reasonable consistency across departments. For years, given their track record of 15 wins from 25 face-offs, CSK were perennial on-paper favourites. But that won't be the case on Sunday afternoon.
Virat Kohli
& Co are already 1-up following a 37-run win in their first meeting of the season, earlier this month.
When the teams meet again in Dubai, it is inevitable that some of the usual spice will be missing from the otherwise southern sizzler. That said, there is the promise of a contest worthy of the teams' reputations. While CSK will look to salvage its reputation, RCB will be keen to flex their beefed-up muscles. RCB are the form team, but they will be wary of the perils of running into a wounded lion. CSK are coming off a soul-crushing 10-wicket loss to Mumbai Indians on Friday night; less than 48 hours later, the wounds are bound to be raw.
In the run-up to the playoffs, a win will ensure a cushion of performance and consistency for the Bengaluru team, while a loss will push CSK into further gloom.
RCB, who will carry forward their Go Green initiative by sporting green jerseys, will not take their foot off the pedal, pace mainstay Chris Morris is insistent. Ahead of the clash of the neighbours, the South African pointed out, "It is the southern Derby. There is never a team in the IPL which is a cakewalk. They all have very good players and world-class finishers. CSK are a very successful team with quite a few IPL trophies. There is a reason for that. We have to be at our best to beat them."
New Zealand, West Indies teams to take a knee in support of BLM | Cricket News
WELLINGTON: The New Zealand and West Indies
cricket
teams will both take a knee in support of the
Black Lives Matter
(
BLM
) movement before their Twenty20 match at Eden Park in Auckland later on Friday, New Zealand captain
Tim Southee
has said.
Both teams met on Thursday to discuss how they would recognise the anti-racism movement after the West Indies knelt to show their support before their matches in England this year.
"We agreed we will support West Indies and will take a knee after the umpires call play," Southee said. "It's something that is very important to the West Indies and something we will support over their tour while they're here."
West Indies Twenty20 captain
Kieron Pollard
said their team were pleased to have the support of the New Zealand side.
"It's something we feel very strongly about," Pollard said. "It's something we want to inculcate around the world because it has impacted a lot of lives all around the world.
"It's something we will continue to do to make gestures that is positively geared towards that. We have come together with the Black Caps and we thank them for their support.
"It means a lot to us as individuals and hopefully over time everyone will understand how serious this matter is."
West Indies Test captain
Jason Holder
and the team were given an award for their efforts to spread the anti-racism message that was amplified by the death of
George Floyd
in the United States this year.
While England knelt during the West Indies series, they did not repeat the gesture during games against Pakistan and Australia, prompting some criticism.
Diego Maradona: 'Adios Diego': Maradona buried as world mourns flawed football great | Football News
BUENOS AIRES:
Argentina
's Diego
Maradona
, one of the world's greatest ever
football
players, was buried on Thursday amid a global outpouring of grief from the streets of
Buenos Aires
to Naples in Italy.
The death of Maradona at the age of 60 on Wednesday, following a heart attack, has sparked both mourning and celebrations of a true sporting star, who was a genius on the soccer field but lived a life marred by struggles with addiction.
In a day of high emotion, the World Cup winner was taken by hearse late on Thursday to the Bella Vista cemetery on the outskirts of Buenos Aires – where his parents are also interred – for an small private ceremony of his family and close friends.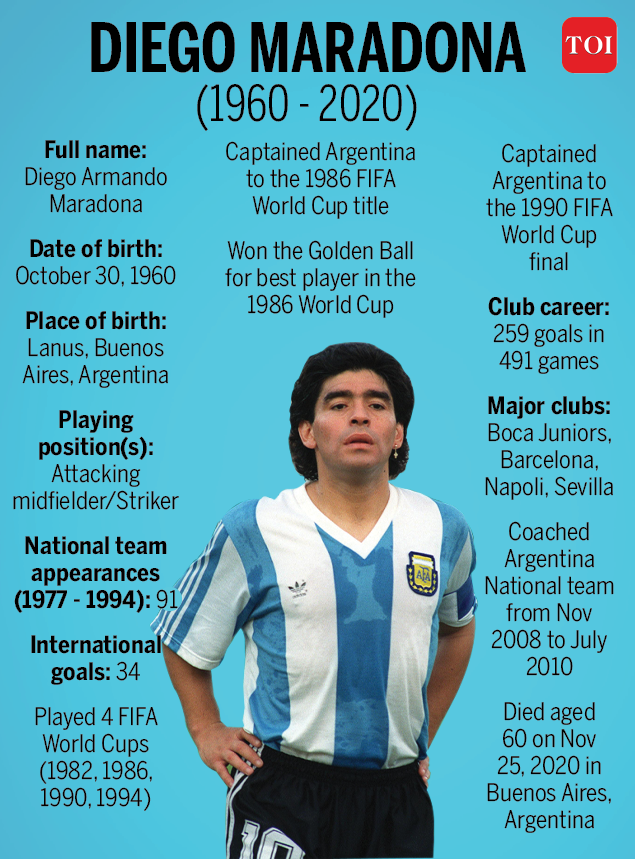 Thousands of Argentines lined the roads as the procession passed on the hour-long journey from the presidential palace in central Buenos Aires, where Maradona had lain in state during the day.
Earlier, there were clashes between police and fans and a febrile atmosphere more akin to a rowdy soccer game than a wake, with fans clambering up the palace gates to get as close as possible to their hero.
In Italy, crowds tied hundreds of blue and white scarfs to the railings outside his former club Napoli, while in France, sports paper L'Equipe's front page blared out: "God is dead".
In Argentina, three days of national mourning were called for the player who led the country to a 1986 World Cup win and is revered with cult-like status. Tens of thousands took to the streets, not all wearing masks, despite fears over the Covid-19 pandemic. Some left flowers and messages at his childhood home.
"Maradona for me is the greatest thing that happened to me in life. I love him as much as my father and it's like my old man died," Cristian Montelli, 22, a supporter of the star's former club Boca Juniors said with tears in his eyes after he had filed past the coffin.
"If I die young, hopefully upstairs I can play ball and watch a Boca game with him," added Montelli, who had a tattoo of Maradona's face on his leg.
MILE-LONG LINES
During the day, Maradona's body lay in state in a closed casket at the Casa Rosada presidential palace on the central Plaza de Mayo. It was covered with the blue and white national flag and an Argentina soccer jersey with the number 10 that had been part of his nickname "D10S" – a play on "dios", the Spanish word for God.
Starting at dawn on Thursday, thousands of fans had formed a snaking line estimated at over a mile (1.6 km) long through the streets of Buenos Aires near the plaza, after a night of mourning and reminiscing.
Fans who got inside the palace – many missed out – threw soccer shirts, flowers and other items towards the casket.
"He was someone who touched the sky with his hands but never took his feet off the ground," President Alberto Fernandez said. He visited the casket on Thursday.
As authorities started to close down access to the central square on Thursday afternoon, scuffles broke out, with police using rubber bullets and water cannon to disperse the unruly crowds.
The tensions eased after Maradona's body was transferred to the cemetery, surrounded by a huge procession of police and others on motorbikes and cars.
In Naples, meanwhile, fans laid out flowers, children's pictures, candles and even a bottle of wine in a rapidly expanding, makeshift shrine.
"DIEGO BELONGS TO THE PEOPLE"
Major athletes and world leaders, including Argentina-born Pope Francis, have paid their own tributes.
"Diego belongs to the people, Diego belongs to Argentina, Diego belongs to the country," said Dario Lozano, waiting in line to view the casket.
Beloved in his homeland after leading Argentina to World Cup glory in 1986 and adored in Italy for taking Napoli to two Serie A titles, Maradona was a uniquely gifted player who rose from the tough streets of Buenos Aires to reach the pinnacle of his sport.
The 1986 World Cup included a quarter-final game against England where Maradona scored two of the tournament's best-known goals ever – an illicit "Hand of God" goal and one that followed an incredible swerving, dribble.
Maradona also battled various health problems over the years as a result of his addictions. Earlier this month, he was hospitalized for symptoms including anemia and dehydration and underwent emergency surgery for a subdural hematoma – a blood clot in the brain.
On Thursday, Maradona's lawyer, Matías Morla, said he would ask for a full investigation into the circumstances of the death, and criticized what he said was a slow response by emergency services.
In Italy, Massimo Vignati, owner of a Maradona museum in Naples, said the player had become almost like family.
"My mother was the Neapolitan mother of Maradona. He was our twelfth brother," he told Reuters, surrounded my memorabilia of the player. "We must remember him with his smile as always. He made his last dribble and left us suddenly."
India vs Australia: India vs Australia: Aussie 'Summer of Cricket' begins with 'Barefoot Circle' in BLM support | Cricket News
SYDNEY: Australia's '
Summer of Cricket
' got underway in earnest on Friday with the first one-day international against India in front of a socially-distanced crowd of some 20,000 at the Sydney
Cricket
Ground.
While the global health crisis had a clear impact on the staging and timing of the clash, there was recognition before the match of another of the main changes to world in the eight months since Australia last hosted international men's cricket.
In an echo of the 'Black Lives Matters' movement, both teams stood in a "
Barefoot Circle
" on the pitch before warming up as a stand against
racism
and a recognition of indigenous or First Nation Australians, "the traditional owners of the land".
Australia and India take part in a Barefoot Circle to respectfully acknowledge our First Nations people, the tradit… https://t.co/Q80XNEWnpv

— cricket.com.au (@cricketcomau) 1606445164000
There was a further moment's silence to remember former Australia batsman Dean Jones, who died of a heart attack at the age of 59 last month, before the singing of the national anthems.
Australia won the toss and elected to bat on a glorious afternoon in Sydney, with paceman Mohammed Shami bowling the first delivery to Australian opener David Warner.
"It's great to have cricket back and in front of some fans as well," said Australia skipper Aaron Finch.
#TeamIndia took part in the Barefoot Circle ceremony pledging their support against racism and joined Australia in… https://t.co/bmF4nJ2D4s

— BCCI (@BCCI) 1606451433000
Australia's only change was the return of batting stalwart Steve Smith at the expense of injured all-rounder Mitchell Marsh, while India brought Mayank Agarwal in to open in place of vice captain Rohit Sharma, who has a hamstring injury.
"He's a really exciting player, had a great IPL (Indian Premier League)," skipper Virat Kohli said of Agarwal.
"I think it's very important to start well for us as a team. When you come to a place like Australia, you want to set the momentum early."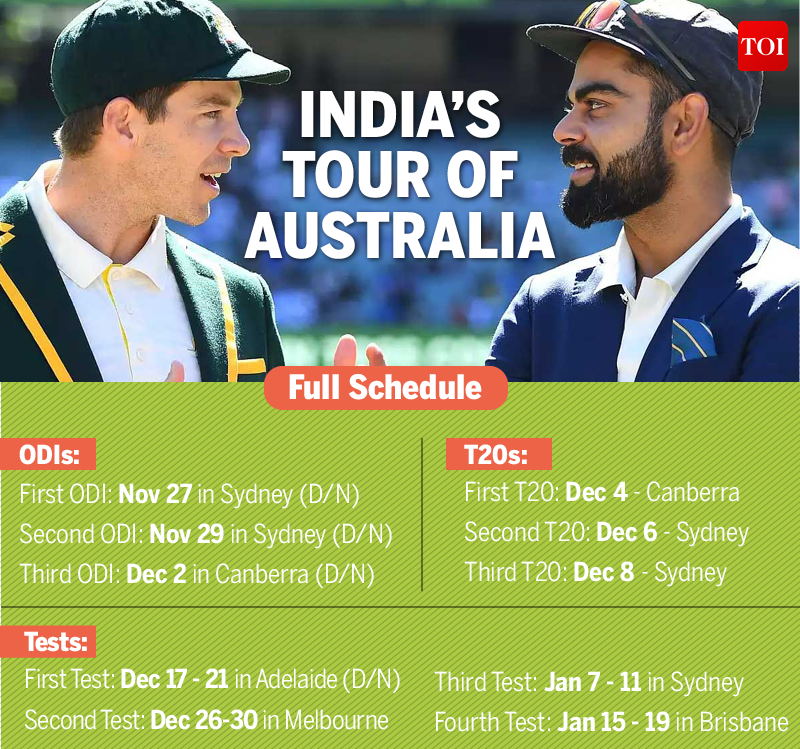 India, who play two more one-dayers before a three-match Twenty20 series and four Tests around the new year, will certainly not lack for support Down Under with the Indian diaspora well represented in the crowd on Friday.