Racist abuse: India vs Australia: Mohammed Siraj has set a new standard for calling out racist abuse, feels Nathan Lyon | Cricket News
BRISBANE: Indian pacer
Mohammed Siraj
has set a new standard for calling out poor crowd behaviour, Australia's top off-spinner
Nathan Lyon
said on Wednesday, describing
cricket
as a sport for all with no room for
racism
or abuse of any form.
The Indian team had lodged an official complaint with the ICC after a group of spectators at the
Sydney
Cricket Ground racially abused pacers Jasprit Bumrah and Siraj on the third and fourth day of the third Test.
"There is no room for any racial sledges or any abuse in any type. People think they are being funny, but it can affect people in different ways. For me, cricket is the sport for all and there is no room for it at all," Lyon said during a virtual press conference.
"If the time is right to call in match officials, you do it. We have got a lot of security around the ground these days and if there is anyone doing it, then they can be removed, as there is absolutely no place for it. It may well set precedence to report issues to officials."
While fielding at the square-leg boundary, Siraj was allegedly called "monkey" and "brown dog" over two days by some spectators, who were removed by security guards after the matter was reported to the on-field umpires.
"I think it's quite disgusting to be honest. Yes, I've been on the other end of it, coping abuse, whether that's England, New Zealand, South Africa or wherever it may be. But there's no room for it. As a player you've got to try your best to block it out," Lyon said.
He feels that players would now have the option of stopping play and call out their abusers in the stands.
"It well may do (set a precedence to report issues to officials). It will be up to that player and how they have been affected.
"I just really hope in a whole world society, we can get over it and people can come to watch us play cricket, with players not be worried about being abused or racially abused," the country's experienced spinner said.
The Australian players had supported their Indian counterparts after the incidents with skipper Tim Paine even joining the visiting team huddle after Siraj's complaints on the fourth day of the drawn match.
The four-match series is currently tied 1-1, with the fourth Test scheduled to be held here from Friday.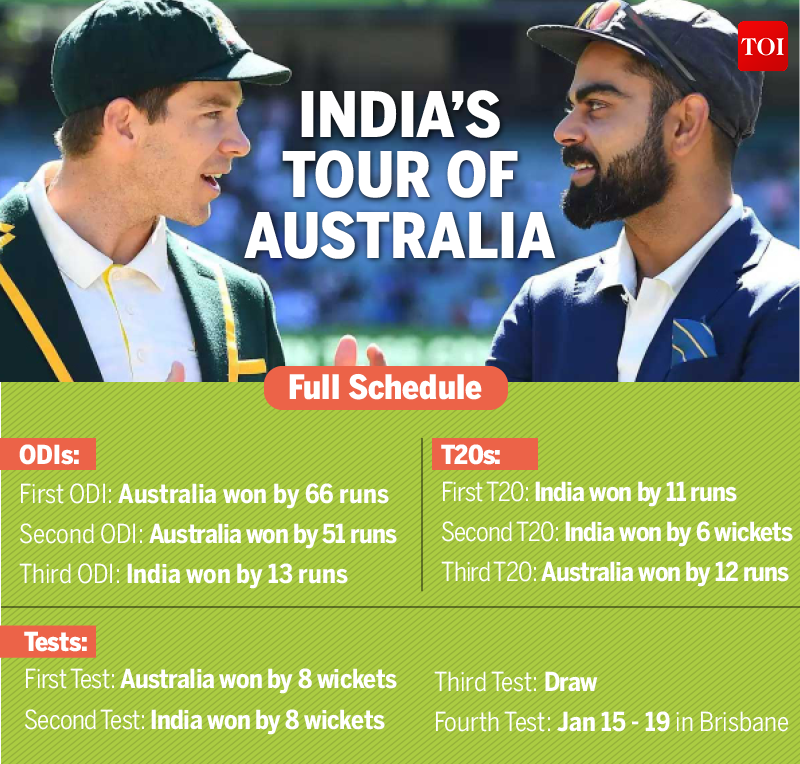 WHO, asked about COVID-19 shots for Olympic athletes, says health workers are top priority | Tokyo Olympics News
GENEVA: The
World Health Organization
is providing risk management advice to the
International Olympic Committee
(
IOC
) and Japanese authorities regarding the holding of the
Tokyo Olympics
, but the top priority is vaccinating
health workers
worldwide against COVID-19, its top emergency expert said on Monday.
Japanese Prime Minister Yoshihide Suga is sticking to his government's commitment to host the Summer Games, with officials last week dismissing a report in Britain's Times newspaper that said Tokyo had abandoned hope of holding the event this year.
Mike Ryan, asked whether athletes should be vaccinated as a priority, told a WHO news briefing: "We have to face the realities of what we face now. There is not enough vaccine right now to even serve those who are most at risk.
"We face a crisis now on a global scale that requires frontline health workers, those older people and those most vulnerable in our societies to access vaccine first."
The Games is scheduled to open on July 23, after being postponed for a year because of the coronavirus pandemic.
The WHO would work with the Lausanne-based IOC, the host city Tokyo and Japan's ministry of health, labour and welfare as part of their task force to "offer risk management advice right the way through the process", Ryan said.
"The final decision on the risk management measures for the
Olympics
, and the final decision regarding the Olympics themselves, is a decision for the IOC and the Japanese authorities," he said.
Serena Williams On Her Daughter Getting Into Tennis
Serena Williams' daughter is just three years old, but she already has her own signature tennis move.
Alexis Olympia Ohanian Jr., who Serena calls Olympia, has been getting pretty familiar with the tennis court over the past year. (And not just during her mom's matches.)
"She likes it," Serena said in a recent interview with Yahoo Entertainment, adding, "She's good at twirling when she hits the ball."
While Serena hasn't shared a video of Olympia's go-to move on social media yet, she has posted some adorable photos of her daughter in action.
"Turn, back, reach, head, follow through," Serena wrote on one photo of Olympia putting in some hours at the tennis court.
It was actually the pandemic that prompted Olympia to start playing tennis. "Really, the reason I started getting her into tennis a lot is because it's the only thing we could do that's socially distant," Serena explained.
"It's been a year of having to be distant, so I'm like — we can't sit in a house all day with a 2-year-old, she was 2 at the time she started playing. We can't put her in soccer or any other stuff. So we were like, this makes a lot of sense."
While Olympia clearly has moves, her tennis playing is just for fun. Serena is letting Olympia write her own future: "Whatever she wants [to do]."
Whatever that is, Olympia will have the support of her mom and dad!
BuzzFeed Daily
Keep up with the latest daily buzz with the BuzzFeed Daily newsletter!
Paes eyeing French Open comeback in record eighth straight Olympics bid | Tennis News
KOLKATA: Indian tennis icon
Leander Paes
on Monday said he is eyeing a
French Open
comeback this year in his quest to make a record eighth appearance at the
Olympics
in
Tokyo
.
Paes, 47, said he skipped the
Australian Open
as he is apprehensive of playing in a bio-bubble but is looking ahead to the French Open.
"Playing sport in a bio-bubble is very tough and may not be the best thing to do. I got a grand farewell at the Australian Open last year so I felt this year I would be sitting out and watching," Paes said.
The Olympic bronze medallist in singles and multiple-time doubles Grand Slam winners was speaking during the launch of a cricket tournament named after his father Dr
Vece Paes
, a bronze winner at the 1972 Olympics.
"I hope that by the time of French Open, by the end of May, Europe will get to a better position than now."
On the Christmas Day of 2019, Paes had announced his "One Last Roar" tagline, calling 2020 to be his last season as a professional player, culminating with the Tokyo Games that was pushed back by a year due to the COVID-19 pandemic.
"It's my goal to represent India in the eighth successive Olympics. I'm keeping myself in good physical and mental fitness which is not easy being away for 11 months.
"I've been practising hard, putting in three hours everyday and I'm in the last 100m sprint of a long career.
Tokyo Olympics
is important to make sure India remains in the record," Paes said.
The Dr Vece Paes Cricket Cup will be held between CC&FC and Doctors' XI at CC&FC on Tuesday.
The doctors of Kolkata wish to make the 75th year of Dr Paes and his achievements a memorable annual event by organising a cricket match which will be played by Paes and former India all-rounder Irfan Pathan.
"I'm very emotional about CC&FC. As a young boy growing up, this very ground where I grew up, learnt leadership, sportsmanship and camaraderie.
"It's an honour to be your son. I've tried to run it and play the game of life as best as I could. I hope I have done you proud," the tennis great concluded.