Premier League chief warns clubs over virus protocols | Football News
LONDON:
Premier League
clubs must set an example in adhering to
coronavirus
protocols or risk sanctions, the league's chief executive has warned.
The English top-flight sent out new directives last week including demands that players tone down celebrations such as hugging after goals and avoid handshakes and swapping shirts.
Premier League chief executive Richard Masters followed that up with a letter to clubs on Tuesday, writing: "We are fortunate to be able to continue to play and bring our competition to fans at home and around the world.
"This brings justified additional scrutiny and the Premier League must take the lead in setting the right example to follow."
But despite the message, Manchester United players joyously celebrated Paul Pogba's goal in their 1-0 win over Burnley on Tuesday, which sent them three points clear at the top of the table.
United manager Ole Gunnar Solskjaer said afterwards: "We'll do our best to keep with the guidelines because we all want
football
to carry on safely."
English Football League (EFL) chief executive Trevor Birch has said the game will come under extreme government pressure to stop if clubs "continue to flout the rules" on limiting the spread of coronavirus.
And Britain's Press Association news agency reported on Wednesday that match officials would warn captains in a bid to stamp out goal celebrations.
Britain is battling a new, more transmissible strain of the virus that is spreading rapidly — authorities on Wednesday announced another 1,564 virus fatalities, a daily record
The Premier League has so far been forced to postpone far fewer matches than the EFL due to coronavirus infections. Only a handful of games have been called off compared to dozens outside the top flight.
However, there are doubts over Aston Villa's game with Everton this weekend, which has already been moved to Sunday from the original Saturday slot.
Villa were unable to fulfil Wednesday's league clash with Tottenham because several of their players and staff tested positive for coronavirus last week.
Tottenham instead played Fulham at short notice.
Masters admitted more postponements could be on the cards.
"It is already clear that we must do all we can to efficiently utilise all available calendar slots," he said, warning that clubs' requests for postponements would often be "at short notice".
It was announced later Wednesday that Southampton's postponed FA Cup third-round tie against Shrewsbury had been rescheduled for January 19, with next week's Premier League fixture at Leeds called off.
The cup game had been set for January 9, but was postponed because of a coronavirus outbreak at the League One club.
Elsewhere, Sheffield Wednesday's next two Championship games have been suspended after a
Covid-19
outbreak.
Early setbacks made him mentally tough, says Cheteshwar Pujara's father | Cricket News
NEW DELHI: India batsman Cheteshwar Pujara's mental toughness comes from the setbacks he got early in his life and the fact that he understood that only big, long knocks will matter if he has to make an impression from a small centre, says father
Arvind
Pujara.
The 32-year-old Pujara played a key role in helping India draw the third Test at Sydney and in Australia's defeat in the fourth and final Test at the Gabba, Brisbane. He faced 928 deliveries in all on this tour with 211 of those coming on the fifth day in Brisbane where he was hit on his body and head multiple times. Often he was seen grimacing in pain.
"He has scored a lot of runs staying at the crease in junior cricket. The more you practice and score runs, the more you get hit on the body. It is part and parcel of the game," says father Arvind Pujara, recalling a triple century (306) at the age of 13 he made against Baroda in an under-14 match at the Moti Bagh Stadium.
"It was a three-day game. He batted long for 306 runs and then fielded. The more you practice, the more you will get hit by the ball. He got used to it. He has been playing consistently. In junior cricket, he has made 5,000 runs. In that also, you get hit. You don't get hit this much, but you do. He developed toughness because of that," Arvind told IANS on Wednesday.
There were other incidents early in life that taught Pujara how to weather storms.
When he was 18, Cheteshwar was returning home in Rajkot after playing a match in Bhavnagar. He reached home to find that his mother was no more.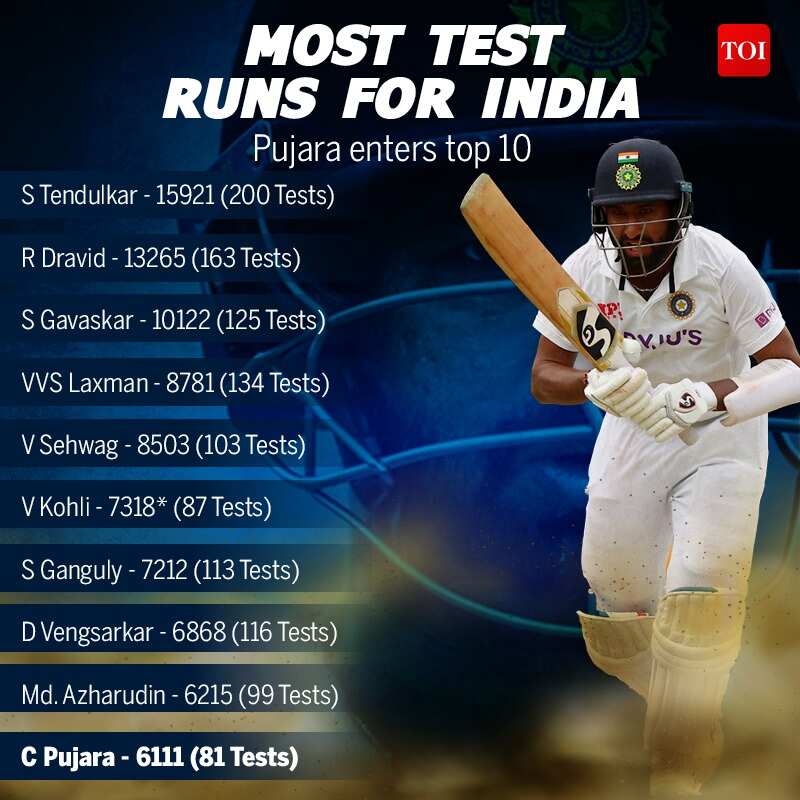 "When he left Bhavnagar, he spoke to his mother on the phone. But when he reached Rajkot at 7 pm, he found his mother expired. He controlled himself remarkably. His life has been challenging," recalls Arvind.
"Then he broke his ACL (anterior cruciate ligament, which stabilises knee joint by connecting thighbone to shinbone) twice during IPL (left leg in 2009 with KKR and right leg in 2011 with RCB). It took away a couple of years of cricket from him. What is worse, when he was under rehab the second time (for ACL injury) in Bangalore, I suffered a heart attack. All these setbacks have made him mentally tough," added Arvind as he waited for his son to reach Rajkot.
There has been criticism that Pujara isn't athletic and can't run. "People don't know what breaking an ACL means. It can finish one's career."
Pujara senior added that he had drilled in his son the need to score big to get noticed out of a small town and that could happen only if he played straight and proper cricket shots.
"When you come from a small centre, you have no value if you score 50. But if you score 100, then only people talk about you. You have to get extraordinary scores to play at the top. If you don't play with a straight bat, you will struggle and get out. You will not get a chance."
There will be no celebrations on his arrival. The biggest concern for the family would be to get him treated for any injury he might have suffered after the blows on the fifth day, especially by Pat Cummins.
"We don't know yet how he is. Just spoke to him on the phone. So we don't know how he is feeling. We will have to get him treated if he is injured. He has the England series coming up," added Arvind.
Newport keeper Tom King sets world record with goal from 96 metres out | Football News
When
Newport County goalkeeper Tom King
took a goal kick in a League Two game at
Cheltenham
Town on Tuesday, little did he know he would be writing his name into the
Guinness World Records book
for the longest goal ever scored.
At 0-0 in the 12th minute, King placed the ball inside his six-yard box and launched it so far upfield that it bounced a few yards outside the opposition box before the wind picked it up and over the helpless Joshua Griffiths in Cheltenham's goal.
Guinness World Records ratified the record on Thursday, with his 105 yards (96.01 m) goal breaking the record previously set by former Stoke City goalkeeper
Asmir Begovic
, whose clearance from inside his own box found the
Southampton
net in 2013.
"I'm absolutely delighted because it's not something that I intentionally set out to do," King said on the club's website. "I'm sure it will be talked about for a long time to come, so I'm proud and I'm sure my family will be extremely proud too.
🏅Goalkeeper Tom King has etched his name into the @GWR following his goal, which covered a distance of 96.01m, agai… https://t.co/61X8HXlIU0

— Newport County AFC (@NewportCounty) 1611234409000
"I'll have to drop Asmir a message to send my commiserations… It's different territory for me because I never dreamt of being in the books that you get for Christmas every year.
"Hopefully I might actually read it if I get one for Christmas this year. I'm delighted and hopefully no one beats it for a long time now so I can show my grandkids."
of the castle👑 #OneClubOneCountyhttps://t.co/LJA2I2Bo0X

— Newport County AFC (@NewportCounty) 1611094298000
However, King refused to celebrate the goal out of respect for his Cheltenham counterpart even though it was the first goal he had ever scored as a professional.
"I didn't even know how to celebrate really and I apologised to the other goalkeeper after the game… It's not nice to be on the other end of it," he said.
Natarajan receives 'hero's welcome' at native village Salem | Cricket News
SALEM (Tamil Nadu): After winning the
Border-Gavaskar Trophy
, most of the Indian stars landed in the country on Thursday and every star continues to be welcomed with open arms. Pacer
T Natarajan
was no exception and he received a hero's welcome at his native village in Salem.
Natarajan had made his Test debut during the fourth match against Australia at the Gabba and he even went on to take three wickets in the first innings.
Upon reaching his native village Salem, Natarajan was welcomed with 'dhols' and shehnais. The Indian pacer was surrounded by a huge crowd and he then stepped onto a chariot.
People did not stop there and he was escorted by a huge crowd and the Indian pacer basked in the much-deserved glory.
As India won the Border-Gavaskar Trophy against Australia 2-1 on Tuesday, pacer T Natarajan had said that playing Test cricket for the country was always his dream.
"The last couple of months have been surreal. My time with #TeamIndia has been the best of my life. Playing Test cricket for India was a dream. We have overcome many hurdles on this tour to win this series. Overwhelmed with your support," Natarajan tweeted.
The last couple of months have been surreal. My time with #TeamIndia has been the best of my life. Playing Test cri… https://t.co/3eoGVVb3to

— Natarajan (@Natarajan_91) 1611066922000
Natarajan was chosen as a net bowler for the Australia series, but the left-armer went on to represent the country in all three formats of the game. In his debut Test, Natarajan also went on to take three wickets, including the likes of Marnus Labuschagne and Matthew Wade in the first innings.
The last time a visiting team came out triumphant from the Brisbane Cricket Ground was back in November 1988 when the mighty West Indian outfit under the leadership of Viv Richards thrashed Allan Border's team by 9 wickets.
Virat Kohli had also returned home after the first Test as he along with wife Anushka Sharma were expecting the birth of their first child. Kohli announced that they have been blessed with a baby girl on the very day when the Indian team played out of its skin to draw the third Test at the Sydney Cricket Ground.
In the first Test against Australia, India was bundled out for 36 and there were many pundits who said the visiting team will face a 4-0 drubbing. But proving every critic wrong, the Ajinkya Rahane-led side registered famous victories at Melbourne and Brisbane. The side also recorded a famous draw at Sydney and at every step of the way, this line-up overcame adversity.