'Overworked' Jasprit Bumrah should be given a breather during England series, feels Gautam Gambhir | Cricket News
NEW DELHI: Former opener
Gautam Gambhir
believes the Indian team management needs to take good care of its pace spearhead
Jasprit Bumrah
and if required, the right-arm pacer should be given a break during the upcoming home series against England.
On the road for nearly five months since this year's IPL, Bumrah has finally succumbed to the rigours of non-stop international
cricket
as he has been ruled out of the series-deciding fourth and final Test against Australia in Brisbane after suffering an abdominal strain during the preceding match in Sydney.
And Gambhir feels it would be unfair to force Bumrah to play in all the matches against England, starting February 5 in Chennai.
"… you got to look after him (Bumrah) as well, because he is going to be the leader of the attack for a very long time, so him being fit is very important," the World Cup-winning left-handed batsman told Star Sports.
"So when India plays England in the 4-Test match series…I know, yes, Mohd Shami is unfit, Ishant Sharma is unfit, Umesh Yadav is unfit but you can't afford to play Jasprit Bumrah in all the 4 Test matches, it will be very unfair on him," he added.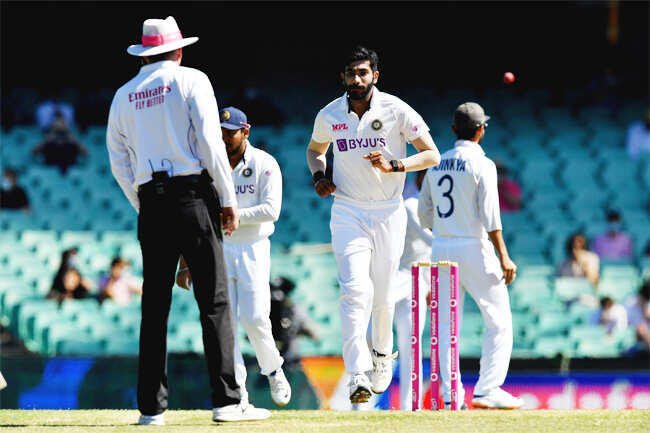 Gambhir, however, feels Bumrah will be more menacing in Indian conditions. "See again, he (Bumrah) hasn't played a Test match in India till now, Has he? He hasn't. So, I'm sure the Indian team management has looked after Jasprit Bumrah reasonably well. They have actually used him in places like England, South Africa and Australia, where he has got to be even more threatening.
"I'm not saying he is not going to be threatening in India. He is going to be even more threatening in India, where wickets can get low and slow and he can reverse the ball really well," he said.
The former cricketer-turned-politician said Bumrah is a quality and dangerous bowler, who is threat for any batsmen at any given time of a match.
Paes eyeing French Open comeback in record eighth straight Olympics bid | Tennis News
KOLKATA: Indian tennis icon
Leander Paes
on Monday said he is eyeing a
French Open
comeback this year in his quest to make a record eighth appearance at the
Olympics
in
Tokyo
.
Paes, 47, said he skipped the
Australian Open
as he is apprehensive of playing in a bio-bubble but is looking ahead to the French Open.
"Playing sport in a bio-bubble is very tough and may not be the best thing to do. I got a grand farewell at the Australian Open last year so I felt this year I would be sitting out and watching," Paes said.
The Olympic bronze medallist in singles and multiple-time doubles Grand Slam winners was speaking during the launch of a cricket tournament named after his father Dr
Vece Paes
, a bronze winner at the 1972 Olympics.
"I hope that by the time of French Open, by the end of May, Europe will get to a better position than now."
On the Christmas Day of 2019, Paes had announced his "One Last Roar" tagline, calling 2020 to be his last season as a professional player, culminating with the Tokyo Games that was pushed back by a year due to the COVID-19 pandemic.
"It's my goal to represent India in the eighth successive Olympics. I'm keeping myself in good physical and mental fitness which is not easy being away for 11 months.
"I've been practising hard, putting in three hours everyday and I'm in the last 100m sprint of a long career.
Tokyo Olympics
is important to make sure India remains in the record," Paes said.
The Dr Vece Paes Cricket Cup will be held between CC&FC and Doctors' XI at CC&FC on Tuesday.
The doctors of Kolkata wish to make the 75th year of Dr Paes and his achievements a memorable annual event by organising a cricket match which will be played by Paes and former India all-rounder Irfan Pathan.
"I'm very emotional about CC&FC. As a young boy growing up, this very ground where I grew up, learnt leadership, sportsmanship and camaraderie.
"It's an honour to be your son. I've tried to run it and play the game of life as best as I could. I hope I have done you proud," the tennis great concluded.
Olympics would be 'extremely difficult' for unvaccinated athletes: France | Tokyo Olympics News
PARIS: Athletes who have not been vaccinated against Covid-19 would face "extremely difficult" conditions at the
Tokyo Games
this summer, the president of the
French National Olympic Committee
(CNOSF) said on Monday.
Unvaccinated athletes who go to the Games in Japan face "quarantine of a fortnight" and "will have to undergo tests in the mornings and evenings," Denis Masseglia warned.
The issue of
vaccination
of athletes for the
Tokyo Olympics
, postponed last year because of the pandemic, is to be discussed Wednesday at a meeting of the
International Olympic Committee
(
IOC
) Executive Committee.
The IOC officially encourages the vaccination of athletes but says it cannot impose it.
Masseglia said there was no choice. In a video press conference, he said that "holding the Games is at stake".
"We are not alone," he said. "For our Japanese friends to receive athletes and accredited people from all over the world requires some precautions."
He said that the difficulties they would face could have "a dissuasive effect" for athletes who did not want to be vaccinated.
Masseglia said he spoke to IOC president
Thomas Bach
last week.
In France, nearly a million priority people have been vaccinated, but the pace of vaccination is extremely varied around the world. Some countries, including Japan, have not started yet.
The issue of vaccination of athletes also raises an ethical problem.
"It's out of the question that athletes should be given priority over other categories of population, but between now and the Games we can assume that it is possible to have them vaccinated without penalising other people," Masseglia said.
"I have taken a position in favour of vaccination, I hope that all French athletes will share this perspective," he added.
AFC cancels, postpones tournaments; India's schedule also affected | Football News
KUALA LUMPUR: The
Asian Football Confederation
(
AFC
) on Monday decided to either cancel or postpone a number of its competitions, also featuring India, keeping in mind the safety of all stakeholders amid the COVID-19 pandemic.
The Indian team was to take part in the next AFC U-16 Championships, which was slated to be held in 2021 after being rescheduled twice last year. A total of 16 teams were to play in the tournament.
"In line with FIFA's decision to cancel the FIFA U-17 and U-20 World Cups in 2021 and taking into consideration the safety and health of Asia's youth players, the AFC has reluctantly decided to cancel the
AFC U-16 Championship
Bahrain 2020 and the
AFC U-19 Championship
Uzbekistan 2020," the continental football body said in a release.
The AFC said the next editions of both the competitions will be allocated to the same hosts in 2023.
The U-16 tournament was originally scheduled between September 16 and October 3, 2020, and then rescheduled between November 25 and December 12, 2020. It was later announced that the tournament would be postponed to early 2021 due to the pandemic.
AFC general secretary Dato' Windsor John said: "We are grateful for the support of the hosts for these competitions who agreed with the AFC the need to safeguard the interests of all stakeholders during this time of uncertainty and taking into consideration the risks of the current pandemic."
The AFC also cancelled its Futsal Championship Kuwait 2020 and the AFC Beach Soccer Asian Cup Thailand 2021.
Both the Kuwait Football Association and the Football Association of Thailand will host the next editions. Kuwait will stage the AFC Futsal Asian Cup 2022 and Thailand, the AFC Beach Soccer Asian Cup 2023.
The AFC has also decided to reschedule the qualifying rounds for the U20 Women's Asian Cup 2022 and U-17 Women's Asian Cup 2022.