Opportunity knocks for Atletico Madrid to make title statement against Barcelona | Football News
MADRID:
Atletico Madrid
's
La Liga
challenge will not succeed or fail on Saturday but end a decade-long drought by beating
Barcelona
and they could justifiably become favourites for the title.
A first league victory over Barca since 2010 would put Atletico nine points clear of their opponents and extend an impressive unbeaten run in the league to 24 matches.
They have played seven games so far this season, scoring 17 goals while conceding only two.
A convincing start, spearheaded by a flourishing Joao Felix and the invigorated Luis Suarez, has generated optimism but a real sense of opportunity has sprouted from the imperfections of their rivals.
Real Madrid have already lost twice, with Zinedine Zidane under pressure and all the guile and resilience that won them the title in July seemingly now absent four months later.
Barcelona are trying to begin again under Ronald Koeman but the teething problems that have them sitting eighth ahead of the trip to the Wanda Metropolitano are unlikely to be resolved soon, particularly with the upheaval of presidential elections to come in January.
Two teams at what feels like the end of two hugely successful cycles has created an opening for Atletico, whose own transition should be further along after their new crop proved raw last season but looks readier to capitalise this term.
The most obvious example of maturity is Felix, the 21-year-old who struggled to live up to expectations in his first year but has arguably been La Liga's most influential player at this early stage of his second.
It is a great pity that Suarez, infected by coronavirus, will not face Barcelona, the club that so clumsily cast him aside in the summer.
But if Atletico are to win the title this season, it is likely to be with Felix as the driving force.
The Portuguese has already equalled the nine goals and assists he managed last season, with his instinctive, creative talents helping to unlock Atletico's previously stodgy attack.
"He's always had great moments for us but what he has now is consistency," said coach Diego Simeone last month. "It's a big year for him and hopefully he'll keep getting better."
Felix's next challenge is to define games like this one and to give Simeone's side even just a taste of the lethal touch in this fixture that Lionel Messi has given Barcelona.
Simeone was left applauding when Messi's superb strike into the corner decided the contest at the Wanda Metropolitano last year, his 31st goal in 40 games against Atletico.
Messi is the thorn in Simeone's side but the 33-year-old has not been his scintillating self in recent weeks, still weighed down perhaps by his blocked attempt to leave last summer.
There could be a lack of freshness in his legs too this weekend, given the Argentinian only finished playing 90 minutes against Peru in the early hours of Wednesday morning.
Barca will also be missing Ansu Fati and Sergio Busquets, both of them injured.
Even without Suarez, Atletico may feel then like the time is now to overcome their Catalan jinx, with the reward in the table potentially significant if a depleted Real Madrid also stumble away at Villarreal a few hours earlier.
Madrid's defensive problems will not be helped by injuries to Sergio Ramos and Raphael Varane while Villarreal are flying high in second, following four victories on the bounce.
But the benefits to Atletico in terms of belief could be even more valuable than places jumped or gaps extended, with major rivals vulnerable and a league title there for taking.
Man who provided Dhoni first turf pitch to play in Ranchi dead | Off the field News
NEW DELHI:
Deval Sahay
, a mentor of
cricket
icon
Mahendra Singh Dhoni
and credited with preparing the first turf pitches in Ranchi, passed away in the early hours of Tuesday in a hospital following multi-organ failure, mainly issues related to lungs.
Sahay was 73, and is survived by his wife Meena, daughter Priyanka, and son Abhinav Akash Sahay.
His funeral took place at 2.30 pm on Tuesday in Ranchi, and was attended by present and former players along with officials of the
Jharkhand State Cricket Association
(JSCA), the Ranchi District Cricket Association (RDCA), Central Coalfields Limited (CCL), Central Mine Planning and Design Institute Limited (CMPDIL), and Metallurgical and Engineering Consultants (India) Limited (MECON).
Sahay, an electrical engineer, had worked at all three companies. After serving MECON as chief engineer, he joined CMPDIL as General Manager, and then switched to CCL as Director (Personnel), from where he retired.
Sahay, whose first name was Deobrat but was popularly known as Deval, was admitted to Jagannath Hospital due to lung and breathing problems; besides, he had Parkinson's too. Then, when he contracted
Coronavirus
in Jagannath Hospital he was shifted to Medica Speciality Hospital. He was discharged on October 9.
"After spending about 10 days at home, he was again admitted to Medica after he developed complications. And today at around 3 am he passed away," Abhinav Sahay told IANS from Ranchi. Priyanka, who lives in America, is in Ranchi these days.
Sahay was instrumental in preparing first turf pitches in Ranchi, first at MECON – where Dhoni's father also worked — and then at CCL.
While he was at CCL, Sahay hired a young Dhoni on stipend in 1997-98, after he had registered with the Research and Development (SAIL), and provided him the first opportunity to play on turf pitches.
Sahay's character has been portrayed in Dhoni's biographical film, 'M.S. Dhoni: The Untold Story'.
Adil Hussain, a former Bihar Ranji captain and under whom Dhoni played for CCL on stipend, said he was probably the closest to Sahay.
"He treated me like a son, and he was like my guardian. He was a true sports administrator. I never saw him enjoying his [top] positions; rather, he always worked for players, be it preparing turf pitches or something else. The reason he thought of preparing turf pitches was because he observed that Ranchi cricketers weren't able to go far, like playing in
Ranji Trophy
or represent the state. Due to the absence of turf pitches in Ranchi, our players weren't able to perform when they would play on the turf pitches elsewhere," Hussain told IANS.
Hussain, who played 24 Ranji Trophy matches between 1987-88 and 1995-96, pointed out that when the layout of a small stadium was being made in the MECON employees' colony in Ranchi, Sahay ensured turf pitches were prepared there on which Ranji Trophy matches were played later.
"The result was that every year three-four Ranchi-based players were picked in the Bihar Ranji team [before Jharkhand was formed in November 2000], and one of them is legendary Dhoni. He also hired players on stipend for MECON, and later for CCL. His contribution to Ranchi is unparalleled and unmatched," he said.
Sahay would enter various Ranchi-based teams in the Sheesh Mahal Tournament, an annual summer fixture played in Lucknow. That also provided varied exposure to players and that benefitted them immensely.
Former Ranchi cricket secretary Sunil Singh said that Sahay was made for cricket and was always available for it.
"Even while holding big posts, he was always present on the field. His biggest contribution was the appointment/job that he provided to cricketers in whichever company/department he worked with. His other major contribution was developing infrastructure at a time when cricket was played on matting wickets in Ranchi. He developed turf pitches, and provided those to players like Dhoni to play on. He, in fact, made a big contribution to the entire [Bihar/Jharkhand] state, not just in Ranchi," Singh told IANS.
When Sahay was the working president of the Ranchi district association, for about 10 years, he was chairman of the selection committee as well. "I was the association secretary [from 1995-2013] and convenor of the selection committee, and Dhoni was first selected for the district in 1997 during his chairmanship. Deval da was a cricket institution in himself," said Singh, who was also district convenor at the JSCA.
ISL: Anirudh Thapa's Indian feat in Chennaiyin FC's winning start | Football News
Chennaiyin FC
have always shown confidence in their Indian youngsters. And, at Tilak Maidan in Vasco on Tuesday, that confidence reaped dividends in a 2-1 winning start against
Jamshedpur FC
where 22-year-old
Anirudh Thapa
scored the first goal by an Indian player, and the fastest so far, of the
Indian Super League
season.
The 52nd second strike was the mastermind of Rafael Crivellaro coupled with the quick run and cross from the wings by Esmael Goncalves to Player-of-the-Match Thapa who was at the right place in the box to guide it past Jamshedpur FC keeper TP Rehenesh.
It was just the beginning of an open encounter with Owen Coyle's Jamshedpur searching for an equaliser and his former wards in Chennaiyin looking for the second. Brazilian Crivellaro kept creating chances and finding the gaps for Csaba Lzaslo's Chennaiyin, whose defenders kept foiling the optimistic attacks from JFC.
In the end-to-end early action,
Peter Hartley
missed on his first
ISL
goal and the equaliser in the 7th minute with a misdirected header to a perfect Jackichand cross with only CFC keeper Vishal Keith to beat.
The story repeated at the other end with, first Goncalves in the 10th and then Thapa on the 20th minute failing to take advantage of the defensive errors by JFC and the dream chances created by Crivellano.
The scoreline finally changed in the 26th minute in favour of Chennaiyin. Isaac Vanmalsawma' soft foul on Thapa inside the box earned Lzaslo's team a penalty and Bissau-Guinean Gonclaves made no mistake in sending Rehenesh the wrong way and putting the ball in.
While the high line of defence from JFC kept hurting the team, there was optimism in attack with Jackichand, who had the most successful assists last season, carrying his form from the last edition.
The young playmaker's effort was finally converted by none other than last season's Golden Boot winner
Nerijus Valskis
with the perfect header to an inch-perfect cross in the 37th minute.
While Chennaiyin remained the more dominant team in an attacking encounter and confidently countered whenever JFC attacked, another goal stayed elusive to them. There was, however, no way JFC could deny CFC a winning start and the full three points.
Quarantine rules in Australia, decision to send Rohit Sharma back to NCA in focus as time runs out for Tests | Cricket News
NEW DELHI: After a month's uncertainty over his fitness status, it has emerged
Rohit Sharma
may struggle to make it to Australia for the full Test series.
Ishant Sharma
too could miss out on the series. TOI had reported on Tuesday that the Indian team management is already looking to retain a player from the white-ball squad to cover for Rohit's probable absence.
Rohit playing the IPL playoffs for
Mumbai Indians
and then not boarding the flight to Australia for the full tour raised a lot of eyebrows. The Indian cricket board (BCCI) claimed he will join the squad for the Test series that starts on Dec 17 and Rohit was advised to rehab along with Ishant at the
National Cricket Academy
(NCA) in Bengaluru. The NCA now reckons that the duo will need at least three weeks to be Test-match fit. The entire Rohit saga points towards a lack of communication.
The major challenge currently facing Rohit and the Indian team management is the quarantine rules in Australia. Since both Ishant and Rohit will have to take commercial flights to Australia, they will have to undergo a strict two-week quarantine in their hotel rooms. Unlike the Indian team, which reached Australia in a bubble from Dubai, the duo will not be allowed to even train. This could also mean that the duo may even miss the entire series.
The question that has cropped up now is if the board was aware of the government protocols in Australia, why was Rohit sent back to India from Dubai? Things become all the more confusing since the team management decided to carry Wriddhiman Saha who had missed the business end of the IPL because of injured hamstrings.
Even if Rohit and Ishant were undergoing rehab at NCA, was it not possible to send both the players to Australia and let Team India physio Nitin Patel look after them there? It may be recalled that BCCI had stated on Nov 9 that Rohit's addition to the Test squad was done after consulting with Rohit.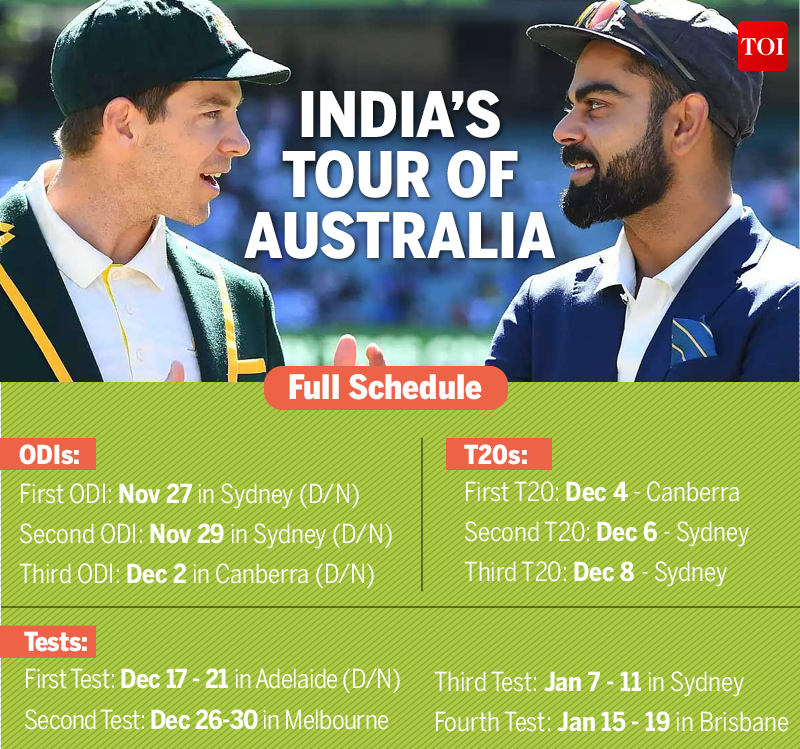 BCCI, it may be noted, boasts of a professional set-up which includes top professionals at NCA, Team India support staff and an experienced operations team. The NCA, under Rahul Dravid, is very clear that it will not declare any player fit for international cricket unless he clears all the mandatory tests. Ishant's breakdown after the first Test in New Zealand has already made the team management very cautious about the veteran fast bowler.