Online shoppers fail to get parcels but struggle to get refund | Online shopping
Black Friday shoppers and anyone gearing up for an online Christmas should beware: Guardian Money has seen a big jump in complaints from people who bought expensive items online that failed to arrive as planned. But rather than refunding the buyer as they should, retailers have been claiming that parcels were delivered and it is therefore "not their problem".
Back in March, couriers suspended the need for items to be signed for to allow drivers to make contact-free deliveries. But the policy appears to have led to a spate of thefts and misdirected parcels.
Some customers have been sent photos of their items on other people's doorsteps, while others have been unable to track down their purchases.
Ashleigh Carter from south London has been battling with the online fashion retailer Asos after its courier, DPD, delivered her £200 order to a neighbour in Streatham.
"I am staying with family up in Scotland but the order got accidentally processed to my billing address. When I got the text from DPD I spotted the address was incorrect. I got in touch with Asos. However, I knew that it wouldn't be an issue as there is no one at my billing address, so the goods wouldn't be able to be delivered."
The long-standing Asos Premier customer says at no stage did she give permission for the courier to deliver the item to a neighbour, or anyone else, but it did it anyway.
"Since then, I have spent weeks going back and forth with Asos on email and via chat," she says. "Their position is that because DPD delivered it they can't provide me with a refund, even though they didn't deliver it to me." Carter still does not know the whereabouts of her parcel. After Guardian Money intervened, Asos refunded Carter her £200 as a "gesture of goodwill".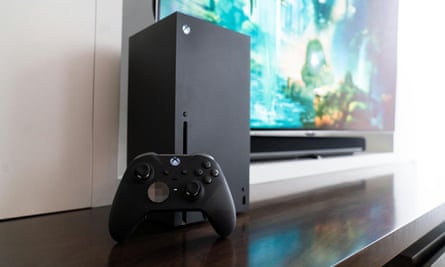 Steven Brown failed to get the Xbox Series X games console he had ordered.

Photograph: Red Robots Mediagrab/Reuters
Steven Brown* was £450 out of pocket after his Xbox Series X games console failed to arrive at his rural Surrey home.
"I watched on the Amazon app as tracking showed the driver getting close. I live in a house on a hill, with a 50-metre driveway with electric gates on a very quiet unmade lane. At no stage did the gate buzzer go or did the driver attempt to deliver the item. Instead, I received a notification that it had been delivered. I ran down to the gates to find no delivery and no delivery van. I immediately messaged all my neighbours but none had taken delivery of my item."
Again, the item was supposed to have been signed for but Amazon told Brown, a Prime customer of more than eight years, that having checked the delivery details it would not "provide a replacement or refund for this order at this time".
An Amazon spokesperson said: "We have very high standards for our delivery service providers and how they serve customers. We've notified the right teams internally and are working with the customer directly on matters related to their delivery."
Only after Brown had repeatedly complained and contacted the police did Amazon relent. However, his refund was conditional, he says, on him signing an affidavit confirming that he did not know the whereabouts of the parcel.
* Not his real name
Your rights if you do not receive a parcel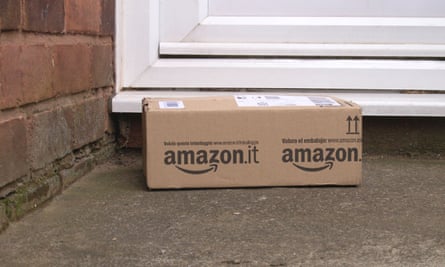 What happens if your parcels are left at an address not specified by you?

Photograph: ATStockFoto/Alamy
Despite what retailers have been telling wronged customers, the law is clear. If your delivery is left somewhere – such as on your doorstep without your permission to do so – and it is then stolen, the retailer (not the courier firm) is in breach of contract and it needs to replace and redeliver your item or give you a refund.
The consumer group Which? says while the retailer may say the goods were taken to the address specified by you, you should argue in return that this means handing it over to you – or to someone else at the address – rather than just leaving it on the doorstep.
If you gave specific delivery instructions – to leave the item in the shed or with a neighbour – you will have a trickier time. In that case the retailer can claim your delivery was performed as agreed. Which? says consumers should think carefully before offering such terms as it greatly weakens their position.
If you have bought a high-value item such as a mobile phone, and you are in, it is always worth asking the courier to wait while you quickly open the package and make sure the item that has been delivered is exactly as expected. Too many people have opened the item to find their shiny new handset was stolen en route and replaced with an older model of roughly the same weight.
5 things to know before the stock market opens November 30, 2020
Moderna Covid vaccine is 94.1% effective, plans to apply for emergency OK Monday
Moderna said Monday it will request emergency clearance from the Food and Drug Administration for its coronavirus vaccine after new data confirms the vaccine is more than 94% effective in preventing Covid-19 and was safe.
Moderna is the second drugmaker to seek emergency use from the FDA after Pfizer, another front-runner in the Covid-19 vaccine race, applied for the same authorization on Nov. 20. The announcement means some Americans could get the first doses of Moderna's two-dose vaccine within a few weeks.
The new analysis from Moderna evaluated 196 confirmed Covid infections among the late-stage trial's 30,000 participants. The company said 185 cases of Covid were observed in the placebo group versus 11 cases observed in the group that received its vaccine. That resulted in an estimated vaccine efficacy of 94.1%, the company said.
The company released Nov. 16 an early analysis of its phase three trial based on just 95 Covid-19 cases that showed its vaccine was at least 94% effective. Monday's data provides a more complete picture of the vaccine's effectiveness.
It also appears to prevent volunteers from getting severely sick from the virus. Of the 30 severe cases of Covid-19 in the trial, none were in the group that received the vaccine, Moderna said. Additionally, there was one Covid-19 related death in the study that occurred in the placebo group, according to the company.
Shares of Moderna were up more than 12% in premarket trading Monday.
"This positive primary analysis confirms the ability of our vaccine to prevent COVID-19 disease with 94.1% efficacy and importantly, the ability to prevent severe COVID-19 disease. We believe that our vaccine will provide a new and powerful tool that may change the course of this pandemic and help prevent severe disease, hospitalizations and death," Moderna CEO Stephane Bancel said in a statement.
Moderna said the vaccine's effectiveness was consistent across age, race and gender. The 196 confirmed cases included 33 adults over the age of 65 and 42 people from Black, Latino and other "diverse" communities. The vaccine was also well tolerated with the most common side effects being fatigue, muscle pain, headache and pain at the injection site, the company said.
Moderna's results come as drugmakers and public health officials race to deliver a safe and effective vaccine to help bring an end to the pandemic, which has killed at least 1.45 million people worldwide as of Sunday evening, according to data compiled by Johns Hopkins University. A vaccine is also seen by investors as a way to get the global economy back on track after the virus wreaked havoc on nearly every country. 
The FDA's review of Moderna's vaccine is expected to take a few weeks. The agency will likely schedule an advisory committee meeting to review the vaccine on Dec. 17, Moderna said. It has already initiated rolling submissions with several regulatory agencies around the world, including the European Medicines Agency.
Federal agencies are already sending vaccination plans around to staff. Five agencies have started telling employees they could receive Pfizer's or Moderna's Covid-19 vaccine in as little as eight weeks, a person with firsthand knowledge of those plans told CNBC on Nov. 20.
Health and Human Services Secretary Alex Azar told CNBC on Nov. 16 that the FDA would move "as quickly as possible" to clear Pfizer's and Moderna's vaccines for emergency use. Between Moderna and Pfizer, Azar told CNBC there will be roughly 40 million doses of vaccine available by the end of this year, enough to inoculate about 20 million people since both vaccines require two shots, he said at the time.
Moderna's initial results released earlier this month were based on the first interim efficacy analysis conducted by an external and independent data monitoring committee from the phase three clinical trial. The independent group of experts oversees U.S. clinical trials to ensure the safety of participants.
Public health officials and medical experts note it remains unclear how long the vaccines will provide immunity and whether or how often people may need periodic booster shots. Moderna's vaccine, like Pfizer's, uses messenger RNA, or mRNA, technology. It's a new approach to vaccines that uses genetic material to provoke an immune response.
Cambridge, Massachusetts-based Moderna has said its vaccine remains stable at 36 to 46 degrees Fahrenheit, the temperature of a standard home or medical refrigerator, for up to 30 days. It can be stored for up to six months at negative 4 degrees Fahrenheit. By comparison, Pfizer's vaccine requires a storage temperature of minus 94 degrees Fahrenheit.
Moderna told investors on Oct. 29 that it was "actively preparing" for the global launch of its potential vaccine after completing enrollment in its late-stage trial a week earlier. In August, Moderna said it was charging between $32 and $37 per dose for its vaccine for some customers, under cheaper "pandemic pricing." The company said it was in discussion for larger volume agreements that will have a lower price.
This is a developing story. Please check back for updates.
Small business confidence hits all-time low after Biden election
Small business confidence has fallen to an all-time low after the election of former Vice President Joseph Biden, according to the Q4 CNBC|SurveyMonkey Small Business Survey.
With a confidence index reading of 48, Main Street's outlook is now below where it was during the second quarter of this year (49), when lockdowns across the nation were increasing amid the first wave of Covid-19. That Q2 number had been the all-time low previous to the just-completed survey, conducted Nov. 10 to Nov. 17 among more than 2,200 small business owners nationally, using the SurveyMonkey platform.
Since CNBC began conducting the survey in 2017, the confidence index reached as high as 62, and had never dipped below the mark of 50 until 2020. While another surge in coronavirus cases continues to hit Main Streets across the nation, and a lack of progress on stimulus talks in Washington, D.C. exacerbates the issues faced by small business owners, key questions in the confidence index relate to the Main Street outlook on taxes and regulation, and the responses from small business owners are skewed heavily by their political leanings — the small business demographic overall has a conservative skew. According to SurveyMonkey, approximately 60% of small business owners identify as Republicans.
Fifty-three percent of small business owners said they expect tax policy to have a negative impact on their business in the next 12 months, while 49% said government regulation will have a negative impact. By party affiliation, the divide is stark. Among Republicans, 75% said tax policy will be a negative and 72% said regulations will be a negative. Those numbers drop to 15% (taxes) and 11% (regulations) among Democrats. These are the highest percentages recorded for the "negative impact" response in the four years of the survey.
Politics and small business
"The immediate shift in forward-looking sentiment that small business owners reported following the election reveals how deeply politics has become embedded in the public's assessment of the economy, and in particular how divided the country is," said Laura Wronski, research science manager at SurveyMonkey. "We've seen evidence of that every quarter, with Republican small business owners consistently reporting a higher degree of confidence than Democrats, but the election of Joe Biden is the first opportunity we've had to see whether that would flip if presidential power changed parties — and it did dramatically."
Among Republican respondents, the small business confidence index score fell from 57 in the third quarter to 42; among Democrats, confidence jumped from 46 to 58. The lowest previous confidence reading from Republican business owners was in Q2 2020, at 54.
We've seen evidence of that every quarter, with Republican small business owners consistently reporting a higher degree of confidence than Democrats, but the election of Joe Biden is the first opportunity we've had to see whether that would flip if presidential power changed parties — and it did dramatically.
Laura Wronski, SurveyMonkey research science manager
Overall, the survey finds 34% of small business owners saying Joe Biden will be good for small business, while 55% say he will be bad for small business. By party, 89% of Republican small business owners say Biden will be bad for business, while 86% of Democrats say he will be good for Main Street.
Wronski noted that part of the small business confidence being measured every quarter is owners' assessments of what things will look like a year from now based on policy changes made at the federal level, and those questions are subject to a lot of uncertainty in any immediate post-election period, before the new administration takes power and before their policy agenda is fully fleshed out.
"We don't yet know how Biden will work with Republican leaders to carry out his agenda, and we don't even know what his specific policy proposals will be yet, so we're really in wait-and-see mode, and that lack of certainty is always a tricky situation for small business owners to operate in," she said.
Divided government can be good for Main Street
With the Senate races in Georgia still to be decided in January — and control of the Senate up for grabs — it remains to be seen how much political capital the Democratic Party will have even with the White House won. The stock market has continued to rally based on a belief that divided government is good for corporations, and will limit a President Biden's ability to repeal Trump tax cuts. Small business experts and owners say there is reason to believe Main Street also will perform well under a divided federal government.
"If we do indeed end up with a Republican-controlled Senate, many feel that this is a win-win scenario," said Tony Nitti, a federal tax partner at RubinBrown, who works with many entrepreneurs. "Clients viewed the election as a bit of a 'Sophie's Choice': they preferred the stability and potential pandemic response of a Biden presidency, but wanted the tax regime of a Trump second term. With these results, there's a bit of a 'best of both worlds' feel," Nitti said, explaining that a Biden administration may address the pandemic in a more thoughtful and resolute manner, and that the Republican controlled Senate will keep any significant tax increases in check.
"In a divided government scenario, and the way things are shaping up in the House, it will be very difficult to raise taxes, and especially so on small businesses," said Karen Kerrigan, president and CEO of trade group Small Business & Entrepreneurship Council. "The House margins will be so tight with respect to majority control."     
Kerrigan noted that during much of the Obama presidency, the environment was one of divided government and it was one in which capital access increased for small businesses. "The Great Recession created opportunities for bipartisan collaboration, and one of those areas impacted was access to capital and the need to boost new business creation given the fact that more firms were closing than starting. The Obama Administration took an early interest and lead in making investment crowdfunding legal, along with other key elements of the Jumpstart our Businesses Act (JOBS Act), which has had a positive impact on capital markets to this day," she said.
Kerrigan said small business owners are busy people, and unlike Wall Street, they do not necessarily follow the nuances of divided government. "During the campaign, they read or heard about Biden policies that could impact their business, from taxes to workplace regulation and more, and remain concerned about possible new costs on top of their current challenges. It is not surprising that their confidence in the immediate aftermath of the election has dropped," she added.
But she expects the confidence gap to narrow, though it will take time, as more conservative business owners are able to absorb and process information about the new political reality and see that the actions taken by a divided government which do not reflect some of the more "intrusive policies" outlined in the Biden agenda.
Ravin Gandhi, founder and CEO of Chicago-based housewares manufacturing company GMM Nonstick Coatings said he is encouraged by the outlook. Infrastructure and a Covid-relief stimulus bill are both bipartisan needs, while taxes will likely remain lower on business, which will be helpful as the economy struggles to recover from the pandemic. He said the fact that Biden "barely beat" Trump, should also limit the left's ability to over-regulate. And for any business that imports or exports — his uses overseas manufacturing — an end to Trump's trade wars is a positive.
Covid lockdowns and small business
Small business owners widely support (83%) a new stimulus package from the federal government, according to the survey — including 76% of Republican respondents and 96% of Democratic respondents. Fifty percent of small business owners said direct payments to individuals should be included in any new stimulus; 42% said mortgage/rent relief; 41% said an extension of the PPP loan program.
But small business confidence decreased from last quarter solely because of the forward-looking factors including taxes and regulation, Wronski noted, not because of a crash in current business conditions, like the confidence index saw earlier this year when coronavirus restrictions were introduced.
"There is not going to be a national shutdown policy," Kerrigan said. "President-elect Biden has a mix of advisors on the Covid-19 issue, with several communicating that our economy can continue to 'stay open' and it can be done safely with the right precautions. In addition, the majority of Democrat governors would also oppose this top-down approach."
Small business owners' assessment of current business conditions was at least stable from Q3 to Q4, and even ticked up slightly on some measures, including more business owners describing conditions as "good" and less describing it as bad. Those expecting greater revenue in the next year — and citing recent revenue and demand increases — were also more numerous in Q4, while the hiring outlook was more or less stable quarter over quarter.
"That's pretty remarkable given how long so many businesses have had to operate while working from home, dealing with decreased demand, implementing new policies and safety procedures, and everything else they've had to handle thanks to the pandemic," Wronski said.
The CNBC|SurveyMonkey Small Business Survey for Q4 2020 was conducted across more than 2,200 small business owners Nov. 10-Nov. 17. The survey is conducted quarterly using SurveyMonkey's online platform and based on its survey methodology. The Small Business Confidence Index is a 100-point score based on responses to eight key questions. A reading of zero indicates no confidence, and a score of 100 indicates perfect confidence. The modeled error estimate for this survey is plus or minus 2.5 percentage points.