Nomadland review – Frances McDormand delivers the performance of her career | Toronto film festival 2020
Chloé Zhao's Nomadland is an utterly inspired docu-fictional hybrid, like her previous feature The Rider. It is a gentle, compassionate, questioning film about the American soul. With artistry and grace, Zhao folds nonprofessionals into an imagined story built around a cheerful, resourceful, middle-aged woman played by Frances McDormand. This quiet, self-effacing performance may be the best of her career so far.
Nomadland – playing at the Toronto film festival – is about a new phenomenon: America's 60- and 70-something generation whose economic future was shattered by the 2008 crash. They are grey-haired middle-class strivers reduced to poverty who can't afford to retire but can't afford to work while maintaining a home. So they have become nomads, a new American tribe roaming the country in camper vans in which they sleep, looking for seasonal work in bars, restaurants and – in this film – in a gigantic Amazon warehouse in Nevada, which takes the place of the agricultural work searched for by itinerant workers in stories such as The Grapes of Wrath. Zhao was even allowed to film inside one of Amazon's eerie service-industry cathedrals.
The film shows you that, along with the hardship and the heartache, there is also serenity in this way of life, even a kind of euphoria – without the burdens of a house and possessions you can have a glorious and very American freedom in the lost tradition of Emerson and Twain. But what happens if your van – or your body – shows signs of collapse?
The movie is inspired by Jessica Bruder's 2017 nonfiction book, Nomadland: Surviving America in the Twenty-First Century, and by the radical nomadist and anti-capitalist leader Bob Wells, who appears as himself and has a devastatingly moving speech at the end of the film.
McDormand stars as Fern, a widow and former substitute teacher in Empire, Nevada – a town wiped off the map by a factory closure – who is forced into piling some possessions into a tatty van and heading off, something she accepts with an absolute lack of self-pity. The people she meets on the road are, mostly, real nomads who have vivid presences on screen and McDormand's modest, equable persona slots easily into this group. In some ways, her character functions as the film's interviewer, or ambassador to the real world. Zhao and McDormand have to steer her fictional existence into their actual lives, and steer their lives into an imagined world. McDormand is a marvellous diplomat for this creative process. The other fictional character is a nice, if maladroit person, a fellow nomad-tramp (David Strathairn) who has a crush on Fern.
Sometimes Nomadland looks like a very, very sweet and positive version of Mad Max – a film about a postapocalyptic US where the people riding around in vans and trucks are just hippy-ish souls who only want to help each other. I spent a few anxious minutes here and there waiting for what I assumed would be the inevitable incursion by violent Hells Angels or sneery materialists, but it never happened. And in some ways this isn't quite a postapocalypse: the nomads find work and their lives have a kind of purpose, even a nobility. Fern's sister compares them to American pioneers. At times, the film looks like a tour of a deserted planet, especially when she heads out to the Badlands national park in South Dakota, where there is also tourist-trade work to be had. But the nomads are not alone. They have each other, and their relationship to the non-nomad world is far from hostile.
Zhao may well have drawn some inspiration from movies such as Barbara Loden's Wanda (1970) or Terrence Malick's Days of Heaven (1978), with their hard-scrabble world. The important difference is that her movie is not directionally shaped by narrative – that is, a narrative towards disaster – in the usual way, although there are important plot developments concerning Fern's relationship with her shy suitor. It is more of a group portrait and a portrait of the times, brought off with exceptional intelligence and style. Arguably it is not angry enough about the economic forces that are causing all this but it still looks superbly forthright. There is real greatness in Chloé Zhao's film-making.
Baby Yoda's Macaron Cookies From The Mandalorian Are Available In Real Life
If you're all caught up on The Mandalorian, you'll know what I'm talking about when I say, "space macaron." Literally, I don't think this needs much of an introduction, just this wonderful reminder GIF:
Yes, that's Baby Yoda (The Child, if you wanna be official) nibbling on a bright blue space macaron (official Star Wars name TBD) that he stole from some kid by using the Force.
ANYWAY, it's probably no surprise to anyone that fans L-O-V-E-D this moment:
And NOW, you can actually get your hands on some very own Baby Yoda cookies from Williams Sonoma IRL (they're calling them Nevarro Nummies, for the record):
Now, fair warning, these cookies are not exactly cheap. At $49.95 for a box of 12 cookies, they're as valuable as a brick of Mandalorian beskar.
But if you can't resist them any better than Baby Yoda could, you can get your very own Nevarro Nummies from Williams Sonoma's site.
Just be sure not to go on any crazy rides immediately after eating, or else, you know…
TV and Movies
Get all the best moments in pop culture & entertainment delivered to your inbox.
"The Office" Is Leaving Netflix Next Month And I'm Gonna Go Cry Now
So long, The Office, Gossip Girl, and Spider-Man: Into the Spiderverse.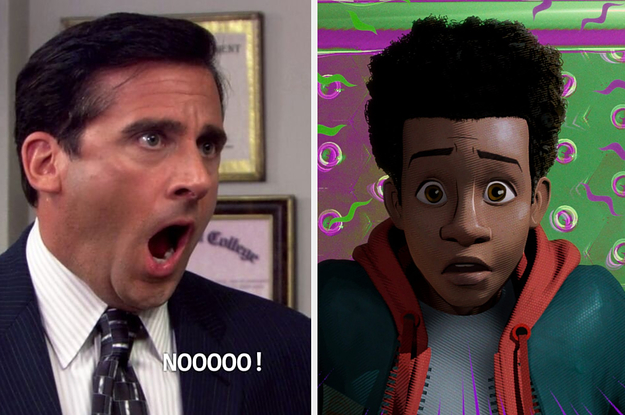 ---
New On Netflix For December 2020: Movies And TV Shows
Here's everything that's coming to Netflix US in December:
Dec. 1
Angela's Christmas Wish — Netflix Film
The Holiday Movies That Made Us — Netflix Original
Natalie Palamides: Nate – A One Man Show — Netflix Comedy Special
3 Days to Kill (2014)
50 First Dates (2004)
A Thin Line Between Love & Hate (1996)
Angels & Demons (2009)
Are You The One, Seasons 1-2
Chef (2014)
The Da Vinci Code (2006)
E.T. the Extra-Terrestrial (1982)
Effie Gray (2014)
Gormiti, Season 1
The Happytime Murders (2018)
Ink Master, Seasons 1-2
Jurassic Park (1993)
Jurassic Park III (2001)
Kung Fu Panda 2 (2011)
Little Nicky (2000)
The Lost World: Jurassic Park (1997)
Monster House (2006)
Peppermint (2018)
Quigley Down Under (1990)
Runaway Bride (1999)
Super Wings, Season 3
Stargate SG-1, Seasons 1-10
Transformers Rescue Bots Academy, Season 2
Tyler Perry's Madea's Big Happy Family (2011)
Why Did I Get Married? (2007)
Dec. 2
Alien Worlds — Netflix Documentary
Ari Eldjárn: Pardon My Icelandic — Netflix Comedy Special
Fierce — Netflix Film
Hazel Brugger: Tropical — Netflix Comedy Special
Dec. 3
Break — Netflix Film
Chico Bon Bon and the Very Berry Holiday — Netflix Family
Just Another Christmas (Tudo Bem No Natal Que Vem) — Netflix Film
Dec. 4
Bhaag Beanie Bhaag — Netflix Original
Big Mouth, Season 4 — Netflix Original
Bombay Rose — Netflix Film
Captain Underpants Mega Blissmas — Netflix Family
Christmas Crossfire (Wir Können Nicht Anders) — Netflix Film
The Great British Baking Show: Holidays, Season 3 — Netflix Original
Kings of Joburg,  Season 1
Leyla Everlasting — Netflix Film
MANK — Netflix Film
Pokémon Journeys: The Series, Part 3 — Netflix Family
Selena: The Series — Netflix Original
Dec. 5
Detention — Netflix Original
Mighty Express: A Mighty Christmas — Netflix Family
Dec. 7
Ava (2020)
Manhunt: Deadly Games
Dec. 8
Bobbleheads The Movie (2020)
Emicida: AmarElo – É Tudo Para Ontem — Netflix Documentary
Lovestruck in the City — Netflix Original
Mr. Iglesias, Part 3 — Netflix Original
Spirit Riding Free: Ride Along Adventure — Netflix Family
Super Monsters: Santa's Super Monster Helpers — Netflix Family
Triple 9 (2016)
Dec. 9
Ashley Garcia: Genius in Love: Christmas — Netflix Family
The Big Show Show: Christmas — Netflix Family
Rose Island (L'Incredibile storia dell'Isola Delle Rose) — Netflix Film
The Surgeon's Cut — Netflix Documentary
Dec. 10
Alice in Borderland — Netflix Original
Dec. 11
A Trash Truck Christmas — Netflix Family
Canvas — Netflix Film
Giving Voice — Netflix Documentary
The Mess You Leave Behind (El desorden que dejas) — Netflix Original
The Prom — Netflix Film
Dec. 14
A California Christmas — Netflix Film
Hilda, Season 2 — Netflix Family
Tiny Pretty Things — Netflix Original
Dec. 15
Black Ink Crew New York, Seasons 1-2
The Challenge, Seasons 10 and 13
Grizzlies (2020)
The Professor and the Madman (2019)
Pup Academy, Season 2
Song Exploder, Volume 2 — Netflix Original
Teen Mom 2, Seasons 1-2
Dec. 16
Anitta: Made In Honorio — Netflix Documentary
BREAK IT ALL: The History of Rock in Latin America — Netflix Documentary
How To Ruin Christmas: The Wedding — Netflix Original
Lee Daniels' The Butler (2013)
Nocturnal Animals (2016)
The Ripper — Netflix Documentary
Run On — Netflix Original
Vir Das: Outside In – The Lockdown Special — Netflix Original
Dec. 17
Braven (2018)
Dec. 18
Guest House (2020)
Home for Christmas, Season 2 — Netflix Original
Jeopardy! Champion Run V
Jeopardy! Champion Run VI
Jeopardy! Teacher's Tournament
Jeopardy! College Championship
Jeopardy! Tournament of Champions
Ma Rainey's Black Bottom — Netflix Film
Sweet Home — Netflix Original
Dec. 20
Rhys Nicholson Live At The Athenaeum (2019)
Dec. 21
The Con Is On (2018)
Dec. 22
After We Collided (2020)
London Hughes: To Catch a D*ck — Netflix Comedy Special
Rhyme Time Town Singalongs — Netflix Family
Shaun the Sheep: The Farmer's Llamas (2020)
Timmy Time, Season 2
Dec. 23
The Midnight Sky — Netflix Film
Your Name Engraved Herein — Netflix Film
Dec. 25
Bridgerton — Netflix Original
Dec. 26
Asphalt Burning (Børning 3) — Netflix Film
DNA — Netflix Film
Fast & Furious Spy Racers, Season 3: Sahara — Netflix Family
Go! Go! Cory Carson, Season 3 — Netflix Family
The Magic School Bus Rides Again In the Zone — Netflix Family
Dec. 27
Sakho & Mangane, Season 1
Dec. 28
Cops and Robbers — Netflix Film
Rango (2011)
Dec. 29
Dare Me, Season 1
Dec. 30
Best Leftovers Ever! — Netflix Original
Equinox — Netflix Original
Transformers: War For Cybertron Trilogy, Chapter 2: Earthrise — Netflix Anime
Dec. 31
Best of Stand-Up 2020 — Netflix Comedy Special
Chilling Adventures of Sabrina, Part 4 — Netflix Original
Coming Soon
ARASHI's Diary – Voyage, Episode 18-20  — Netflix Documentary
Funny Boy