No official word yet on Jasprit Bumrah's fitness; star pacer could 'barely walk on Monday' | Cricket News
NEW DELHI: The Indian team's injury woes are getting worse by the day. A day after
Hanuma Vihari
was ruled out of the fourth Test, things look grim for star fast bowler
Jasprit Bumrah
. It has emerged that Bumrah has sustained an abdominal injury that has jeopardized his place for the final Test in Brisbane. The list doesn't end with Bumrah. Mayank Agarwal, tipped to replace Vihari, too suffered blow during a nets session in Sydney.
According to team sources, the official report on Bumrah is yet to come out, but it looks like a muscle tear. "He had complained of some discomfort during the third Test in Sydney. But he soldiered on. Now, he looks in very bad shape after the Test finished on Monday," a source close to the team told TOI. "It will be a big call to push him to play the next match. He could barely walk on Monday evening. It will be a miracle if he regains fitness for the match on Friday," the source added.
The team management is working out the permutations that will help them qualify for the World Test championship final. India are slated to play four Tests at home in Feb-March and a 3-0 result there would hold them in good stead. "The call that the management needs to take is if they are willing to risk Bumrah aggravating his injury. What happens if he breaks down in the middle of the match? Thus, it looks highly unlikely that he will be played at the Gabba at the moment," the source added.
Like Bumrah, Agarwal's scan reports are also awaited. There is talk that Washington Sundar, who has been with the squad as a net bowler, could be in contention since he is decent batsman too.
No intense sessions for now
TOI has learnt that most of the players in the team are fighting injuries and are on high dose of painkillers and injections. Rishabh Pant is still experiencing pain in his left elbow. He batted on Monday after taking two injections and a few painkillers. R Ashwin too is under medication for his back issues. Cheteshwar Pujara is nursing an injury to his hand.
"Most of the players are on sedatives. They look exhausted. The team is trying to stay upbeat. There will be no intense gym sessions. If at all, there will be very basic sessions. Even the nets over the next two days will be very light to keep the players in touch. Probably, nets will be optional. The team management doesn't want to risk any other player collapsing before the final Test," the source added.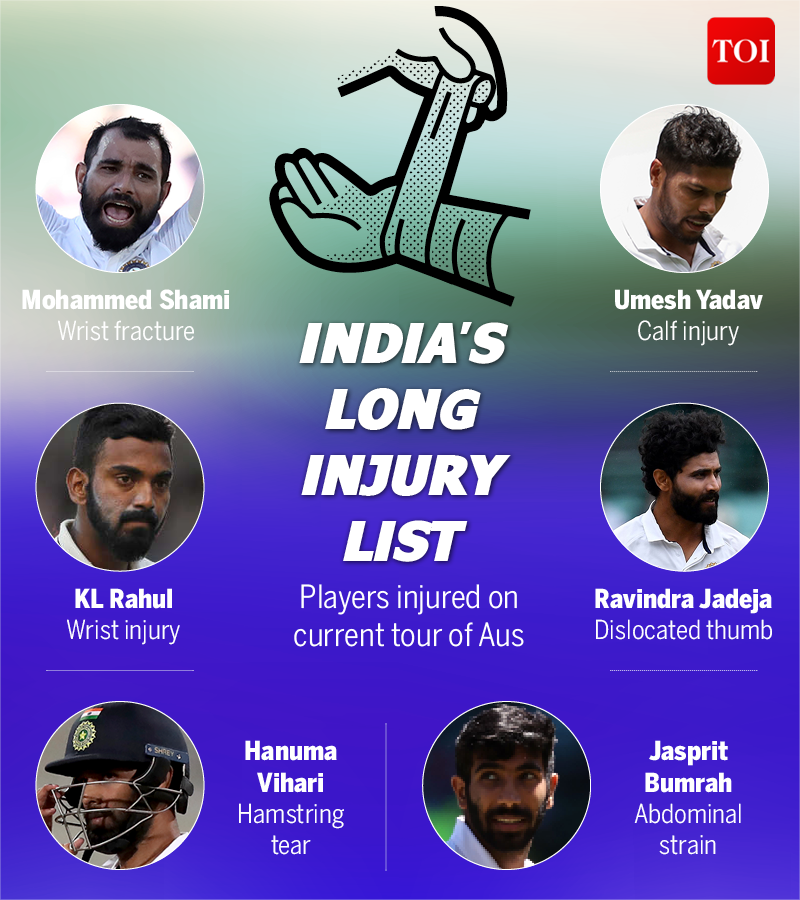 Indian team to stick to five-bowler strategy?
The team management is weighing its options to put the best XI on the park. With a depleted side, it has to decide if it wants to stick to its five-bowler strategy.
"A lot depends on how Ashwin shapes up. If he could bat at No. 7 the way he did in Sydney, then the team could look to go in with five bowlers. Otherwise strengthening the batting will be an option to give them more chance to take the game deep if Bumrah indeed fails to get fit for the Test," the source claimed. However, Shardul Thakur looks to be better placed to make the XI if Bumrah doesn't.
HURT CORNER
Mayank Agarwal: Hit on the arm. Scan results awaited.
Cheteshwar Pujara: Finger injury. Playing with painkillers.
Hanuma Vihari: Right hamstring tear. Out of series
KL Rahul: Sprained Wrist. Out of series
Ravindra Jadeja: Dislocated left thumb. Out of series
Rishabh Pant: Bruised left elbow. On high dosage of painkillers and sedatives.
R Ashwin: Back pain. Very stiff. On painkillers.
Jasprit Bumrah: Strained abdomen. Doubtful for 4th Test
Mohammad Shami: Fractured right arm after first Test.
Umesh Yadav: Calf injury. Out of series
Sourav Ganguly to undergo medical tests, decision on stent insertion after reports arrive: Doctor | Cricket News
KOLKATA: A series of medical tests would be conducted on BCCI president
Sourav Ganguly
on Thursday following which a decision might well be taken on the next course of treatment, a senior doctor at the hospital where he has been admitted said.
The former Team India captain, hospitalised on Wednesday for the second time in a month, was likely to undergo angiography, and doctors would subsequently decide if another
stent insertion
was necessary.
Earlier in January, he was diagnosed with 'triple vessel disease' and had a stent inserted in a coronary artery after suffering a mild heart attack.
"Mr Ganguly slept well all night. He had a light breakfast this morning. A series of tests will be conducted on him today to decide on the next course of treatment," the senior doctor, who is part of the panel attending to the cricketing icon, said.
Noted cardiologist Devi Shetty might fly down to the city later in the day to examine Ganguly's condition, go through the test reports, and hold meetings with the doctors treating him, he said.
"Once the test results arrive, we will be able to determine if two stents have to be inserted to open the blocks in his arteries," he added.
According to a source in the family, Chief Minister Mamata Banerjee called Ganguly in the morning to enquire about his health.
Senior CPI (M) leader Ashok Bhattacharya also paid a visit to Ganguly at the hospital.
The former left-handed batsman was on Wednesday afternoon rushed to the private hospital on EM Bypass here from his Behala residence as he felt "dizzy with slight discomfort in chest", the family source said.
A green corridor was created by the city police for his smooth travel to the hospital.
A statement issued by the medical establishment on Wednesday evening stated that several tests were carried out at the emergency ward of the hospital, but there was "no change in his (vital health) parameters since his last hospitalisation".
Ganguly has been admitted "for a check-up of his cardiac condition", the statement said.
HC issues notice to Virat Kohli, Tamanna on plea seeking ban on online gambling in Kerala | Off the field News
KOCHI: The
Kerala High Court
on Wednesday issued notice to Indian cricket team captain
Virat Kohli
and the state government in a plea seeking ban on
online gambling
in the state.
Besides Kohli, a division bench, headed by Chief Justice
S Manikumar
, also issued notices to Malayalam actor Aju Varghese and South Indian actress
Tamanna Bhatia
.
The celebrities are the brand ambassadors of online rummy games.
Petitioner Pauly Vadakkan alleged online gambling is now a growing menace in the state and the primary targets will be middle to low income group people who will be enticed to make easy money.
People who fall to the fraud platforms often use what is left in their life savings, he said.
The petitioner said there have been many reported cases across the state in which people have got scammed.
Referring to the recent alleged death by suicide of a 28-year-old man, an ISRO employee hailing from Kattakkada in Thiruvananthapuram district, the petitioner said the man had fallen in the trap of online rummy game and pushed himself to a debt of Rs 21 lakh.
Finding no means to repay the debt, he took his life, the petitioner alleged.
These platforms endorsed by celebrities, including Kohli, Bhatia and Varghese, attract their audience with fake promises while in reality the probability of such winnings are slim to none, thus making a fool of unsuspecting people, the plea said.
The petitioner submitted that at present the law governing gaming activities in the state, the Kerala Gaming Act 1960, does not bring within its purview any online gambling, wagering or betting activities.
The act extends to gaming activities conducted in a "Common gaming house" (which is an enclosed physical premise such as house, room, tent etc) by using any "instrument of gaming kept or used in such enclosed physical premises for the accrual of profit or gain to the person owning, occupying, keeping such instruments of gaming in the enclosed physical premises."
"Thus a person sitting in his private house, using these online gambling platforms from his house arguably may not come within the definition of a common gaming house," the petitioner said.
In the plea, the petitioner noted that various High Courts, particularly the high courts of Gujarat and Tamil Nadu, have directed their respective jurisdictional state legislatures to explore the possibilities regulating online gaming.
In Andhra Pradesh, an ordinance has been promulgated to bring online gambling activities within the purview of the existing gaming legislation, the petitioner said.
The plea seeks a ban or to regulate and monitor online gambling games by framing laws that includes within its purview games that are conducted online by using electronic gadgets including mobile phone, computers, laptops and other communication devices.
Survey reveals widespread racism in English cricket, players to attend anti-racism course of PCA | Cricket News
LONDON:
England
cricketers — both men and women — will undergo anti-racism training courses this year after a survey revealed that more than one-third of black, Asian and minority ethnic (BAME) players have faced the prejudice in the game.
According to a report in 'The Telegraph' the courses will cover dressing room culture, raise awareness of how behaviour can be interpreted by different cultures and encourage people to challenge anything they deem to be unacceptable after 'banter' was identified as a mask for
racism
.
In the survey, done by the Professional Cricketers' Association, 45 per cent of more than 600 respondents claimed that racism had come from a fellow player, 10 per cent said it was from a coach, and around 30 per cent had experienced it on social media or from fans.
About 62 per cent of the surveyed players agreed with the suggestion, while 70 per cent believed specific education on racism and diversity would help improve the situation.
"Only 173 of professional players replied to the survey which the
PCA
believes shows the level of work they still have to undertake to ensure cricketers realise the importance of anti-racism education," the report added.
Of the respondents, 24 were identified as black, Asian or from ethnic minority backgrounds (which is around 90 per cent of the number of BAME players in the game).
In total, 12 from BAME backgrounds had experienced some form of racism. Of those who identified as white, 11 had direct experience.
"It would have been far better if the vast majority of players had responded. Why they didn't is very difficult to speculate," said Charlie Mulraine, the PCA's lead personal development manager.
"Sometimes there is nervousness talking about these issues and some are uncomfortable to express how they feel."
The England and
Wales Cricket Board
(
ECB
) will introduce an anonymous phone line to report racism, issue guidance on how people can be held to account for breaches and a forum for sharing experiences of racism, the report added.
"We needed to start somewhere. This gives us a clear direction of travel and it is an ambition to increase engagement with our members on this issue," said Rob Lynch, the PCA's chief executive.
"The option to do nothing was not there so the fact it has led us in this direction is a positive for the game."
The Black Lives Matter (BLM) movement following death of black-American
George Floyd
found support from sports persons across games and continents.