New Zealand fast bowler Lockie Ferguson eager to press Test credentials again | Cricket News
WELLINGTON: New Zealand fast bowler
Lockie Ferguson
is eager to resume his cruelly stalled Test career but recognises that he has a fight on his hands to make the side this summer.
The 29-year-old Ferguson, who has been an almost certain pick in the New Zealand limited overs side since late 2016, made his long awaited Test debut last year against Australia.
His dream, however, lasted just 11 overs before he limped off with a calf injury in the sapping heat in Perth.
His Auckland team mate Kyle Jamieson then seized his own opportunity to establish his Test credentials and took nine wickets in the two-Test series against India, to give coach Gary Stead substantial depth in the pace bowling department.
"The Test side is a really tough team to make, there is so much depth," Ferguson told reporters from his mandatory isolation facility in Christchurch after he returned from the
Indian Premier League
last week.
The side's "big three" – Trent Boult, Tim Southee and Neil Wagner – "have been so successful for a long period of time," Ferguson said.
"When you see the depth, Kyle Jamieson … coming through and taking his opportunity and playing very well, puts pressure on other bowlers to perform well all through the levels.
"I think it's great. For me, honestly, if it means I've got to work hard to get an opportunity and have a chance for that side … I'll do everything I can to take it with open arms."
Ferguson was not named in the 13-man Test squad to face West Indies in two games starting on Dec. 3 but retained for the three Twenty20 matches, which start on Friday in Auckland.
The right-armer will only be released from isolation on Thursday along with Jimmy Neesham, Mitchell Santner and Tim Seifert to link with the Twenty20 side.
New Zealand captain Kane Williamson and left-arm quick Boult, who are also in isolation, have been rested ahead of the Test series.
India vs Australia: Fear of reinjuring, length, wary batsmen may be hurting Bumrah | Cricket News
NEW DELHI:
Jasprit Bumrah
's poor form in ODIs from early this year has continued to chase him in Australia despite his impressive showing for the
Mumbai Indians
in the
Indian Premier League
over the last couple of months.
The right-arm pace bowler has not just failed to pick enough wickets in the ODIs, he has also leaked more runs in the two ODIs in Sydney than he had in his first few one-dayers this year. He has returned figures of one for 73 and one for 79 in the first two one-dayers against Australia in Sydney.
Bumrah, who notched up impressive numbers between 2016 and 2019 with wickets, average and strike rate, suffered a lower back injury in 2019 that forced him to miss most of the second half of last year.
Since returning this January, he has played eight matches, bagged just three wickets — every wicket of his taking 152 deliveries and costing 146 runs.
This is way higher than previous years when his strike rate (24.1 in 2016; 30.6 in 2017; 27.5 in 2018; and 31.8 in 2019) and average (14.64 in 2016; 26.25 in 2017; 16.63 in 2018; and 24.6 in 2019) were quite impressive.
"He has come back from an injury. Sometimes it happens that when you are coming back from injury, you have fear and you are careful. I don't know if that is the case with him, but with bowlers returning from injury that can happen. It happened to me. It took me a year to get back to top form. Once a bowler gets over that injury fear, he gets back to top form," Manoj Prabhakar, a former India pace bowler, told IANS on Monday.
Prabhakar said that the onus lies on the India team bowling coach to guide bowlers like Bumrah through this phase.
"Adjusting to the length is the toughest part in Australia. When I toured there, I realised that some of my deliveries that would hit the stumps in India would go over the stumps in Australia. So, I had to adjust the length a bit. I quickly adjusted to it," said Prabhakar.
India skipper Virat Kohli on Sunday said that the bowlers have not hit the right areas for long enough.
Bumrah has also failed to pick wickets early on. Importantly, the short deliveries that we saw him use with so much effectiveness in the IPL have been missing in the ODIs.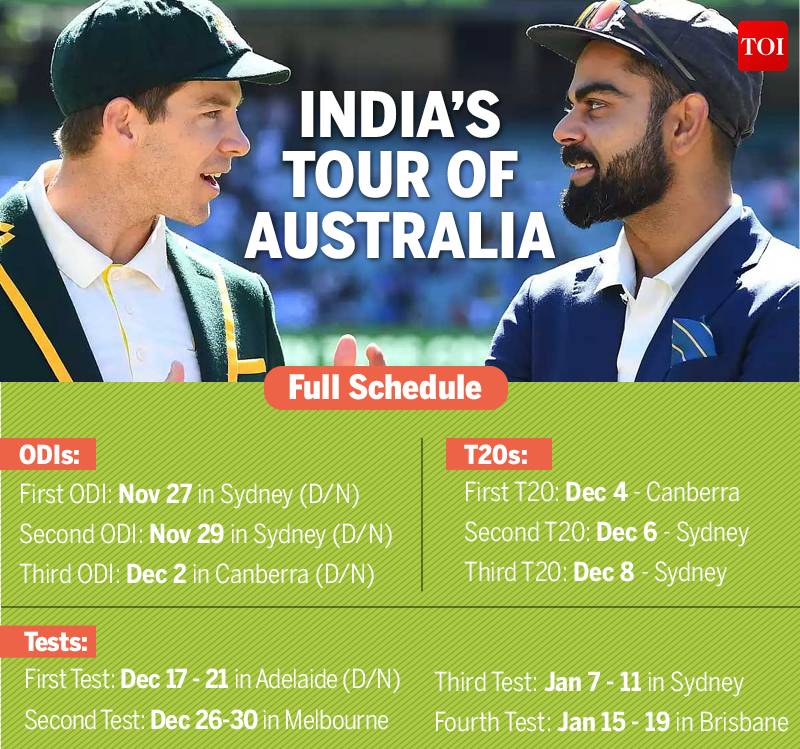 His failure could also be because the Australian batsmen are not taking undue risks against him and are happy seeing him off initially unlike in T20 cricket's four-over spells for MI when batsmen have to go after his bowling but end up giving wickets.
Former India all-rounder Madan Lal had earlier told IANS that bowling in T20 cricket is a bit different from bowling in the ODIs as the batsmen can see the bowler off. "In 50 overs, you have time. Batsmen can adjust. You can endure a spell of four-five overs without scoring much. In T20, the batsman has to try to hit every ball."
In both the games, Bumrah's opening spells were negotiated quite easily. Neither the Aussies went after him nor did they concede any wickets. They played him out — Bumrah's opening spells were 4-0-23-0 in the first match and 2-0-9-0 in the second match.
The surfaces no doubt have lacked support for him. Team vice-captain KL Rahul on Sunday said that the surfaces at Sydney and New Zealand (in February) were very batting-friendly.
"You also have to understand that in New Zealand and Australia, the wickets are so good to bat on. You will see top bowlers not getting wickets. So that is acceptable," said Rahul also adding that the bowlers will have to learn to bowl on these surfaces.
Classy Cavani no longer looks like a 'panic buy' at United | Football News
MANCHESTER ( England): When
Edinson Cavani
joined
Manchester United
on transfer deadline day in October it was widely described as a "
panic signing
" with the 33-year-old's arrival viewed as a desperate deal by a club who had failed to get their main targets.
But after his outstanding performance at Southampton on Sunday, coming on at the break to create one goal and score two, including the late winner in a 3-2 comeback, the Uruguayan looks far from the washed-up player some suspected he might be.
His goals were superbly taken, his movement in the box won plaudits from his manager Ole Gunnar Solskjaer and many observers and, even though it had only been 45 minutes, he looked far from a player past his sell-by date.
"For me, he's one of those strikers that can smell the goal, as you saw twice," said United midfielder Bruno Fernandes.
"He smelt the goal, you need to have this feeling to score these two goals. As I said some weeks and some months ago, Edi will help us and he is helping already."
The question marks over Cavani were certainly justified though.
He was available on a free transfer and had been throughout the close season and many wondered why, if he really was a player United wanted, they had not signed him shortly after he left Paris St Germain.
The suspicion was that after failing to get Norway striker Erling Haaland in the January window and then ultimately being unable to pull off a deal for his Borussia Dortmund team mate Jadon Sancho, United had, at the final hour, called Cavani's agent just to add a forward of some kind to Solskjaer's squad.
But for a United team that has plenty of attacking options with the likes of Marcus Rashford, Anthony Martial and Mason Greenwood, but no real classic, out-and-out centre forward, Cavani looks much more than a useful option.
"They had Rashford and Greenwood there in the first half," said BBC pundit Alan Shearer. "They may well end up being centre forwards, but that's exactly what they lacked in the first half a proper number nine."
PERFECT TIMING
Solskjaer, a goal-poacher under
Alex Ferguson
at United, has worked hard to get his young strikers to make the right runs in the box to find the crucial positions to score but he now has a player who needs no instruction in that art.
"Edinson has been around the block and scored so many goals and played football for so long. He's been between those posts so many times, he's seen this game before, he's scored that goal before," said Solskjaer.
"He knows exactly where to move and his best friend in the box is what Sir Alex always used to tell me: 'Your best friend in the box is space', and he gets into that space with perfect timing."
Cavani, who scored 138 goals in 200 Ligue 1 matches for PSG and has 51 in 118 for Uruguay, has been given time to get up to speed after missing out on pre-season preparations but United skipper
Harry Maguire
was not surprised by his impact on Sunday.
"I am so pleased for him. He has been without a club for a few months so he is coming in and catching up. He's a great professional, he's great to have around the place, he's great in the dressing room and you saw today what he brings to the club.
"His movement when the ball is wide is to a level that not many strikers can reach. He's always on the move, always getting across people and that's why he has always scored goals."
Now Cavani must hope an FA investigation into his deleted social media post, which included a word with racial connotations, does not result in the Uruguayan being forced back to the sidelines.
Covid vaccine before Olympics is a must for athletes, says Sushil Kumar | More sports News
NEW DELHI: Two-time Olympic medallist wrestler
Sushil Kumar
has said that the coronavirus
vaccine
is a must for players as the world moves closer to next year's
Tokyo Olympics
. Speaking to ANI, the wrestler explained the difficulties of training in these times and the challenges which the players are facing due to the
pandemic
.
"We are preparing for the Olympics and I feel that vaccine for
Covid-19
is necessary because we are very close to the Games. Many of my teammates are infected due to this virus and it is a really tough situation for players. When athletes start training, at times there is a chance of them getting infected so it is really important that a vaccine should come," he said.
The wrestler added that the athletes have started training and are looking to get back to rhythm. To contract the virus at this stage would mean having to start fresh.
"I would like to request citizens and athletes that please do follow all the norms and take proper care of your health because you are preparing for the Olympics, not for any state championship," Sushil said.
"Risk is there, everybody there is at risk. Wherever our camp is going on all precautions have been followed but that is also not working so you have to take care of yourself and wait for the vaccine," he added.