NEET results 2020: Three from Gujarat in top 100
AHMEDABAD: Rajkot boy Manit Mantravadia bagged All-India Rank 10 in the National Eligibility cum Entrance Test (NEET), conducted by the National Testing Agency this year. The NEET results were declared on Friday. Mantravadia scored 710 out of 720, probably the highest score by a student from Gujarat.
Two students- Odisha's Soyeb Aftab and Delhi's Akansha Singh-scored 720 out of 720 marks. However, Aftab was ranked first and Singh second as per the NTA's tie-breaking policy, officials said.
From Ahmedbad, Ajinkya Nayak and Karm Jayesh Shah made it to the top 100. While Nayak was ranked 42 in the country, Shah bagged AIR 83.
Among other rankers from Ahmedabad were Hirakani Krishil with AIR 211, Khush Joshi with AIR 286, Dhyanee Patel with AIR 479 and Jay Patel with AIR 497 rank.
A total of 7,71,500 candidates have qualified the exam for which over 13.66 lakh candidates had appeared.
The highest number of qualifying candidates are from Tripura (88,889) followed by Maharashtra (79,974).
The NEET was conducted on September 13 amid strict precautions in view of the Covid-19 pandemic.
From this year, the admissions to MBBS course in 13 All India Institute of Medical Sciences, Jawaharlal Institute of Postgraduate Medical Education and Research, Puducherry, will also be made through NEET following the amendment in National Medical Commission Act, 2019, passed by Parliament last year.
The exam was earlier postponed twice due to the Covid-19 pandemic and the government decided to go ahead with it, despite opposition by a section, to mitigate any further academic loss. The NEET-UG was originally scheduled for May 3, but was pushed to July 26 and then scheduled for September 13.
The test was offered in 11 languages — English, Hindi, Assamese, Bengali, Gujarati, Kannada, Marathi, Odia, Tamil, Telugu and Urdu — this year.
With inputs from agencies.

TN NEET Quota: DMK ready to protest with AIADMK over 7.5 pc quota in medical admission for govt school students
CHENNAI: The DMK on Wednesday said it is ready to join forces with the AIADMK government and protest for getting the 7.5 per cent quota in medical admissions for state-run school students, a day after the ruling dispensation sought early clearance by the Governor for a bill envisaging the reservation.
Chief Minister K Palaniswami should come forward and announcea proteston the matter after consulting the opposition parties, DMK president M K Stalin said in a tweet.
In this matter, "DMK is ready to protest/agitate together with the AIADMK [email protected] should come forward to announce protest (demonstration) by talking with parties," the leader of the opposition in the state assembly said.
Stalin also wrote to Governor Banwarilal Purohit seeking his immediate approval to the bill, passed by the assembly on September 15 for providing the horizontal reservation to students of government schools who clear the National Eligibility cum Entrance Test (NEET). "I urge you to immediately give assent to the bill and help fulfillment of the dream of government school students to an extent to pursue medicine as their profession," he said in the letter, a copy of which he shared with his tweet.
The DMK chief's offer to work with the government and protest alongside AIADMK comes a day after a group of ministers, includingK A Sengottaiyan and D Jayakumar, called on Purohit at the Raj Bhavan here to seek his nod for the bill. The meeting came in the backdrop of various political parties, including the DMK and PMK, urging the Governor to give assent to the bill so that the quota can be implemented this year itself.
After the meeting, Jayakumar had said the government was confident that Purohit would come out with a "favourable decision" on the bill which is aimed at lending a helping hand to students from government schools. In his letter to the Governor, Stalin said government school students could benefit from reservation in this academic year itself only if the Governor gave his assent to the bill "without further delay." He recalled that DMK, the principal opposition party in the state, had supported the TN Admission to Undergraduate Courses in Medicine, Dentistry, Indian Medicine and Homeopathy on Preferential Basis to the students of the Government Schools Bill 2020 in the assembly.
Stalin noted that his party has been demanding scrapping of NEET which acted as a "hindrance" for rural and urban poor to pursue medicine. The 7.5 per cent reservation bill, passed unanimously by the assembly and sent to the Governor for his assent, was to bring equality between government and private school students, he said.

How one of the best Schools in Noida is preparing leaders of the new world order during Covid-19
The world is a rapidly shrinking place with physical distances between countries and people no longer being a cause of delays or roadblocks to communication. You can see and interact with your friends, or even do business meetings with someone on the other side of the world in a way that was unthinkable a decade or more ago. Naturally, students today need to develop competencies to grow and succeed in such a globalized ecosystem.
Singapore-based Global Indian International School leads the way by bringing the best educational practices to equip students for the challenges of the new world. Unlike other international schools that branch out from India to other countries, GIIS has campuses in India (at Noida, Pune, Bangalore, Ahmedabad & Surat), which are an extension of an already established presence in the Middle East and South-East Asia. GIIS Noida, therefore, brings with it a nearly 20-year legacy in education excellence, with the distinction of being an international school of repute. As one of the best schools in Noida, here is how GIIS adopts globally benchmarked methodologies in quality education, bringing the world to the classroom for students:
The GIIS Global Advantage
GIIS has a community of nearly 20,000 students representing 42 nationalities spread over 7 countries. This extensive network is put to use in the Global Student Exchange Programme which allows students at GIIS Noida to connect with their peers at its global campuses on a regular basis, discuss learnings and collaborate on various project works. Moreover, through flagship initiatives such as the fully funded Global Citizen Scholarship for Grades 11 and 12, the school provides meritorious students a life-time opportunity to study at GIIS SMART Campus in Singapore, and has now opened doors to its other global campuses as well. This not only gives students an international exposure, but also brings them closer to pursuing higher education in leading universities in South East Asia and Oceania.
Global talent platforms
Several inter-school events are conducted annually where GIIS campuses come together and showcase their best work. Real World Challenges Convention, Global Indian Stars, Global Championship League and many such annual events are organised by GIIS, providing an opportunity to network with students from GIIS campuses abroad and other top international schools in a healthy, competitive spirit. For the past consecutive years, students at GIIS Noida have brilliantly represented their school on the global stage, bringing the winning trophy home several times.
Award winning frameworks
The future belongs to those who bring new knowledge to the world. At GIIS Noida, students are taught a unique early years framework called the Global Montessori Plus which supplants rote learning with a more experiential approach. Emphasis on critical thinking, social, interpersonal and physical capabilities, along with fine motor skills and coordination, create a solid groundwork for the future. From primary grades onwards, the school introduces its holistic learning methodology, Nine Gems to inculcate skill-sets in innovation and entrepreneurship, leadership, universal values, care for the community, performing arts and sports – aligning perfectly with the goals of all-round excellence. This is a reflection of how one of the best CBSE schools in Noida brings out the best in its students.
Seamless virtual learning
When the world went under lockdown during Covid-19, GIIS Noida was already equipped with its latest digital facilities, online learning modules and a well-trained faculty, ensuring a seamless transition for students from physical classrooms to virtual classrooms to be attended from home. The new normal has always been a reality at GIIS, with its unconventional methods of blended and flipped learning. Students are provided with digital content, enabling them to first study the concepts at home, and gain a deeper understanding later through discussions and knowledge sharing during the class. More so, the introduction of a 24×7 whatsapp helpline number to resolve parent queries real time and plethora of extra and co-curricular activities conducted by the school have been appreciated and applauded by the students and the parents.
Capacity building of teachers
More than modern infrastructure, it is the dynamic teachers who make an international school in Noida one of its best. GIIS Noida conducts bespoke training sessions, where teachers across campuses connect via virtual platforms, discuss best teaching techniques and learn from each other. An exclusive Learning Management System is in place to allow teachers to upgrade their professional competencies on the go. The school also empowers them with proprietary tools to ensure 360-degree learning and evaluation of each student. With analytical tools like 7S Analysis and Detailed Assessment, teachers are able to conduct formative assessments, supporting continuous improvement of their students all through the academic session.
Globally recognised for all-round excellence
Unlike any other schools in Noida, GIIS upgrades core curriculum with globally acclaimed educational practices, giving students an edge over the rest. This has resulted in numerous world toppers and high scorers in IBDP, IGCSE and CBSE examinations across the GIIS network. Infact, very recently, Global Indian International School (GIIS) in Tokyo made history when it emerged as the world's one and only overseas international school appearing in the top 10 CBSE rankings among the 600+ affiliated schools operating outside India. This benchmarked culture of excellence has garnered the school over 150 coveted awards on national and international platforms. That's not it. Recently, both the GIIS SMART Campuses in Pune were recognised "Best" in the Teaching Excellence Category by Times School Online Education Survey 2020. Furthermore, GIIS Noida has been ranked number-one in the Innovator's Category of Noida Region in Times School Survey 2020.
Check GIIS India CBSE 2019 results here.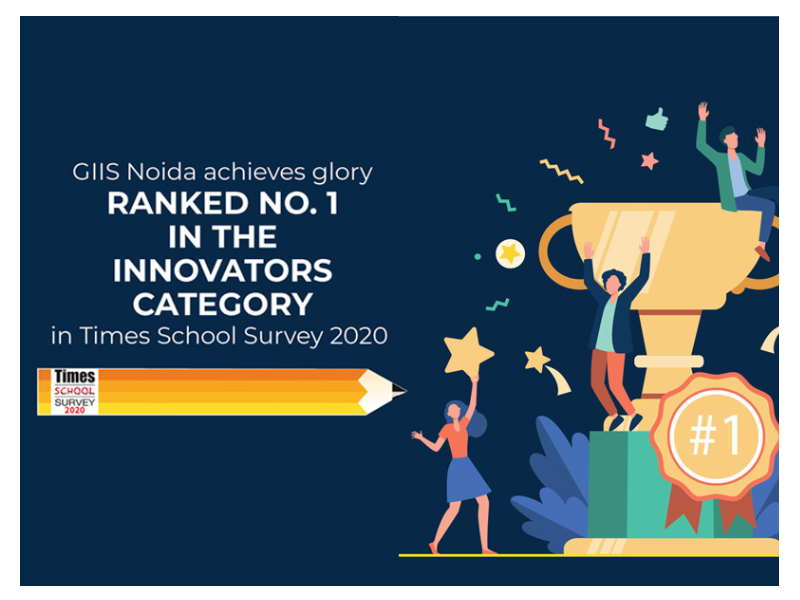 As the New Education Policy (NEP) 2020 sets to change India's education system, GIIS Noida is well ahead to put its various recommendations into practice, helping students make the best of this transformation.
Located as Sector-71, GIIS Noida is a future-ready international school in Noida, and is accepting applications for admissions from Nursery onwards for academic sessions 2020-21 as well as 2021-22. The school is currently open for campus tours with all required safety measures in place.
For more details, contact GIIS Noida Campus at 1800 572 2810 or send your query to the WhatsApp helpline number 75888 86800. One can also schedule an appointment for a guided school tour on their website noida.globalindianschool.org
Disclaimer: Content Produced by GLOBAL INDIAN INTERNATIONAL SCHOOL
GPSC's screening exam for recruitment to be held on November 21, 22
PANAJI: The Goa Public Service Commission (GPSC) on Wednesday announced that a screening examination, prior to the computer-based recruitment test (CBRT) for junior scale officer (JSO) posts, will be held on November 21 and 22.
The examination had been scheduled to be held on March 29, but was postponed in light of the COVID-19 outbreak, GPSC chairman Jose Manuel Noronha said.
"In order to expedite the recruitment, the commission has decided to conduct a screening examination on November 21 and 22 to determine candidates qualified to take the main CBRT," he said.
The commission had received around 3,600 applications for 22 JSO posts that were advertised in January this year.
Considering the pandemic and the social distancing norms, the commission has decided to introduce a screening examination prior to the main JSO CBRT, Noronha said.
For candidates who are unable to clear this exam in the first attempt, only those who score up to five per cent less than the minimum required marks to qualify in their category, will be eligible to sit for a repeat exam on November 28, he added.
Candidates who clear the screening exam can sit for the main CBRT, details of which are uploaded on the GPSC website, he said.