NEET exam drama: Three candidates expected, another 3 show up at Nagpur centre
NAGPUR: Despite being a relatively low-key affair, the special NEET exam conducted on Wednesday had its fair share of drama. Though only three candidates were expected at Nagpur centre, another three showed up for the exam. These three had not submitted their health certificates online due to which their registration process was not complete.
Officials at the centre refused to speak to the media citing strict instructions from the National Testing Agency (NTA). However, based on information from candidates, both the observers and those from the host centre went beyond the call of duty to help.
NEET Result 2020 Live Updates: NTA to announce NEET UG 2020 Result today at 4 PM
Parent of one of the candidates told TOI that they were not aware that a health certificate had to be submitted. "Our child was unable to appear for the exam last month. Now even when the decision to conduct the second exam was announced, we were not informed about any certificate submission," said the parent.
Another candidate had the certificate, but forgot to take it to the exam centre. The candidate then contacted his family members who located the document well within time. A copy of the medical certificate was sent to the candidate on WhatsApp, thus enabling the entry. Another candidate, too, had forgotten to submit documents online, but officials decided to help overcome the paperwork issue.

Ultimately all six appeared for the test. With the numbers being so low, there was neither an issue of accommodating demand for extra stationery nor was there any problem related to social distancing.
The three students whose online registration was incomplete, had to sign an undertaking which mentioned that their exam can be held invalid if any information (medical certificate etc) is found to be incorrect.
One of the candidates, whose registration process was complete, told TOI that all of them attempted the paper in the same room. "Yes those three also joined us and everything went off smoothly," said the candidate, adding that overall, the paper could be described as 'moderately easy'. "The biology section was definitely easy and chemistry was average. But I found physics to be tough," said the candidate.
Results for all candidates will be declared on October 16.
TN Supplementary exam result 2020 for class 10 and 12 to be declared today
CHENNAI: TN supplementary exam results 2020 for classes 10 and 12 will be announced by the Tamil Nadu Directorate of Government Examinations (TNDGE) today i.e., October 28.
The results will be made available on the official website of TNDGE — dge.tn.gov.in — for public access. Candidates will have to login with their registration number and date of birth to obtain the results.
TNDGE conducted the class 10 supplementary examinations from September 21 to 26. The class 12 supplementary exams were held from September 21 to 28. Over 10,000 private candidates and absentees have taken the class 10 supplementary exams. Nearly 50,000 candidates have appeared for the TN class 12 supplementary exam.
The TN class 10 supplementary result 2020 will be announced at 11.00 am and class 12 supplementary results will be released at 5.00 pm.
Issuing a release on Tuesday, the director of government exams said "The Class X supplementary exam results will be released at 11 am on Wednesday while Class XII results would be released at 2 pm"
Once the results are out, candidates can apply for retotalling and revaluation at their respective CEO offices on November 3 and 4.
The directorate of government exams directed the students to wear masks and follow social distancing while going to CEO offices. Candidates will have to pay a fee of Rs 275 for each subject to get the answer sheet copy and retotaling fee will be Rs 205. The retotalling fee for Biology is Rs 305.
IIM CAT exam admit card 2020 to be released at 5 pm today
NEW DELHI: CAT exam admit card 2020 will be released by the Indian Institutes of Management on its official website. As per the schedule available on the official portal, CAT admit card will be released on Wednesday, i.e., October 27.
Once released, the CAT 2020 admit card will be made available on the IIM CAT — iimcat.ac.in.
CAT exam 2020 will be held on November 29, 2020, in three sessions. CAT will be conducted at various centres spread across around 156 test cities. Test cities will be indicated in the CAT admit card. Candidates should note that IIMs reserve the right to change or cancel any test centre/city and/or change the test time and date at their discretion
Common Admission Test,CAT is a management aptitude test conducted by the IIMs primarily to evaluate and shortlist candidates for the post graduate programme. The Indian Institutes of Management are leading institutions providing management education in India with the older IIMs having been established more than 50 years ago. Today, there are 20 IIMs established in different parts of India.
The scorecards of CAT 2020 will be made accessible on the CAT website. Candidates may also be intimated individually by SMS. The CAT results are expected to be declared by the second week of January, 2021. The CAT 2020 score will be valid only till December 31, 2021 and will accordingly be accessible on the website. Thereafter, queries related to the issuance of CAT 2020 scorecards will not be entertained.
Kerala: KSHEC lays out post-Covid education plan
THIRUVANANTHAPURAM:
Kerala
state higher education council (KSHEC) on Tuesday submitted to the government 'The post Covid-19 higher education policy document', which the council prepared after extensive discussions with the stakeholders.
The policy document laid out a roadmap for achieving qualitative changes in the structure and outcome of higher education. It delineated short and long-term action plans, called for urgent measures to bridge the digital divide and warned against the predilection for centralization and homogenization of curriculum. The policy document stressed the need for establishing a state-level digital repository for online learning and urged the government to ensure free/subsidized internet access to students. The report also mooted the need for gender audit of textbooks and called for enhancing facilities for girl students in higher education institutions in the state.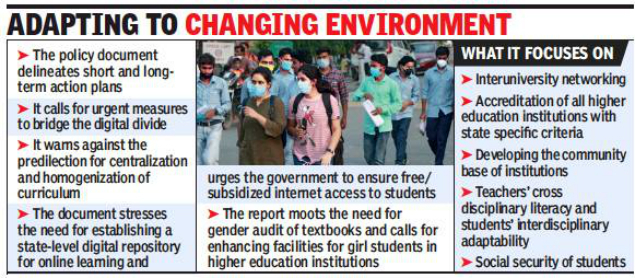 The major challenges identified include, problems of autonomy of higher education institutions, quality assurance of self-financing institutions and the social base of higher education institutions. Interuniversity networking, accreditation of all higher education institutions with state specific criteria, developing the community base of institutions, teachers' cross disciplinary literacy and students' interdisciplinary adaptability and the social security of students are other major areas the report focuses on.
Other major issues the document tried to address include coverage of syllabus during the lockdown period, conduct of end-semester examinations, lessening the burden of practical examinations, use of bar-coded examination books by universities, online supply of question papers, monitoring of home valuation, teachers training programmes, design of blended curriculum, establishing state-level digital repository of online learning centre for teachers and students and formation of e-journal consortium for universities. The executive body meeting of the KSHEC approved the final policy document. The report is available for reference on www.kshec.kerala.gov.in
Other academicians in the committee chaired by council vice-chairman Rajan Gurukkal are Gangan Prathapan, professor Emirutus, KTU; A Jayakrishnan, former VC, Kerala University; Thomas Joseph, former member secretary, KSHEC; Gopinath Ravindran, VC, Kannur University; Sabu Thomas, VC, MG University; Rajasree M S , VC, KTU; N J Rao of IISC, Bangalore; J Prabhash, former pro-VC, Kerala University; J Rajan and K K Damodaran, members of executive committee, KSHEC; C Padmanabhan, president, AKPCTA and Rajan Varughese, committee convener and member secretary of KSHEC.