'My mother was like a steel fist in a velvet glove': the real Audrey Hepburn | Audrey Hepburn
"Very alert, very smart, very talented, very ambitious." That was the director William Wyler's verdict after watching a screen test for Roman Holiday by a young chorus girl called Audrey Hepburn in 1951. She got the part, won an Oscar and the rest is history. For decades, Hepburn has been adored for her graceful beauty and style. But somehow, the "smart", "talented" and "ambitious" woman Wyler described never makes it into the books about her enduring charm with titles such as How to Be Lovely: The Audrey Hepburn Way. Now a new documentary, Audrey, gives us a more complex picture of the woman.
Directed by Helena Coan, the film features never-before-seen archive footage of Hepburn alongside intimate interviews with her family and friends. Speaking on Zoom from his home in Italy, Hepburn's eldest son, Sean Hepburn Ferrer, says his mother's steeliness is often overlooked. "She was no pushover. You have to fight in Hollywood for every little bit, and she did. But she played the part of the ingenue. And that's who she was, too. None of us are just one way or another."
Hepburn was born in Belgium in 1929, the daughter of Baroness Ella van Heemstra, a minor Dutch aristocrat, and Joseph Ruston, an Englishman who mostly absented himself from family life. He finally walked for good in 1935, moving back to England, a moment Hepburn describes in the film as "the first big blow of my life. My father leaving left me insecure for life." Ruston barely managed a visit when his daughter was sent to boarding school in Kent.
Ruston and Van Heemstra were both Nazi sympathisers and he was a friend of the English fascist Oswald Mosley. Did Hepburn feel ashamed about their politics? "More than ashamed, she was angry," Ferrer says. "My mother absolutely loathed it." There is no evidence for the story that Hepburn's parents lunched with Hitler, however: "That's a how-to-sell-10,000-more-books Hollywood rumour."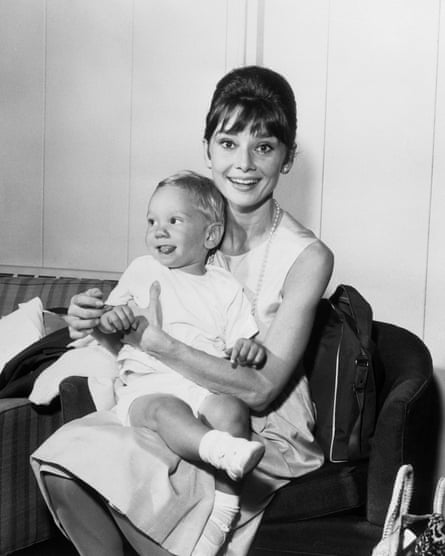 Hepburn with her son Sean not long after filming Breakfast at Tiffany's.

Photograph: Bettmann/Bettmann Archive
Hepburn spent the second world war with her mother in the Netherlands under Nazi occupation. Her uncle was among the Dutchmen rounded up and shot. She saw Jewish women and children loaded into wagons. "It haunted her for the rest of her life," says Ferrer. Van Heemstra had by this time renounced fascism and worked with the resistance in the Netherlands. Like many Dutch children, Hepburn did her bit, too, carrying messages hidden in her shoes, says Ferrer, who has written a biography of his mother and recently published a book for children about her life in wartime, co-authored with his wife Karin. "To protect her, I'm not sure she was told to what extent the messages were important," says Ferrer. "She knew they were important. But having heard the stories, and I don't know this for a fact, I'm sure she was sheltered from the contents of those letters."
In the freezing winter of 1944, the Germans left the Dutch to starve. Hepburn went for days without food and the family ate tulip bulbs to survive. "She used to tell me: 'We spent days in bed with all our clothes on because blankets were not enough." As an adult, Hepburn was so thin people often assumed that she had an eating disorder – she weighed 48kg (7st 7lb) all her life. Ferrer laughs off the suggestion she was anorexic. "She could eat everyone in our family under the table, and she was a wonderful cook. If she had an eating disorder, I never knew about it." He adds that her wartime experiences left Hepburn with an armour-plated resilience. "It gave her a steely determination, a respect for what it takes to do it. I've heard her described as a steel fist in a velvet glove."
Did it make her fearless? "No. She experienced fear all her life. I remember her giving speeches for Unicef, standing behind a podium, shaking like a leaf." In her later years, Hepburn worked practically full-time for the UN children's agency, founded in 1946 to help children facing hunger and disease in Europe. Hepburn made four or five trips a year, on the road for weeks at a time, always on top of her brief. In the footage, what you see is her genuine warmth for children – she seems constitutionally unable to pass a baby without stopping for a kiss or pat.
After the war Hepburn moved to London with her mother. By all accounts the aristocratic Van Heemstra was emotionally cold and critical, yet she scrubbed floors in a hotel to put her daughter through ballet school. However, after missing vital years of training during the war, Hepburn lacked the technique to become a prima ballerina. She started acting to make some money and was discovered at the age of 22 by the French writer Colette on the French Riviera. Colette took one look at Hepburn and decided she would be perfect to star in the Broadway play of her novella Gigi – never mind that Hepburn had at that point only spoken a few lines as an actor. Next came Roman Holiday and overnight stardom. "I didn't know what hit me," she recalls in the documentary.
Hepburn in Funny Face, 1957.

Photograph: Allstar/PARAMOUNT/Sportsphoto Ltd./Allstar
Early in her career, producers cast male actors old enough to be her father as love interests (and paid her a fraction of their paychecks). Bogart was 54 in Sabrina; Hepburn was 24. Fred Astaire was 56 in Funny Face; she was 26. These films were the beginning perhaps of the image of Hepburn as fragile, in need of protection. But the real woman was tougher, says Ferrer. "Think about it. She was the first woman – with Elizabeth Taylor – to make a million dollars, at a time when women couldn't open a bank account without their husbands. She could fight her corner. That was thanks to the war, the ballet, her mother."
The film is packed with anecdotes of Hepburn fighting her corner. She tussled with her great friend, the fashion designer Hubert de Givenchy, over his costumes for her characters; she simplified the famous little black dress he made for Breakfast at Tiffany's. When an exec dismissively announced that her song for the movie, Moon River, was for the chop, Hepburn exclaimed: "Over my dead body!"
Hepburn will never be forgotten so long as Breakfast at Tiffany's is around. Truman Capote, who wrote the novella, thought Hepburn was miscast; he wanted Marilyn Monroe for the part. (His final verdict on the film: "It made me want to throw up.")
What is it about Breakfast at Tiffany's that makes it so enduring? Ferrer takes a few moments to answer. "I think there is an extraordinary quality to all her films; they have not aged. I read an article some years back in which Emma Thompson demeaned my mother's acting ability. My mother would be the first person to say that she wasn't the best actress in the world. But she was a movie star."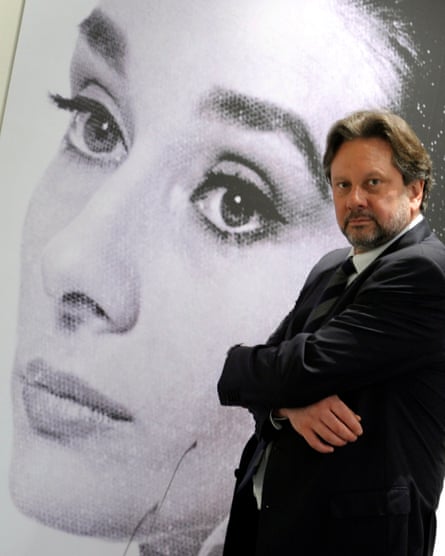 Sean at an exhibition about his mother in Berlin, 2009.

Photograph: Rainer Jensen/EPA
If Hepburn was in control of her brand, her personal life was another matter – her "achilles heel", says Ferrer. In his biography, he wrote that the best-kept secret about his mother was her sadness. After spending her childhood trying to earn her father's love, she tried to find it in her relationships with men. "You become very insecure about affection and terribly grateful for it and you have an enormous desire to give it," she explains in the film.
Hepburn was married twice. Ferrer's father was her first husband, the actor Mel Ferrer, whom she married in 1954. Hepburn had one miscarriage before Ferrer was born in 1960. He describes his father as a "difficult and demanding man" and the couple divorced. In 1969, she married an Italian psychiatrist, Andrea Dotti, moved to Rome and had another son, Luca. The marriage was not happy – in the documentary, a friend reveals that Italian paparazzi photographed Dotti with more than 200 different women. After another divorce, Hepburn lived with the Dutch actor Robert Wolders until her death from cancer in 1993, aged just 63.
Family was important to Hepburn, who seems to have had a great gift of knowing what she needed emotionally. She always wanted to be a mother, she said: "Ever since I was a child, I loved babies." After Ferrer was born, she more or less quit acting, turning her back on Hollywood for 10 years, writing polite thank-you-but-no-thank-you letters to directors including Stanley Kubrick. Having been denied affection as a child, she poured it into her children. She explains her decision in the film with a sisterly acknowledgment that her choice is not every woman's choice: "I don't want to be made to sound virtuous. It was a very knowing and, if you like, selfish decision. It was what made me happy, to stay at home with my children. It wasn't a sacrifice because I felt I wanted to stay home."
Unlike his mother, Ferrer had a happy childhood in Switzerland then Rome. "I didn't grow up in Hollywood, the place, or the state of mind. We didn't have screening rooms at home. I grew up in the countryside as a normal kid. I can see how movie stars lose touch with reality. I can understand that, because you're told a million times a day in so many little gestures that you're some how special and unique. My mother didn't take herself seriously. She used to say I take what I do seriously, but I don't take myself seriously."
Audrey is released on DVD and digitally on 30 November; Little Audrey's Daydream is out now
Lost at Christmas review – sickly sweet Highlands romcom takes the wrong road | Film
An assortment of Scottish actors familiar from Taggart, north-of-the-border soap High Road, various Doctor Who episodes and film adaptations of the less renowned Irvine Welsh novels assemble for this dully sentimental, unfunny romantic comedy.
First seen skipping through a Highland town dressed like a Christmas elf, right down to the red and white striped tights, annoyingly cheerful Jen (Natalie Clark) has rocked up to surprise her man for Christmas, only to discover he's married and has a kid. Her path that day criss-crosses with that of dour Rob (Kenny Boyle), who has just been knocked back by his girlfriend following his marriage proposal. Both distraught and stuck in a snowstorm at the station after the last train has left, they pair up to try to get back to Glasgow.
After the de rigueur bickering as they try to get through some snow-capped scenery, they end up at an inn that turns out to be full of people trying to escape enforced Christmas cheer. This perfectly sensible attitude is anathema to Jen, who insists on bullying everyone into celebrating "the happiest time of the year". Old men at the bar crack wise, one-time Gregory's Girl Clare Grogan grumps about the place in an Aran sweater … and of course Jen eventually melts the heart of jilted Rob.
It's hard to care exactly what writer-director Ryan Hendrick's endgame is going to be since the whole film feels as if it's going in one particular direction – but the last shot finishes in quite a different sort of place, which is an interesting if not especially pleasant surprise. Nevertheless, the dialogue is as insipid and bland as elevator music, and the non-source score itself is even worse.
• Lost at Christmas is in cinemas from 4 December and available on digital platforms from 7 December.
Falling review – Viggo Mortensen casts a clear eye on dementia | Drama films
Viggo Mortensen is a formidable creative presence in the movies: taking on complex work as an actor with directors such as David Cronenberg and Lisandro Alonso, investing the star capital he earned with his turn as Aragorn in Peter Jackson's Lord of the Rings trilogy, and doing a workmanlike job as wise-guy driver Tony Lip cured of his picturesque 1960s racism in the egregious Oscar-winner Green Book.
Now he has written and directed his first movie, and it's a really valuable work, beautifully edited and shot, with a wonderful performance by the veteran actor Lance Henriksen: a sombre, clear-eyed look at the bitter endgame of dementia. Mortensen takes a determined walk across the hot coals of family pain; the drama shows how the condition, with its outbreaks of anger and fear, locks the sufferer into disjointed memories that cannot be expressed or made sense of, a mute ecstasy of loneliness. But it erases other painful memories of wrongdoing that, through a mysterious, sickening quantum, get displaced all too vividly into the minds of the grownup children and carers. They are not even allowed the relief of anger, because dementia behaviour has to be forgiven.
Henriksen plays Willis, an ornery, snowy-haired farmer and widower in the cold expanses of upstate New York: he is a lion in winter, or maybe a junkyard dog in winter. Homophobia is the one of his many attitudes that have now come obsessively to the fore because his son John (played with reticent restraint by Mortensen) has come out as gay. Now the old man has just about accepted that he cannot look after himself any more, and has come to stay with John and John's husband, Eric (Terry Chen), in their California home. John's sister, Sarah (a typically strong performance by Laura Linney), stops by with her family for a lunch – which, as Willis yelps and snarls his bigoted insults and sneers, becomes a group martyrdom of tongue-biting silence and subject-changing smiles from the older generation, while the teens are derisive and unafraid.
But a whole past flows beneath this stressed present like an underground stream: that of Willis's memories – and John and Sarah's. Sverrir Gudnason plays young Willis: nervy and insecure with a thwarted need for love that curdles into abuse; Hannah Gross plays his sensitive young wife, who cries at LP records of Chopin; and Bracken Burns plays Jill, the woman for whom he leaves Gwen, a wary stepmother to the resentful and bewildered children.
Gudnason shows that Willis was not always a villain: he wanted to bond with his son (though not his daughter) through hunting, and Willis is thrilled that John shows a talent for it, at least at first. But their relationship deteriorates and Willis gives John a scar above the lip which, worryingly, appears to match an ancient scar of his own. A cycle of abuse? Now John has given up drinking, perhaps because it is a pleasure that only fuels his rage at Willis.
With his memories of the farm and its horses and its vision of frontier masculinity, I think Mortensen has probably absorbed the influence of Larry McMurtry. Tellingly, Willis is shown watching Hawks's Red River, with John Wayne, on TV – and maybe, via McMurtry's script for The Last Picture Show (about Red River), the McMurtry DNA has indirectly arrived at Mortensen's work in the present day. There is real passion and tragedy in these vivid flashback memories, triggered by moods, shapes, sounds. Just occasionally, there is black comedy. Cronenberg has a cameo as a proctologist who has to give the ageing Willis a rectal exam, the cue for all sorts of bad-taste wisecracks about his son's sexual identity. "This is strictly routine," says the doctor. "For you maybe," snaps Willis, supine in his hospital gown.
With some self-effacement, Mortensen has conceded the performer's alpha prerogative to Henriksen. It's the right decision: Henriksen's Willis, in all his self-defeating cantankerous arrogance, is so commanding. But I wondered if Mortensen could or should have shown us more about John, more about what he has gone through to arrive at this strenuously calm, diplomatic unresponsiveness. Could he have broken out more, shown more anger? Either way, this is a very substantial achievement.
County Lines review – dark tale of the burdens borne by drug mules | Film
"County lines" is slang for a new UK crime phenomenon that is basically as old as the hills: the targeting of vulnerable teenagers from the big city, generally ones absent from school and without stable family support, and using them to traffic drugs out to the provinces via solo train journeys – an invisibly discreet method – and then traffic the resulting cash back. It's about drug mules, those age-old human beasts of burden, and about using children as the disposable footsoldiers of crime, which Dickens would have recognised. Henry Blake's debut movie about all this, developed from a short made in 2017, is focused, compassionate and well-acted: a shocking social-realist drama-thriller.
The victim-hero is 14-year-old Tyler (played by Conrad Khan) who lives at home with his mum Toni (Ashley Madekwe) and kid sister. He's been excluded from school for fighting (Toni was once in trouble while a pupil at the same school) and crucially emboldened to do this by an earlier bullying incident in a chicken shop, when a total stranger stepped in to help him.
This was a guy in his early 20s: tough, confident, kindly, clearly the kind of role model that young Tyler hasn't encountered since his dad ran out on the family. He is Simon, coolly played by Harris Dickinson, who starts giving Tyler lifts in his nice car, letting Tyler see his expensive watch, taking him out for meals and letting him talk about his worries. Soon, desperately overworked Toni loses her cleaning job and Simon tells Tyler he must step up to his responsibilities and be a man: which is to say, Tyler must run drugs down to Canvey Island in Essex on the train and help sell them in a world of Hogarthian violence and squalor.
The first "meal" scene with Tyler and Simon is very interesting: it takes place in another down-at-heel burger place. (Later, Marsh will show Tyler's wonderment and intimidation in seeing Simon in a much classier restaurant with his partner and child – and Simon's intense irritation at this low-ranking subordinate presuming to contact him there.) Simon is grooming Tyler, and allowing him to experience, perhaps for the first time in his life, the pleasure of being listened to and treated with kindness. But the film shows how the conversation is provisional, exploratory. Simon is sizing Tyler up: assessing his suitability for employment. How much responsibility might this kid be given, if any?
Interestingly, that first intervention in the chicken shop was not necessarily part of a master plan. Simon doesn't even remember Tyler when he offers his shy thanks the next day. Getting involved in potentially violent situations with school-age kids that he's confident of beating in a fight is something that Simon does almost without thinking. But, like career criminals, he can see how to create and enforce the bonds of loyalty, and of course his friendly mask is soon to be removed.
County Lines is a film that doesn't run along the usual rails of a gangster thriller. You might, for example, expect to see cycle-of-abuse evidence, signs of Simon's own erstwhile innocence or victimhood, and then indications of how Tyler is coming of age in this nauseous business: becoming more ruthless and more professional, or maybe even superseding his boss. Blake doesn't do that, although he certainly shows how Tyler is becoming more indoctrinated into the world of brutality, a trainee abuser who assaults his mum. Instead, County Lines shows us something realer and more banal.
For all the violence and the machismo, it is the woman who finally has to clean up the mess. Tyler's mum must look after him, take him to hospital and take the measures necessary to settle his outstanding problems with Simon, who has naturally revealed himself to be the bully-in-chief. County Lines has excellent performances from Khan, Madekwe and Dickinson, and also Anthony Adjekum as Tyler's teacher Laurence, one of the few people who speaks to him with genuine sympathy.
• County Lines is released cinemas and on digital platforms on 4 December.