Microsoft Surface Laptop 3 review: still sleek, just no longer unique | Microsoft Surface
Microsoft's top-quality laptop is now in its third generation, with new ports, new processors and a slight redesign, with the option to ditch the unique Alcantara for plain old aluminium.
The £999 and up Surface Laptop 3 is Microsoft's vision of what a traditional laptop should be. For the most part that's the same as everyone else, with traditional aluminium body, glass-covered screen and hinge that does not rotate all the way round to the back.
The biggest design difference, an Alcantara fabric deck into which the keyboard is mounted, is now optional. With the 13.5in Surface Laptop 3 you now have the choice of black or sandstone aluminium, or cobalt blue or platinum Alcantara. The larger 15in only comes in black or platinum aluminium.
The craftsmanship of the Surface Laptop 3 is top notch, as it should be for a premium machine. The aluminium lid is smooth and stylish, fitting exactly on to the deck with solid-feeling clunk, and opening up again with one hand without tipping over backwards. The screen, too, is crisp, bright and gorgeous, rivalling the best. These are the things you should expect for a laptop costing £999 or more, but is certainly not the case for all rivals.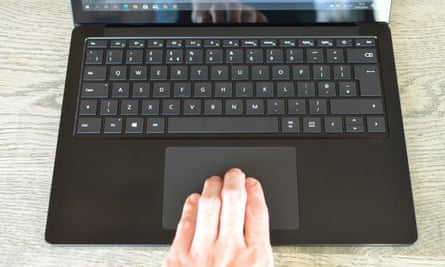 The keyboard continues to offer arguably the best typing experience on a laptop.

Photograph: Samuel Gibbs/The Guardian
The aluminium deck is smooth and well finished, but isn't as unique or characterful as the Alcantara alternative. It's likely it won't mark in the same way the fabric does, but it feels somewhat generic.
The trackpad is large, smooth and responsive; arguably one of the best fitted to any Windows laptop, but it's still not quite as fantastic as that fitted to Apple's MacBooks.
The keyboard is a dream. There is simply not a finer typing experience to be had on any other laptop. The keys are solid, well spaced, have a nice silk-like texture to them, a satisfying amount of travel and are relatively quiet.
Specifications
Screen: 13.5in LCD 2256 x 1504 (201 PPI)

Processor: quad-core Intel Core i5 or i7 (10th generation)

RAM: 8 or 16GB

Storage: 128, 256, 512GB or 1TB

Graphics: Intel Iris Plus

Operating system: Windows 10 Home

Camera: 720P front-facing, Windows Hello

Connectivity: wifi 6 (ax), Bluetooth 5, USB-A, USB-C, headphones, Surface Connect TPM

Dimensions: 308.1 x 223.3 x 14.5mm

Weight: 1,265 or 1,288g
10th-generation Intel performance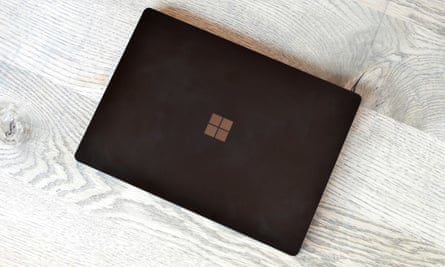 Along with faster processors, the 10th-generation Intel chips bring with them support for the new wifi 6 standard and Bluetooth 5.0.

Photograph: Samuel Gibbs/The Guardian
The 13.5in Surface Laptop 3 ships with one of Intel's latest 10th-generation Core i5 or Core i7 processors, which are faster on paper and support improved RAM and the next generation of wifi 6.
The Surface Laptop 3 is therefore a top performer in the premium laptop market, offering a good balance of power and portability. It handled general computing with no slowdown at all and with the fans barely audible, even with 10 applications open with lots of tabs in Chrome and several large images open and being worked on in Affinity Photo.
It won't match a workstation for computing power, such as the new 16in Apple MacBook Pro, but compares favourably to Apple's smaller 13in MacBook Pro and Dell's XPS 13.
Battery life is good, but not class-leading. It lasts through an eight-hour work day with the brightness set to 70%, and recommended battery settings, using Chrome, Windows Mail, Evernote, NextGen Reader, Typora and several messaging apps open, plus some image editing in Affinity Photo, finishing with under 10% battery left.
That's about 90 minutes less than the Surface Laptop 2 under similar working conditions, but about in line with others of a similar design.
New for the Surface Laptop 3 is a fast charge feature, that will see it hit 80% from flat in about an hour, which is extremely handy for quick top-ups but only works when the machine is off.
Windows 10 Home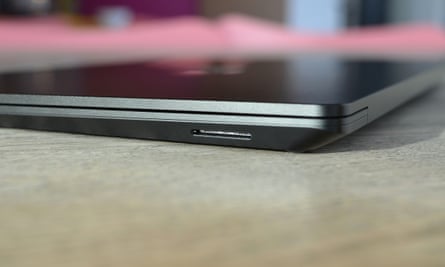 The Surface Connect port doubles up for power and connectivity, depending on whether you buy one of Microsoft's dongles or docks.

Photograph: Samuel Gibbs/The Guardian
The Surface Laptop 3 runs Windows 10 Home out of the box, but comes with storage encryption, which is a must for a modern portable PC. On the whole Windows 10 has matured into an excellent, well-rounded and stable operating system, despite a few issues on Microsoft's part that mainly affected early adopters over the last year.
More and more of the programs I use are in the Windows Store too, which keeps them up to date without me having to do anything, and makes reinstalling them all easy. In the two weeks of testing, Windows 10 on the Surface Laptop 3 ran perfectly.
Ports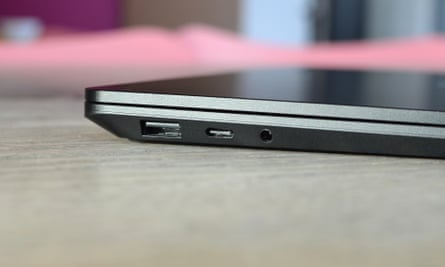 USB-C is a new highlight, but the laptop does not support Thunderbolt 3 and there's only one of them.

Photograph: Samuel Gibbs/The Guardian
The big new addition to the Surface Laptop 3 is (finally) USB-C, which replaces the mini DisplayPort on the previous generation. It is not, however, Thunderbolt 3, which is a shame but shows that Microsoft isn't after professional users.
Most people will be fine with just USB-C, which can charge the laptop and connects to practically anything, including multi-adapter hubs. It's certainly more useful than the old mini DisplayPort, but it would have been nice to have more than one USB-C port. Baby steps, then.
Alongside the solitary USB-C port you have a single USB-A port for standard peripherals, a 3.5mm headphones socket and Microsoft's Surface Connect port, which doubles as the power socket. The Surface Connect supports a range of adapters and the pricey but effective Surface Dock, which connects multiple monitors, ethernet, headphones and USB sockets and power via one cable.
Windows Hello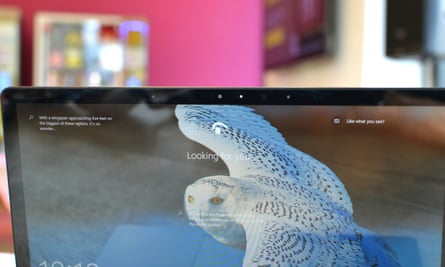 Microsoft's face recognition cameras in its laptops are fantastic, logging you in securely just by looking at the device.

Photograph: Samuel Gibbs/The Guardian
Microsoft has fitted all of its recent Surface machines with an infrared-based face recognition camera, which hooks into the Windows Hello biometric authentication system to allow you to log into Windows just by looking at it.
It pre-dates Apple's Face ID on the iPhone but works just as well, seamlessly logging you straight in the moment you open the Surface Laptop 3. It's fast, secure and convenient.
Repairability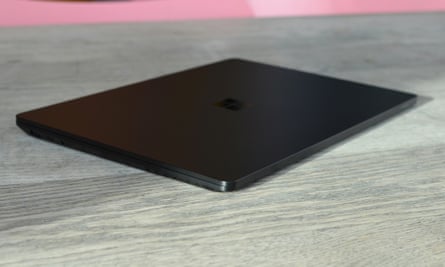 Microsoft has made slight progress regarding sustainability.

Photograph: Samuel Gibbs/The Guardian
The Surface Laptop 3 bucks the trend by being more repairable than the previous version by some margin. Elements such as the SSD are actually modular and can be replaced – they are not soldered directly on to the motherboard – leading the repair specialists iFixit to give the Surface Laptop 3 a score of 5 out of 10.
Microsoft states that the battery is not user replaceable, and while the SSD can be replaced by a user it will not be covered by warranty; instead both can be repaired or replaced by authorised service providers.
The company also operates both trade-in and recycling schemes for old machines.
Observations
Due to the angle of the side of the machine it can be difficult to plug the magnetic power cable in without lifting the side up for more leverage.

The black paint can be scratched revealing the silver aluminium underneath.

The screen supports 10-point touch and Microsoft's Surface Pen stylus.
Price
The 13.5in Microsoft Surface Laptop 3 starts at £999 with an Intel Core i5 processor, 8GB of RAM and 128GB of storage.
The laptop as reviewed cost £1,269 with an Intel Core i5, 8GB of RAM and 256GB of storage.
Versions with Intel Core i7 processors start at £1,549 with 16GB of RAM and 256GB of storage and top out at £2,349 with 1TB of storage.
For comparison, Dell's XPS 13 starts at £1,049, Apple's MacBook Air starts at £1,099 and MacBook Pro starts at £1,299.
Verdict
Microsoft's 13.5in Surface Laptop 3 is a refined, premium Windows 10 machine that ticks almost every box and does so often at prices undercutting rivals.
It boots fast, logs in fast with the excellent Windows Hello and runs well. The screen is beautiful. The keyboard is fantastic. The trackpad is very good. All the bits you touch or interact with are top notch.
You're not going to be playing the latest and greatest AAA games, but it has plenty of power to handle general computing, image editing and even heavier-duty programs such as video editing suites in a pinch.
Battery life is a solid eight hours, while the quick charge feature is a useful addition. The ability to charge via either the Surface Connect or USB-C is welcome, too, as is the connectivity the new port brings. It could do with a few more USB-A and USB-C ports, while Thunderbolt 3 support would be ideal, as would an SD card reader. But at least the Surface Laptop 3 is more repairable than previous iterations.
Overall, the 13.5in Surface Laptop 3 is a class act and well worth considering if you're looking for a premium consumer laptop next to the best in the business from Apple and Dell.
Pros: great keyboard, good trackpad, Alcantara or aluminium, sleek design, USB-A and USB-C port, great screen, good battery life, Windows Hello, powerful processor.
Cons: no SD card reader, limited configuration options, no Thunderbolt 3, only one USB-C port.
Other reviews
The silencing of Trump has highlighted the authoritarian power of tech giants | Social media
It was eerily quiet on social media last week. That's because Trump and his cultists had been "deplatformed". By banning him, Twitter effectively took away the megaphone he's been masterfully deploying since he ran for president. The shock of the 6 January assault on the Capitol was seismic enough to convince even Mark Zuckerberg that the plug finally had to be pulled. And so it was, even to the point of Amazon Web Services terminating the hosting of Parler, a Twitter alternative for alt-right extremists.
The deafening silence that followed these measures was, however, offset by an explosion of commentary about their implications for freedom, democracy and the future of civilisation as we know it. Wading knee-deep through such a torrent of opinion about the first amendment, free speech, censorship, tech power and "accountability" (whatever that might mean), it was sometimes hard to keep one's bearings. But what came to mind continually was H L Mencken's astute insight that "for every complex problem there is an answer that is clear, simple and wrong". The air was filled with people touting such answers.
In the midst of the discursive chaos, though, some general themes could be discerned. The first highlighted cultural differences, especially between the US with its sacred first amendment on the one hand and European and other societies, which have more ambivalent histories of moderating speech. The obvious problem with this line of discussion is that the first amendment is about government regulation of speech and has nothing whatsoever to do with tech companies, which are free to do as they like on their platforms.
A second theme viewed the root cause of the problem as the lax regulatory climate in the US over the last three decades, which led to the emergence of a few giant tech companies that effectively became the hosts for much of the public sphere. If there were many Facebooks, YouTubes and Twitters, so the counter-argument runs, then censorship would be less effective and problematic because anyone denied a platform could always go elsewhere.
Then there were arguments about power and accountability. In a democracy, those who make decisions about which speech is acceptable and which isn't ought to be democratically accountable. "The fact that a CEO can pull the plug on Potus's loudspeaker without any checks and balances," fumed EU commissioner Thierry Breton, "is not only confirmation of the power of these platforms, but it also displays deep weaknesses in the way our society is organised in the digital space." Or, to put it another way, who elected the bosses of Facebook, Google, YouTube and Twitter?
What was missing from the discourse was any consideration of whether the problem exposed by the sudden deplatforming of Trump and his associates and camp followers is actually soluble – at least in the way it has been framed until now. The paradox that the internet is a global system but law is territorial (and culture-specific) has traditionally been a way of stopping conversations about how to get the technology under democratic control. And it was running through the discussion all week like a length of barbed wire that snagged anyone trying to make progress through the morass.
All of which suggests that it'd be worth trying to reframe the problem in more productive ways. One interesting suggestion for how to do that came last week in a thoughtful Twitter thread by Blayne Haggart, a Canadian political scientist. Forget about speech for a moment, he suggests, and think about an analogous problem in another sphere – banking. "Different societies have different tolerances for financial risk," he writes, "with different regulatory regimes to match. Just like countries are free to set their own banking rules, they should be free to set strong conditions, including ownership rules, on how platforms operate in their territory. Decisions by a company in one country should not be binding on citizens in another country."
In those terms, HSBC may be a "global" bank, but when it's operating in the UK it has to obey British regulations. Similarly, when operating in the US, it follows that jurisdiction's rules. Translating that to the tech sphere, it suggests that the time has come to stop accepting the tech giant's claims to be hyper-global corporations, whereas in fact they are US companies operating in many jurisdictions across the globe, paying as little local tax as possible and resisting local regulation with all the lobbying resources they can muster. Facebook, YouTube, Google and Twitter can bleat as sanctimoniously as they like about freedom of speech and the first amendment in the US, but when they operate here, as Facebook UK, say, then they're merely British subsidiaries of an American corporation incorporated in California. And these subsidiaries obey British laws on defamation, hate speech and other statutes that have nothing to do with the first amendment. Oh, and they pay taxes on their local revenues.
What I've been reading
Capitol ideas
What Happened? is a blog post by the Duke sociologist Kieran Healy, which is the most insightful attempt I've come across to explain the 6 January attack on Washington's Capitol building.
Tweet and sour
How @realDonaldTrump Changed Politics — and America. Derek Robertson in Politico on how Trump "governed" 140 characters at a time.
Stay safe
The Plague Year is a terrific New Yorker essay by Lawrence Wright that includes some very good reasons not to be blase about Covid.
Revealed: Tory MPs and commentators who joined banned app Parler | Conservatives
At least 14 Conservative MPs, including several ministers, cabinet minister Michael Gove and a number of prominent Tory commentators joined Parler, the social media platform favoured by the far right that was forced offline last week for hosting threats of violence and racist slurs.
Parler was taken offline after Amazon Web Services pulled the plug last Sunday, saying violent posts and racist threats connected to the recent attack on the US Capitol violated its terms.
Analysts from the London-based Institute for Strategic Dialogue (ISD) said that Parler had become a platform where the ideas of mainstream Conservative MPs coalesced with those of extremists.
Milo Comerford, senior policy manager at ISD, said: "By positioning themselves as a safe haven for free speech and an alternative to the alleged 'liberal bias' of social media giants such as Facebook and Twitter, platforms like Parler attracted a motley crew of ultra-libertarians, violent extremists and conspiracy theorists, as well as more mainstream 'free speech fundamentalists.'"
At least nine of the Tory MPs on Parler joined the platform in an apparent show of support for free speech following Donald Trump's clashes with Twitter over remarks he made following the death of George Floyd in Minnesota last year.
The social media giant warned that one of Trump's tweets "glorified violence", the first time it had applied such a warning on any public figure's tweets. Twitter's row with Trump prompted a campaign by American rightwing voices to move en masse to Parler, which encouraged Trump followers to join on 15 June with a declaration for internet independence.
Days later, Foreign Office minister James Cleverly along with Brexiter Steve Baker MP and Ben Bradley MP, who was recently accused of linking free school meals with "crack dens", joined Parler. Far-right provocateur Katie Hopkins joined on the same day, after her Twitter account was permanently suspended. Hopkins, who on Thursday joined Ukip in time for the party's leadership contest, owned Parler's largest UK account with 435,000 followers when it was taken offline.
Other Tory MPs to join Parler on the same day as Hopkins include Mark Jenkinson, who last year alleged that food parcels were sold or traded for drugs in his Cumbrian constituency without offering any proof, and trade minister Ranil Jayawardena.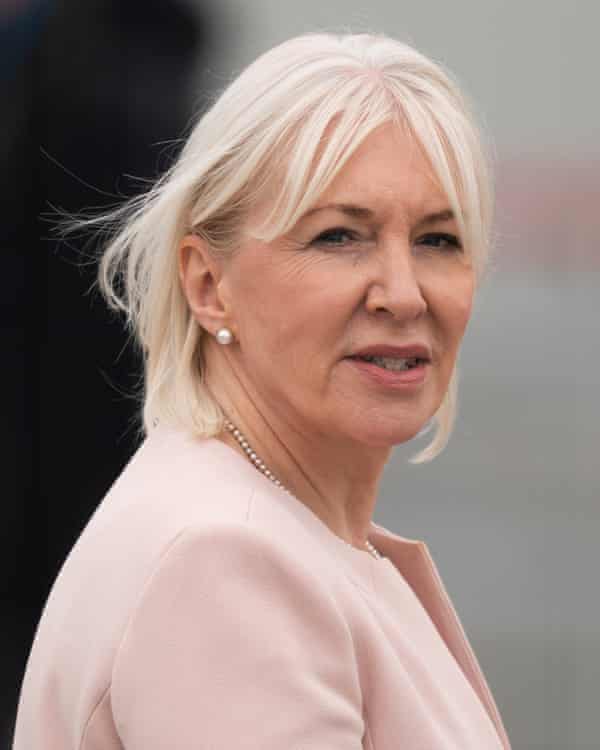 Health minister Nadine Dorries joined Parler on 21 June. Dorries had weeks earlier been reprimanded by Downing Street for sharing a video from a far-right Twitter account that falsely claimed Keir Starmer blocked the prosecution of grooming gang members when he led the Crown Prosecution Service.
The most prolific Tory MP on the site was Bradley who sent 52 "parleys" and had more than 12,000 followers. Gove sent at least 26 parleys and had more than 5,000 followers. There is no evidence any Conservative MP posted anything untoward or what might be considered extremist or far right. Some of the accounts had been hardly used and some of those activated in June 2020 appear to have been set up only to support the free speech protest.
Other notable Conservative figures on the site include pro-Brexit campaigner Darren Grimes. In June he told his followers on Parler that "it's about time we fought back against big tech's assault on free speech, free expression and freedom of association".
Comerford added: "Platforms like Parler must be understood as part of a broad online extremist ecosystem, ranging from mainstream social media platforms, imageboard sites like the chans, to encrypted-messenger apps like Telegram, all of which play roles in helping extremists to mobilise, organise and propagandise."
• This article was amended on 16 January 2021 to remove the statement that Maria Caulfield was on Parler. There is a fake account in the MP's name on the site.
How Trump supporters are radicalised by the far right | Apps
Far right "playbooks" teaching white nationalists how to recruit and radicalise Trump supporters have surfaced on the encrypted messaging app Telegram ahead of Joe Biden's inauguration.
The documents, seen by the Observer, detail how to convert mainstream conservatives who have just joined Telegram into violent white supremacists. They were found last week by Tech Against Terrorism, an initiative launched by the UN counter terrorism executive directorate.
Large numbers of Trump supporters migrated on to Telegram in recent days after Parler, the social media platform favoured by the far right, was forced offline for hosting threats of violence and racist slurs after the attack on the US Capitol on 6 January.
The documents have prompted concern that far right extremists congregating on Telegram instead of Parler has made it far harder for law enforcement to track where the next attack could come from.
Already, hundreds of suspects threatening violence during this week's inauguration of Biden have been identified by the FBI.
One of the playbooks, found on a channel with 6,000 subscribers, was specially drawn up to radicalise Trump supporters who had just joined Telegram and teach them "how to have the proper OPSEC [operations security] to keep your identity concealed".
The four-page document encourages recruiters to avoid being overtly racist or antisemitic initially when approaching Trump supporters, stating: "Trying to show them racial IQ stats and facts on Jewish power will generally leave them unreceptive… that material will be instrumental later on in their ideological journey.
"The point of discussion you should focus on is the blatant anti-white agenda that is being aggressively pushed from every institution in the country, as well as white demographic decline and its consequences."
The document concludes with its author stating: "Big Tech made a serious mistake by banishing conservatives to the one place [Telegram] where we have unfettered access to them, and that's a mistake they'll come to regret!"
The document is named the "comprehensive redpill guide", a reference to the online term red-pilling, used to describe a conversion to extreme far-right views.
The document adds: "Not every normie can be redpilled, but if they're receptive and open-minded to hearing what you have to say, you should gradually be sending them edgier pro-white/anti-Zionist content as they move along in their journey."
Another white nationalist recruitment guide uncovered by Tech Against Terrorism, which is working with global tech firms to tackle terrorist use of the internet, shares seven steps of "conservative conversion".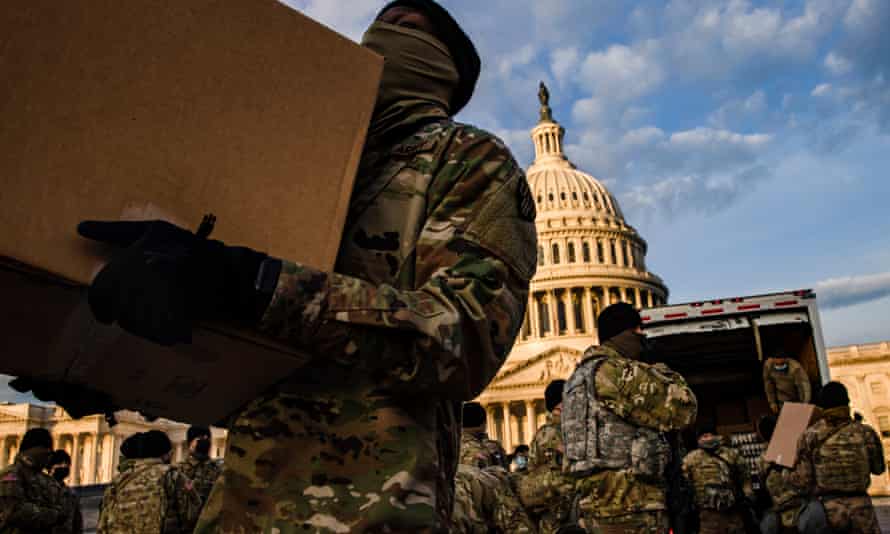 Found on a Telegram channel with 1,732 subscribers, it also advocates white supremacist recruiters hiding their true credentials because most mainstream Trump supporters would be initially wary of strangers espousing extremist views.
"To them 'Nazism' is the worst thing possible. So having a swastika as a pfp [picture for profile] or your name being "heilhitler88" will automatically turn them off," states the guide.
It adds: "Ask them questions such as: 'What are conservatives conserving? Why are we losing? Is it a coincidence that Hollywood, corporations and media are all against us? Who is responsible?' (Don't go into Jews controlling everything, they worship Ben Shapiro [US conservative commentator], they need to come across that idea themselves)."
Adam Hadley, founder and director of Tech Against Terrorism, said Parler's downfall and the resultant exodus of disenfranchised Trump supporters on to Telegram could escalate the numbers of individuals who could be classified as a threat.
"There is much to be concerned about in the far-right playbooks we have uncovered on Telegram.
"If mainstream social media platforms are too quick to ban users who post material that may be distasteful, but not illegal, we simply push them into the hands of those who seek to radicalise them."
Hadley added: "At this pivotal moment in the fight against violent extremism, we must ensure our response upholds the very democratic principles we seek to protect, and that we cannot be accused of stifling legitimate political debate."