Microsoft, Salesforce and Oracle working on Covid vaccination passport
Brendan McDermid | Reuters
LONDON — A digital Covid vaccination passport is being jointly developed by a group of health and technology companies who anticipate that governments, airlines and other firms will soon start asking people for proof that they have been inoculated.
A coalition known as the Vaccination Credential Initiative — which includes Microsoft, Salesforce and Oracle, as well as U.S. health care non-profit Mayo Clinic — was announced on Thursday.
The VCI said it wants to develop technology that enables individuals to obtain an encrypted digital copy of their immunization credentials that can be stored in a digital wallet of their choice, such as the Apple Wallet or Google Pay. It suggested that anyone without a smartphone could receive paper printed with QR codes containing verifiable credentials.
The coalition said it will also try to develop new standards for confirming whether a person has or hasn't been inoculated against the virus. Previously, citizens have used vaccination booklets to keep track of their travel vaccines but authorities rarely ask to see them.
"The goal of the Vaccination Credential Initiative is to empower individuals with digital access to their vaccination records," said Paul Meyer, CEO of non-profit The Commons Project, which is a member of the coalition, in a statement.
He added that the technology should allow people "to safely return to travel, work, school, and life, while protecting their data privacy."
Bill Patterson, an executive vice president and general manager at enterprise software firm Salesforce, said his company wants to help organizations "customize all aspects of the vaccination management lifecycle and integrate closely with other coalition members' offerings, which will help us all get back to public life."
"With a single platform to help deliver safe and continuous operations and deepen trust with customers and employees, this coalition will be crucial to support public health and wellbeing," Patterson added.
Microsoft did not immediately respond to CNBC's request for comment.
Vaccine divides opinion
While many people can't wait to protect themselves from the virus, some are adamant that they won't get the jab, leaving populations divided into those that have been vaccinated and those that haven't. In the U.K., one in five say they are unlikely to get the vaccine, according to YouGov research published in November, citing a variety of different reasons.
Millions of people around the world still don't want to be vaccinated, according to opinion polls. Some fear needles, some believe in unsubstantiated conspiracy theories and some are worried about potential side effects. Others just don't think getting vaccinated is necessary and would rather risk catching Covid.
As a result of the differing views, a debate could start to emerge in 2021. Should any restrictions be imposed on people who choose not to get vaccinated, given they can catch and spread the virus?
It's a tricky subject but governments are already looking at introducing systems that would enable authorities, and possibly businesses, to tell if a person has had a Covid vaccine or not.
In December it emerged that Los Angeles County plans to let Covid vaccine recipients store proof of immunization in the Apple Wallet on their iPhone, which can also store tickets and boarding passes in digital form. Officials say it will first be used to remind people to get their second shot of the vaccine but it could, eventually, be used to gain access to concert venues or airline flights.
China has launched a health code app that shows whether a person is symptom-free in order to check into a hotel or use the subway. In Chile, citizens that have recovered from the coronavirus have been issued with "virus free" certificates.
On Dec. 28, Spain's Health Minister Salvador Illa said the country will create a registry to show who has refused to be vaccinated and that the database could be shared across Europe.
Elsewhere, the CEO of Delta Air Lines, Ed Bastian, said in April that immunity passports could be used to help fliers feel more confident in their personal safety while traveling.
A spokesperson for Ryanair said "vaccination won't be a requirement when flying Ryanair" when CNBC asked if it would ever prevent non-vaccinated people from flying on its aircraft. British Airways, Qantas, and easyJet did not respond to CNBC's request for comment.
Isra Black, a lecturer in law at the University of York, and Lisa Forsberg, a postdoctoral fellow at the University of Oxford who researches medical ethics, told CNBC that it "isn't easy to say whether it would be ethically permissible for a state to impose restrictions" on people who refuse a jab.
The academics said in a joint statement via email that the answer will depend on factors like vaccine supply, the level of vaccination in the population, the nature of the restrictions on vaccine refusers, and how the restrictions are operationalized.
"We might think that there are strong, albeit not necessarily decisive, reasons in favor of some limitation on regaining pre-pandemic freedoms for individuals who refuse vaccination for Covid-19, for example, on their freedom to gather," said Black and Forsberg. "There is the potential for unvaccinated individuals to contract a serious case of coronavirus, which we take would be bad for them, but could also negatively affect others, for example, if health resources have to be diverted away from non-Covid care."
Facebook is referring Trump ban to its Oversight Board
President Donald Trump speaks to members of the media before boarding Marine One on the South Lawn of the White House in Washington, D.C., U.S., on Wednesday, Jan. 20, 2021.
Al Drago | Bloomberg | Getty Images
Facebook on Thursday announced that it will refer its decision to indefinitely suspend the account of former President Donald Trump to its newly instituted Oversight Board.
The independent body will review the decision to suspend Trump and make a binding decision on whether the account will be reinstated. Until a decision is made, Trump's account will remain suspended, the company said in a blog post.
The board will begin accepting public comments on the case next week, it said in a tweet. The board will have up to 90 days to make its decision, but the board's members have committed to move as quickly as possible, a spokesman for the board told CNBC. A decision can't be overruled by CEO Mark Zuckerberg or other executives.
After Trump's comments on social media led to an insurrection at the U.S. Capitol on Jan. 6 that resulted in the death of five people, Facebook said it hopes that the board will uphold its Jan. 7 decision to indefinitely suspend Trump.
"We believe our decision was necessary and right," Facebook said in a blog post. "Given its significance, we think it is important for the board to review it and reach an independent judgment on whether it should be upheld."
The company's Oversight Board was launched in October with the premise of reviewing difficult content moderation decisions. The Facebook Oversight Board is made up of scholars, journalists and former lawmakers from around the world. This will be the board's first major case.
Nominations are open for the 2021 CNBC Disruptor 50, a list of private start-ups using breakthrough technology to become the next generation of great public companies. Submit by Friday, Feb. 12, at 3 pm EST.
Conspiracy! review – help a Trumpist president steal an election | Games
The terrible truth about conspiracy theories is that they're fun. Making and sharing connections offers a sense of control so potent we might willingly blind ourselves to the provenance of the information in question – a tendency amplified by online recommendation algorithms, which point us towards ideas we already sympathise with. This is the gloomy message of Conspiracy!, an extremely timely text game in which you fabricate a plot to steal a US election.
Created in December, as Donald Trump and his followers doubled down on claims of voting fraud, the game casts you as an aide to an ousted Republican president who is refusing to concede. To make your employer's case, you must assemble evidence for a conspiracy that folds in every deep state fairytale from human sacrifice to the ruinous effects of 5G internet. Play is about simple but satisfying comparison and deduction. You comb through a small stash of newspaper excerpts, podcasts, forum posts and classified emails, assigning dates to a series of captioned Polaroids. Get five dates correct, and the game locks them in while handing you fresh materials for your investigation.
In addition to exploring the mechanics of conspiracy theories, the game is a portrayal of fanaticism across the political spectrum. Besides drawling southern reactionaries, it harbours a few unflattering portrayals of sneering lefty intellectuals. It's a short walk from such even-handedness to the kind of both-sides rhetoric that conflates BLM protesters with neo-Nazis. Conspiracy! never goes that far, but over the course of just two hours it doesn't have much space for nuance, and it's over-reliant on stereotypes.
It plays like a detective game such as the wonderful Paradise Killer, but it treats the player as a glorified factchecker, rubber-stamping a web of tall tales. You're not involved in sourcing the evidence, only organising it, and if, as members of QAnon claim, everything means something, the game allows for only one interpretation. This is obvious from the outset, of course – Conspiracy!'s most insidious revelation is that joining the dots can feel enjoyable even when you know you're being used.
• Conspiracy! is available now; £3.50
Samsung Galaxy S21 Ultra review: the new king of Android phones | Samsung
The Galaxy S21 Ultra is Samsung's new superphone for 2021 – and comes out firmly as the best of its type, with a price to match.
Equipped with a new more powerful camera system – with not one but two optical zoom lenses on the back for a huge 10x optical zoom – it costs from £1,149 and leads Samsung's 2021 mobile line, which also includes the smaller and cheaper £769 S21 and £819 S21+.
The Galaxy S21 Ultra looks broadly the same as its predecessors – all-screen on the front, aluminium sides and a glass back. The most distinctive change is a large camera lump blending into the side.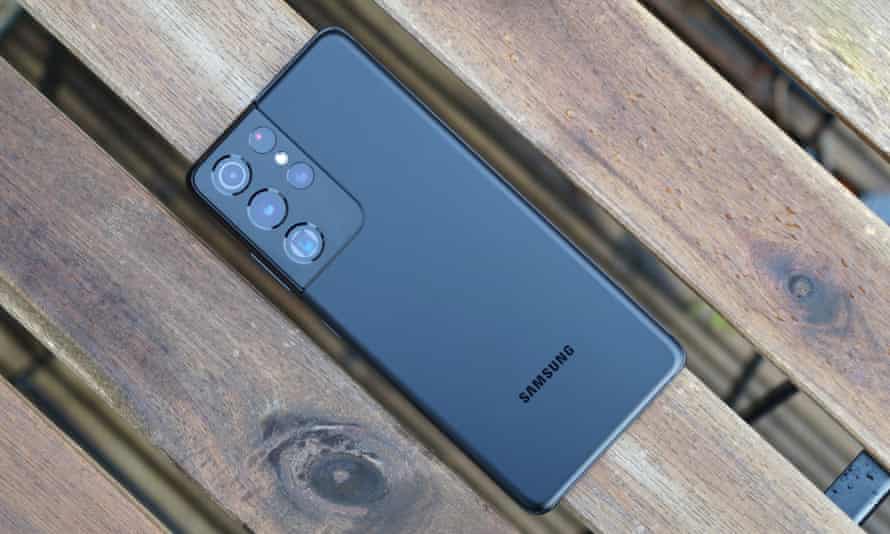 The 6.8in screen is marginally smaller than the Note 20 Ultra and S20 Ultra from last year, but is crisp, colour rich and super bright. If you want big-screen entertainment in your pocket it delivers while its 120Hz refresh rate (double that on an iPhone) makes scrolling through feeds super smooth.
The S21 Ultra is a very large and relatively heavy oversized phone putting it in competition with the Note 20 Ultra and iPhone 12 Pro Max. I could just about use it with one hand, but most will need two hands to use it safely without using some form of phone grip.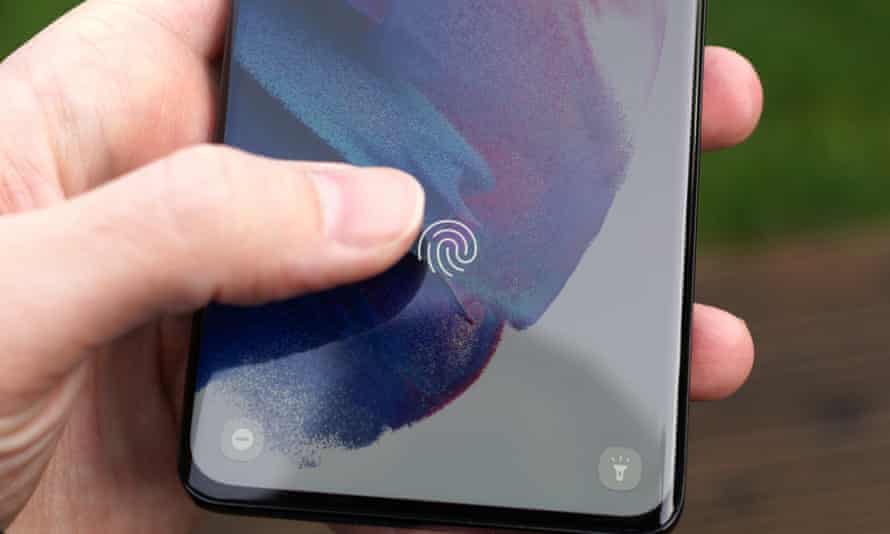 Specifications
Main screen: 6.8in QHD+ Dynamic Amoled 2X (515ppi) 120Hz

Processor: Samsung Exynos 2100 (EU) or Qualcomm Snapdragon 888 (US)

RAM: 12 or 16GB of RAM

Storage: 128, 256 or 512GB

Operating system: One UI 3.1 based on Android 11

Camera: Quad rear camera: 108MP wide, 12MP ultra-wide, 10MP 3x and 10MP 10x telephoto, laser autofocus; 40MP front-facing camera

Connectivity: 5G, dual nano sim, USB-C, wifi 6E, NFC, Bluetooth 5, UWB and location

Water resistance: IP68 (1.5m for 30 mins)

Dimensions: 165.1 x 75.6 x 8.9mm

Weight: 227g
35 hours of battery life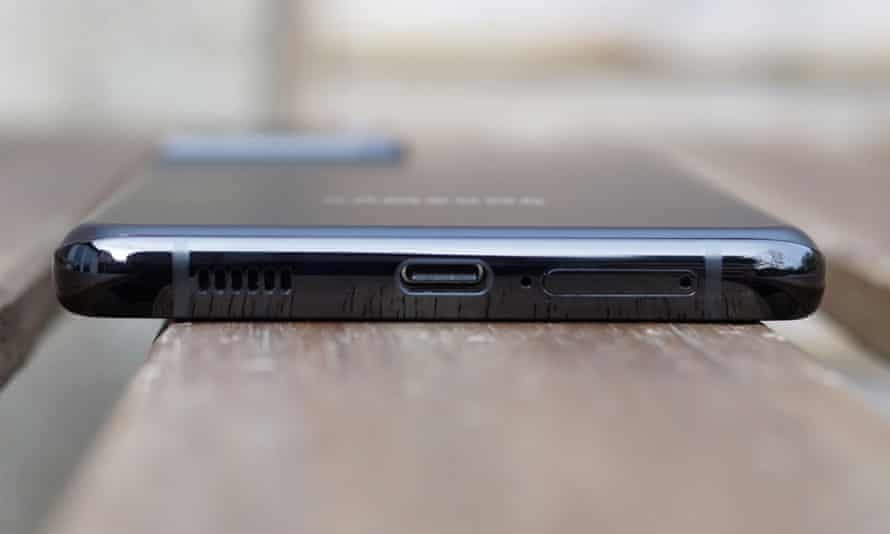 The S21 Ultra ships with Samsung's just-released Exynos 2100 processor in Europe (as tested) or Qualcomm's Snapdragon 888 in the US. Both variants come with 12GB or 16GB of RAM depending on model.
Performance was excellent all-round. The S21 Ultra feels noticeably snappier than the Note 20 Ultra from last year; from unlocking the phone to launching apps, every action happens just a little bit quicker.
Battery life is also strong. The phone easily outlasts a full day of heavy usage. I get in excess of 35 hours between charges – 7am on day 1 until 6pm on day 2 – with my general usage, which includes more than 5.5 hours of screen-on time split between chat apps, Chrome, Gmail, Evernote, the Guardian, Spotify and many others, shooting about 15 photos and spending about three hours on 5G, the rest on wifi.
That is longer than the 30-hour battery of the Note 20 Ultra, but slightly short of the S20 Ultra from last year and far behind the 48-hour battery of the iPhone 12 Pro Max. Changing the screen from the default dynamic 120Hz refresh rate and FHD+ resolution to the higher QHD+ resolution reduced the battery life by a couple of hours.
Sustainability
Samsung does not provide an estimate of the number of full-charge cycles the battery should last. Batteries in similar devices can typically last for 500 cycles while maintaining at least 80% of their original capacity.
The phone is generally repairable and comes with a 24-month warranty. Screen repairs for its predecessor the S20 Ultra cost £269. The battery is replaceable by authorised service centres at a cost of no more than £59.
Samsung offers trade-in and recycling schemes for old devices, but the smartphone does not include any recycled materials. The company publishes annual sustainability reports but not impact assessments for individual products.
The S21 Ultra does not ship with headphones or a power adaptor in the box, just a USB-C charging cable, reducing its carbon footprint.
One UI 3.1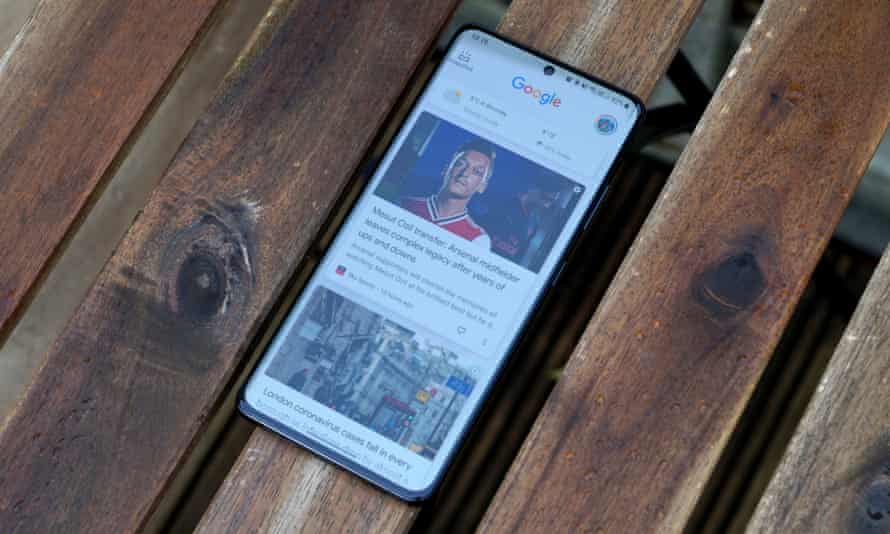 The S21 Ultra is one of the first smartphones to run Samsung's latest version of Android 11 called One UI 3.1.
It inherits most of the new features from Android 11 including: separation of conversation, media and other alerts in the notifications shade; conversation bubbles; and additional privacy controls over location and other permissions.
A new partnership between Samsung and Google brings the search firm's Discover feed and Messages texting app to the S21 series. Various Microsoft apps and systems for linking data and apps into Windows 10 are also present, which work well too.
There is a bit of app duplication, including two different SMS apps both called "Messages" – one made by Samsung and the other Google – but overall One UI 3.1 continues to be one of the most refined and best heavily customised versions of Android.
Samsung has pledged to support at least major Android version updates and monthly security patches, which is good for Android devices, but pales in comparison with Apple's five-plus years of support for its phones.
Camera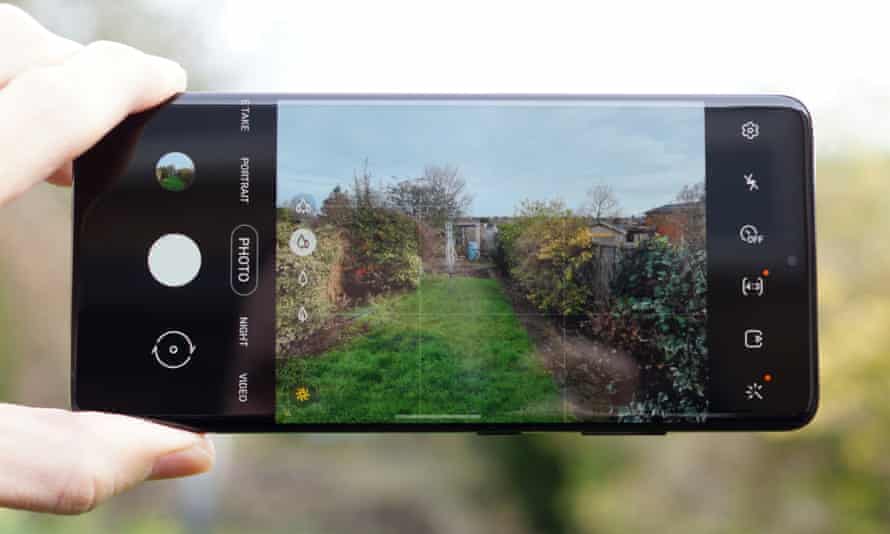 The S21 Ultra is the first Samsung smartphone to feature a new quad-camera with a 12MP ultrawide, 108MP standard wide and not one but two 10MP telephoto cameras – one with 3x and one with 10x optical zoom.
It is one of the most adaptable camera systems available, out zooming all but Huawei's P40 Pro Plus from last year. The main camera shoots very good photos, with improved low light performance and better processing than last year's S20 Ultra. The ultrawide camera is great in bright light, but can start to look a bit dark and overly sharpened compared with the main camera in lower light levels.
Both the 3x and 10x cameras produce really good, crisp images even in the relatively dim light of stormy weather. The 3x camera is ideal for zooming in on people and other objects a few metres away, while the 10x magnification enables you to meaningfully close the distance to subjects significantly further away.
The camera system can also smoothly zoom from 1x to 10x magnification using hybrid and optical zoom from a combination of the cameras with impressive results.
Above 10x magnification, Samsung's "Space Zoom" system applies a digital zoom to the 10x telephoto camera. Photos shot up to 30x are very good indeed. Carrying on up to the 100x maximum zoom the images are clearly artificially enlarged, but are still a marked improvement from the 100x zoom on Samsung's previous top smartphones. A new "zoom lock" system helps stabilise your shaking hands at 30x or above. Tap a small preview window and the phone locks in on that patch of the image often turning a blurry mess into a surprisingly sharp image.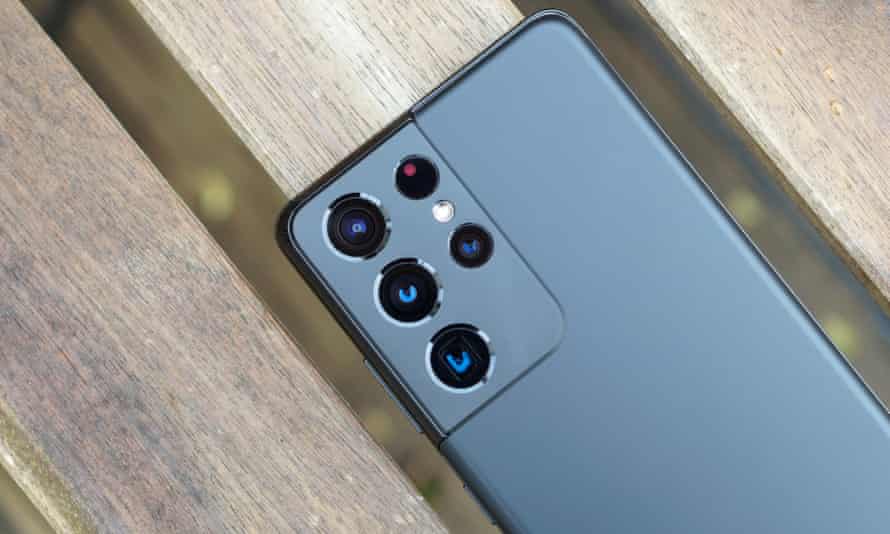 Samsung's night and portrait modes are also improved. A new macro mode Samsung calls "focus enhancer" uses the ultrawide camera to produce some really sharp and good images too. The single take feature, which captures videos, photos and produces animations all at once is great fun and is now faster and smarter. The 40-megapixel selfie camera is one of the best available too.
The cameras also shoot excellent video up to 8K with a range of useful tools such as a "director view", which shows you the view from three of the rear and the selfie camera at once. Samsung continues to lead Android rivals on video.
Observations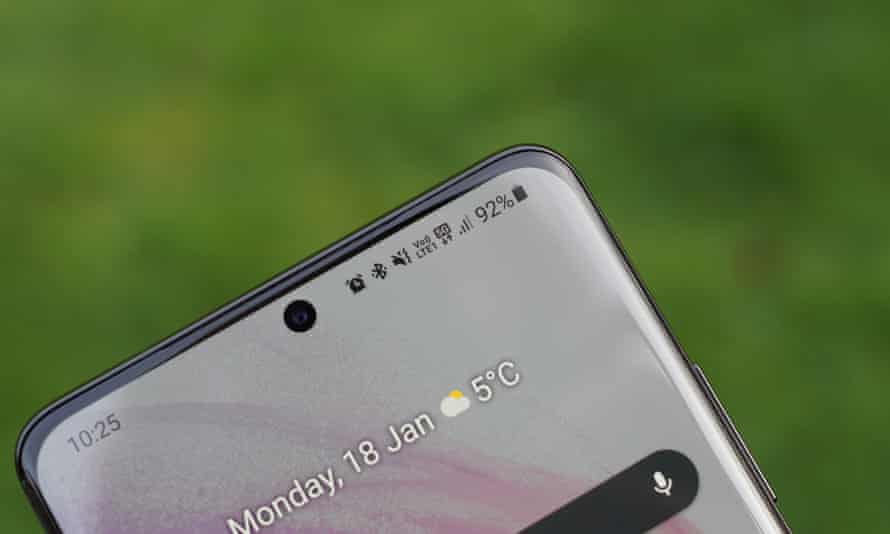 Call quality was really good both normally and on speaker.

Focus enhancer occasionally triggered when just trying to shoot using the main camera, resulting in overly sharpened images.

The three preview thumbnails in directors view are simulated from the ultrawide camera, but the main view switches to the appropriate camera when selected.

The S21 Ultra supports Samsung's S Pen stylus similar to the Note 20 Ultra which can be bought as an optional extra.
Price
The Samsung Galaxy S21 Ultra costs £1,149 with 128GB of storage, £1,199 with 256GB or £1,329 with 512GB and 16GB of RAM, shipping on the 28 January.
For comparison, the Galaxy S21 costs £769, the Galaxy S21+ costs £819, the Galaxy Note 20 Ultra costs £1,179, the Galaxy Z Flip costs £1,300, the Galaxy Z Fold 2 costs £1,799; the OnePlus 8 Pro costs £799 and the Apple iPhone 12 Pro Max costs £1,099.
Verdict
The Galaxy S21 Ultra is Samsung's latest big, heavy and expensive superphone that makes meaningful improvements to both the camera and general usability.
All the usual top-quality elements are there. The screen is stunning, performance is good, battery life is excellent and the software is the latest available. But it is the much improved fingerprint scanner that makes the biggest difference to day-to-day usage – it's fast, accurate and responsive in a way Samsung's previous efforts just weren't.
The new dual-telephoto camera system is also a marked improvement, providing a level of flexibility and optical zoom that you just can't get with other mainstream rivals.
Samsung provides at least three years of major software updates, which matches the best of Android rivals but lags behind Apple's five years of iOS updates.
If you want the best Android superphone the Galaxy S21 Ultra is it and will take some beating this year.
Pros: big 120Hz screen, 5G, great and flexible camera, 3x and 10x optical zoom, dual sim, One UI, wireless charging and powershare, good performance, long battery, fast fingerprint scanner.

Cons: huge, heavy, very expensive, no headphone socket, only three-plus years of software updates.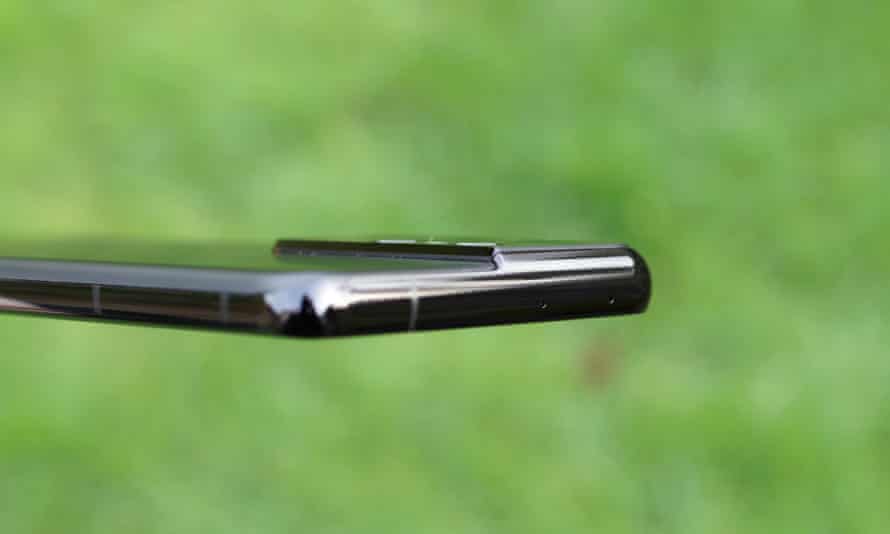 Other reviews