MG Gloster News: MG Gloster on its way, plans disruptive attack on premium SUVs |
NEW DELHI: Hector hit the market 15 months ago, with MG Motor India aiming to cash on the SUV rush. On the back of connected features, spacious interiors and smart looks, the SAIC-backed company could garner a healthy average of 2,000-3,500 units a month. Subsequently, the electric ZS EV and the 6-seater Hector Plus was introduced.
The first three products were in sync with market demand. SAIC, China's largest carmaker that is present in India through its wholly-owned British subsidiary MG Motors, now is preparing to foray into a premium SUV with the Gloster. With the launch due this Diwali,
MG Gloster
aims to take a potshot at the premium off-road zone, left void by the discontinuation of Toyota Land Cruiser brand.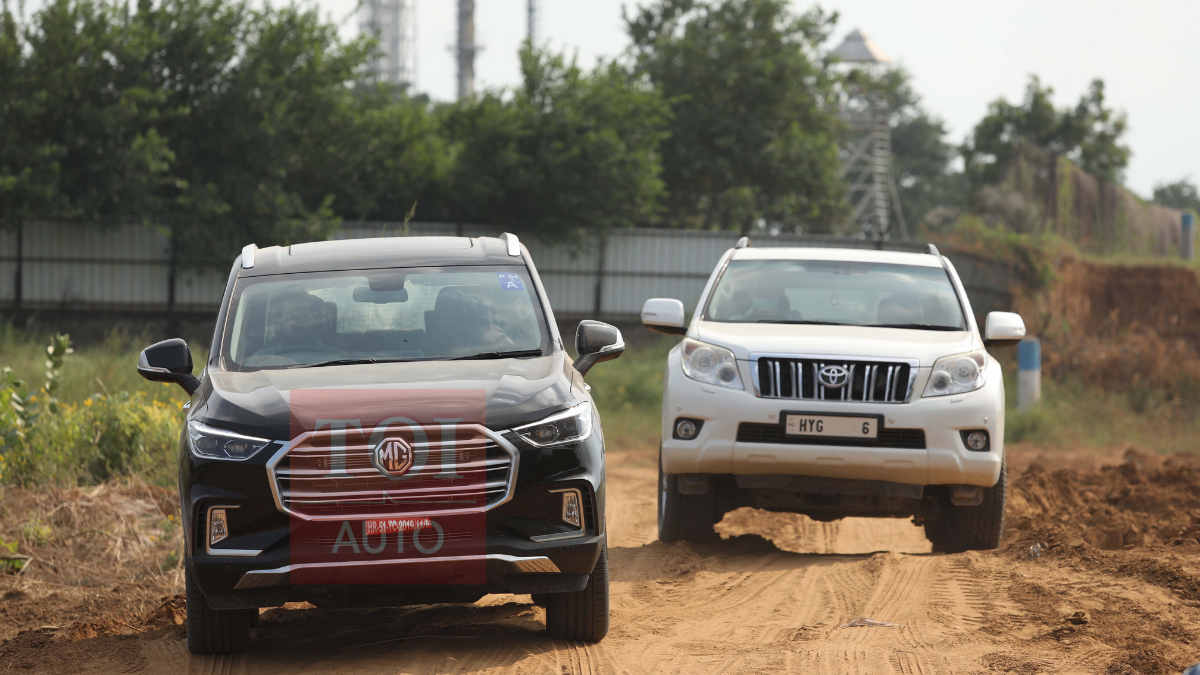 At the outset, that's not a bad thing. On paper, Gloster has the element to go the distance. Under the hood, MG Gloster will be powered by a 2.0-litre twin-turbo Diesel engine, while mated to an advanced 8-speed automatic transmission. Land Cruiser Prado, on the other hand, was discontinued ahead of the BS6 emission. In its last update, showcased at the Auto Expo 2018, Land Cruiser Prado sported a 3.0-litre, D-4D Diesel with Intercooler Turbocharger.
MG Motor India inarguably is wary of the towering challenge – the legacy of Land Cruiser. Land Cruiser, a globally-acclaimed off-roader from Toyota, put out 173PS and 410 Nm. On paper, MG Gloster's twin-turbo is good enough for 218PS and 480 Nm with a 4WD (terrain selection). Reportedly, Toyota Kirloskar Motor is likely to revive Land Cruiser brand.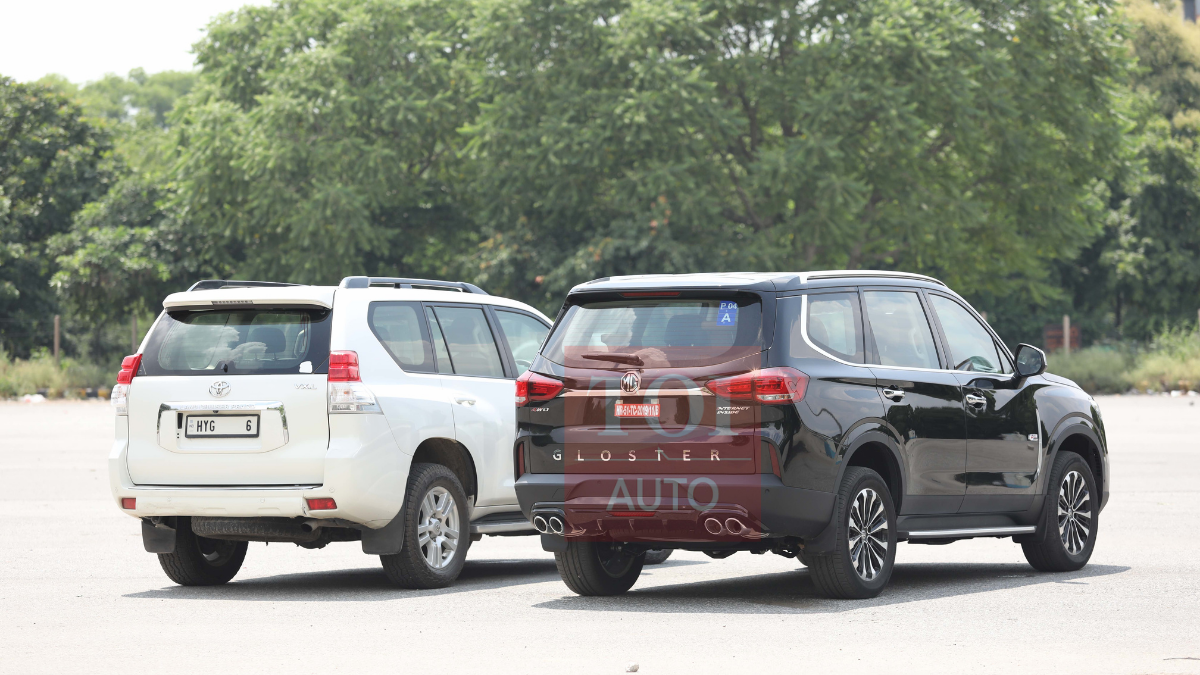 With the bulk under the hood, Gloster has a lot going its way in terms of design as well. Standing just shy of 5 metres in length, Gloster will get a hexagonal grille with three slabs of chrome, sleek projector headlamps and fog lamps. The flared wheel arches run down the sides as the Gloster sits on 19-inch, machine-cut wheels. The rear of the 6-seater SUV is the most dramatic, thanks to 'GLOSTER' badge in block and the dual twin-tip exhausts laden with chrome.
In terms of dimension (4,985 mm X 1,926 mm X 1,872 mm), the Gloster would appear bigger than Toyota Fortuner and as humongous as BMW X5 and Mercedes-Benz GLE. With price expected to be around Rs 40 lakh – 50 lakh (ex-showroom), MG Motor India would leave no stones unturned to put up a fight against the German rivals.
01:33Auto Expo 2020: MG Motors unveils Gloster SUV, aims to sell 5,000-6,000 units annually Along with auto park assist feature, Gloster, touted to be India's first autonomous (Level 1) premium SUV, will offer adaptive cruise control, lane departure warning, front collision warning, autonomous emergency braking, blind spot detection and fatigue reminder system. The safety features, again on paper, raise the bar of the Gloster to the top-of-the-line SUVs for German carmakers.
For the convenience of the occupants, Gloster will be equipped with 64-color ambient lighting, 12.3-inch HD touchscreen, 12-speaker system and 8-inch driver's display. Gloster will come in 6-seat configuration with middle row captain seats, which will feature diamond-style-stitching. A panoramic sunroof, three-zone climate control and front ventilated seats (heated only) will also up the comfort inside the cabin.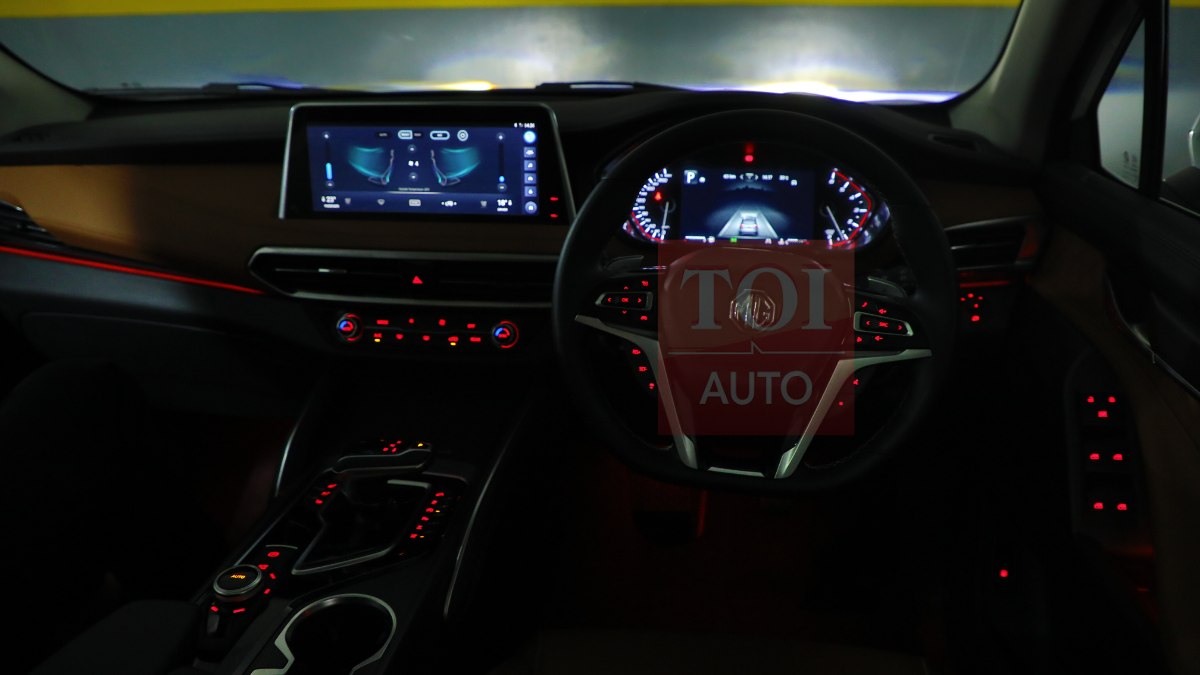 Just like Hector, the Gloster will also supply MG's iSMART tech, which will ensure OTA updates. While Hector sported an M2M-embedded SIM which is Internet Protocol version 6 (IPV6 ready) for 5G, the Gloster may just showcase a 5G-ready SIM.
MG Gloster was showcased at the Auto Expo 2020 and according to Rajeev Chaba, head of MG Motor India, the SUV will be a low volume game (4,000-5,000 units/annually), however, it will help strengthen the brand's position overall.
Tesla (TSLA) earnings Q3 2020
Tesla CEO Elon Musk attends the Tesla Shanghai Gigafactory groundbreaking ceremony in Shanghai, China, January 7, 2019.
Aly Song | Reuters
Elon Musk's electric car and renewable energy company, Tesla, reports third-quarter results after the bell on Wednesday.
Here's what Wall Street analysts are expecting, per an average of analyst estimates compiled by Refinitiv:
Earnings per share (adjusted): 57 cents
Revenue: $8.36 billion
The company already reported that it delivered 139,300 vehicles during the quarter, a new record for Tesla.
At Tesla's 2020 annual shareholder meeting and battery day presentation in September, CEO and co-founder Elon Musk said that vehicle deliveries in 2020 would be up 30% to 40% from last year, implying a range from 477,750 to 514,500 deliveries total. (Earlier, the company said it would comfortably exceed deliveries of 500,000 this year, but it reined in expectations slightly as the Covid-19 pandemic began to impact Tesla operations and auto sales.)
Tesla completed a five-for-one stock split during the quarter. When a company splits its stock, its total value doesn't change, but it helps get smaller investors to buy shares.
Ahead of the earnings call on Wednesday, institutional and retail investors submitted questions to a site called Say.com that Tesla uses to pick questions for executives to answer during the Q&A portion of its calls.
Among other things, institutional investors sought information about just how much Tesla plans to spend on new factories over the next decade. They were also curious about Tesla's pricing and margin targets, after the company recently cut prices on its vehicles including in the U.S. and China. Tesla is currently building new factories in Austin, Texas, and Brandenburg, Germany (outside of Berlin).
In September, Musk and Senior Vice President of Energy Engineering, Drew Baglino also unveiled a new battery cell that the company designed itself, and plans to produce on their own, starting on pilot lines in Fremont, California, then at their other factories.
Institutional and retail investors also wanted to know when Tesla will roll out vehicles, and energy storage products, that include the new battery cells. They also had questions about when Tesla's vehicles will be capable of functioning as driverless robotaxis, and when Tesla will offer its own ride-hailing service.
Today, Tesla offers its customers what it markets as a Full Self-Driving or "FSD" option, which it sells for $8,000. The FSD package is Tesla's most advanced driver assistance system, but it is not a fully autonomous one. Tesla recognizes a portion of revenue from FSD sales with each new feature update that moves it closer to what the company defines as driverless capability.
Musk has previously said a Tesla vehicle with FSD should be able to drive itself coast to coast, or from a Tesla facility to a customer's home, in lieu of a traditional delivery arrangement. It's been about four years since the CEO promised a driverless vehicle was on the way.
During the third quarter, however, he said that Tesla was rewriting its semi-autonomous system:
In October, he promised a beta software update for select drivers who purchased the company's Full Self-Driving option. Tuesday after markets closed, Musk wrote the rollout would begin slowly rolling out overnight.
Retail investors, many of whom are enthusiastic Tesla owners themselves, want executives to say whether Tesla will let customers transfer their FSD software to their next vehicle, with or without a transfer fee, much the way that gaming or mobile companies let customers transfer games and apps when they upgrade to newer hardware.
This is breaking news. Please check back for updates.
Skoda: Backed by new SUVs and sedans, Skoda Auto Volkswagen India eyes trebling output in 2 years
Mumbai:
Skoda
Auto
Volkswagen India
Pvt Ltd is planning to treble output to 200,000 units in the next two years, on the back of new product launches, with the carmaker utilising the Covid-19 pandemic-induced lockdown to revamp its factory under its India 2.0 project.
The Indian arm of Volkswagen Group – the world's largest carmaker — is also open to partnerships in the country and will continue to talk to interested parties in future, its India chief told ET, a move that will help build scale and reduce break-even points.
The carmaker is bullish on the future of the Indian market, including its exports potential, and will roll out sedans and sport utility vehicles between 2021 and 2022, said Gurpratap Boparai, managing director of Skoda Auto Volkswagen India.
Boparai said the company expects to operate the plant at 100% capacity within two years and the group garnering 3% share of the Indian market.
"We will be in the phase of ramping up production from next year. One by one, new models will be launched every six months till 2022 under the India 2.0 plan. The next year will be definitely better than this year, but we will really see our full volumes in 2022. That's when we expect our group market share to be around 3%," he added.
With capacity likely to be fully utilised next year, Skoda VW will explore its next phase of expansion in the country, Boparai said, but when and how soon will depend on market recovery.

"If we do a partnership, we would clearly be expanding capacity and then that capacity can be shared. There is nothing concrete at the moment (on partnership). We continue to engage with all players that have similar strategies," he added.
The company has reportedly been in talks with MG Motor India for a contract manufacturing tie-up.
Boparai, however, declined to comment on potential partners it is in discussions with.
For years, 60-70% of Skoda VW's total production was reserved for exports, but Boparai said that is set to reverse from 2021.
"We are very bullish about recovery in the Indian market, so we will continue to produce as much as the Indian market absorbs and then whatever is required to completely utilise our production capacity that we will export. The recovery in the exports market is rather slow, as against a V-shaped recovery we have seen here," he said.
VW Group has so far exported half a million cars from India, the company said on Tuesday.
While the domestic market will take precedence over exports, the group is likely to start exporting Skoda-badged vehicles starting next year, expanding its global footprint for India-made cars to over 100 markets.
Backing the government's Make in India push, Boparai said the country can gain a competitive edge on bigger car exports too by removing the sub-4 metre definition.
India is one of the most cost-efficient production bases for automobile companies, but the tax structure prefers cars less than 4 metres in length and that is taking away its competitive edge, Boparai said.
"The global market of sub-4-metre cars is roughly 7% of the pie. And that is obviously not too big," he said.
"We understand that it will take time to transition to any new taxation regime, but there has to be some roadmap on when the cess on the two categories of cars will come down to the same number. That would really open up our industry to the segments where there is far more export potential globally," Boparai said.
AutoNation CEO Mike Jackson on earnings and Covid boosting car sales
AutoNation CEO Mike Jackson told CNBC the coronavirus pandemic has significantly shifted American attitudes toward personal vehicles, leading to the company's blowout earnings report Wednesday.
"Coming out of the lockdowns, they said, 'So much for sharing everything. I'd really like to have my own space that I define,'" Jackson said on "Squawk Box."
The country's largest auto dealership chain posted third-quarter revenues of $5.4 billion, eclipsing Wall Street forecasts of $5.19 billion. The company's adjusted earnings per-share of $2.38 was an all-time record and topped expectations of $1.65.
"It's our absolute best quarter ever," Jackson said. "The demand for individual mobility has gone through the roof, and I think this pandemic/shelter in place has shifted the American psyche in a long-term way, and it's hard to predict past five years, but for the next three to five years, there's been a shift in demand," he added.
Shares of AutoNation jumped nearly 8% in premarket trading. The stock was up nearly 30% year to date, as of Tuesday's close. CNBC's Jim Cramer said he's not surprised by the strength in AutoNation stock Wednesday because during the pandemic, people have decided they want their own vehicles rather than carpooling or taking mass transit.
Surging auto demand is present across all price points and for both new and used vehicles, said Jackson, who also chairs AutoNation's board. He added that the interest in buying cars has been buoyed by "incredibly low" interest rates, which makes financing the purchases more attractive.
Auto sales plummeted earlier this year as the coronavirus swept the U.S., with showrooms shutting down and consumers subject to stay-at-home orders. Inventories also have taken a hit as manufacturers shuttered plants.
While the sales figures have rebounded faster than expectations, Jackson said that AutoNation continues to face challenges on the supply side as production ramps back up.
"We made absolutely no progress in the third quarter. Our inventories are actually lower at the end of the third quarter than they were at the second quarter when it comes to new vehicles," he said. "Industry inventories are still 25% to 30% below where they should be, if not even more, so it was challenging to adjust pricing to reflect the shortages."
It showed up in AutoNation's earnings. The company's gross profits per new vehicle sold were higher by 56% at comparable stores compared to the same period last year. For used autos, that metric was up 43%.
Jackson said he believes inventories will "gradually improve" into next year, but added that the company will closely watch how that impacts its earnings.
"It's always, as a retailer, a balance between pricing and volume, and we're managing that well," he said. "As the factories can do a bit better, we'll adjust to that. But net net, we'll either sell more volume and adjust pricing or the availability is not there and we'll get it on the pricing side."