Mads Mikkelsen's fantasy festival: the guests are kidnapped and Hannibal Lecter does the catering | Mads Mikkelsen
Venue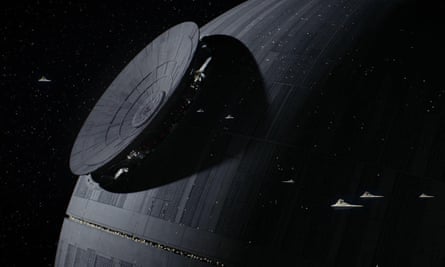 Venue: The Death Star.

Photograph: Moviestore Collection Ltd/Alamy Stock Photo
Seeing as I invented the Death Star – well, I did in Rogue One: A Star Wars Story – I think we should hold it there. I'll have my finger on the button and can start blowing stuff up if I don't win every single award I'm nominated for. It'll be a bit of a dark festival as everyone is held hostage.
Dress code
Kaecilius from Doctor Strange is in charge of the dress code. He takes his fashion cues from Venice, so expect lots of orange and fancy stuff.
Food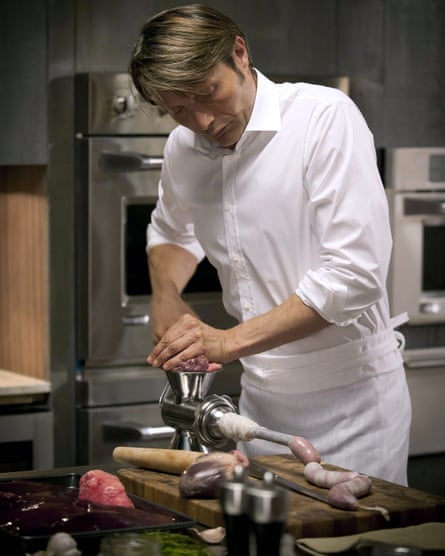 Sausage factory … Mikkelsen's Lecter preps the main.

Photograph: Allstar/BRITISH SKY BROADCASTING
I play Hannibal Lecter, so he'll do the food. He's big into starters, so I think he'd serve his famous foie gras. Vegetarians aren't invited.
Drink
I've made a film with Thomas Vinterberg called Druk [Another Round] that was selected for Cannes this year. It's about four Danish high-school teachers who start experimenting with drink while they're working. It's a drama and a comedy and a tribute to life and a tribute to alcohol. So we'd drink a lot.
Film
I've always been fascinated by Martin Scorsese and Francis Ford Coppola, so we'd screen their movies.
Music
Rihanna wanted me to be the villain in her music video [for Bitch Better Have My Money]. I had to ask my kids: "Who's this Rihanna girl? Is she cool?" My son was completely flabbergasted. He's never been impressed with the Bond or the Star Wars stuff, but he was like: "Dad, I want to come with you." She was so sweet that it was an honour to be invited into her world. So I'd invite her to play at my festival.
Performances
I was a professional dancer for a decade before I moved into acting. West Side Story is still, to this day, the coolest thing to be part of as a dancer. So I'll put on a performance of that with some Puerto Ricans.
VIP guests
Rochefort, who I played in The Three Musketeers is very elegant. He'd love to be at any film festival, so long as he's starring in something with Roger Federer and Lionel Messi. He's a master with the sword, as they are with the racket and the football.
Sick tent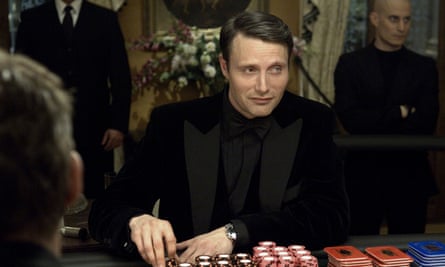 Eye eye … Casino Royale.

Photograph: Eon/Rex Features
Every Bond villain has three nipples or something. For Casino Royale I had to wear a milk-coloured, glazed-over contact lens. We tried a billion ways to make it bleed but they went with CGI in the end. I've now done six films where there's been something wrong with my eye. It's the easiest way to make someone a bad guy. So my festival would have an optometrist on call.
• The 2020 Sarajevo film festival runs until 21 August
Emma Roberts Blocked Her Mother On Instagram After She Leaked Her Pregnancy News To Fans
Updated 13 minutes ago. Posted 13 minutes ago
"I couldn't call her or attack her. I could just iMessage with her and DM her and ask her to please stop."
Emma Roberts was a guest on Jimmy Kimmel Live last night, where she opened up about some major drama that went down in her family recently, after her mom accidentally revealed Emma's pregnancy news to the world.
Emma said it all started when she bought her mom an iPhone, which she described as "the worst thing [she] ever did," because her mom then used the phone to look up all sorts of gossip and rumors about her online.
"And then she got Instagram," Emma continued. "Which was okay at first. Just a couple hundred followers. Which grew to a couple thousand. Which grew to, she had no idea what she was dealing with…"
At one point, Emma revealed, her mom even got catfished by someone pretending to be singer Jackson Browne.
"And then it led to, you know, interacting with my fans, and thanking them for all their pregnancy wishes."
The problem? Emma hadn't actually revealed to the world that she and her boyfriend Garrett Hedlund were expecting a baby yet.
"It was a disaster," Emma recalled. "And I found it all out on a plane, so I couldn't get to her. Like I couldn't call her or attack her. I could just iMessage with her and DM her and ask her to please stop."
Emma explained that her mom thought the couple had announced the news already — but she'd actually just read it in a tabloid:
When I said to her, "Mom, you revealed my pregnancy," she goes, "Emma, you announced it." I said, "No, I didn't. That was a tabloid." She's like, "Oh, that wasn't clear."
And Emma told Jimmy that she and her mom "kind of got in a fight" after the news leaked: "I blocked her at one point. Um, it was my only weapon."
"She texted me at 2 a.m., 'Queen, did you block me? Question mark. Sad face.' I was like, 'Yes, I did block you.' Then I unblocked her. It's been an Instagram war with my mother that I never saw coming. A good story to tell the baby."
BuzzFeed Daily
Keep up with the latest daily buzz with the BuzzFeed Daily newsletter!
I'm Gonna Ask You 20 Questions — All About The Movie "Moana" — And You'd Better Get 'Em Right
Baby Done review – Rose Matafeo is wonderful in irresistible film about parenthood | Film
During an early moment in director Curtis Vowell's very enjoyable and sassy New Zealand comedy Baby Done, the protagonist, Zoe (Rose Matafeo), articulates her mixed feelings towards bringing another life into this world. "I want to have a baby," she says, "I just don't want to turn into a mum."
The Taika Waititi-produced film is not about the fear of being a bad parent, or even of being a parent per se, but rather how one's existence changes when a little person emerges – the start of the bub's life inevitably signalling the end of certain aspects of the parent's.
This of course requires kissing certain aspirations goodbye, or at least realigning expectations – which, for Zoe, an arborist, means ditching her plans to win a national tree-climbing competition: not exactly a widely relatable sacrifice, but each to their own. The film opens with her literally up a tree, before showing Zoe figuratively crashing down to earth in a medical clinic, when she incredulously receives a positive result on a pregnancy test.
More or less in a state of denial, Zoe initially conceals the news from her partner Tim (Matthew Lewis), who is also an arborist – because the couple that chop down trees together … stays together? They both consider themselves adventurers and are wary about living life according to the conventional trajectory. The title is dropped at a baby shower where, surrounded by people who have babies, are babies, or are pregnant, Zoe summarises that aforementioned trajectory in only four words: "Married, house, baby, done."
The scope of the film spans the journey from pregnancy to birth. For a fun companion piece picking up where it left off, with a not dissimilar outlook, viewers can go back across the Tasman and watch ABC TV's The Letdown, which explores what comes after birth: ie sleep deprivation, awkward social encounters and things that happen when you sleep in a car situated on a drug dealer's turf.
Baby Done's badinage-filled script, written by Sophie Henderson, inflates small moments into feelings and situations that mean more than what is spoken, sometimes in quite subtle ways. Instead of directly stating that Tim is afraid to be a father, for instance, Henderson has him greeting another person's toddler with an ear-to-ear Cheshire grin on his face, only for the kid to respond by bursting into tears. We've all been there, right, helpless in the face of infantile rejection?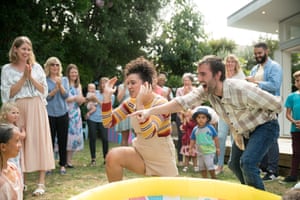 Matafeo's wonderful, compulsively affable performance is core to the film's irresistible good-naturedness: its spirit, pluck, bounce. You want to be her friend, and in a strange way you feel like you are her friend. She leans into you, invites you into her world, doing so in a way that seems almost able to read the audience's responses in real time – like a chatty seatmate on a plane, who can judge the mood and is somebody you actually want to talk to.
Matafeo's chemistry with Lewis (contributing another thoroughly likable performance as an unremarkable, every day sort of character) allows for a laid-back riffing. The pair's generally moderate temperaments make their relative explosions of impatience and anxiety funnier than they might have been otherwise. It's a good thing the writing, pacing and performances gel so well, because the film's nondescript production values serve to emphasise them, pulling us into the characters' lives without much showiness or flair.
Baby Done is sharper and pacier than Vowell's previous feature, 2013's Fantail: a scruffily textured drama about a young white petrol station attendant who believes she is Māori. In order to ratchet up dramatic stakes as the birth date approaches, Vowell and Henderson in Baby Done present a spin on the moth-eaten "will they or won't they" question, in a lurch towards formula which represents the writing at its most irritatingly conventional.
Still, the film coasts along just fine, switching from comedy to drama swiftly thanks to humour that's so invested in characters and feeling. The stakes are never high but you care for these people; you want them to be happy. Always there is lightness of touch, with many small situations triggering giggles and sometimes guffaws—from the appearance of Brian the "pregaphile" (Nic Sampson) to a confetti bomb detonation moment that well and truly tickled my ribs.
Baby Done is funny; it's sweet; it means something. Most of all it's charming.
• Baby Done opens in Australian and New Zealand cinemas on 22 October