Lucid Air EV: Lucid Motors unveils Air EV, promises 300-miles charging in 20 minutes
CALIFORNIA:
Lucid Motors
on Thursday unveiled the
Air EV
in Touring, Grand Touring, and Dream Edition trims, offering a range up to 832 kilometres (517 miles).
With 1,080 hp available and dual motors driving all four wheels,
the Lucid Air Dream Edition
can reach 60 mph in 2.5 seconds on its way to a quarter mile time as quick as 9.9 seconds.
Lucid Air offers an estimated EPA range of up to 517 miles.
Lucid
Air will charge at the quickest possible rate wherever you might be — up to 300 miles in 20 minutes when connected to the DC fast chargers on the Electrify America network.
Three exterior colors: Stellar White, Infinite Black or even Eureka Gold — a color exclusive to the Dream Edition. All exteriors are trimmed in bright platinum theme accents.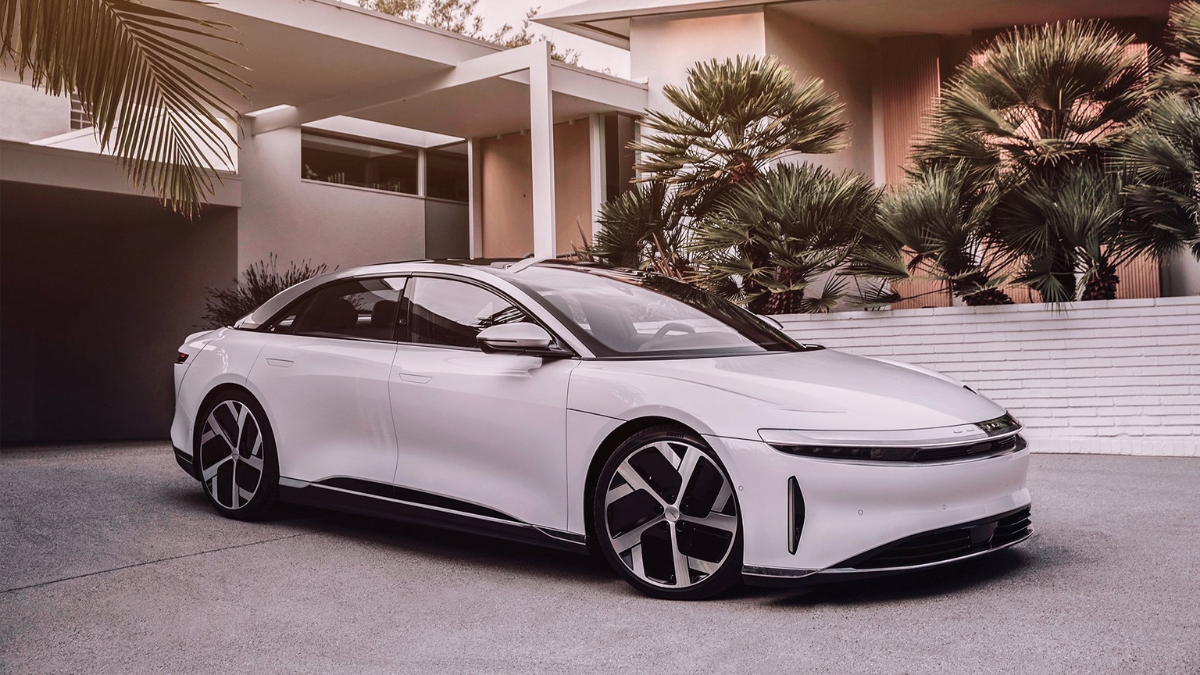 The soft light and muted colors of daybreak on Santa Monica beach inspire the Dream Edition's exclusive interior palette and name: Santa Monica. Nappa full-grain leather in Graphite Gray and Ceramic with sophisticated Alcantara inserts, complemented by Silvered Eucalyptus wood and bright Platinum metal trim.
Special badging provides a subtle hint of the incredible combination of capabilities of performance, range and comfort.
Exclusive to the Lucid Air Dream Edition, the stunning 21-inch Aero Dream forged alloy wheels have an ultra-aerodynamic yet bold design. For those wanting to maximize their Dream Edition range, a 19-inch Aero Range wheel package is a no-cost option.
Dream Edition of Lucid Air including the Glass Canopy roof, DreamDrive driver assistance system and 21-speaker Immersive Audio System.
Electric vehicle start-up Fisker surges 13% in NYSE debut
Shares of electric vehicle start-up Fisker Inc. closed up 13% in the company's public debut Friday on the New York Stock Exchange.
The stock jumped as much as 19% before closing at $10.14 a share. It began trading Friday after finalizing a reverse merger this week with Spartan Energy Acquisition Corp., a special purpose acquisition company, or SPAC, backed by Apollo Global Management.
California-based Fisker is among a growing group of speculative electric vehicle start-ups going public through deals with SPACs, which have become a popular way of raising money on Wall Street because they have a more streamlined regulatory process than traditional initial public offerings.
SPAC stocks typically get an initial pop after the deal is announced but tend to underperform the broader market in the long run, according to Goldman Sachs. Share prices of Lordstown Motors, another electric vehicle company brought public through a SPAC, initially popped in its Nasdaq debut Monday but were down 28.3% for the week.
The SPAC deal was expected to provide Fisker with more than $1 billion to bring its first product, the Fisker Ocean, to production in late 2022. The company earlier this month said auto supplier Magna International will supply the vehicle platform and build the Ocean.
As part of the deal, Magna will receive warrants to purchase a stake of up to 6% in Fisker, worth about $3 billion, Reuters reported.
The automotive start-up was founded by Henrik Fisker, a well-known auto designer and executive whose previous green car company, Fisker Automotive, filed for bankruptcy in 2013. Fisker is credited with designing the BMW Z8 and Aston Martin DB9.
General Motors taps Delta's Paul Jacobson to fill CFO job
General Motors said Monday that it is suspending its quarterly dividend and stock buybacks to preserve cash during the coronavirus pandemic.
JEFF KOWALSKY | AFP | Getty Images
General Motors has tapped Delta Air Lines CFO Paul Jacobson to replace Dhivya Suryadevara, who unexpectedly left GM for digital payments company Stripe in August, the automaker announced Friday.
Jacobson, 48, has been with Delta since 1997, a span that included the Sept. 11 terror attacks, Delta's 2008 merger with Northwest Airlines, the Great Recession and most recently, the coronavirus pandemic. He has been Delta's CFO since 2012 and in April rescinded his retirement, announced in February, as the airline faced the severe financial impact from the virus. His appointment as GM's CFO is effective Dec. 1.
Jacobson is an important hire for GM as it enters into new ventures and continues to restructure its business operations toward all-electric vehicles. He'll also be tasked with assisting the automaker in persuading Wall Street that it's undervalued. Shares of GM have failed to achieve any sustainable growth over the past decade.
At Delta, Jacobson was a key contributor to Delta's strategies and was instrumental in balance-sheet initiatives that resulted in nearly $10 billion in debt reduction. He was named the airline industry's best CFO eight times by Institutional Investor magazine's poll of Wall Street analysts and investors. 
Delta CFO Paul Jacobson
Source: Delta Airlines
Jacobson's decision to leave comes during the airline industry's worst-ever crisis. U.S. airlines lost more than $11 billion in the third quarter alone. Raising cash quickly became a priority for airlines. In his last few months as Delta's CFO, the company raised billions to weather the pandemic, including a $9 billion debt sale backed by its loyalty program, an industry record. The announcement of Jacobson's departure from Delta comes about two months after the airline's COO, Gil West, announced his retirement.
"Paul is a great addition to the GM senior leadership team and is dedicated to leading the company for the benefit of all stakeholders — customers, employees, suppliers, communities and shareholders," GM CEO Mary Barra said in a release.
Jacobson, in a statement, said the company's so-called triple-zero vision of zero crashes, zero emissions and zero congestion is "compelling because it embraces the needs of society, customers and investors, and they are executing an historic technology shift to electrification from a position of strength."
John Stapleton, GM's acting CFO since Aug. 31, will continue as North America chief financial officer, a position he has held since January 2014.
— CNBC's Leslie Josephs contributed to this report.
Tractor sales may grow 10-12 pc in FY21 due to strong rural income: Ind-Ra
MUMBAI: Tractor sale volumes are expected to grow 10-12 per cent this fiscal over the previous year primarily driven by a strong rural income owning to solid
rabi crop
harvest, ratings agency
Ind-Ra
has said.
Moreover, government initiatives in the form of a hike in minimum support price (MSP) for kharif crops and increased budgetary allocation under MGNRES are supporting rural income, it said in a report.
According to Ind-Ra, the segment volumes in 2021-22 are estimated to stand at a high single to low double-digit rate on account of four consecutive good crop harvests, translating into higher cash flows for farmers.
During April-September period of this fiscal, tractor sale volumes grew 10 per cent year-on-year, the report stated, adding three consecutive good crop harvests and a likely strong harvest of kharif 2020 will spur demand for tractors over the remaining FY21-FY22.
Agricultural activities, being under essential commodities, were least impacted by the nationwide lockdown. Also, until date, the spread of COVID-19 has been limited in rural areas, thus not impacting the labour force and the overall production levels, it said.
Ind-Ra also said it expects the agriculture sector to grow better at 3.5 per cent than the overall economy for the second consecutive year in 2020-21 after a 4 per cent growth in the fiscal compared to the overall growth (gross value added) of (-) 12.2 per cent, it said.

As around 80 per cent of the tractors sold are used in the agriculture sector, tractor sales usually move in tandem with agricultural GVA, it said adding in 2019-20 there was a gap in these metrics where agricultural GVA grew, but tractor sales fell.
With the two consecutive years of better agricultural GVA growth, tractor sales are likely to benefit over FY21-FY22, Ind-Ra said.
It also said that in the period between June 1 to September 30, the country recorded above normal rainfall of 109 per cent of its long period average (LPA). This is higher than the Indian Meteorological Department (IMD) prediction of 102 per cent for 2020.
Also, except northwest India, all regions of the country received rainfall higher than the normal.
However, given that the northwest region has a high irrigation coverage, rainfall deficiency is unlikely to impact the agricultural output.
The adequate pre-monsoon rainfall followed by the timely arrival of the monsoon in most part of the country and above-average rainfall have led to an year-on-year increase in the total kharif acreage, the report said.
Moreover, the central government has taken several initiatives to improve farm income including amending Essential Commodities Act, deregulation of mandis, allowing inter-state trade and increasing MSP for kharif crops, the report said.
Various state governments have also provided loan waivers to farmers, subsidised loans and moratorium, as well as incentives to the farmers to opt for farm mechanisation to boost rural income.
Furthermore, the tractor industry would be transitioning to new Tractor Emission Stage IV norms in a phased manner, unlike the auto industry which adopted new regulatory norms completely on a specific date.
Tractors over 50 Horse Power (HP) were proposed to switch to new emission norms from October this year, which was however, deferred by an year. This would provide a breather to original equipment manufacturers (OEMs) which were grappling with the supply chain issues until now as well as to consumers for whom the pricing would have gone up significantly, Ind-Ra said.
According to the report, while for banks, tractor financing falls under priority sector lending, non-banking finance companies too are willing to lend due to a longer instalment period for the asset class than for most other types of loans and good crop during the current season.
Improved farm income should also help lower delinquency levels, thus improving asset quality.