Liverpool FC's Jürgen Klopp Releases Inspiring Message
On Friday, after the news of the Premier League postponement, Klopp released a statement to fans disappointed about the impact of the coronavirus on the sport.
But his words were also about much more than football.
His measured and thoughtful response was a call for calm and shared humanity during one of the more frightening moments of the modern era.
The message is especially poignant as Liverpool are the runaway leaders in the league, about to win their first league title in 30 years.
Klopp ends his messages with the phrase "You'll Never Walk Alone," a Rodgers and Hammerstein lyric that has become something of a Liverpool anthem and motto.
Printed in full, here is Klopp's statement:
I don't think this is a moment where the thoughts of a football manager should be important, but I understand for our supporters they will want to hear from the team and I will front that.
First and foremost, all of us have to do whatever we can to protect one another. In society, I mean. This should be the case all the time in life, but in this moment I think it matters more than ever.
I've said before that football always seems the most important of the least important things. Today, football and football matches really aren't important at all.
Of course, we don't want to play in front of an empty stadium and we don't want games or competitions suspended, but if doing so helps one individual stay healthy — just one — we do it no questions asked.
If it's a choice between football and the good of the wider society, it's no contest. Really, it isn't.
Today's decision and announcement is being implemented with the motive of keeping people safe. Because of that we support it completely. We have seen members of teams we compete against become ill. This virus has shown that being involved in football offers no immunity. To our rival clubs and individuals who are affected and to those who later will become so, you are in our thoughts and prayers.
None of us know in this moment what the final outcome will be, but as a team we have to have belief that the authorities make decisions based on sound judgement and morality.
Yes, I am the manager of this team and club and therefore carry a leadership responsibility with regards to our future on the pitch. But I think in the present moment, with so many people around our city, the region, the country and the world facing anxiety and uncertainty, it would be entirely wrong to speak about anything other than advising people to follow expert advice and look after themselves and each other.
The message from the team to our supporters is only about your well-being. Put your health first. Don't take any risk. Think about the vulnerable in our society and act where possible with compassion for them.
Please look after yourselves and look out for each other.
You'll Never Walk Alone,
Jürgen
AB de Villiers skips Big Bash but open to future Brisbane return | Cricket News
MELBOURNE:
AB de Villiers
has decided to skip this year's
Big Bash League
due to family and COVID-19 related issues but the batsman has "unfinished business" at the
Brisbane Heat
and hopes to return at some point, the team said on Tuesday.
Coach
Darren Lehmann
said Brisbane had been keen to re-sign the South African, who is currently playing in the Indian Premier League, but factors emerged that "changed everyone's plans".
"The main one, aside from the challenges represented by COVID-19 and international travel, is that AB and his wife Danielle are expecting their third child very soon," added Lehmann.
"He has been in excellent touch in the IPL for
Royal Challengers Bangalore
, so he obviously remains a player we'd like to keep working with when the circumstances allow."
De Villiers said he intended to return to the Heat once the situation improved.
"… with a young, growing family, and the uncertainty around travel and conditions due to COVID19, we reluctantly decided it wasn't going to be this season," he said in a statement.
"I am very open to returning to the club in the future. The team didn't get the results we were hoping for and I consider there is some unfinished business to deal with."
Brisbane have retained the services of Afghan off-spinner
Mujeeb Ur Rahman
for this year's tournament, which begins on December 3.
Harbhajan slams Surya's omission from Australia tour | Cricket News
MUMBAI: Veteran India off-spinner
Harbhajan Singh
on Tuesday slammed the national selectors' decision to ignore the in-form
Suryakumar Yadav
for the Australia tour. Yadav has been in fine form for the Mumbai Indians in IPL 2020. He has played all 11 matches for MI this season, scoring 283 runs at an average of 31.44 and a strike-rate of 148.94. He has hit two half-centuries and has a highest score of 79 not out.
Headed by former India left-arm spinner
Sunil Joshi
, the national selection committee on Monday picked the Test, One-Day International and Twenty20 International squads for the tour of Australia. Harbhajan took to Twitter express his displeasure over Yadav's exlusion from the squads, and asked the selectors to look at his records. "Don't know what else @surya_14kumar needs to do get picked in the team india.. he has been performing every ipl and Ranji season..different people different rules I guess @BCCI I request all the selectors to see his records," tweeted Harbhajan on Tuesday morning.
Don't know what else @surya_14kumar needs to do get picked in the team india.. he has been performing every ipl and… https://t.co/YyHbWlvCFC

— Harbhajan Turbanator (@harbhajan_singh) 1603773074000
Rahul 'lucky' to be picked for Australia Tests: Manjrekar
Meanwhile, former India batsman Sanjay Manjrekar said on Tuesday that KL Rahul was 'very lucky' to make a comeback into the Test side based on his fine form in the IPL.
Rahul is currently the Orange Cap-holder as he is the leading run-scorer in the ongoing Indian Premier League (IPL). However, Manjrekar is of the opinion that recalling a player to the Test squad based on his performance in the IPL sets a 'bad precedent'.
"You set a bad precedent when you recall a player for Tests on IPL performance. Especially if the player has been an abject failure in his last few Tests. Whether that player succeeds or fails is irrelevant, such selections massively demotivate Ranji players. #INDvsAUS," Manjrekar tweeted.
You set a bad precedent when you recall a player for Tests on IPL performance. Especially if the player has been an… https://t.co/dPsqdmDQp9

— Sanjay Manjrekar (@sanjaymanjrekar) 1603762750000
In another tweet, Manjrekar said: "KL Rahul in his last 5 Test series – v SA – Avg 7.1, – v Eng – Avg 29, – v WI at home – Avg 18, – v Aus – Avg 10.7, – v WI – Avg 25.4, I say very lucky to get a recall based on IPL & white ball performance. But now let's just hope he makes the most of this chance. Good luck to him!"
KL Rahul in his last 5 Test series- v SA – Avg 7.1- v Eng – Avg 29- v WI at home – Avg 18- v Aus – Avg 10.7- v… https://t.co/hGMHrEqxTL

— Sanjay Manjrekar (@sanjaymanjrekar) 1603764740000
IPL 2020, DC vs SRH: Delhi Capitals eye playoff berth in clash against Sunrisers Hyderabad | Cricket News
Asked to comment on his team's performance after losing the Super over to
Kolkata Knight Riders
,
Sunrisers Hyderabad
skipper
David Warner
said he was biting his tongue in order not to say something harsh. Whether he did it, and to whom, in the confines of the change room is a moot point, but the Sunrisers came out swinging and handed
Rajasthan Royals
an eight-wicket defeat with the domestic players doing the bulk of scoring.
Post that win, only their fourth in this edition of the Indian Premier League (IPL), where they have been below par, Sunrisers Hyderabad were back to their old ways. The manner in which they snatched defeat from
Kings XI Punjab
was hard to fathom for even their most loyal fans.
IPL 2020 POINTS TABLE
From the comforts of 58 for two and chasing down an "achievable" target, the capricious middle order was at it again. After their bowlers did a commendable job in restricting KXIP to 126 for seven, the Sunrisers lost seven wickets for 14 runs to lose by 12 runs.
Most of the 114 runs scored by the Sunrisers came upfront, courtesy Warner and Vijay Shankar, who clearly was rattled after being hit on the helmet by a fielder while taking a sharp single. That spectacular collapse and win for Rajasthan Royals on Sunday have made it so much more difficult for SRH to realise their primary target of reaching the playoffs. With eight points – they are level with CSK at the bottom of the table – the Sunrisers have no option but to win the rest of their three games.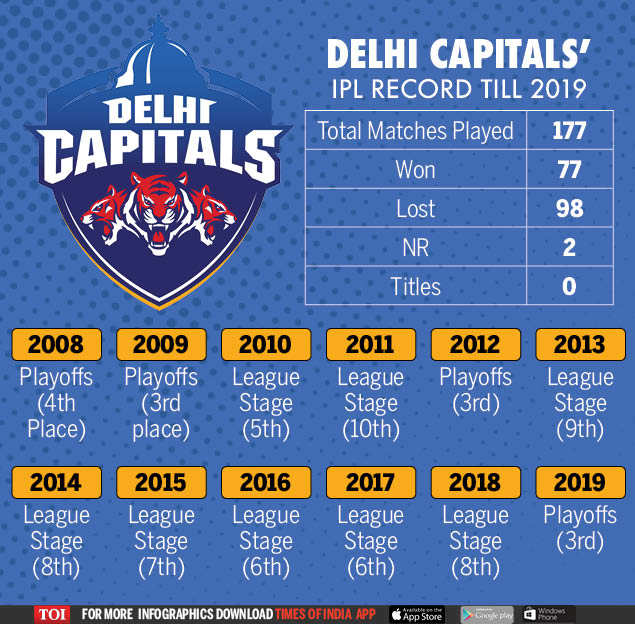 It's easier said than done given their patchy form so far in the tournament. And also because the next three games involve the top three in the table – Mumbai Indians, Delhi Capitals and Royal Challengers Bangalore. First up is Delhi Capitals, who coincidentally, have the same two opponents to contend with – MI and RCB – after playing SRH in Dubai on Tuesday.
The difference being those clashes most probably will decide who'll top the table and DC, who have lost three of their last five games, will not want to leave it late, especially after the 59-run drubbing they suffered at the hands of Kolkata Knight Riders in their previous game.