Kia unveils two rugged Sorento X-Line Concepts
NEW DELHI:
Kia Motors America
on Friday unveiled two all-new
Sorento X-Line
Concepts- the
Sorento Yosemite Edition
and the
Sorento Zion Edition
. The
Kia Sorento
is the 7-seater version of the
Kia Seltos
, the best-selling
B-segment
SUV of the Korean automaker.
The two X-Line Concepts were introduced during the brand's virtual national dealer meeting and these concepts celebrate the rugged personality of the Kia Sorento. The two wilderness-themed SUVs have been based on the Sorento X-Line variant and will mostly never enter production but they are meant to show the prowess of the rugged SUV to the customers and encourage them to purchase the upcoming 2021 Sorento or further customize their existing Sorento with X-Line accessories.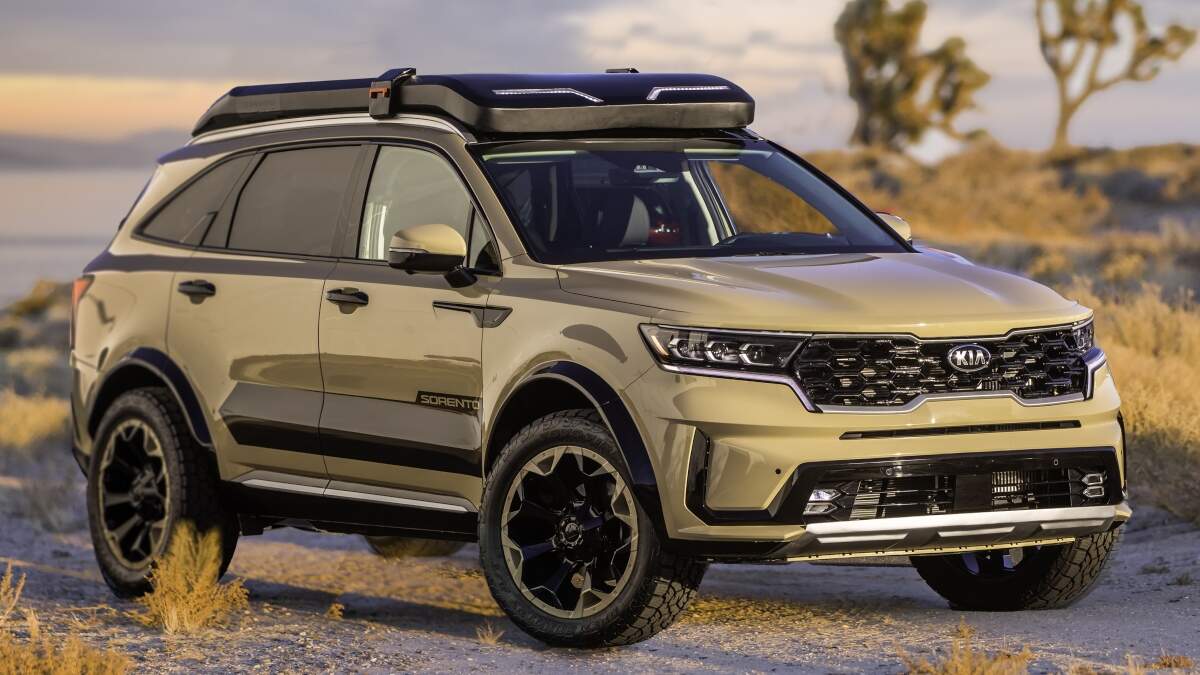 Kia Sorento X-Line Concept: Zion Edition
The first X-Line Concept, the Sorento Yosemite Edition is specially designed to explore high-elevation regions and mountain living. While the second concept, Sorento Zion Edition is dune-defeating desert escape vehicle. These two concepts will be the first time that the Korean automaker is showing off products with immense trailing capabilities.
Both the X-Line Sorento Concepts feature unique 20-inch wheels, an increased ride height of 8.3-inch, improved approach and departure angles, advanced all-wheel-drive powertrain with an exclusive snow mode and a robust roof rack. The fender flares, 32-inch all-terrain tyres, body armour with chrome custom skid plates and brush guards bring out the brawny character of the SUV.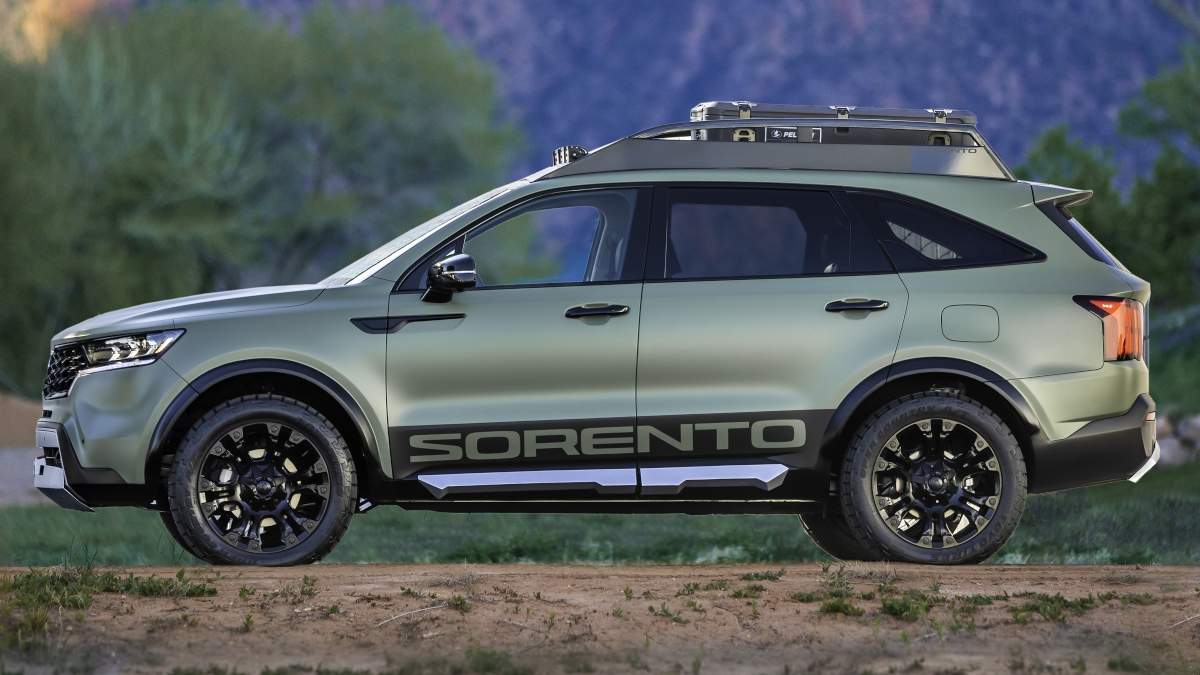 Kia Sorento X-Line Concept: Yosemite Edition
Designed by LGE-CTE Motorsports, both the X-Line Concepts take inspiration from America's national parks and it reflects in their colour scheme too. The Yosemite Edition adorns a pine green colour scheme in a matte finish with gloss and matte black accents reflecting high-elevation adventures. The Zion Edition boasts a desert sand colour scheme in a gloss finish with gloss black accents to reflect its desert-stomping nature.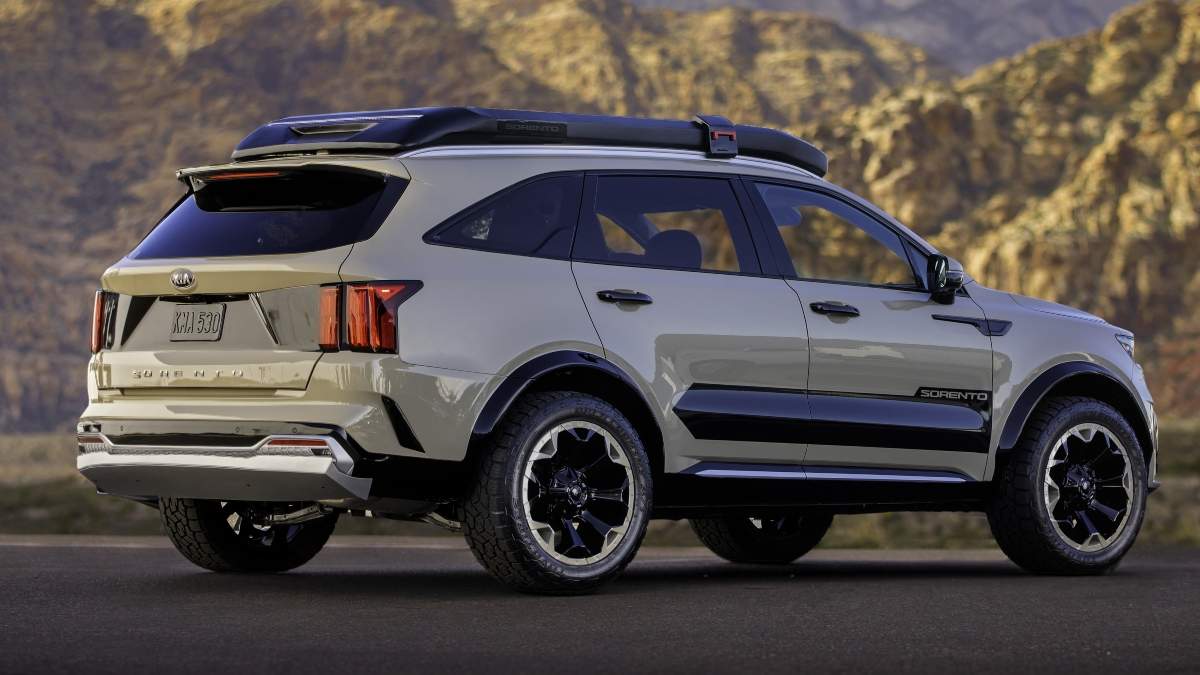 Kia Sorento X-Line Concept: Zion Edition
Tata Gravitas: Tata Gravitas to hit the market by early 2021
NEW DELHI:
Tata Motors
revealed that the Gravitas will finally hit the roads early next year after seeing a fair share of delays. The
Tata Gravitas
was showcased at the Auto Expo 2020 and was slated for a festive season launch but ultimately got delayed due to the pandemic.
The Tata Gravitas is the 7-seater version of the homebred Harrier, which has managed to get a decent market share ever since its launch in 2019. The Gravitas will also be based on the same platform as its sibling, the
OMEGARC
, which is derived from Land Rover's D8 platform. The 7-seater SUV is expected to be 63mm longer and 80 mm taller than Harrier and will most likely retain the Impact 2.0 design and styling language too.
The Tata Gravitas will lock horns with the
MG Hector Plus
, the upcoming next-gen
Mahindra XUV500
, and the upcoming 7-seater version of the
Hyundai Creta
. The 7-seater SUV will be powered by the same BS6-compliant 2.0-litre
Kryotec
turbo diesel engine as the Harrier that offers 170 PS of power and 350 Nm of torque. The engine might be paired to the same 6-speed MT and the 6-speed AMT transmission derived from Hyundai.
Tata Gravitas will also see a refreshed interior design with a completely new colour palette and is expected to flaunt enhanced tech and a few additional safety features as well. The Tata Gravitas is expected to start somewhere around Rs 15 lakh (ex-showroom).
"Going forward two additional models are going to come- Gravitas and Hornbill. Gravitas will be a seven-seater SUV while Hornbill will be a sub-compact SUV so we will have four SUVs in our portfolio which would be the widest portfolio. It would help strengthen our market position and sales in the coming years. The company plans to launch the Gravitas during the last quarter of this fiscal. It is yet to fix a date for the Hornbill introduction," said Shailesh Chandra, President, Passenger Vehicle Business Unit, Tata Motors.
Toyota halts operations at Indian plant again as union strike continues
BENGALURU: Toyota Motor Corp again halted operations at its car plant in southern India from Monday, as the majority of members of its workers' union continued a sit-in strike, the automaker said.
Both the Toyota Kirloskar Motor (TKM) factories in the industrial hub of Bidadi, Karnataka, had declared a "lock out" on Nov. 10 after the union went on strike, saying that their demand to withdraw the suspension of a worker was not met.
The local state government's labour department had prohibited the strike by the workmen, as well as the "legal lock out" declared by the management from Nov. 19 and directed operations to resume, a spokesperson for the automaker's India unit said on Tuesday.
Even after the lock out was lifted by TKM, only a few team members have reported to work, the company said.
"For plant operations to run smoothly and effectively, a minimum workforce of 90% in each shift is required. In view of the current situation, it is not viable to carry on with manufacturing activity."
The disruption follows several months of a slump in sales, and comes at a time when vehicle deliveries to dealers are picking up in anticipation of strong demand during the November festive period in India.
The country's top car maker Maruti Suzuki India Ltd last month said sales between October and December were expected to be good due to demand for personal transport and big-ticket purchases during the festive season.
Nikola shares fall after CEO fails to reassure investors GM won't pull out of $2 billion deal
Nikola Motor Company Two truck
Source: Nikola Motor Company
Shares of embattled electric vehicle start-up Nikola Corp. fell by more than 8% in afterhours trading after CEO Mark Russell failed to reassure investors that the company's $2 billion deal with General Motors would still go through and that ousted founder Trevor Milton wouldn't suddenly sell off his shares.
During an interview on CNBC's "Mad Money with Jim Cramer," Russell said discussions with GM about supplying fuel cell and battery technologies as well as an all-electric pickup are ongoing, but he wouldn't comment much further than that.
"Both of those things are interesting to us," he said regarding GM's technologies. "We continue to talk to them about those things." If a deal isn't finalized by Dec. 3, either side can walkaway.
Russell also declined to speculate about what Milton, who stepped down as chairman in September, plans to do with the 91.6 million shares he owns after a lock-up period that prevented him from cashing in his equity ends Dec. 1. That includes 6 million shares in "founder options" he gave to the early employees, leaving him with 85.6 million shares. There are roughly 360.9 million shares of company stock outstanding, making Milton Nikola's largest single shareholder.
All of those shares will be eligible to sell next week, according to the company.
"Can't comment for Trevor, of course," Russell said. "But we believe that as we execute on our milestones and on our business plan, we're going to reward our long-term focus shareholders. That's our focus, is on the long-term."
Owners of 136.5 million shares of Nikola agreed to extend their lock-up until April 31, including 39.8 million shares held by a separate company controlled by Russell but owned by Milton called T&M Residual.
Milton stepped down after the Department of Justice and Securities and Exchange Commission started investigating allegations of fraud raised by short-seller Hindenburg in September.
Hindenburg accused Milton of making false statements about Nikola's technology in order to grow the company and partner with auto companies. The report, titled "Nikola: How to Parlay An Ocean of Lies Into a Partnership With the Largest Auto OEM in America," was released two days after the company announced a deal with GM that sent both companies' shares soaring in September. It characterized Nikola as an "intricate fraud built on dozens of lies" by Milton.
Nikola shares closed Tuesday at $34.50, up 17.3% for the day and continuing their volatile streak since the company went public on June 4 in a reverse merger with VectoIQ, a special purpose acquisition company, or SPAC.