Kia Sonet review: Kia Sonet review: Worth your wait, nightmare for rivals
NEW DELHI: Just about a year ago, Kia Motors started its journey in India, and yet the brand has become so relevant. The Seltos story is an inspirational one. Now is the time for the brand to build on the solid start with the all-new
Sonet
.
The time couldn't have been better. SUVs have been a popular body type and on top of that B-segment is busy playing ground. Nexon to XUV300, Rs 7 lakh to Rs 12 lakh, manufacturers play on different cards – safety, creature comforts, refinement and stylish. We have the latest one in the mix – the Sonet. Let's get going, and find out where does it sit:
10:47Kia Sonet first drive review Sonet comes in Tech Line and a more premium GT Line trim, much like the Seltos. The body is well-proportioned, with a familiar face. Kia's prodigy is evident here as well. A tiger-nose grille with chrome diamond knurling, vertically-placed LED headlights with LED DRL on top with a kink show the aggressive side of the Sonet. The projector fog lamp is in the shape of an ice cube, much like the Carnival. The front skid plate finished in grey colour coordinates with the black grille.
On the sides, the R16 alloys fit under the rectangular arches. Dimensionally, Sonet has a wheelbase of 2,500 mm and high ground clearance of 205 mm.
To meet the under-four metre length, Sonet's back looks an abrupt chopped off section, however, it doesn't miss out on uniqueness. The heartbeat-shaped LED DRLs, solid lines on the tailgate and an impressive lower profile will ensure heads turn towards the Sonet on road.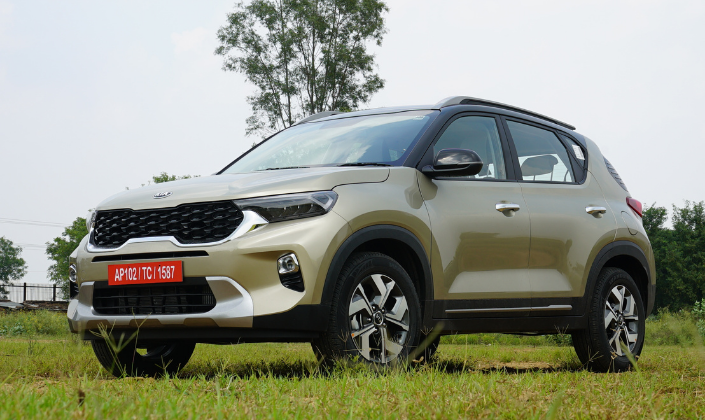 Kia Sonet demands a lot of attention the way it looks. This golden colour is exclusive to Sonet and you have a choice of more than 10 other colours.
Inside the car, there is a lot is common with the Seltos and that's not a bad thing. The steering wheel is multi-function and tilt adjustable. The driver's seat is electrically adjustable and the front occupants enjoy a ventilation facility as well. The space on offer is decent as well.
Kia is known to bring in vibrant colours to mix. The GT line sports black upholstery with red stitching while the Tech line is offered dual-tone leatherette seats with silver stitching.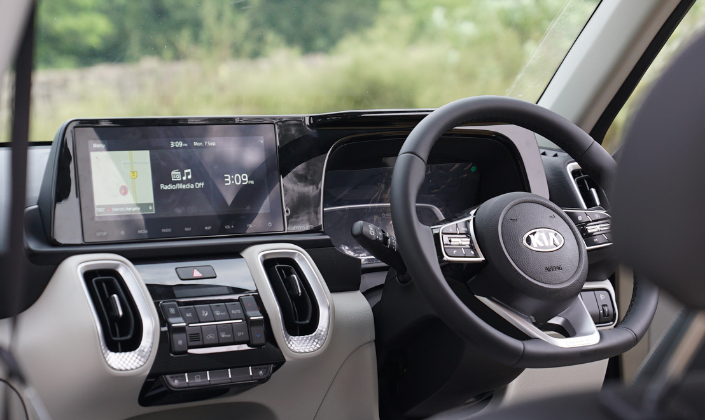 The 10.25-inch infotainment is the largest in the segment. It's slick to use and is taken straight out of the Seltos. And you know Sonet stands for Social Network, so understandably the connected features are next to none.
Kia's matchless technology is reflected inside the cabin. In a first, Sonet has remote start facility in manual variants as well. How about an air purifier? Seltos introduced the idea, now Sonet also can manage the in-car air quality.
For the second row occupants, you get an adjustable headrest, well-padded seats, dedicated AC vents, USB charging port and a sunroof for all. The only area Sonet scores less is the width. It's strict for two people.
Use the wireless charging on the go, while things like cruise control, 7-set Bose speakers coupled with LED sound mood lights and sunroof ensure Sonet can be converted into a lounge in no time.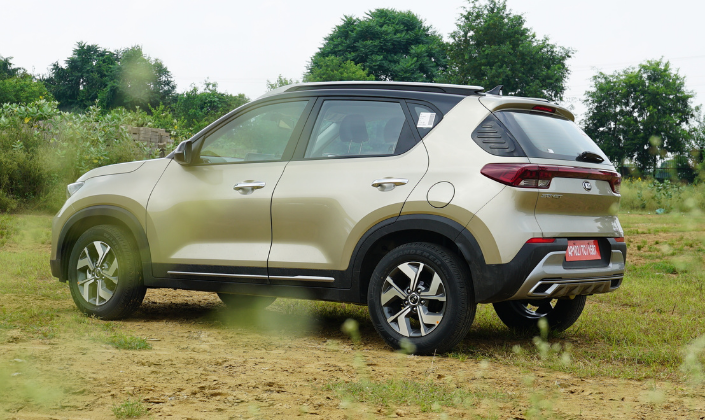 It's just not the looks and features of Sonet that will stump you. Get behind the driving wheel and enjoy your choice of engine-transmission option, which by far is the most versatile in the segment till date.
1.2 litre petrol with 5 MT
1.5 litre diesel with either 6 MT or 6 AT
1.2 litre turbo petrol with either iMT or 7-DCT.
Diesel is available in two state of tunes with the new automatic transmission offering engine belts out 115 PS. The one I'm driving is the 6-speed iMT with turbo petrol. We tried this out a few days ago with the Venue. And the situation in Sonet is even better.
Which one would you pick? A turbo petrol iMT or a diesel AT? I'm really looking forward to drive the most advanced automatic gearbox in the segment, which is paired with the diesel.
The iMT, which can be considered a semi-automatic, is exciting, will trill your senses. The gearshifts are seamless, with no clutch pedal in the middle. The gear level, however, is a little heavy to operate and the best thing iMT is this: The engine doesn't stop even when you come to a halt suddenly. The clutch actually holds you in the gear, and the engine with beeps reminds you. The iMT with the Turbo-Venue is exciting, however, the experience is even better here.
And that's major because of the compact wheelbase, stiffer suspensions and a sporty steering wheel. Sonet has good road manners and highway stability while zipping in the mundane city traffic, where the car will spend most of its time, is equally fun.
The diesel manual has a whopping mileage figure of 24 while both turbo petrol and diesel automatic are good enough for 18 kmpl on the regular run. Surprisingly, Kia claims greater FE figures in Sonet over Hyundai Venue.
The list of segment-first features keeps growing. Kia Sonet in GT Line also comes with 3 levels of traction control and as many drive modes.
Now, not all can go good for Sonet. What do you think of the waiting period? It's going be a really long one before you get your hands on Kia's wild by design.
With the launch on the horizon, Kia Sonet is expected to be priced around Rs 7 lakh – 12 lakh (ex-showroom). Do you think its the next go-to SUV in the making?
Car makers deliver over two lakh cars during festive season, post 20-30% jump in retail sales
MUMBAI: Motown's wheels have begun to rev up this
festive season
– and cars are clearly winning this drag race with bikes.
With safe personal mobility goals dwarfing other consumer priorities in the Covid backdrop, sales of sedans, hatchbacks and SUVs climbed a fifth this Navratri and Dussehra as more than 200,000 buyers reached out for their cheque books.
Bike-makers, by contrast, weren't as lucky: Sales of two-wheelers, particularly at the price-sensitive end of the market, have been marginally lower to flat. The impact of flat bike sales was visible on the stocks: Bajaj Auto and HeroMoto both lost about 6% Monday, and were among the biggest losers on the index.
But first, the good news.
Market leader Maruti Suzuki delivered its best performance in about five years by delivering 95,000 cars. Hyundai Motor India, Kia Motors, and Tata Motors, too, registered record numbers, cashing in upon the pent-up demand in the festive season. Toyota Kirloskar delivered a 13% rise in retail sales during the nine-day period.
Bookings through the season were in lockstep with the number of cars delivered, meaning Diwali and Dhanteras would be as sparkling as the Navratras.

Hyundai Motor retailed 26,068 units, a growth of 28% over last year, whereas deliveries were higher at 30,000 units for the same period, climbing a fifth from last Navratri.
Tarun Garg, Director for Sales and Marketing at Hyundai Motor India, said the positive momentum in sales of the last few months continued during Navratri and Dussehra.
"On all parameters, the numbers are very positive. Not only have the deliveries and retails grown by over 25-30% over the same period last year, but the bookings and enquiries also have been very strong, indicating that the rest of the season will be healthy," added Garg.
The deluxe drive
At the highest end of the spectrum, Mercedes Benz India also broke into the green during Navratri and Dussehtra, delivering as many cars as it did last year. That contrasts with a 40% decline so far in 2020 for the luxury segment.
Rural demand continues to underpin car sales.
Veejay Ram Nakra, CEO for the automotive business at Mahindra & Mahindra, said deliveries were higher than last year for the nine-day festival period. Deliveries could not match demand as supplies are getting streamlined.
"We had a very healthy booking momentum pre-Navratri and Dussehra and we continue to have a very strong pipeline of bookings. Our bookings are up over 40% in SUV's and at an overall level…, are up about 20% during the nine days of festivals," said Nakra. "Rural continues to drive strong numbers."
This year's Navratri and Dussehra included one day less than the customary 10, and the festivities were preceded by Adhik Maas (or an additional month in Hindu calendar) during which some purchase decisions and deliveries were made.
In 2019, the 10-day festival period was preceded by 15 days of shradh or inauspicious period. People usually defer bookings or don't take deliveries during the shradh.
Bikes play catch-up
Meanwhile, two-wheeler sales remained tepid in the metros and tier one cities with commuter trains and metros remaining largely out of bounds for the public, thus reducing the need for short-haul commutes from home to the nearest suburban railhead.
Rakesh Sharma, ED, Bajaj Auto, told ET that festive sales now are flat compared to the same period last year. But considering the shutdowns, he said the flat sales growth was not surprising.
"The emphasis on 30 days of festivities is overblown and its extrapolation can be misleading. The real test will be over the next few months when the heat and dust of the season has settled. That period is difficult to predict and unfortunately, we have no other option but to wait, observe and then respond," added Sharma.
The weekly run-rate of the two-wheelers registration for the week ended October 17, 2020, was 220,029 units, data from the Vahaan platform showed. This implies that daily sales for the week before the Navratri was around 31,432 for two-wheelers.
"Navratri retail volumes may not strictly be comparable with last year's Navratri as this year, the festival has only a nine-day window compared with ten days in the previous year, and one day in the festival period could add 50,000-52,000 of incremental sales," said an executive at a leading two-wheeler maker.
A Hero dealer in western UP said that the Navratri sales have been a few units lower than last year's. Steep price increases in the entry-level segment due to new emission norms and crop payment delays have put a lid on sales in the more price elastic end of the market.
A Honda dealer in Telangana said that bike sales have been surpassing last year's Navratri volumes, and supply constraints could affect bike volumes ahead of Diwali. Scooter sales remain muted.
The month-long period between the start of Navratri and Diwali typically accounts for about double the monthly average of the year for two- and four-wheeler sales. A large part of this demand is in the North and East, which together account for 50-55% of total sales of two-wheeler and passenger cars. At its peak, though, the festive season would report 3.5-4 times the usual monthly run-rate.

Cummins India completes BS-IV emission standard certification tests for wheel equipment
MUMBAI: Engines and power equipment manufacturer
Cummins
India said on Monday it has successfully completed
BS-IV
emission standard certification tests for its wheel equipment at the International Centre for Automotive Technology (ICAT). The new BS-IV (construction equipment vehicle) norms for wheeled equipment such as wheel loader, backhoe loaders, compactor, harvester and paver are to be implemented from April 1, 2021, and Cummins India has accomplished the task much ahead of the deadline, the company said in the the release.
The latest engine can easily be scaled up to BS-V emission norms and beyond, it said.
"As India looks to boost its economy through infrastructure growth, we are all set to evolve from mechanical to new generation, fully electronic engine systems," said Cummins India Managing Director Ashwath Ram.
He added that these new engine systems will be powered by Cummins' best-in-class technology and will ensure higher uptime, better total cost of ownership, easy installation and cleaner emissions and, hence, will deliver superior value to end-users.
Cummins India Vice-President (Engine and Component Business) Anjali Pandey said this new four-cylinder, 4.5-litre CEV BS IV-compliant engine system will further help Cummins enhance its presence in the construction segment while meeting stringent emissions standards and providing value to the customers.
Globally, more than one million Euro-VI/BS-VI equivalent and higher emission vehicles are running with Cummins' engine and after-treatment system, the company said.
gst: Govt support in GST cut to aid entire PV industry: Tata Motors
NEW DELHI: Any kind of support from the government in terms of
GST
reduction would help the passenger vehicle segment immensely as it would negate some of the price increase in vehicle prices due to the shift to stricter
BS-VI
emission norms, according to a top
Tata Motors
executive.
In an interview with PTI, Tata Motors President, Passenger Vehicles Business Unit, Shailesh Chandra said the reduction in vehicle prices would even help end customers who have been facing various pressures owing to the current state of the economy.
"Due to this transition from BS IV to BS VI, there has been a significant escalation in cost. In these trying times customers are not very confident about the outlook how the future is going to be including their salaries and jobs.
"On top of that there has been an increase in vehicle prices. It definitely impacts the industry immensely and any support by the government to reduce GST to offset some of the price increase will definitely boost the whole PV industry," Chandra noted.
He was replying to a query whether lowering of GST would help revive the industry.
The Indian automobile industry leapfrogged to BS VI emission standards from BSIV from April 1 this year.

While auto companies put in around Rs 40,000 crore to upgrade their facilities and products, the auto components industry chipped in with an investment of Rs 30,000 crore for the same.
Chandra said there has been a significant escalation in cost due to the transition from BS IV to BS VI emission regime.
"It (reduced GST) will help consumers who are going through low buying sentiments because of uncertain and precarious outlook for the economy and their source of income. So definitely it will be helpful to boost the volumes for the passenger vehicle industry," he said. Currently, automobiles attract GST of 28 per cent with additional cess ranging from 1 per cent to 22 per cent.
When asked about the electric vehicle segment, Chandra said the government has done its part and it was now up to the ecosystem players to participate in the process.
"As far as the government is concerned, the trust they have been bringing to electrification is something which very few governments across the world have done. Significant capital has been diverted towards the FAME scheme and others including charging infrastructure and R&D," Chandra said.
It is now up to the manufacturers now to scale up their operations, he added.
"Government has done a lot and the only thing that the government can consider is giving FAME scheme benefits to the personal car segment as well. Incentives currently are being directed towards shared mobility and it is not gaining traction as during the pandemic the fleet segment has got impacted a lot," Chandra said.
Personal car segment is 90 per cent of the industry and even a lower penetration of this 90 per cent segment would bring more visibility to the electric segment in the country, he added.
"Demand can be triggered through personal segment. Keeping that in mind if FAME incentives are also provided to personal segment electric cars which meet the criteria of price, localisation, range it will just accelerate the process of electrification in the country," Chandra noted.
Tata Motors currently sells Nexon EV and two trims of Tigor with different range outputs. During the July-September quarter, the company has sold over 900 electric vehicle units. Since January, over 1,500 units of the Nexon EV have been sold.
"We believe in the future of electric mobility. We already have two versions of Tigor, we have Nexon EV, and we have announced Altroz EV, something which we are working on. There will be additional versions and products which will come in the coming years," Chandra said.