Kia Sonet review: Kia Sonet review: Worth your wait, nightmare for rivals
NEW DELHI: Just about a year ago, Kia Motors started its journey in India, and yet the brand has become so relevant. The Seltos story is an inspirational one. Now is the time for the brand to build on the solid start with the all-new
Sonet
.
The time couldn't have been better. SUVs have been a popular body type and on top of that B-segment is busy playing ground. Nexon to XUV300, Rs 7 lakh to Rs 12 lakh, manufacturers play on different cards – safety, creature comforts, refinement and stylish. We have the latest one in the mix – the Sonet. Let's get going, and find out where does it sit:
10:47Kia Sonet first drive review Sonet comes in Tech Line and a more premium GT Line trim, much like the Seltos. The body is well-proportioned, with a familiar face. Kia's prodigy is evident here as well. A tiger-nose grille with chrome diamond knurling, vertically-placed LED headlights with LED DRL on top with a kink show the aggressive side of the Sonet. The projector fog lamp is in the shape of an ice cube, much like the Carnival. The front skid plate finished in grey colour coordinates with the black grille.
On the sides, the R16 alloys fit under the rectangular arches. Dimensionally, Sonet has a wheelbase of 2,500 mm and high ground clearance of 205 mm.
To meet the under-four metre length, Sonet's back looks an abrupt chopped off section, however, it doesn't miss out on uniqueness. The heartbeat-shaped LED DRLs, solid lines on the tailgate and an impressive lower profile will ensure heads turn towards the Sonet on road.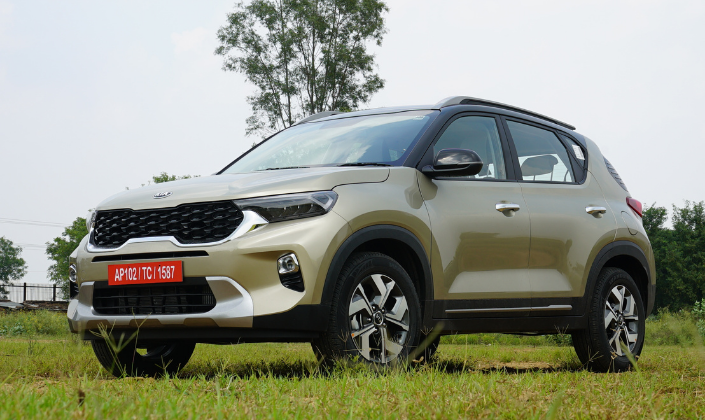 Kia Sonet demands a lot of attention the way it looks. This golden colour is exclusive to Sonet and you have a choice of more than 10 other colours.
Inside the car, there is a lot is common with the Seltos and that's not a bad thing. The steering wheel is multi-function and tilt adjustable. The driver's seat is electrically adjustable and the front occupants enjoy a ventilation facility as well. The space on offer is decent as well.
Kia is known to bring in vibrant colours to mix. The GT line sports black upholstery with red stitching while the Tech line is offered dual-tone leatherette seats with silver stitching.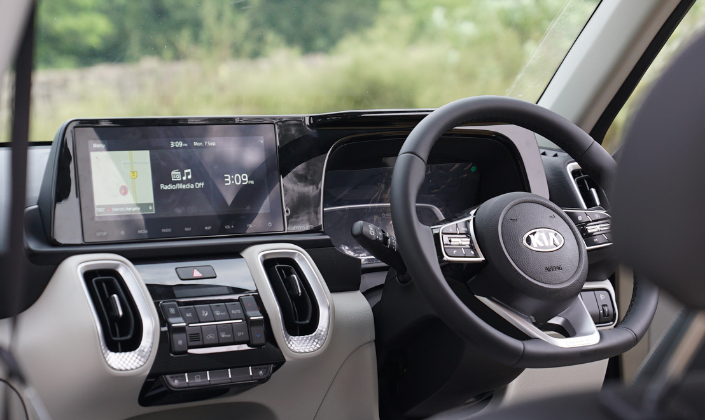 The 10.25-inch infotainment is the largest in the segment. It's slick to use and is taken straight out of the Seltos. And you know Sonet stands for Social Network, so understandably the connected features are next to none.
Kia's matchless technology is reflected inside the cabin. In a first, Sonet has remote start facility in manual variants as well. How about an air purifier? Seltos introduced the idea, now Sonet also can manage the in-car air quality.
For the second row occupants, you get an adjustable headrest, well-padded seats, dedicated AC vents, USB charging port and a sunroof for all. The only area Sonet scores less is the width. It's strict for two people.
Use the wireless charging on the go, while things like cruise control, 7-set Bose speakers coupled with LED sound mood lights and sunroof ensure Sonet can be converted into a lounge in no time.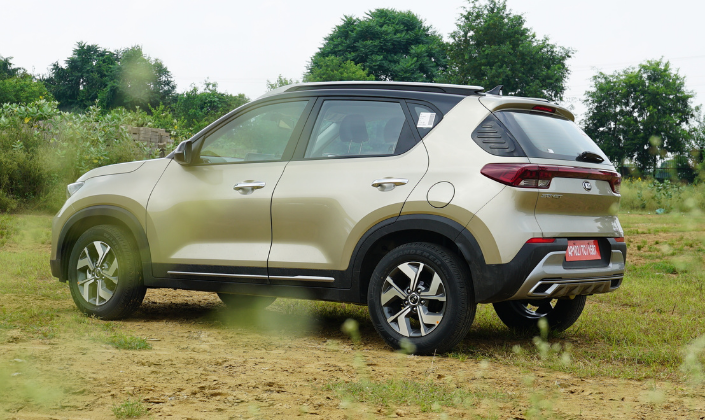 It's just not the looks and features of Sonet that will stump you. Get behind the driving wheel and enjoy your choice of engine-transmission option, which by far is the most versatile in the segment till date.
1.2 litre petrol with 5 MT
1.5 litre diesel with either 6 MT or 6 AT
1.2 litre turbo petrol with either iMT or 7-DCT.
Diesel is available in two state of tunes with the new automatic transmission offering engine belts out 115 PS. The one I'm driving is the 6-speed iMT with turbo petrol. We tried this out a few days ago with the Venue. And the situation in Sonet is even better.
Which one would you pick? A turbo petrol iMT or a diesel AT? I'm really looking forward to drive the most advanced automatic gearbox in the segment, which is paired with the diesel.
The iMT, which can be considered a semi-automatic, is exciting, will trill your senses. The gearshifts are seamless, with no clutch pedal in the middle. The gear level, however, is a little heavy to operate and the best thing iMT is this: The engine doesn't stop even when you come to a halt suddenly. The clutch actually holds you in the gear, and the engine with beeps reminds you. The iMT with the Turbo-Venue is exciting, however, the experience is even better here.
And that's major because of the compact wheelbase, stiffer suspensions and a sporty steering wheel. Sonet has good road manners and highway stability while zipping in the mundane city traffic, where the car will spend most of its time, is equally fun.
The diesel manual has a whopping mileage figure of 24 while both turbo petrol and diesel automatic are good enough for 18 kmpl on the regular run. Surprisingly, Kia claims greater FE figures in Sonet over Hyundai Venue.
The list of segment-first features keeps growing. Kia Sonet in GT Line also comes with 3 levels of traction control and as many drive modes.
Now, not all can go good for Sonet. What do you think of the waiting period? It's going be a really long one before you get your hands on Kia's wild by design.
With the launch on the horizon, Kia Sonet is expected to be priced around Rs 7 lakh – 12 lakh (ex-showroom). Do you think its the next go-to SUV in the making?
Tesla job openings for Semi truck production lines in Nevada
Tesla CEO Elon Musk shows off the Tesla Semi as he unveils the company's new electric semi truck during a presentation in Hawthorne, California, U.S., November 16, 2017.
Alexandria Sage | Reuters
Recent job listings show that Tesla is moving ahead with its long-delayed plans for its electric Semi truck, an initiative it first unveiled in 2017.
Three current job listings call for employees to work on "Semi-Truck production lines" in Sparks, Nevada. That's where Tesla already makes batteries for its electric vehicles, in partnership with Panasonic.
Tesla announced the Semi in November 2017, and said at the time that it would deliver the trucks to customers in about two years. At that time, the company said it would sell a 300-mile range version of the Semi for $150,000, and a 500-mile range version for $180,000, and that the trucks would go from 0-60 miles per hour in 5 seconds without cargo, or 0-60 in 20 seconds with an 80,000 pound load.
After taking reservations for the trucks from companies such as Anheuser-Busch, DHL Group, PepsiCo, Pride Group and Walmart, Tesla announced Semi production delays during a third-quarter earnings call in 2019, and again in April 2020.
In June 2020, Musk sent an e-mail to all employees at Tesla that called for "volume production" of the Semi.
"It's time to go all out and bring the Tesla Semi to volume production. It's been in limited production so far, which has allowed us to improve many aspects of the design." Musk also said in that memo, "Production of the battery and powertrain would take place at Giga Nevada, with most of the other work probably occurring in other states."
But in the company's third-quarter 2020 financial filing, Tesla only mentioned its Semi initiative twice, saying it was "in development," and noting U.S. locations for Semi production were yet to be determined.
More recently, in an interview at the European Conference on Batteries November 24, 2020, Musk boasted that Tesla was aiming for a Semi that could go even further on a single charge than originally promised, saying "You could take the range, for long-range trucking, easily up to 800 kilometers and we see a path over time to get to 1,000 kilometer range with a heavy duty truck."
The company has a few prototype Semi trucks that have been in operation for over a year. But Musk has not disclosed when full-fledged production of the Semi, or longer range batteries for it, could begin.
Today, Tesla is taking $20,000 refundable reservations to order a Semi. (It initially required $5,000 per reservation.) The base price for a 300-mile range version is listed at $150,000, and for a 500-mile range at $180,000. Prospective customers can also order a "Founders Series" Semi for $200,000.
Meanwhile, Daimler is in small-scale production with its heavy duty eCascadia electric trucks in the U.S., and Quebec-based Lion Electric has plans for a SPAC, a new U.S. factory, and has inked a deal to deliver up to 2,500 battery-powered electric trucks to Amazon over the next five years.
Investors will likely press Tesla for details on the status of its Semi program on its Q4 2020 earnings call on Jan. 27.
Tesla did not immediately respond to a request for comment.
Luxury carmakers line up 70 launches for 2021, expect V-shaped recovery
Mumbai / New Delhi:
Luxury carmakers
in the country are betting on a
V-shaped recovery
with most predicting 25-40% growth in sales this calendar year, driven by more than one car hitting the roads every week on an average.
Luxury carmakers have lined up about 70 launches – including all-new models, facelifts and variants – this year, which is almost double of Covid-hit 2020 when lockdowns and supply chain challenges forced most firms to defer rolling out of new vehicles.
The biggest product action will come from BMW, which plans 25 launches this year, followed by market leader Mercedes Benz with 15 new products planned and Jaguar Land Rover with 10. Audi and Volvo have lined up seven and five new launches, respectively, this calendar while another 6-8 launches will come from sports car and super luxury car makers such as Porsche, Lamborghini, Ferrari, and Rolls Royce.
Mercedes Benz India managing director Martin Schwenk said the industry will get back to a normal growth track in 2021-2022 with customer base will grow on the back of financial growth in the Indian economy.
"We expect to grow by over 40% for the next two years," Schwenk told ET. "The fundamentals of GDP growth and per capita will drive demand. The momentum is there; it is carried forward by new products. There is a generally positive market outlook. New products will definitely help us to sustain the momentum. It will be a completely fresh portfolio of 15 cars."
Industry officials expects the luxury car market to record sale of 28,000 to 33,000 units in 2021, up from 20,000-21,000 last year.

As the economic recovery gains momentum and sentiment improves on the back of Covid-19 vaccination drive and fall in new infections, vehicle makers are confident of a strong double digit growth.
Balbir Singh Dhillon, head of Audi India, said the worst is over for the luxury car market. It will be a busy 2021 from Audi with a clear strategy focused on four pillars on strength – customer centricity, digitalisation, network and products, he said. The company aims to more than double its volumes in 2021.
BMW expects a minimum of 25-30% growth in 2021. Vikram Pawah, MD of BMW India, said the company has seen rapid recovery month on month after the third quarter of 2020.
"We will aim to outpace the market because of 25 new launches planned for 2021," Pawah told ET. "This has to be the highest level of product action from the company. The demand for personal mobility is moving up, it is evident from consumer behaviour. With the time to spend with our family, there is a lack of international and local travel, there are a lot of driving holiday concepts coming up as well, which is increasing the demand for premium and luxury cars as well."
Rohit Suri, MD of JLR India, said the British luxury carmaker owned by Tata Motors has planned 10 new product actions for 2021 on the back of quick recovery.


LUXURY EVs DRIVING IN

It is going to be an action packed year for luxury electric vehicles, too, with Jaguar I-Pace, Mini Cooper electric car, Audi E-Tron, Porsche Taycan, Tesla Model S and Volvo XC40 Recharge expected to hit the roads.
A Volvo Cars India spokesperson said the Swedish luxury carmaker expects its sales pace to further improve in 2021 on the back of all-new S60 to be launched in March followed by all-new electric vehicle XC40 Recharge.
While the industry is bullish, experts foresee bottlenecks of supply chain and high taxes continuing to impact overall market recovery.
Ravi Bhatia, president of automotive industry analytics firm Jato Dynamics India, said the premium vehicle segment has struggled for growth in India with sales halving since 2018 from 41,000 to about 20,000 in 2020.
"There are several factors holding back the growth of the luxury market in India," he said. "The OEMs (original equipment manufacturers) continue to struggle with growth in face of heavy taxation and limited size of ultra HNIs (high net-worth individuals) in India. Also, culturally, Indians are uncomfortable with bold and in-your-face display of wealth. This has forced luxury carmakers to play on backfoot, be it in product, pricing and distribution strategy."
Bhatia said sluggishness in the market may continue in 2021 and supply side challenges, especially on the semi-conductor front, may play a spoilsport due to high dependence on chipsets in luxury cars. This may not allow the industry to reach the 2019 sales levels of 33,000 units, he said.
While the Indian luxury car market is struggling, the Chinese luxury car market has grown from strength to strength to reach 3.6 million last year.

Tata Motors hikes prices of passenger vehicles in a bid to offset rising input costs
NEW DELHI:
Tata Motors
on Friday said it has increased prices of its
passenger vehicle
(PV) range by up to Rs 20,000 to offset rising
input costs
and semiconductors. The company joins others like
Maruti Suzuki
and Mahindra & Mahindra, which have also hiked their vehicles' prices. "Rising input costs and material costs of steel, precious metals and semiconductors have compelled the company to pass on the part of the cost to customers," Tata Motors said in a regulatory filing. The company further said, "Tata Motors has marginally increased prices from 0 to Rs 26,000, depending on the variant.
Continuing its commitment towards customers, the company will also offer protection from the price increase to customers who have booked Tata passenger vehicles on or before January 21, it added.
Tata Motors currently sells PVs ranging from hatchback Tiago with starting price of Rs 4.7 lakh to SUV Harrier tagged at Rs 19.1 lakh (ex-showroom Delhi).
Tata Motors said its PV business has been witnessing strong demand for its 'New Forever' range of Cars & SUVs and grew by 39 per cent in financial year 2021 over financial year20.
In the third quarter of financial year 2021, Tata Motors also registered the highest ever sales in the last 33 quarters and continues to work on debottlenecking the supply chain and ramping up its output to meet the increased demand, it added.
On Monday, Maruti Suzuki India had said it increased the price for select models by up to Rs 34,000 to offset the adverse impact of rising input costs. Earlier this month, Mahindra & Mahindra announced a hike in prices of its range of personal and commercial vehicles by around 1.9 per cent.