Katherine Parkinson: 'I bought a Chanel dress with my first proper paycheck. It's hideous' | Life and style
Born in London, Katherine Parkinson, 42, studied at Oxford University and the London Academy of Music and Dramatic Art. From 2006, she appeared in the Channel 4 comedy The IT Crowd, and won a Bafta in 2014. Her other television work includes Doc Martin, Humans and Defending The Guilty. In 2019, she starred in the West End play Home, I'm Darling. She is married, has two daughters and lives in London.
What is your greatest fear?
I'm pathetically scared of dogs.
What is your earliest memory?
Being bitten by a girl called Denise in a wendy house.
What was your most embarrassing moment?
I once tried to lead a pub in a rendition of Oom-Pah-Pah from Oliver!. No one joined in, but I sang through to the end to prove that I wasn't mortified.
Aside from a property, what's the most expensive thing you've ever bought?
A Chanel dress. I bought it with my first proper paycheck and it was ridiculously expensive. It is also hideous.
What do you most dislike about your appearance?
My broken nose. I was assaulted in my 20s, and my nose is a constant reminder.
What is your most unappealing habit?
I change the subject without warning, which makes my conversation difficult to follow, apparently.
What is your favourite smell?
Coffee made to my exact specifications.
What is your favourite word?
I use the word visceral as much as possible in rehearsal.
What did you want to be when you were growing up?
An astronaut. I still do.
Which book changed your life?
I met my husband doing a workshop based on the book Heart Of A Dog by Mikhail Bulgakov. He was the dog.
What is the worst thing anyone's ever said to you?
Is that a wig?
What does love feel like?
Relief. (Not like that.)
What was the best kiss of your life?
Apart from my husband Harry, the director Rufus Norris, [when he was an emergency understudy] on stage at the National Theatre.
Which living person do you most despise, and why?
Despise is a strong word, but I have always felt I wouldn't click with Gwyneth Paltrow.
Which words or phrases do you most overuse?
Don't touch me.
What has been your biggest disappointment?
Not getting into MI5.
If you could edit your past, what would you change?
I wish I hadn't been a heavy smoker for so many years.
What single thing would improve the quality of your life?
A driving licence.
What do you consider your greatest achievement?
I went to a state school, so had to learn ancient Greek from scratch at Oxford.
What has been your closest brush with the law?
I've never been caught.
What is the most important lesson life has taught you?
It's not a race.
Nigel Slater's recipe for greens with lemongrass and chillies | Vegetables
The recipe
Thoroughly wash and trim 400g of greens. Separate the stalks and slice them finely. Slice or tear the leaves into manageable pieces.
Make a spice paste by putting 3 peeled cloves of garlic in a spice mill or food processor with 2 seeded medium-sized red chillies, 1 large stalk of lemongrass very finely sliced, 1 tsp of ground turmeric and half a tsp of sea salt flakes. Reduce to a coarse paste.
Warm a wok or large frying pan, add 3 tbsp of groundnut or vegetable oil then stir in the spice paste and let it fry for a minute or two. Add the sliced stalks to the pan and leave to fry for 2 or 3 minutes with the occasional stir.
Mix together 1 tbsp of dark soy sauce, 2 tbsp of fish sauce, 2 tbsp of lime juice and 1 lightly heaped tsp of caster sugar.
Add the torn leaves to the pan and let them soften, turning them over occasionally with kitchen tongs until they are bright and tender. Add the dressing and toss the leaves and stalks in it. Lastly, add a handful of mint and coriander leaves and serve in bowls. Enough for 2
The trick
The stalks – far too good to waste – need a minute or two longer to come to tenderness than the leaves. Give them a good 2 or 3 minutes cooking before you introduce the leaves. Depending on which vegetables you use, the cooking time will vary, but shouldn't be longer than 5 or 6 minutes in total. I suggest getting the dressing ready and waiting.
The twist
Cabbage – all varieties except red – the kales, cavolo nero and mustard greens are good here, but the best results come from a mixture of leaves. If you include spinach, even the tougher, pointed leaf variety, then add it only at the very last minute.
Follow Nigel on Twitter @NigelSlater
As schools reopen for Class 10 and 12, are you ready to send your children back to school?
Face masks, fewer children in the class and strict discipline- that's how schools look like in 2021.
Not only has 2021 been significant with the start of the COVID vaccination drives in India, but schools have also finally started to open up in some parts of the country for students of senior secondary grades.
In Delhi, schools have been thrown open for class 10 and 12 children in a graded manner. While in-person attendance is still optional, many feel that reopening schools right now comes as good help for kids who are preparing to sit for their board exams, scheduled to happen in-real this year.

As worrying as the thought of sending children to the schools sounds right now, school authorities are ensuring the strongest of discipline and social distancing measures.
While parental consent in writing is a must, schools are following standard operating procedures (SOPs) issued by the Directorate of Education last year stringently.
What are the measures being taken right now?


With kids resuming a new normal school life, sanitisers and masks have been added to the mandatory school supplies list.
As per Jyoti Yadav, Lady Irvin Senior Secondary School, Delhi, the first day of schools reopening after almost a year was smooth and saw no difficulties.
Commenting on the measures being taken right now, Jyoti Yadav added that students have been told to wear a mask at all times and carry a spare mask as well. Apart from this, the entry of kids is only allowed after thermal contactless scanning is done at the entry point. Social distancing has been strictly enforced and students asked to maintain 6-feet distance at all times.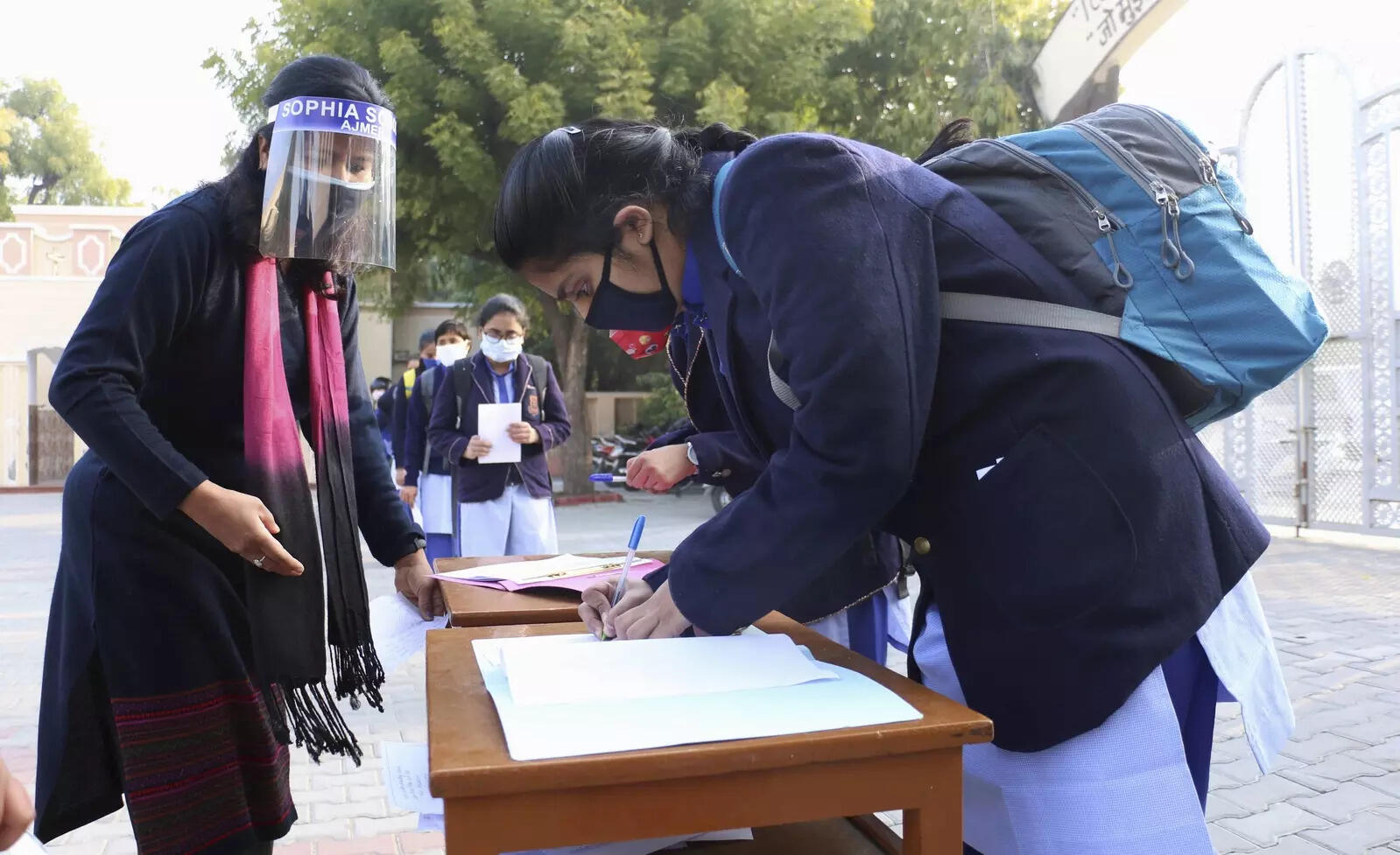 Institutions will also be sanitizing the classroom space after every class, minimizing the risk of infection. Several schools have also demarcated a special medical room to attend to any patient with coronavirus symptoms. Ample PPE kits, quarantine measures have been brought into use as well.
Another thing which has probably changed is that there will a tighter grasp on the discipline followed too. As a measure, kids have also been advised not to share their lunch boxes, water with fellow students and not loiter around in the school premises as well.
As per government authorities, right now, students and teachers coming from containment zones won't be allowed to visit right now.
The new normal has also forced schools to ditch out typical school activities- assembly, physical activity periods or any time of group activities.
Are parents ready to send kids back to school? Is it really safe?
Schools have been gradually opening up in states like Karnataka, Madhya Pradesh since October 2020. Globally too, a number of schools have opened up in the USA, UK, Korea and China. Colleges, to have opened up.

As per a recent survey, a large percentage of parents are still not confident about sending their kids back to school.
There are many also who feel that schools are one of the most contagious and super-spreading places for novel coronavirus, even as we wait for a COVID-19 to be rolled out for kids.
Right now, sending kids back to school is a personal decision, but also a very tough one. With discoveries of newer strains and stranger symptoms, many feel that starting physical school may not be the best decision right now.
If you must send kids back, ensure the premises and the measures taken in the classroom are more than enough to guarantee a safe space for kids. As per CDC recommendations, all schools opening up should also have isolation rooms, medical help and report exposures too.
Coronavirus vaccine: Who shouldn't take Covaxin shot right now?
People aren't being offered a choice between the two vaccines- Covaxin or Covishield.
While Covaxin is still under study, it's important to know that neither Covishield nor any other vaccines used globally are fully safe and effective, since they have been developed in such a short timeline, on an experimental basis. However, considering that most of the reactions have been recorded from people offered the Covaxin jab, it may seem a little less safe than others right now. The fears multiply for the ones who belong to a high-risk category, or suffer from pre-existing problems the most.
Considering the questions and adverse reactions, Bharat Biotech has now released a factsheet, detailing the people who shouldn't be taking the vaccine right now. If you are scheduled to get vaccinated in the coming weeks, considering postponing the appointment or consulting a doctor if you have any of these conditions:
(Image taken for representational purposes only)