karnataka school news: Karnataka school year to extend till May: Education minister S Suresh Kumar
BENGALURU: The current academic year will go on till May for all classes and the next academic year is likely to begin only in July, primary and secondary education minister S Suresh Kumar said.
"We already announced SSLC exams will not be held before May end," Kumar told TOI. "So the academic year will continue till then. Some learning must happen before students take exams."

Assessment will be done at the school level, except for class 10. This will be based on the concept of continuous and comprehensive evaluation.
Indicating that reopening schools for primary grades this academic year cannot be ruled out, the minister said it will depend on how the Covid-19 technical advisory committee perceives the situation.
"We are open to involving all children in some academic activity or other," he said. "Students in private schools, who are more privileged, must be viewed differently from those in government schools. The government's role is to promote a mechanism where every child gets the right to an education."
On whether preschools and daycare centres will open this year, the minister said the issue rests with the women and child welfare department.

Assam Special TET notification 2021 released, apply here
NEW DELHI: AXOM Sarba Siksha Abhiyan Mission, Assam has released the notification for Special Teacher Eligibility Test (TET) Exam for Lower Primary Teachers.
The Special TET (Lower Primary Level) will be conducted for all contractual employees engaged from time to time/presently working under various interventions of SSA, Assam (except TET qualified teachers both SSA Contractual and State pool) having requisite eligibility & qualifications as per NCTE norms and who were issued Unique ID from the concerned district.

Eligibility Criteria for appearing in the Special TET
1) Candidate must be permanent resident of Assam.
2) Candidates who has worked/are presently working under various interventions of SSA, Assam and who were issued Unique ID from the districts and having minimum academic & professional qualification.
Senior Secondary (or its equivalent) with at least 50% marks and 2-year Diploma in Elementary Education OR
Senior Secondary (or its equivalent) with at least 50% marks and 4-year Bachelor of Elementary Education (B.El.Ed) OR
Senior Secondary (or its equivalent) with at least 50% marks and 2-year Diploma in Education (Special Education) OR
Graduation and two year Diploma in Elementary Education (by whatever name known).

Structure and content of Special TET, Assam (Lower Primary Level)
S. No.
Subject
No. of questions
Marks
1
Child Development & Pedagogy
30 MCQs
30
2
Language I – Assamese, Bengali, Hindi,
Bodo, Manipuri, Garo, Nepali, Karbi, Hmar
30 MCQs
30
3
Language II – English
30 MCQs
30
4
Mathematics
30 MCQs
30
5
Environmental Studies
30 MCQs
30
* All (150) questions will be MCQs type; each question will carry 1 mark.
Duration of Examination: 150 minutes for Paper – I, Additional 20 minutes' time will be there for visually impaired candidates.
Minimum Marks for Qualifying in TET: A candidate is required to score at least 60% i.e. 90 marks out of 150 to qualify the Teachers' Eligibility Test (TET). However, for SC/ST (Hills)/ST (plain)/ OBC/MOBC/PWD (PH), there will be relaxation of 5%. Thus, for these candidates, qualifying score will be 55% i.e., 83 out of 150.
Examination Fee will be
| | | |
| --- | --- | --- |
| S. No. | Category | Fees |
| 1 | General Category | Rs 500/- |
| 2 | SC/ST(P)/ST(H)/OBC/MOBC/PWD(PH) | Rs 300/- |

Steps of submission of online Application Form and examination fee are
1) Visit the official website https://ssa.assam.gov.in or https://sebaonline.org for online application.
2) Click the link "online application for Special TET".
3) Download Instruction Manual.
4) Read carefully the Instruction Manual on how to submit the online application form.
5) Fill up Online application form Upload Passport size colour Photo, Signature, Professional Qualification mark sheet etc.
6) The candidate has to pay the fee through online banking/ credit card/ debit card etc. He/she can take print out of the online application form.

Here's the direct link to apply online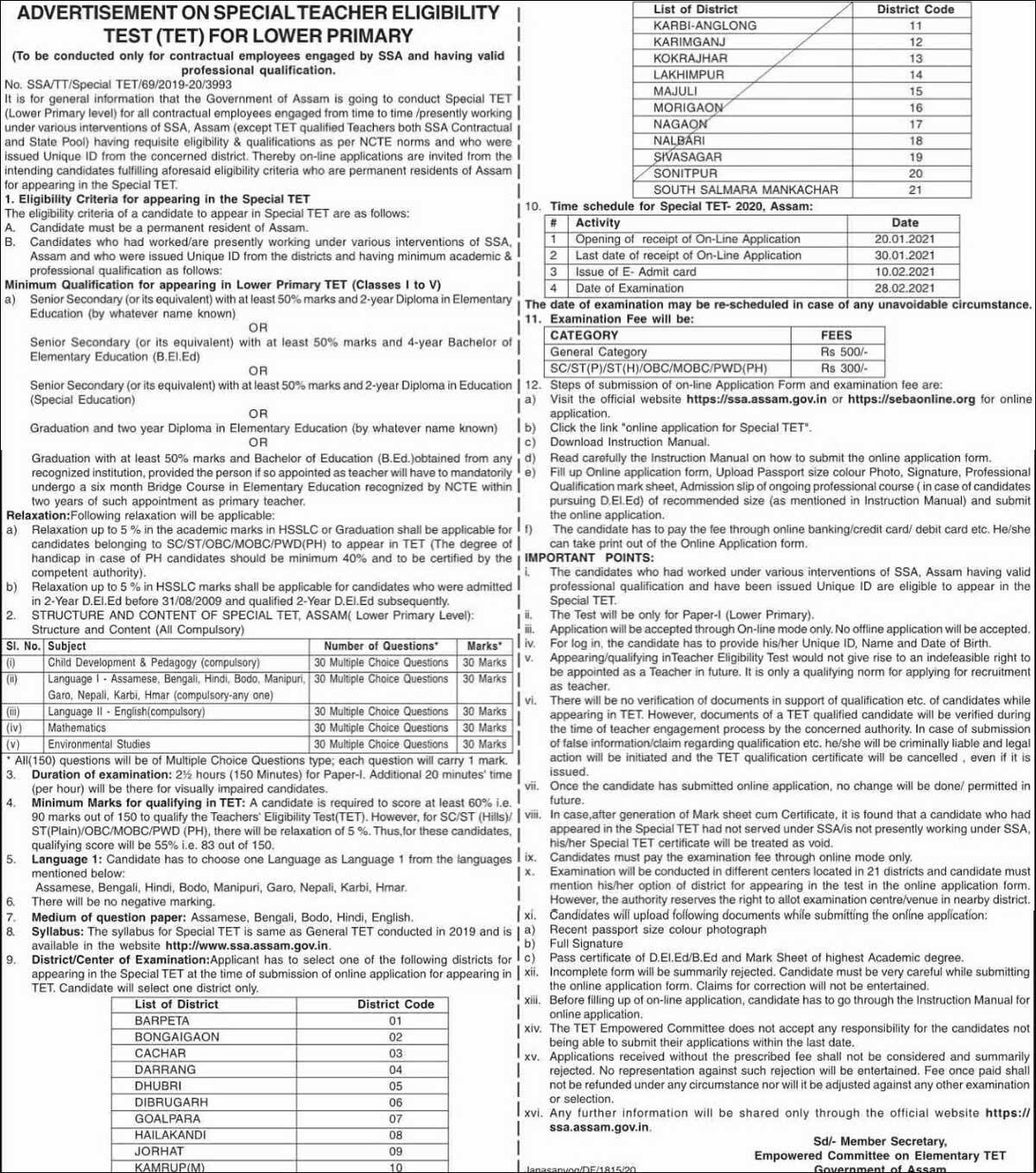 Centre approves financial package for Aligarh Muslim University
ALIGARH: The Union government has sanctioned a financial package for the Aligarh Muslim University to take care of its pressing monetary needs, an AMU official said on Thursday. The University authorities, however, did not give the exact quantum of the package approved by the Centre for the varsity, saying the same is being calculated.
The Centre has also decided to pay a sum of over Rs 14 crore of the varsity's House Tax to the Aligarh Municipal Corporation, which had got the AMU's SBI bank account seized due to the default in its payment, AMU Registrar Abdul Hamid said.
"The university received an official communication from the Ministry of Education and the University Grants Commission on Wednesday," said Hamid.
"The communication informed the varsity that all its requirements pertaining to the retirement funds and allowances of its teaching and non-teaching staff have been fully restored," he added.
The university's academic programmes have been facing a major threat due to the financial cuts as funds meant for salaries for junior and senior resident doctors of its hospital too had been blocked for several months, the varsity registrar said.
These funds too now have been sanctioned in the present relief plan, he added.

The registrar expressed gratitude to Prime Minister Narendra Modi and Education Minister for conceding this long-standing demand of the university.
Prime Minister Modi had last month attended the AMU's virtual centenary celebrations. He is the first prime minister in 56 years to attend an AMU event and address the varsity.
When contacted, AMU spokesman Prof Shafay Kidwai told that the issue pertaining to arrears in different retirement benefits to employees had been in the limbo for about three years and the university had been urging the government to release these funds.
"The letter received by the AMU yesterday has mentioned that the ministry had in principle agreed to the demand pertaining to arrears of teaching and non-teaching staff besides those pertaining to the junior and senior residents employed in medical faculty," he said.
"The exact amount of the financial package is being worked out and the university will immediately release these arrears funds as soon as it is received by it," he added.
ICFAI to organize 11th Foundation Day lecture
HYDERABAD: The ICFAI Foundation for Higher Education (IFHE) will be organizing the 11th Foundation Day Lecture virtually on the topic "Living in the World of Exponential Technology and Diigitalization" on January 22.
The lecture will be delivered by Venu Srinivasan, Chairman, Sundaram-Clayton Group, which includes TVS Motor Company, one of the largest two-wheeler manufacturer in India, and also among companies that manufacture automotive components in India. He was the President, Confederation of Indian Industries (CII) for the year 2009-10.
Srinivasan has an engineering degree from the College of Engineering, Chennai and a Master's Degree in Management from the Purdue University, USA. In recognition of his contribution to management, he was conferred with "Doctor of Management" by his alma-mater, Purdue University in 2014. Srinivasan had also received Doctor of Science honors from the University of Warwick in 2004 for his contribution to manufacturing, R&D, technology and quality excellence. IIT Kharagupr conferred him 'Doctor of Science' in 2009.
The event will be presided by C Rangarajan, Chancellor, IFHE, and Former Chairman, Economic Advisory Council to the Prime Minister of India.