Jharkhand JCECEB B.Ed. Merit List 2020 to be released today
NEW DELHI: Jharkhand Combined Entrance Competitive Examination Board (JCECEB) is likely to release the merit list for B.Ed. Admission 2021.

Jharkhand JCECEB B.Ed. Entrance Competitive Examination 2020: Important Dates
S. No.
Schedule Of Events
Timelines
1
Publication of provisional merit list on
boards website
January 13, 2021
2
Final online correction in login on
provisional merit list
January 14-16, 2021
3
Publication of final merit list for counselling
January 20, 2021
The duration of the B.Ed course is two years, and the candidates can pursue this course only after attaining a Bachelor's degree.
Candidates, who had appeared for the Jharkhand B.Ed. exams 2020, can now check their result on the official website to Jharkhand Combined Entrance Competitive Examination Board (JCECEB) – https://jcebed.formflix.com/home.
The JCECEB 2020 examination was held at various test centres in Jharkhand state.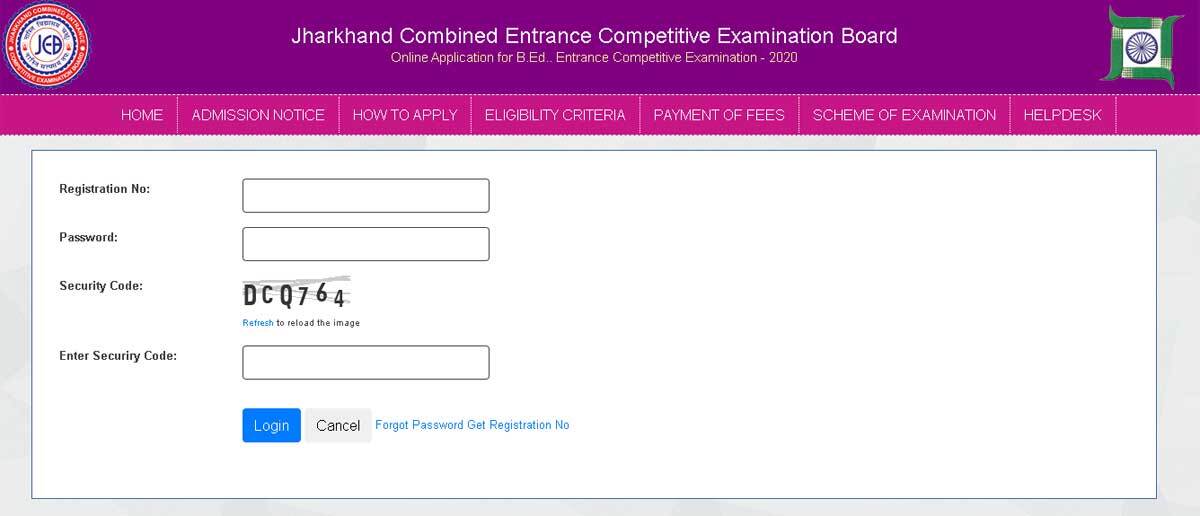 Here's the direct link to candidate login
If you are one of the candidates who had appeared for the JCECEB examination, here is a guide that will show you how you can check your JCECEB B.Ed. Result 2020 on the official website:

Step-by-Step Guide to check JCECEB Result
1) Open the official website of Jharkhand Combined Entrance Competitive Examination Board – https://jcebed.formflix.com/home to check your JCECEB exam results.
2) On the homepage of the official website, you will find the JCECEB Exam Result link. Click on the link.
3) Once you click on the link, it will redirect you to a new page where you need to enter your JCECEB registration number and other details as required.
4) Click on submit.
5) Your JCECEB results will be displayed on the screen which you can download or print for further reference.
Special phase of counselling for Telangana ICET and PGECET
HYDERABAD: Special phase of counselling for Telangana state ICET and PGECET will be held by the Telangana State Council of Higher Education for MBA, MCA, ME/MTech, MArch, MPharmacy and PharmD courses offered by various state universities.
According to a press release issued by the TSICET convenor, qualified candidates of TSICET can apply online on January 23, verify their certificates on January 24 and exercise their web options from January 23-25.
Provisional allotment of seats will be declared on January 27 following which students have to confirm their allotted seat by paying the tuition fees and self-reporting through the website from January 27-29. Students will have to report at the allotted college from January 27-30. Guidelines for spot admissions for MBA and MCA private unaided colleges will be placed on the official ICET website https://tsicet.nic.in on January 27.
Similarly, the online registration for PGECET shall be held from January 25-31. List of eligible candidates for web options for the special round will be displayed on February 2 following which students will be able to exercise their web options from February 3-4. Provisional list of selected/allotted candidates will be prepared college wise and placed on the website on February 8. Students will have to report at the allotted college from February 9-12.

Former Pro-VC of UoH invited to edit a special issue of Frontiers Journals
HYDERABAD: Vipin Srivastava, former pro Vice Chancellor of University of Hyderabad (UoH), and David J Parker of the University of Cambridge have been invited by the Frontiers in Human Neuroscience: Cognitive Neuroscience of the Frontiers Group of Journals as editors of a special issue on the research topic, 'Mathematical, computational and empirical approaches to exploring neuronal mechanisms underlying cognitive functions.'
Frontiers are a leading open access scientific journals published originally from Lausanne (Switzerland), but now also from London, Madrid and Seattle.
Frontiers in Human Neuroscience is a leading journal in its field, publishing rigorously peer-reviewed research that advances our understanding of the brain mechanisms supporting cognitive and social behaviour in humans, in both healthy and diseased states. This multidisciplinary open-access journal is at the forefront of disseminating and communicating scientific knowledge and impactful discoveries to researchers, academics, clinicians and the public worldwide.

All India Bar Exam-XV: Over 1.20 lakh advocates to appear for the exam at 154 centers
NEW DELHI: The Bar Council of India (BCI) has said that approximately 1,20,000 advocates are going to appear for the All India Bar Exam (AIBE)-XV (15) which is scheduled to be held on January 24 at 154 centres in 52 cities of the country.
To pursue a career as a lawyer or advocate, clearing the AIBE is a prerequisite. AIBE is a national-level examination conducted by the BCI to assess whether provisionally enrolled advocates or fresh law graduates have the aptitude to practice law.
During the last exam, around 9 centres had been cancelled owing to reports of usage of unfair means. This time, the candidates who had appeared and given the exam on such centres, have been mostly shifted to other centres, said the BCI.
"No fee has been charged from such candidates this time. Though usage of mobile phones, electronic gadgets are not allowed during the exam, however, as an additional measure, signal Jammers shall also be used at approximately 50 centres in order to further ensure that no one in the vicinity is able to use phones or gadgets. It is further made clear that the period from March 24, 2020, to March 31, 2021, had been exempted owing to the pandemic Covid-19 from being counted within the period of two years (with effect from enrolment as an Advocate) for clearing/passing the All India Bar Exam," BCI said in a statement.
Therefore, candidates who have shown/expressed their inability to appear in this exam within the prescribed period, owing to pandemic related reasons or otherwise can appear in the next exam, which is slated to be held in the month of March/April 2021.
It is to be noted that though a candidate has filed a writ case challenging the All India Bar Exam, however, his prayer for an ad-interim stay on AIBE-XV (scheduled for 24th January 2021) has not been allowed by the Supreme Court.