Jay-Z Explained Why He And Beyoncé Sat During The National Anthem At The Super Bowl
If you watched this year's Super Bowl, or caught any headlines about it, chances are you're aware that Jay-Z, Beyoncé, and Blue Ivy sat during the national anthem.
After Demi Lovato gave the performance of a lifetime, treating viewers to her rendition of the national anthem, a video circulated of the Carter family watching from their seats. (For what it's worth, they definitely weren't the only people sitting during the anthem in their section of the stadium, which you can see in TMZ's footage.)
People had a lot of theories about why they may have been sitting. Some guessed that it was in solidarity with Colin Kaepernick, who Beyoncé has voiced her support for in the past. But according to Jay-Z, their decision to sit wasn't political at all.
It wasn't even really thought-out: They were simply in awe of Demi, like the rest of the internet.
Jay went into detail about how the moment occurred while doing a Q&A at Columbia University tonight, and explained, "What happened was, we got there, we were sitting, and now the show's about to start. My wife was with me and so she says to me, 'I know this feeling right here.' Like, she's super nervous because she's performed at Super Bowls before. I haven't."
He didn't even realize he was sitting during Demi's mesmerizing performance until after: "So the whole time we're sitting there, we're talking about the performance, and then right after that, Demi comes out and we're talking about how beautiful she looked, and how she sounds and what she's going through, and her life — for her to be on the stage, we were so proud of her. And then it finished and then my phone rang. And it was like, 'You know you didn't…' I'm like, 'What?'"
Jay-Z added, "Blue was right next to us; we wouldn't do that to Blue and put her in that position."
Blue was definitely feeling Demi's performance too, as you can see her taking a video of it on her phone right here. (She was also adorably recording other moments from throughout the day, which you can see below.)
Ultimately, Jay-Z didn't feel like he had "to make a silent protest," in light of this year's halftime show performers: "If you look at the stage and the artists that we chose — Colombian [Shakira] and Puerto Rican J.Lo — we were making the loudest statement. … And we had … a commercial running [on] social injustice during the Super Bowl. … Given the context, I didn't have to make a silent protest."
BuzzFeed Daily
Keep up with the latest daily buzz with the BuzzFeed Daily newsletter!
Harbhajan slams Surya's omission from Australia tour | Cricket News
MUMBAI: Veteran India off-spinner
Harbhajan Singh
on Tuesday slammed the national selectors' decision to ignore the in-form
Suryakumar Yadav
for the Australia tour. Yadav has been in fine form for the Mumbai Indians in IPL 2020. He has played all 11 matches for MI this season, scoring 283 runs at an average of 31.44 and a strike-rate of 148.94. He has hit two half-centuries and has a highest score of 79 not out.
Headed by former India left-arm spinner
Sunil Joshi
, the national selection committee on Monday picked the Test, One-Day International and Twenty20 International squads for the tour of Australia. Harbhajan took to Twitter express his displeasure over Yadav's exlusion from the squads, and asked the selectors to look at his records. "Don't know what else @surya_14kumar needs to do get picked in the team india.. he has been performing every ipl and Ranji season..different people different rules I guess @BCCI I request all the selectors to see his records," tweeted Harbhajan on Tuesday morning.
Don't know what else @surya_14kumar needs to do get picked in the team india.. he has been performing every ipl and… https://t.co/YyHbWlvCFC

— Harbhajan Turbanator (@harbhajan_singh) 1603773074000
Rahul 'lucky' to be picked for Australia Tests: Manjrekar
Meanwhile, former India batsman Sanjay Manjrekar said on Tuesday that KL Rahul was 'very lucky' to make a comeback into the Test side based on his fine form in the IPL.
Rahul is currently the Orange Cap-holder as he is the leading run-scorer in the ongoing Indian Premier League (IPL). However, Manjrekar is of the opinion that recalling a player to the Test squad based on his performance in the IPL sets a 'bad precedent'.
"You set a bad precedent when you recall a player for Tests on IPL performance. Especially if the player has been an abject failure in his last few Tests. Whether that player succeeds or fails is irrelevant, such selections massively demotivate Ranji players. #INDvsAUS," Manjrekar tweeted.
You set a bad precedent when you recall a player for Tests on IPL performance. Especially if the player has been an… https://t.co/dPsqdmDQp9

— Sanjay Manjrekar (@sanjaymanjrekar) 1603762750000
In another tweet, Manjrekar said: "KL Rahul in his last 5 Test series – v SA – Avg 7.1, – v Eng – Avg 29, – v WI at home – Avg 18, – v Aus – Avg 10.7, – v WI – Avg 25.4, I say very lucky to get a recall based on IPL & white ball performance. But now let's just hope he makes the most of this chance. Good luck to him!"
KL Rahul in his last 5 Test series- v SA – Avg 7.1- v Eng – Avg 29- v WI at home – Avg 18- v Aus – Avg 10.7- v… https://t.co/hGMHrEqxTL

— Sanjay Manjrekar (@sanjaymanjrekar) 1603764740000
IPL 2020, DC vs SRH: Delhi Capitals eye playoff berth in clash against Sunrisers Hyderabad | Cricket News
Asked to comment on his team's performance after losing the Super over to
Kolkata Knight Riders
,
Sunrisers Hyderabad
skipper
David Warner
said he was biting his tongue in order not to say something harsh. Whether he did it, and to whom, in the confines of the change room is a moot point, but the Sunrisers came out swinging and handed
Rajasthan Royals
an eight-wicket defeat with the domestic players doing the bulk of scoring.
Post that win, only their fourth in this edition of the Indian Premier League (IPL), where they have been below par, Sunrisers Hyderabad were back to their old ways. The manner in which they snatched defeat from
Kings XI Punjab
was hard to fathom for even their most loyal fans.
IPL 2020 POINTS TABLE
From the comforts of 58 for two and chasing down an "achievable" target, the capricious middle order was at it again. After their bowlers did a commendable job in restricting KXIP to 126 for seven, the Sunrisers lost seven wickets for 14 runs to lose by 12 runs.
Most of the 114 runs scored by the Sunrisers came upfront, courtesy Warner and Vijay Shankar, who clearly was rattled after being hit on the helmet by a fielder while taking a sharp single. That spectacular collapse and win for Rajasthan Royals on Sunday have made it so much more difficult for SRH to realise their primary target of reaching the playoffs. With eight points – they are level with CSK at the bottom of the table – the Sunrisers have no option but to win the rest of their three games.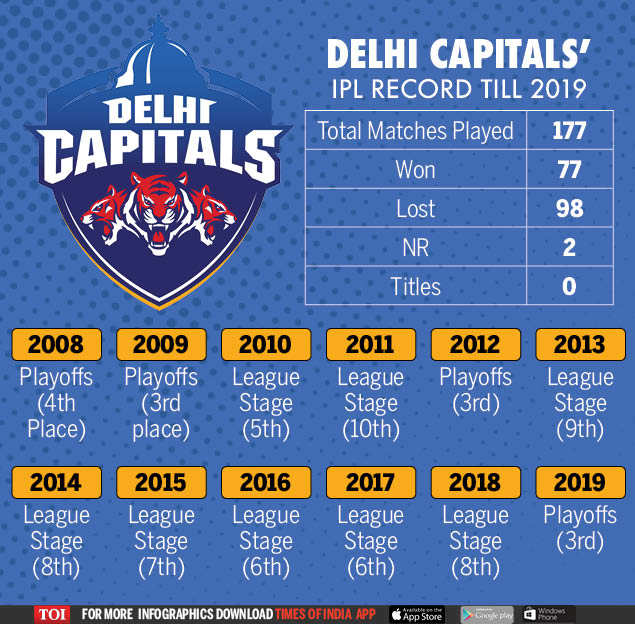 It's easier said than done given their patchy form so far in the tournament. And also because the next three games involve the top three in the table – Mumbai Indians, Delhi Capitals and Royal Challengers Bangalore. First up is Delhi Capitals, who coincidentally, have the same two opponents to contend with – MI and RCB – after playing SRH in Dubai on Tuesday.
The difference being those clashes most probably will decide who'll top the table and DC, who have lost three of their last five games, will not want to leave it late, especially after the 59-run drubbing they suffered at the hands of Kolkata Knight Riders in their previous game.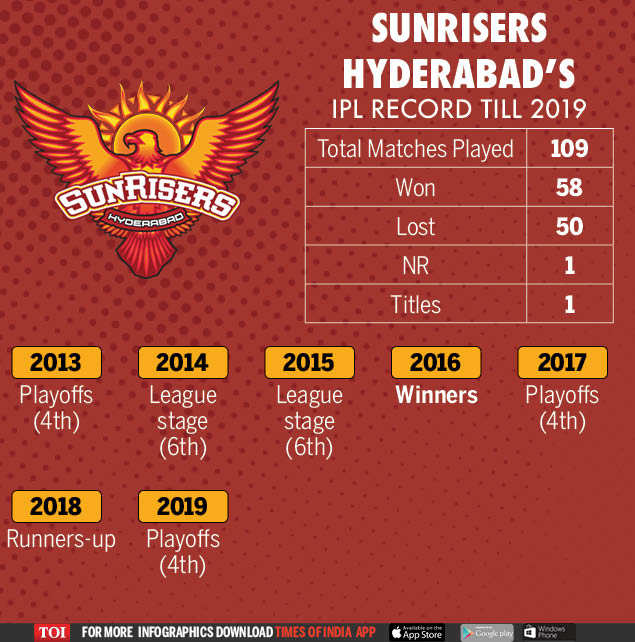 India should embrace, rather than fear D/N Test: Jason Gillespie | Cricket News
MUMBAI: Like all cricket fans from both countries, former Australia fast bowler
Jason Gillespie
too can't wait for the India-Australia series to kick off Down Under this winter. The much-anticipated four-Test contest begins with a day/night game at Adelaide from December 17.
It will be the first time India, who were initially reluctant to play a Test under lights for a long time, will play a day/night Test overseas. They thrashed Bangladesh in their maiden D/N Test at Kolkata last year, but facing the Australia seamers on a seaming Adelaide pitch under lights is likely to be different kettle of fish.
Gillespie feels that India should embrace the day/night pink ball game, instead of fearing it. "What makes Australia slight favourites is the home ground advantage as much as anything. India shouldn't fear the day/night game. They should embrace it and just come with an open mind," Gillespie told TOI on Monday.
"At the end of the day, it is a game of cricket and the game doesn't change. It's just the fact that it's a different colour ball and it will be played at night for a couple of hours. So it's not a huge change. Yes, around (the time) when the artificial light takes over from the natural light, it can be a little bit tricky for batsmen and fielders, but other than that, I think Indian players have played enough cricket all around the world."
With the Covid situation improving in Australia, Gillespie, who recently quit as Sussex coach and is now a coach with the Adelaide Strikers in the Big Bash League and South Australia in the Sheffield Shield, expects crowds at the stadiums during the big-ticket series. "I think we will get some crowds for the Test series. I don't know how big they are going to be, but I'm still hopeful on that," said the 45-year-old.
'Dizzy' is a huge admirer of pace aces Jasprit Bumrah and Mohammed Shami. "They've been two quality bowlers for India for a little while now. I really enjoy watching them bowl. Bumrah, he's a big, tall man and he bowls from a real height, gets that really good bounce, can swing and seam the ball. I think he's a lot quicker than maybe the speed gun suggests. He appears to hit the bat a lot harder than the batsmen almost expect. Shami gets the ball to swing and seam, land on the pitch and gets a lot of movement both ways off the wicket. He creates a lot of issues for batsmen," Gillespie said.
He cautioned the Indian fast bowlers against getting carried away on the bouncy wickets in Australia and resorting to bowling too short. "Sometimes, with the bounce and carry on Australian surfaces, bowlers can get caught bowling a little bit short. The key is going to be how the pacers adjust their length from Indian to Australian conditions. It seems to me that's what takes a while for Indian seamers to do, and basically all the seam bowlers who come to Australia, particularly from the subcontinent," he explained.
So, whom does he rate as the better fast bowler in world cricket, Bumrah or Jofra Archer, whom, he's coached at Sussex? "Look, you're comparing completely different types of bowlers. It's hard to split them. I'd probably cheekily throw in an Australian somewhere in the (list) as well! We just need to celebrate the fact that they're just wonderful bowlers and they bring different skills to the table.
"As I said, I'm a cricket tragic, and I love watching fast bowlers. What Bumrah brings to the table is that he offers Virat Kohli so much. He can attack, he can be a defensive bowler. If Virat needs a wicket, he can throw the ball to Bumrah and something seems to happen," said Gillespie.
"We've seen Archer perform well for the Rajasthan Royals in the IPL. It's still very early in his career for England and he's been entrusted with some tough situations like bowling the final over in the World Cup last year. So, he's been trusted by his captain to bowl those difficult periods and he's only going to be better for that," he summed up.