Indian women's football team to start first camp since Covid-19 lockdown | Football News
NEW DELHI: The Indian women's
football
team will begin their first national team camp in Goa on December 1 since the lockdown due to the Covid-19 pandemic.
Thirty players have been summoned by head coach
Maymol Rocky
for the camp to kick-start their preparations for the
AFC Women's Asian Cup
2022, which will be hosted in India.
A detailed Standard Operating Procedure (
SOP
) has been prepared for the resumption of the team training, which lays down numerous Covid-19 protocols and guidelines in an exhaustive manner.
Abhishek Yadav, Director, National Teams,
AIFF
, mentioned that the team is eager to return to the field as soon as possible.
"The team is eager to get back on the pitch as soon as possible. The last few months have been unprecedented but we are taking cautious steps to take Indian football forward together. The AFC Women's Asian Cup is in sight and we have to be at the top of our preparations by the time the tournament kicks off," Yadav said in an AIFF release.
He further stressed that the safety of the team is of 'paramount importance'.
"The safety of the players and the staff is of paramount importance and there is no room for error when it comes to dealing with the safety of our team," the former Blue Tigers' skipper stressed.
"We have formulated the safety protocols from the protocols laid down by the Ministry of Health and Family Welfare, Government of India;
Sports Authority of India
(
SAI
); our medical team; and other stakeholders," Yadav added.
The SOP, as prescribed by Indian Senior National Team Doctor Dr Shervin Sheriff, mandates that incoming players and support staff must get a Covid test (RT-PCR) done from an ICMR accreditated laboratory prior to their departure from their hometowns. If RT-PCR test result comes negative, they can proceed to travel with necessary precautions.
After reaching Goa, a Rapid Antigen Test (RAT) has to be done and if the result is negative, they can proceed to their respective rooms for seven days of room quarantine. After successful quarantine without any signs or symptoms of Covid-19, they have to be tested for RT-PCR on Day 8 following their arrival, before joining the training.
According to the SOP, the resumption of the camp shall comply with the guidelines laid down by the local authorities and it should take place in a staged fashion with an initial phase of a small group (less than 10 persons) activities in a non-contact fashion while maintaining social distancing, before moving on to a subsequent phase of a large group (more than 10 persons) activities, including full contact training/competition in sport.
The list of players selected for the camp is as follows:
Goalkeepers:
Aditi Chauhan, Elangbam Panthoi Chanu, Maibam Linthoingambi Devi, Narayanasamy Sowmiya
Defenders:
Asem Roja Devi, Jabamani Tudu, Loitongbam Ashalata Devi, Ngangbam Sweety Devi, Ritu Rani, Sorokhaibam Ranjana Chanu, Michel Margaret Castanha, Wangkhem Linthoingambi Devi, Pakpi Devi Yumlembam
Midfielders:
Grace Hauhnar Lalrampari, Manisha, Nongmaithem Ratanbala Devi, Sangita Basfore, Karthika Angamuthu, Sumithra Kamaraj, Kashmina, Pyari Xaxa
Forwards:
Jyoti, Anju Tamang, Dangmei Grace, Karishma Purushottam Shirvoikar, Sandhiya Ranganathan, Renu, Jyoti, Soumya Guguloth, Heigrujam Daya Devi
Head Coach:
Maymol Rocky
Australia vs India: India will get smoked 4-0 in Tests if Virat Kohli does not set tone before leaving: Michael Clarke | Cricket News
SYDNEY: Former
Australia
captain
Michael Clarke
has warned that India could be "smoked 4-0" in the Test series if skipper
Virat Kohli
does not set the tone in the white-ball games before his departure.
The 32-year-old Kohli has been granted paternity leave by the BCCI to be with his wife for the birth of their first child. He will lead the team in the white-ball series, comprising three ODIs and as many T20s, and the opening Test at Adelaide before heading back home.
"These one-dayers and these Twenty20s is where Virat Kohli can really stand up and lead from the front," Clarke said on 'Sky Sports Radio' on Tuesday.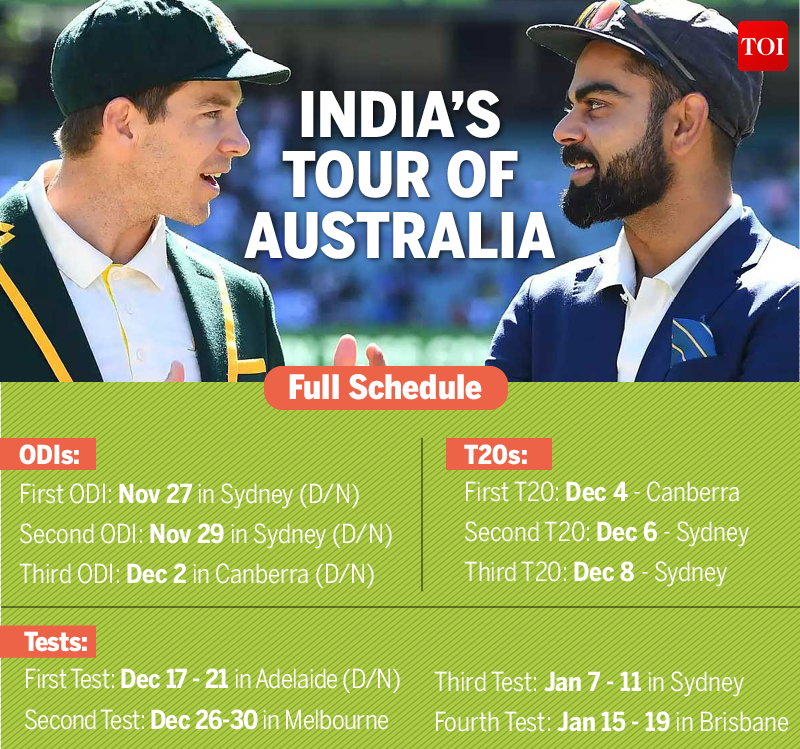 "If India don't have success in the one-dayers and the T20s, they are in deep trouble in the Test matches and they'll get smoked 4-0, in my opinion," he added.
Clarke feels that despite featuring in only one Test, the talismanic Indian skipper could still play a huge role in the outcome of the red-ball series by dominating in the limited-overs games.
"I think the tone he sets with this team will play a big role when he leaves, after the first Test match."
The much talked about contest between the two best sides in the world would begin on November 27 with the ODI series-opener in Sydney.
The former World Cup-winning skipper said Jasprit Bumrah will also have a huge role in the much anticipated series, adding that the star pacer needs to bowl aggressively to put the pressure on the home side.
"Opening bowler, probably the best short-form bowler in the world at the moment, but his success in Test cricket has been exceptional as well.
"He's quick, he's got a really different action, so I think he needs to set the tone and be really aggressive to the Australian batters," Clarke said.
The 39-year-old pointed out that Bumrah has been winning the duel against the formidable David Warner and also has the ability to trouble star batsman Steve Smith.
"Again, it's not just about the wickets he takes, it's how he bowls. He's got Davey Warner's measure at the moment, he's got him out a number of times.
"Even to someone like Steve Smith, he's got to use that short ball consistently and regularly, like Jofra Archer did to Steve Smith in the Ashes.
"They've (Bumrah and Kohli) got to take the Aussies on and those two players are India's best two players to be aggressive to the Australians," he added.
India made history by winning their first Test series on Australian soil in the 2018-19 rubber.
However, the hosts were then without their star batsmen Warner and Smith, who were were serving bans for their involvement in the 2018 ball-tampering incident.
Australia vs India: India's 'fabulous five' can overcome pink-ball inexperience: Ravi Shastri | Cricket News
NEW DELHI: India coach
Ravi Shastri
acknowledged his team lack Australia's pink-ball experience but is convinced their "fabulous five" pacemen can bowl the tourists to a second successive Test series victory Down Under.
Australia have played seven day-night Tests, the most by any country, since 2015 and won each of them.
India were late to embrace the innovation and played their only
pink-ball Test
against Bangladesh in Kolkata last year.
A mouth-watering four-Test series between the top two teams in the World Test Championship standings will get underway with a pink-ball contest at Adelaide from Dec. 17.
"We begin with pink-ball cricket where we lack experience," Shastri told the Sportstar magazine.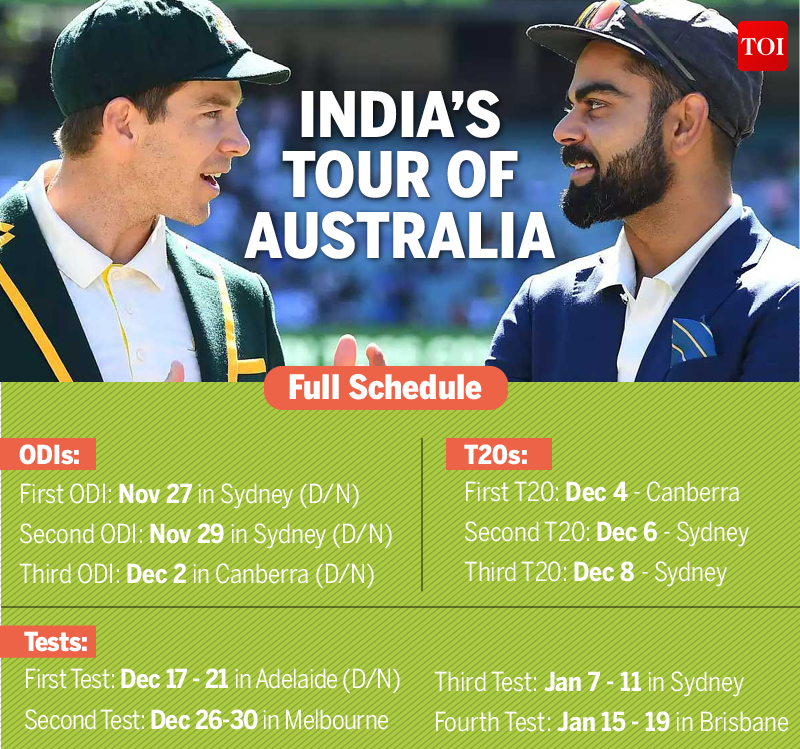 "We have played just one pink-ball Test, but there is a qualitative difference between them (Bangladesh) and Australia. It is like cheese and chalk.
"Our boys have not played much of pink-ball in domestic cricket, but I just want them to go and enjoy their game."
Skipper Virat Kohli, who led India to their maiden Test series victory in Australia two seasons ago, will return home after the Adelaide Test to attend the birth of his first child.
While it would take some sheen off India's batting line-up in the last three Tests, Shastri was confident India's five-member pace attack, which includes Jasprit Bumrah and Mohammed Shami, could defend decent totals.
"We have a fabulous five … You put up runs on the board and watch these fast bowlers hunt the opposition. They can beat Australia in their own den."
There was no pressure on the team and India would play "fearless cricket" against an opponent Shastri considered the toughest.
"Ask any international player and he will tell you that it is different. It is challenging. Toughest used to be the West Indies in the '80s and post that it has been Australia."
Indian Premier League: Despite coronavirus, advertising revenue from Indian Premier League crosses Rs 3,100 crore
Synopsis
Despite the Covid-19 outbreak, the broadcaster was expecting the IPL to outperform all previous records this season and had held on to ad rates, asking Rs 12.5 lakh for a 10-second slot on TV. The 13th season of the IPL, which was initially scheduled to be played in April-June, was pushed to September due the pandemic, which also forced the Board of Control for Cricket in India (BCCI) to take the entire tournament to the UAE.
MUMBAI: Star & Disney India generated more than Rs 3,100 crore in television and digital ad revenue from the recently concluded Indian Premier League despite the global pandemic, a sluggish economy and an entire season being hosted outside India, which could not diminish the popularity of the tournament or its attractiveness to marketers.The broadcaster's revenue from the 13th edition of the league was 30% higher than last year.Star India
GIFT ARTICLE

FONT SIZE

AbcSmall

AbcMedium

AbcLarge

SAVE

COMMENT
To Read the Full Story, Become an ET Prime Member
Sign in to read the full article
You've got this Prime Story as a Free Gift
Access the exclusive Economic Times stories, Editorial and Expert opinion
Already a Member? Sign In now
Why ?
Sharp Insight-rich, Indepth stories across 20+ sectors

Access the exclusive Economic Times stories, Editorial and Expert opinion

Clean experience with
Minimal Ads

Comment & Engage with ET Prime community

Exclusive invites to Virtual Events with Industry Leaders

A trusted team of Journalists & Analysts who can best filter signal from noise